Media Center
Press Releases
Proxy Access Proposals Go from Zero to Sixty(Six) in Five Years
---
REDWOOD CITY, CA (December 16, 2015) — Five years after the passing of Dodd-Frank and Say on Pay, shareholders have more access to information and a better understanding of their portfolio companies' overall operations than ever before, according to a new Equilar report. While it behooves executives and boards to have better relationships with their investors, an uptick in shareholder engagement is not entirely unprovoked. In recent years, activist investors have become much more open in expressing their opinions and suggesting changes they feel appropriate, pushing companies to be proactive in response.
A prime example of this is proxy access, which essentially gives shareholders a vote for the right to nominate their own directors, in contrast to directorships proposed exclusively by the board. In 2011, there were no explicit proxy access proposals for S&P 500 companies. However, in 2015, that figure ballooned to 66, Equilar's report found.
The rapid intensifying of this trend is not only reflected in the number of proposals, but also by the increase in the number of proxy access approvals. In 2014, more than half of the proxy access proposals from shareholders were declined—a total of eight out of 14. While the number of declined proposals jumped to 20 in 2015, 44 proxy access proposals were approved this past year, meaning that shareholders at nearly 10% of the S&P 500 now have the right to nominate their own directors. (Two proposals are currently pending.)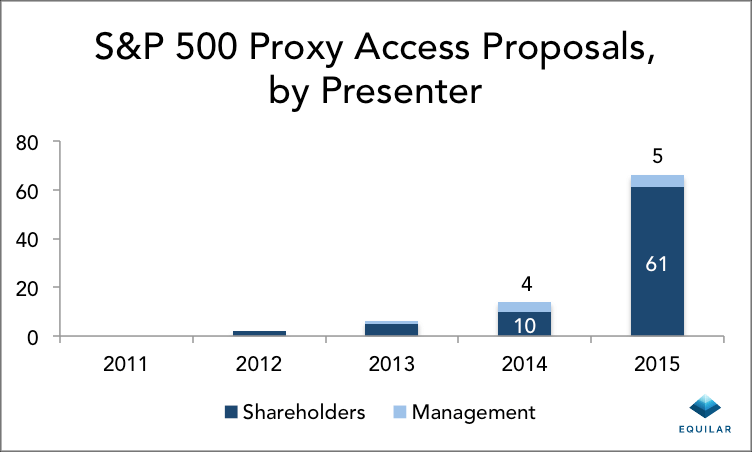 "Proxy access proposals are experiencing a significant tailwind going into the 2016 proxy season," said Alan Dye, Partner at Hogan Lovells, whose firm provided independent commentary for the report.
According to Dye, most of the proxy access proposals submitted by shareholders extended eligibility to shareholders who have held at least 3% of the company's stock for at least 3 years and limited nominations to 25% of the board. ISS recommended a vote in favor of all of those proposals, whether or not management proposed a competing proxy access proposal on more restrictive terms.
"The odds of defeating a 3%/3 year/25% proposal are not high, even where management shows a willingness to implement proxy access on different terms," Dye added.
Although shareholders submit the majority of proxy access proposals, a handful are management-proposed. Since 2012, the few companies that had a proxy access proposal by management include Exelon Corp., Expeditors International of Washington, Inc., Chipotle, AES Corp, McKesson Corp., CenturyLink, Inc., Darden Restaurants, Inc., Chesapeake Energy Corp. (twice), and Verizon Communications, Inc. By having management present the proposal, a company can implement its own guidelines dictating the standards shareholders must fulfill before accessing the proxy.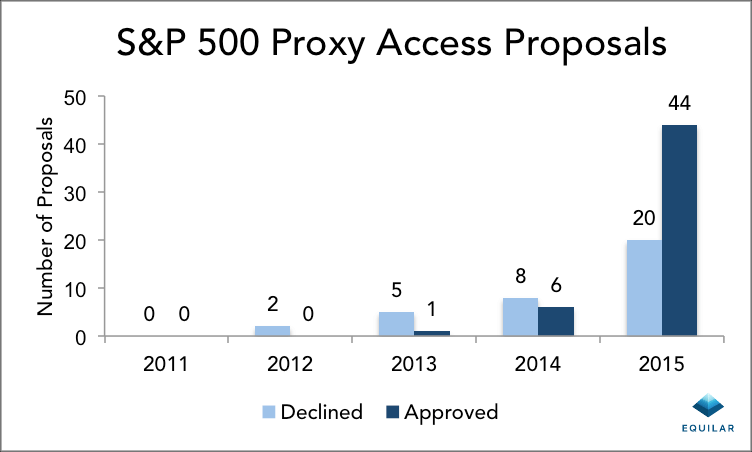 "It seems likely that most companies will have to face the question of proxy access eventually," noted Dye. "Therefore, they should become familiar with the many variable terms of proxy access bylaws and determine the terms (if any) on which the company might be willing, at an appropriate time, to implement proxy access rather than oppose a shareholder proposal."
Issuers have moved to improve communications and relations with shareholders over the past five years, and more and more companies have disclosed specifics of their engagement initiatives. In 2015, 32.3% of S&P 500 companies made reference to investor outreach in their most recent proxy statements, up from just 16.2% in 2011, Equilar found.
---
Founded in 2000, Equilar provides proprietary executive data, unbiased research services and exclusive corporate governance tools. Our flagship products – Insight, BoardEdge, Engage, and Atlas – translate complex, unstructured data sets into valuable information to help executives, board members, and investors make the best decisions possible. As the trusted data provider to 70% of the Fortune 500, Equilar helps companies accurately benchmark and track executive and board compensation. Equilar's research is cited regularly by The New York Times, Bloomberg, Forbes, Associated Press, CNN Money, CNBC, The Wall Street Journal and other leading media outlets.
For more information, contact:
Amit Batish
Director of Content & Marketing Communications
press@equilar.com
650-241-6697