Media Center
Press Releases
Annual Pay for S&P 500 Non-Executive Chairs Nears $400,000
---
REDWOOD CITY, CA (December 9, 2015) — An increasingly complex corporate landscape has led to steady increases in director pay, according to a new report from Equilar, notably in leadership positions on the board. Directors serving as non-executive chairs on S&P 500 boards saw their annual pay increase 12.7% over the past five years to $388,000 at the median in fiscal year 2014. Meanwhile, median pay for all S&P 500 directors totaled $234,000 in 2014.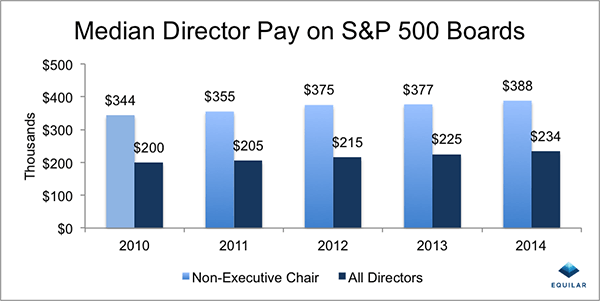 Each company's case is individual unto itself, but a few general trends determining director pay have emerged, Equilar's report found. Directors are taking on a combination of increased risk and increased responsibility, especially in light of Dodd-Frank and its subsequent regulatory changes. Board directors are now facing more disclosures, regulations and guidelines, which in turn have led to more scrutiny from proxy advisors and shareholders.
"While generally modest on a year-to-year basis, we anticipate similar increases in the near future for directors as demands continue to grow in the post-Dodd Frank environment," said Matt Wolfson, a senior consultant with Meridian Compensation Partners LLC, who contributed independent commentary for Equilar's report. "The time commitment to fulfill a director's typical duties and responsibilities is rising as directors must address issues that correspond to an increasingly complex global business environment."
Breaking down director pay by range, Equilar found that just 11 non-executive chairs in the S&P 500 were paid more than $600,000 for an annual retainer in 2014, exactly the same number as in 2010. However, there were far more non-executive chairs paid less than $300,000 in 2010—43 as compared to just 28 in 2014. Also notable is the difference in the number of board members in this position over the years. In 2010, there were 119 non-executive chairs at S&P 500 companies, and that number swelled to 164 in 2014.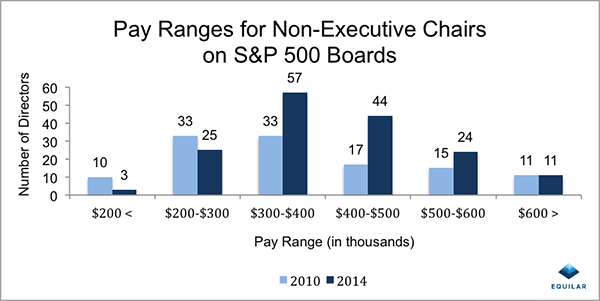 "Though director pay generally is up across the board, circumstances related to each non-executive chair matter," said Meridian's Wolfson. "There are often significant variations in pay typically due to differences in their roles and whether a former affiliation exists with the company."
According to Equilar's data, there weren't any non-executive chairs who earned a retainer of more than $1 million in 2014, though two received more than $900,000—McDonald's and Devon Energy. Just four directors total in the S&P 500 received more than $1 million as an annual retainer in 2014—one lead independent director, one vice chair and two directors in non-leadership positions.
As an additional indicator of director responsibilities expanding into even more significant professional obligations, meeting fees are decreasing in prevalence as annual retainers rise. In 2014, just 23.2% of all S&P 500 companies offered additional fees to directors for meeting attendance, down from 41.2% in 2010.
"Boards continue to move away from meeting fees in favor of increased cash retainers to communicate to shareholders that attendance is not only expected, but mandatory, and that all board members shoulder a share of the burden," said Wolfson.
---
Founded in 2000, Equilar provides proprietary executive data, unbiased research services and exclusive corporate governance tools. Our flagship products – Insight, BoardEdge, Engage, and Atlas – translate complex, unstructured data sets into valuable information to help executives, board members, and investors make the best decisions possible. As the trusted data provider to 70% of the Fortune 500, Equilar helps companies accurately benchmark and track executive and board compensation. Equilar's research is cited regularly by The New York Times, Bloomberg, Forbes, Associated Press, CNN Money, CNBC, The Wall Street Journal and other leading media outlets.
For more information, contact:
Dan Marcec
Director of Content & Marketing Communications
press@equilar.com
706-461-8333