Media Center
Press Releases
How S&P 1500 Companies Choose Peers to Benchmark Pay
---
REDWOOD CITY, CA (October 22, 2015) — Peer groups have come into the spotlight as a basis for benchmarking executive pay, according to a new report from Equilar. Indeed, 89.8% of companies in the S&P 1500 disclosed a peer group in their most recent proxy statements, illustrating the overwhelming acceptance of the practice when setting compensation levels.
With increased scrutiny surrounding pay for performance, companies have become more transparent about their compensation policies. Shareholders are interested not only in how much executives are being paid, but also the foundation on which those company leaders are paid. And because investors view pay decisions as a sign of board effectiveness, setting compensation levels against a peer group skewed to companies that are not viewed by investors as relevant may raise concerns.
According to our report, a majority of S&P 1500 companies paid their CEOs below the median of the peer groups they disclosed in proxy statements. The median ranking for S&P 1500 companies in terms of CEO total compensation relative to their peers was at the 46th percentile. (In other words, if this company at the median disclosed 100 peers, its CEO made more in total compensation than 46 of those peers.) On the other hand, S&P 500 companies compensated their CEOs slightly higher than their peers, and the median ranking for large cap companies in terms of pay compared to disclosed peers was at the 52nd percentile.
"In general, the visibility of competitive pay standards makes it difficult to set pay below peer median for long even if there are valid reasons for doing so," said Jack Marsteller, a partner at compensation consulting firm Pay Governance in Los Angeles, who contributed independent commentary to the report. "CEO pay below peer group median often tends to create pressure for a pay increase just to keep up with the market, even where company performance may not otherwise warrant it. This pressure can also create a tension on pay where company performance is competitive but the board has issues with other aspects of CEO performance."
It's difficult to attach meaning to peer comparisons without understanding the basis on which companies choose their peer groups. Industry is the most common way companies choose their peers, our report found, and 78.0% of companies in the S&P 1500 referenced their business sector as a key criterion. Revenue and market capitalization followed at 65.2% and 46.0%, respectively.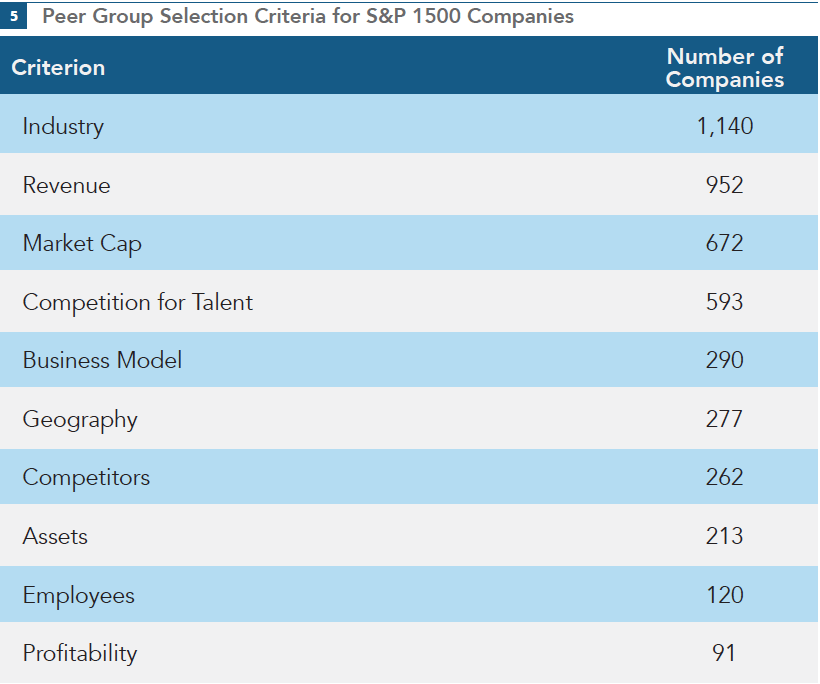 In addition, certain companies received frequent citations, which provides broad insight into companies' strategy when selecting peers. 3M was the most benchmarked company in the S&P 1500 in 2014, with 60 references. Honeywell International, Eaton Corp. and Johnson & Johnson each were referenced at least 50 times as peers to S&P 1500 companies, and eight other companies were listed as peers more than 42 times. Each of these companies has a broad scope operationally and geographically, which likely contributes to their frequent references as peer companies.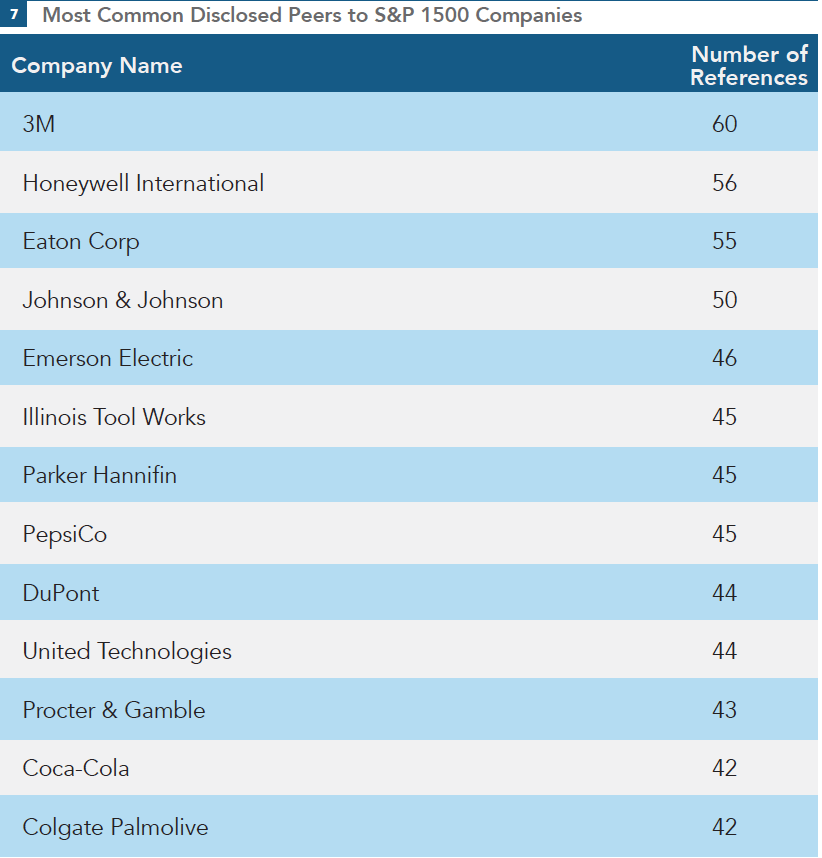 Other key findings from Equilar's report:
53.6% of S&P 1500 companies paid their CEOs less than their Equilar Market Peers. Equilar Market Peers is a peer group algorithm that compiles the 15 companies with the strongest connections to each target company, considering direct peers, second degree peers, incoming peers and peers of incoming peers, providing an objective evaluation of a company against a peer group that best represents complex relationships in the marketplace.

Among S&P 1500 companies that disclosed peer groups, 37.6% included 16 to 20 companies as peers, and 72.9% of companies had between 11 and 20 companies in their peer groups.

Within the S&P 1500, 62.2% ranked at or below the median in terms of revenue in relation to their disclosed peer groups. Nearly two-thirds of named peers to S&P 1500 companies fell within a range of 0.5 to two times their revenue.
---
Equilar's report, Peer Group Benchmarking: An Analysis of S&P 1500 Companies, analyzes and illustrates trends on how companies choose their peers and where they stack up in comparison. The report included S&P 1500 companies that filed a proxy statement for fiscal year 2014 (n=1,461).
---
Founded in 2000, Equilar provides proprietary executive data, unbiased research services and exclusive corporate governance tools. Our flagship products – Insight, BoardEdge, Engage, and Atlas – translate complex, unstructured data sets into valuable information to help executives, board members, and investors make the best decisions possible. As the trusted data provider to 70% of the Fortune 500, Equilar helps companies accurately benchmark and track executive and board compensation. Equilar's research is cited regularly by The New York Times, Bloomberg, Forbes, Associated Press, CNN Money, CNBC, The Wall Street Journal and other leading media outlets.
For more information, contact:
Amit Batish
Director of Content & Marketing Communications
press@equilar.com
650-241-6697