Media Center
Press Releases
CFO Pay Grew 3.8% to $3.3 million in 2014, Outpacing CEO Pay
---
REDWOOD CITY, CA (September 23, 2015) — For the first since time the recession, median CFO pay at S&P 500 companies increased more than CEO pay, according to a new report from Equilar.
In 2014, total direct compensation for CFOs at S&P 500 companies increased 3.8% to reach $3.3 million, up from $3.2 million the year prior. Meanwhile, CEO pay at S&P 500 companies increased just 0.9%—totaling $10.3 million, up from $10.2 million the year before.
---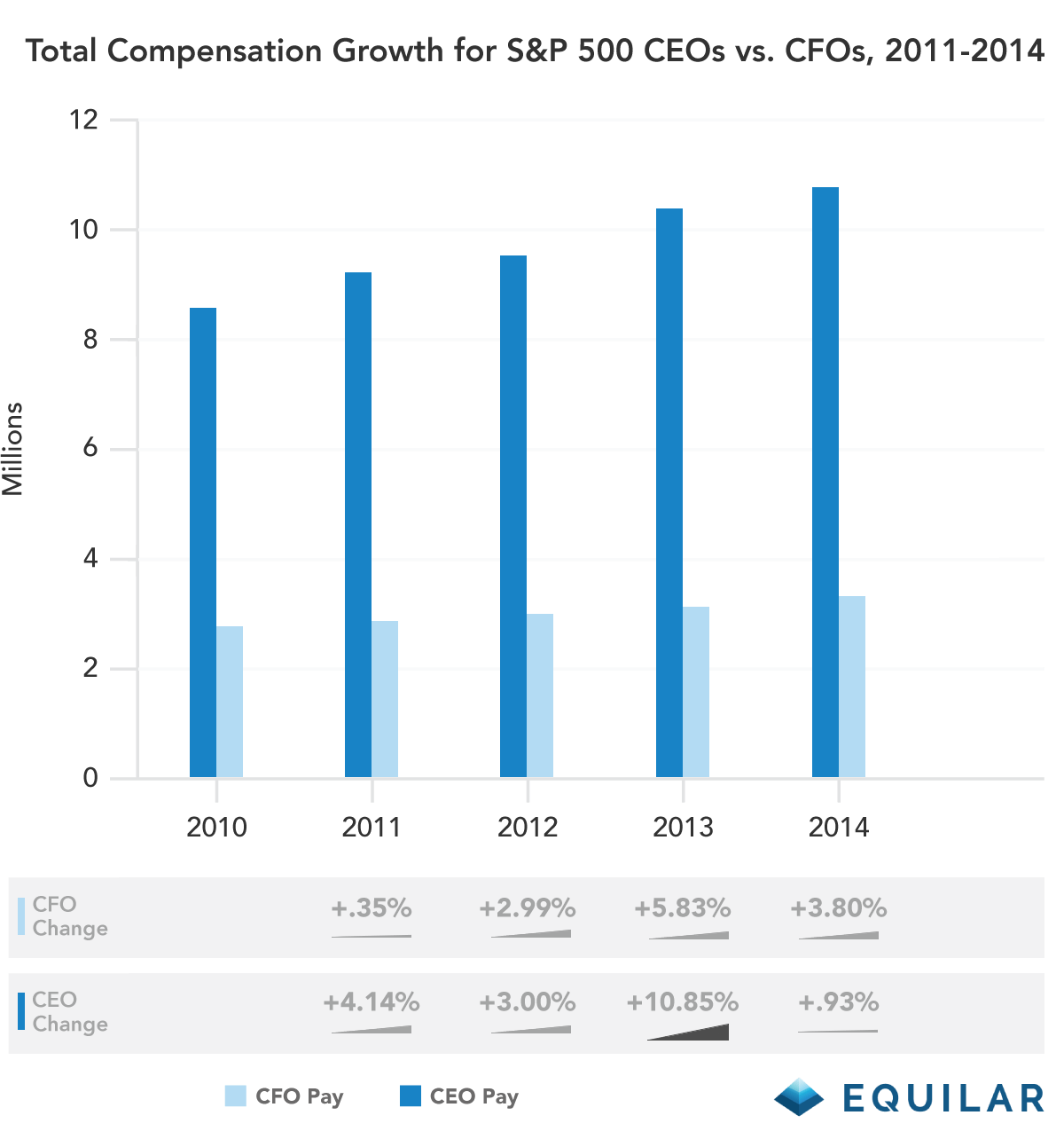 ---
"This is a meaningful milestone for executive pay post-recession," said Dan Marcec, Director of Content at Equilar. "In addition to the fact that this is the first time CFO pay has increased more than CEO pay in percentage terms in recent years, finance chiefs' median pay increased more in real dollars year over year as well."
Even though CEO pay remained much higher overall, median CFO pay in the S&P 500 increased $119,237 in 2014, while median CEO pay increased just $95,135 year over year.
Complete pay data for 2008 and 2009 wasn't included in the study period for this report, which reflects the past five years of CFO compensation in the S&P 500. Equilar's historical research shows that median CFO pay fell 3.1% in 2009, while CEO pay dropped further, down 7.9% that year. That was the last time CFOs performed better than CEOs in terms of pay change at the median. In 2010, CFO compensation rebounded with a 26.1% increase, which was lower than 28.2% growth for CEO pay.
The rise in CFO pay levels has paralleled continuous improvements in stock market performance over the past few years, aligning with the trajectory of growth in the S&P 500 stock index value in each of the last five years. For example, 29.6% growth in the S&P 500 stock index in 2013 corresponded with the highest rate of CFO pay growth during the study period, a 5.8% uptick in median CFO pay that year. In 2014, stock index values increased another 11.4%, and likewise CFO pay levels rose again. Meanwhile, CEO pay growth has had less of a direct correlation over that period.
"Across the board, more responsibility and strategic power is being put in the hands of CFOs," said Marcec. "With pay increasingly tied to company performance, equity is becoming a bigger part of compensation, and stock awards are now the most significant component of overall pay."
---
Founded in 2000, Equilar provides proprietary executive data, unbiased research services and exclusive corporate governance tools. Our flagship products – Insight, BoardEdge, Engage, and Atlas – translate complex, unstructured data sets into valuable information to help executives, board members, and investors make the best decisions possible. As the trusted data provider to 70% of the Fortune 500, Equilar helps companies accurately benchmark and track executive and board compensation. Equilar's research is cited regularly by The New York Times, Bloomberg, Forbes, Associated Press, CNN Money, CNBC, The Wall Street Journal and other leading media outlets.
For more information, contact:
Dan Marcec
Director of Content & Marketing Communications
press@equilar.com
706-461-8333