Media Center
Press Releases
<! -- CONTENT -- >
Russell 3000 Boards on Pace to Achieve Gender Parity by 2030
---
REDWOOD CITY, CA (March 10, 2020)—Women now hold 21.5% of all Russell 3000 directorships, according to the latest Equilar Gender Diversity Index (GDI). This acceleration moved the needle, pushing the GDI to 0.43, where 1.0 represents parity among men and women on corporate boards.
Over the last few years, companies across corporate America have faced pressure from multiple stakeholders to add more women to their boards. The new GDI reveals that companies are listening. At the current rate of growth, Russell 3000 boards are on pace to achieve gender parity—equal representation of men and women—by 2030. This represents significant progress from Q4 2017, when gender parity across Russell 3000 boards was projected to be achieved by 2048.
"Much of this momentum can be attributed to efforts to promote diversity through changing investor focuses, including voting policies and industry movements, and evolving stakeholder priorities," said Brigid Rosati, Director of Business Development at Georgeson.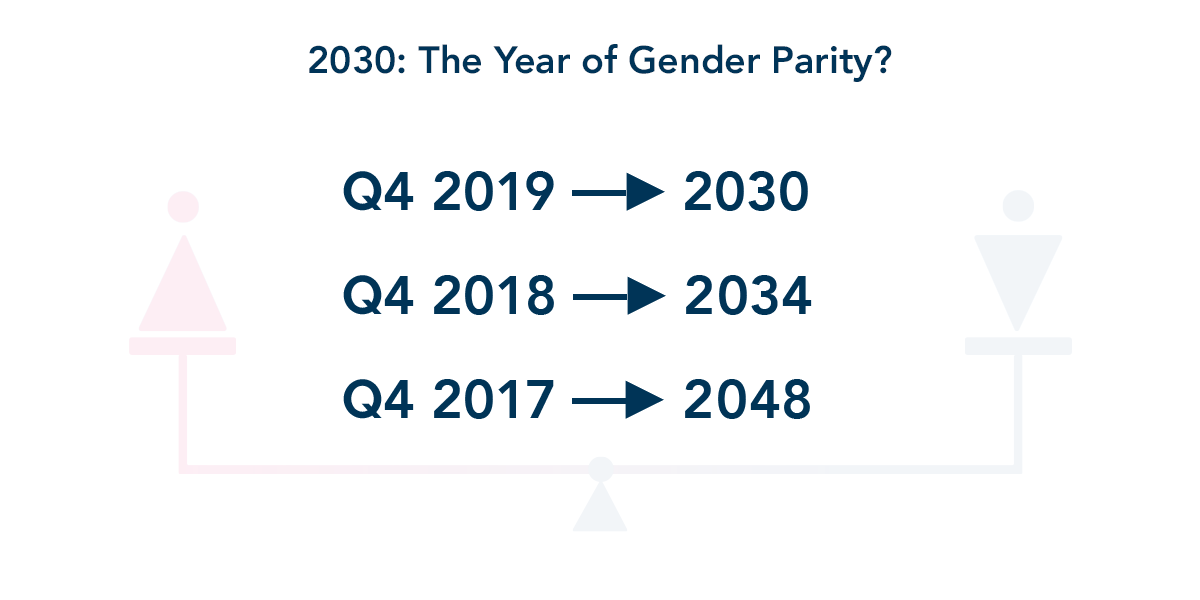 The report also revealed that among all Russell 3000 boards, just 7.7% are without a woman. A year ago, 15.8% of companies were without a female director. "As a board evolves to include more women, the new board members add knowledge of and access to a broader and more diverse network from which to recruit new board members in the future, and more women may be interested in joining the board as it becomes more diverse and inclusive," said Susan Angele, Senior Advisor at KPMG's Board Leadership Center.
Other key findings from the report include:
16% of boards that previously had zero women added a female director in Q4 2019

60 Russell companies 3000 have at least 50% women on their boards

23.3% of California-based Russell 3000 directors are women, up from 17.4% in Q3 2018 when state legislation was introduced mandating women on boards
Please click here for more details and commentary on the latest Gender Diversity Index.
---
About Equilar Gender Diversity Index
The Equilar GDI reflects changes on Russell 3000 boards on a quarterly basis as cited in 8-K filings to the SEC. Most indices that track information about board diversity do so annually or even less frequently, and typically with a smaller sample size, sometimes looking back more than a full year by the time the information is published. While this data is reliable and accurate, the Equilar GDI aims to capture the influence of the increasing calls for diversity from investors and other stakeholders in real time.
The Equilar GDI is powered by Equilar BoardEdge, a database of more than 500,000 public company board members and executives. BoardEdge includes exclusive features that show how board members and companies are connected to each other, as well as the Equilar Diversity Network (EDN), a "registry of registries" of board-ready executives from leading ethnic and gender diversity partnerships, organizations, and publications.
About Equilar
Equilar is the leading provider of Board Intelligence Solutions. Its data-driven platforms, BoardEdge and Insight, provide tools for board recruiting, business development, executive compensation and shareholder engagement. Companies of all sizes, including 70% of the Fortune 500 and institutional investors representing over $20 trillion in assets, rely on Equilar for their most important boardroom decisions. Equilar also hosts industry-leading board education symposiums, conducts comprehensive custom research services and publishes award-winning thought leadership. Founded in 2000, Equilar is cited regularly by Associated Press, Bloomberg, CNBC, The New York Times, The Wall Street Journal and other leading media outlets. Visit www.equilar.com to learn more.
For more information, contact:
Amit Batish
Manager, Content & Communications
Equilar, Inc.
abatish@equilar.com
650-241-6697