Media Center
Press Releases
<! -- CONTENT -- >
Equilar GDI: Russell 3000 Boards Will Achieve Gender Parity by 2034
---
REDWOOD CITY, CA (March 7, 2019)—Women now hold 18.5% of all Russell 3000 directorships, according to the latest Equilar Gender Diversity Index (GDI). This acceleration moved the needle, pushing the GDI to 0.37, where 1.0 represents parity among men and women on corporate boards.
More than ever, corporate America is making it a priority to bring greater diversity to the boardroom. In fact, based on the current rate of growth of women on boards, gender parity would be achieved by 2034 across the Russell 3000. This is significant progress from analyses Equilar conducted in Q4 2016 and Q4 2017 when parity was expected to be achieved in 2055 and 2048, respectively.
Several external factors, including investor and legislative pressure, have contributed to this trend. For instance, California recently passed legislation that will require public companies headquartered in California to have a minimum of one female on its board of directors by December 31, 2019.
Equilar tracked the GDI of California-based Russell 3000 companies for Q4 2018. Currently, 18.1% of California directors are women—this positions the California GDI at 0.36, slightly lower than the entire Russell 3000. Additionally, among the 41 Russell 3000 companies that have already achieved gender parity, seven of them are based in California.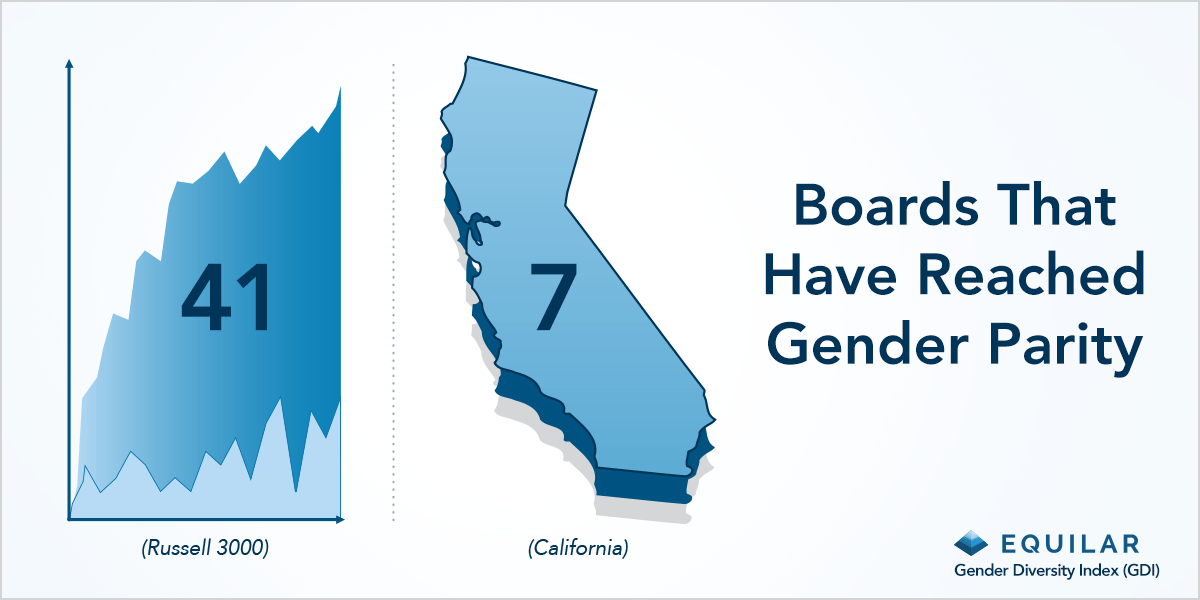 "It's safe to say that the percentage of public companies headquartered in California that do not have any women on their boards will decrease significantly," said Susan Angele, Senior Advisor, Board Governance at KPMG's Board Leadership Center. "Ideally, this will not be a check the box exercise but rather the visibility of the issue will enable boards to discover new networks and add fresh and valuable perspective to their boardroom discussions."
Other key findings from the report include:
43.5% of new directors in the Russell 3000 were women in Q4 2018

15.8% of all Russell 3000 boards have zero female directors

17.5% of CA-based Russell 3000 boards have zero female directors
Please click here for more details and commentary on the latest Gender Diversity Index.
---
About Equilar
Equilar is the leading provider of Board Intelligence Solutions. Its data-driven platforms, BoardEdge and Insight, provide tools for board recruiting, business development, executive compensation and shareholder engagement. Companies of all sizes, including 70% of the Fortune 500 and institutional investors representing over trillion in assets, rely on Equilar for their most important boardroom decisions. Equilar also hosts industry-leading board education symposiums, conducts comprehensive custom research services and publishes award-winning thought leadership. Founded in 2000, Equilar is cited regularly by Associated Press, Bloomberg, CNBC, The New York Times, The Wall Street Journal and other leading media outlets. Visit www.equilar.com to learn more.
For more information, contact:
Amit Batish
Content Manager
Equilar, Inc.
abatish@equilar.com
650-241-6697