Media Center
Press Releases
Equilar GDI: More Than One-Third of New Directorships Went to Women in Q2 2018
---
REDWOOD CITY, CA (August 30, 2018) —For a third consecutive quarter, the Equilar Gender Diversity Index (GDI) increased. The percentage of women on Russell 3000 boards increased from 16.9% to 17.7% between March 31 and June 30, 2018. This acceleration moved the needle, pushing the GDI to 0.35, where 1.0 represents parity among men and women on corporate boards.
A driving factor in this trend may be attributed to the fact that the number of new directorships that have gone to women has steadily increased over the last few years. That trend remained consistent in Q2 2018, as 34.9% of new board seats were appointed to women—up from 32% in Q1. This is indeed a promising sign that companies are making a concerted effort to promote diversity in corporate boardrooms.
While the steps toward gender parity on boards are indeed welcoming, there are still hurdles that remain. The overall representation of women on boards, while gradually increasing, is below 20%, and 17.1% of boards have zero women directors. However, over the last year, direct pressure from investors and lawmakers has elevated the push for gender equality across corporate America. In fact, in Q2 2018 the number of boards that achieved parity reached 39—an increase of eight from the previous quarter. The number of boards with female representation between 40% and 50% also increased by nine, reaching 71.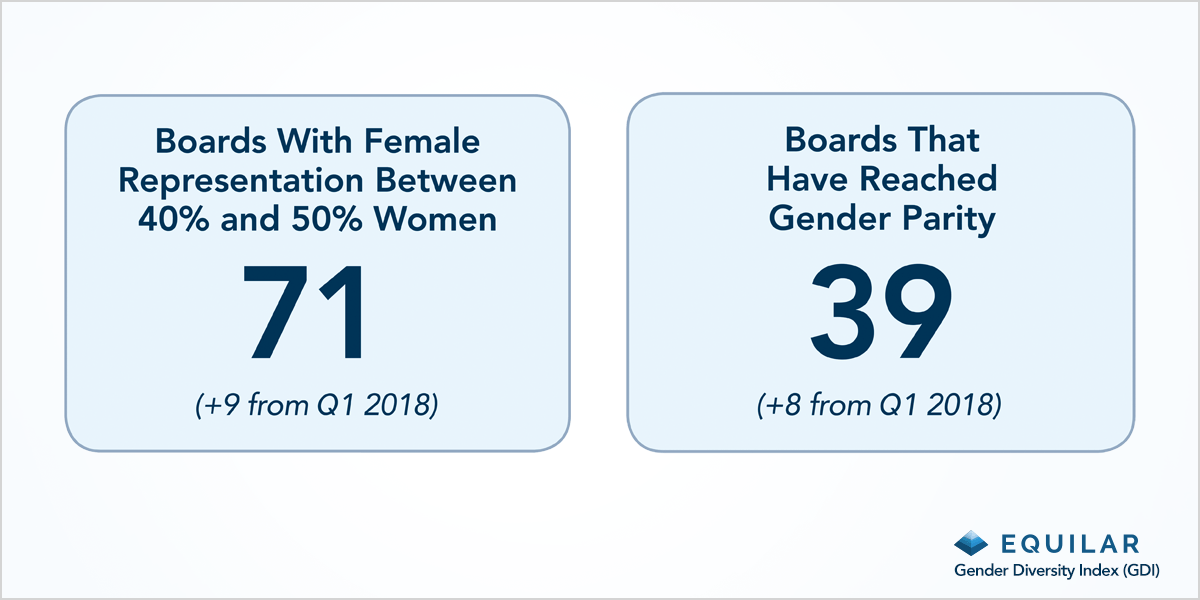 "In addition to investor focus, I see a confluence of events that should play out over time," said Susan Angele, Senior Advisor of Board Governance at KPMG's Board Leadership Center. "The changes in the business environment and expectations on boards—including technological disruption, competition coming from outside the industry, changing demographics, culture and risk—all of these forces are making it more important for the boardroom to include directors with a mix of backgrounds and experience."
Please click on the image below to view highlights from this quarter's GDI.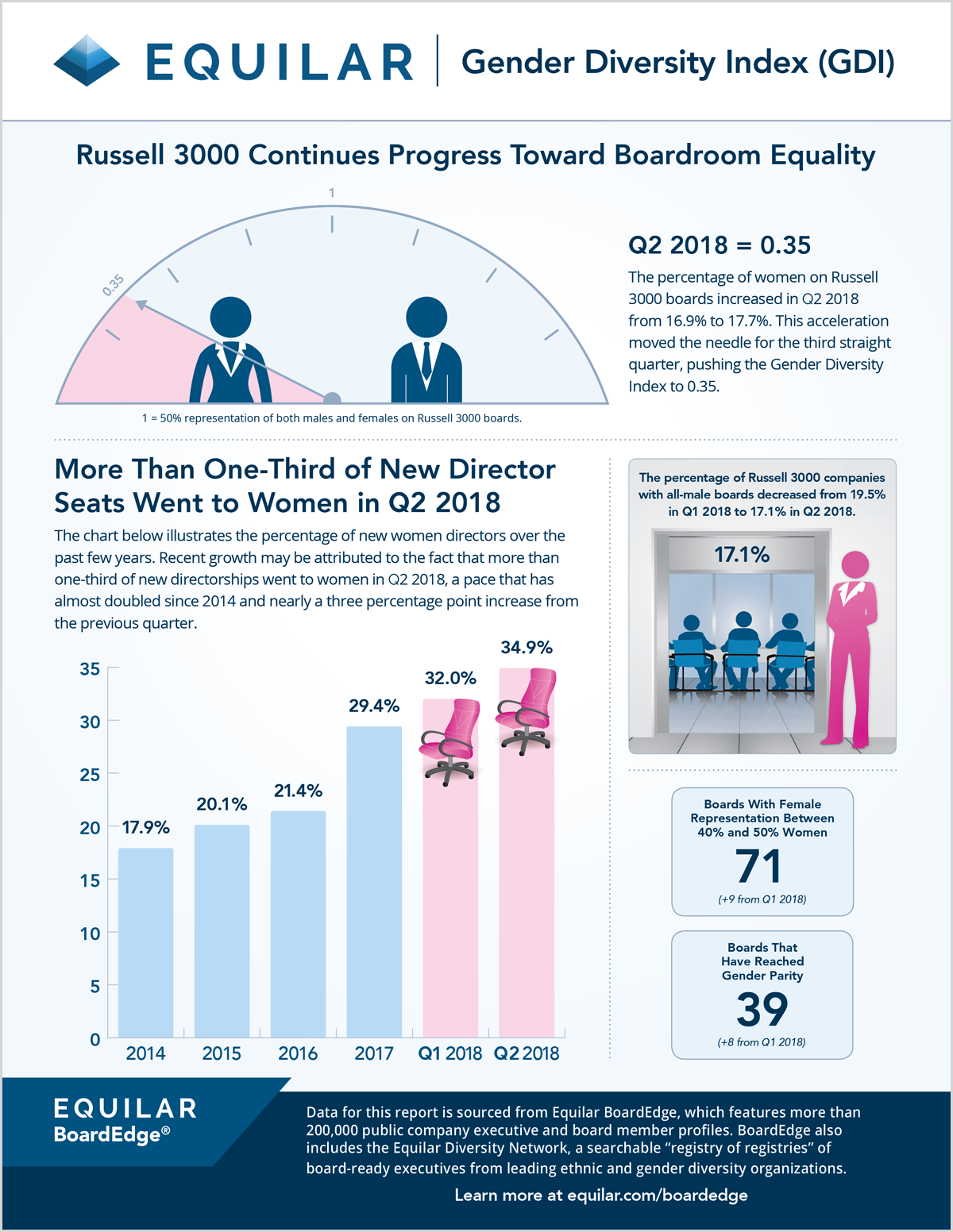 ---
About Equilar Gender Diversity Index (GDI)
The Equilar GDI reflects changes on Russell 3000 boards on a quarterly basis as cited in 8-K filings to the SEC. Most indices that track information about board diversity do so annually or even less frequently, and typically with a smaller sample size, sometimes looking back more than a full year by the time the information is published. While this data is reliable and accurate, the Equilar GDI aims to capture the influence of the increasing calls for diversity from investors and other stakeholders in real time.

The Equilar GDI is powered by Equilar BoardEdge, a database of more than 200,000 public company board members and executives. BoardEdge includes exclusive features that show how board members and companies are connected to each other, as well as the Equilar Diversity Network (EDN), a "registry of registries" of board-ready executives from leading ethnic and gender diversity partnerships, organizations, and publications.
About Equilar
Equilar is the leading provider of Board Intelligence Solutions. Its data-driven platforms, BoardEdge and Insight, provide tools for board recruiting, business development, executive compensation and shareholder engagement. Companies of all sizes, including 70% of the Fortune 500 and institutional investors representing over trillion in assets, rely on Equilar for their most important boardroom decisions. Equilar also hosts industry-leading board education symposiums, conducts comprehensive custom research services and publishes award-winning thought leadership. Founded in 2000, Equilar is cited regularly by Associated Press, Bloomberg, CNBC, The New York Times, The Wall Street Journal and other leading media outlets. Visit www.equilar.com to learn more.
For more information, contact:
Amit Batish
Equilar, Inc.
abatish@equilar.com
650-241-6697