Equity Plans
Market-Leading Tools for Aligning Company Performance and Shareholder Value
Equity plans allow companies to align long-term objectives with executive retention. Equilar offers data-driven tools to craft effective equity plans that gain shareholder support and drive executive performance.
Request Overview
---
Additional Share Request
The Equilar Additional Share Request solution helps companies ensure equity incentive plans do not negatively impact their long-term objectives. To attract and retain key executives, many compensation packages now include equity awards such as stock options and restricted stock. Equity dilution is a critical area of concern in these situations.
Using industry-set equity burn rate methodology, the Additional Share Request solution incorporates a comprehensive set of analytical tools to accurately estimate the effect of additional share requests. Equilar provides companies with a trusted, independent source of information to help them benchmark overhang and run rates against peer and industry groups.
Equilar Additional Share Request allows you to confidently request additional shares and gain shareholder support of new incentive plans at annual meetings.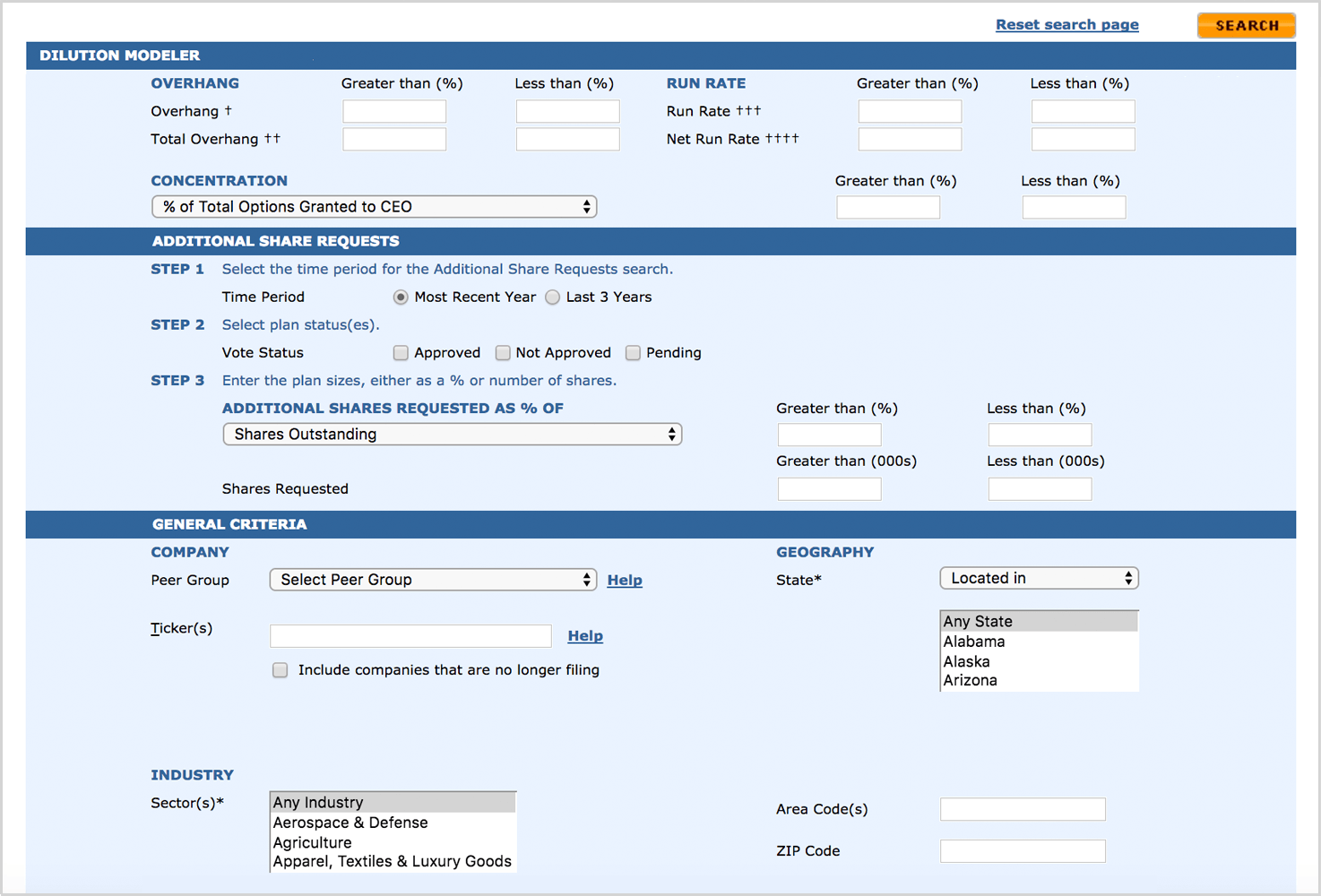 Key Benefits
Customizable one-year and three-year burn rate (run rate) and overhang calculations

User-defined conversion premiums for full-valued shares

Inclusion or exclusion of Stock Appreciation Rights (SARs) or Restricted Stock Units (RSUs)

Summary statistics of company dilution levels against peer and industry medians

Company peers' FAS123®assumptions used in their Black-Scholes valuations

Russell 3000 additional share requests in recent or upcoming annual meetings
---
Shareholder Value Transfer Modeler
Equilar Shareholder Value Transfer (SVT) is one of the most heavily relied upon dilution tests to determine how prudently a company is administering its equity programs. The SVT Modeler allows you to project the cost of your equity plan within the context of your industry and peer group, allowing you to more clearly communicate the plan's value to your shareholders.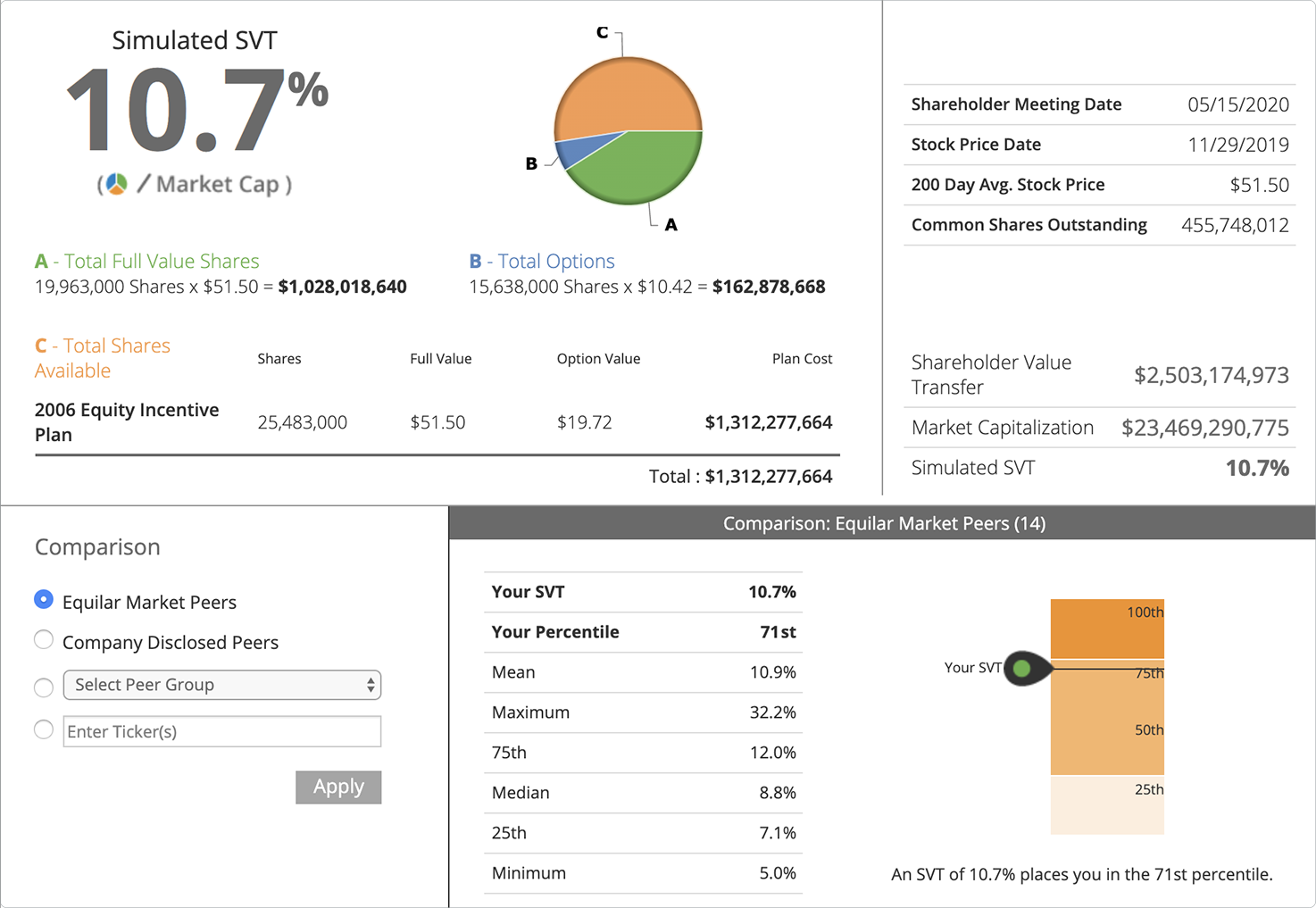 Key Benefits
Project your Shareholder Value Transfer with simple step-by-step instructions

Analyze the levers that affect the cost of equity plans by utilizing a transparent valuation methodology

Benchmark against customizable peer groups or industry peers

Evaluating the cost of your equity plan, taking into account available shares, requested shares, fungible ratio, sub-limits and other plan benefits

Comparing the cost of your equity plan to a customizable group of peers, including your GICS6 industry

Running what-if scenarios to analyze how adjustments to your shares requested or plan benefits impact the cost to shareholders
---
Total Shareholder Return
The Equilar Total Shareholder Return enables your company to accurately measure the performance of different companies' stocks and shares over a period of time. A flexible interface allows for custom date ranges that can be matched to incentive plan cycles. The Total Shareholder Return calculator can be further tailored with custom peer groups or with the Equilar Market Peers.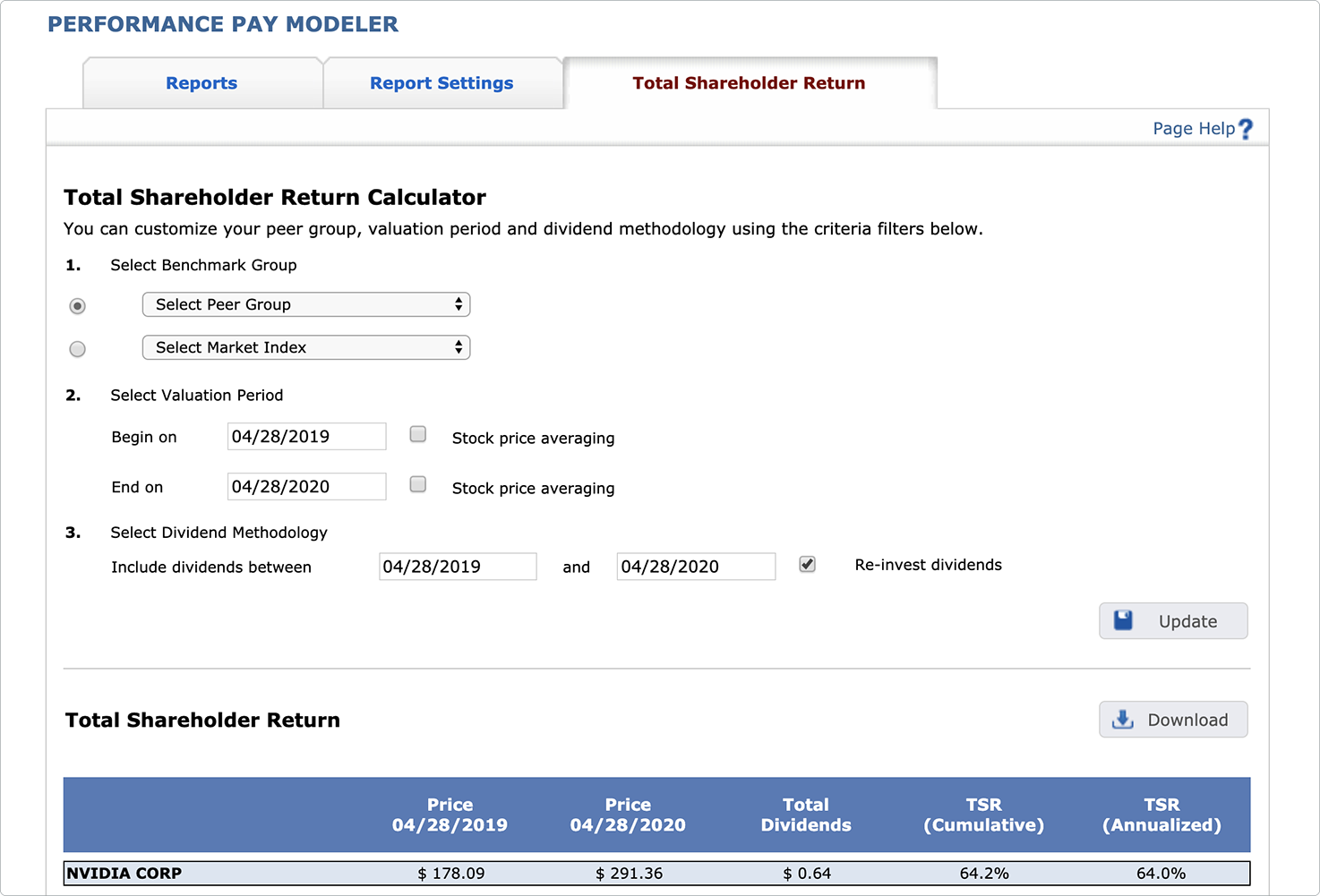 Key Benefits
Enter in customized Total Shareholder Return date ranges and match it to incentive plan cycles

Seven realizable pay calculations with a side-by-side comparative view

Stock Performance Graphs are easily generated
---