Tracking PvP Disclosures: The Latest Updates
Last Updated: June 9, 2023
Amit Batish
---
---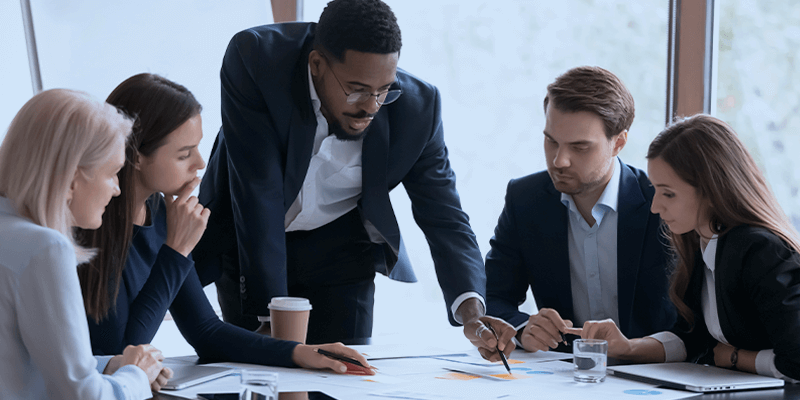 Without a doubt, the 2023 proxy season will be headlined by the implementation of new SEC Pay Versus Performance (PvP) rules. The PvP rules require companies to disclose information reflecting the relationship between compensation actually paid (CAP) to a company's named executive officers (NEOs) and the company's financial performance. Indeed, the first-year disclosures will introduce an added layer of complexity as boards and compensation committees design executive pay packages for future years. As this proxy season will serve as the inaugural year for the PvP disclosures, companies face tremendous pressure to put their best foot forward to adequately tell their pay versus performance story.
To provide context into how the rules are shaping, Equilar is closely tracking PvP proxy disclosures. This segment features examples of tabular and narrative PvP disclosures captured in proxy filings and will be updated through the duration of proxy season. Equilar has also launched a PvP Tracker to track the various calculations and performance measures within PvP proxy disclosures. View the PvP Tracker for the latest updates.
Equity Methods, the industry leader in equity compensation valuation and accounting, will be providing commentary and expert insights to contextualize these disclosures and highlight any noteworthy features.
---
Roper Technologies (ROP)
DEF14A filed 4/28/2023

---
IMPINJ INC. (PI)
DEF14A filed 4/26/2023

---
Zumiez, Inc. (ZUMZ)
DEF14A filed 4/21/2023

---
Interdigital (IDCC)
DEF14A filed 4/20/2023

---
Amazon.com, Inc. (AMZN)
DEF14A filed 4/13/2023

---
TTEC Holdings, Inc. (TTEC)
DEF14A filed 4/11/2023

---
Equitable Holdings, Inc. (EQH)
DEF14A filed 4/11/2023

---
MediaAlpha, Inc. (MAX)
DEF14A filed 4/5/2023

---
Urban Outfitters, Inc. (URBN)
DEF14A filed 4/3/2023

---
Texas Roadhouse (TXRH)
DEF 14A filed 3/31/2023

---
Paycom Software, Inc. (PAYC)
DEF14A filed 3/28/2023

---
Genpact (G)
DEF14A filed 3/21/2023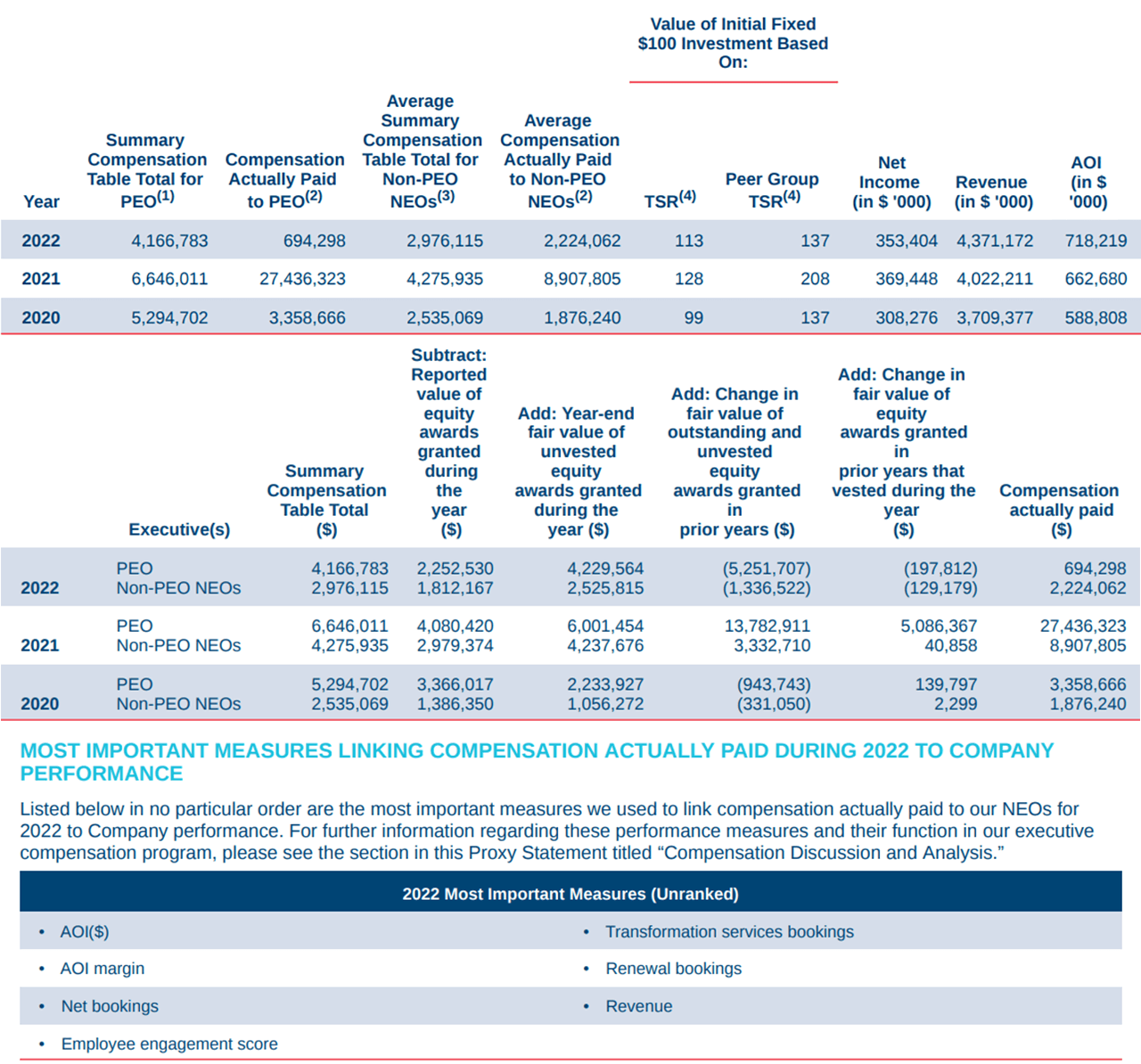 ---
ArcBest Corporation (ARCB)
DEF 14A filed 3/17/2023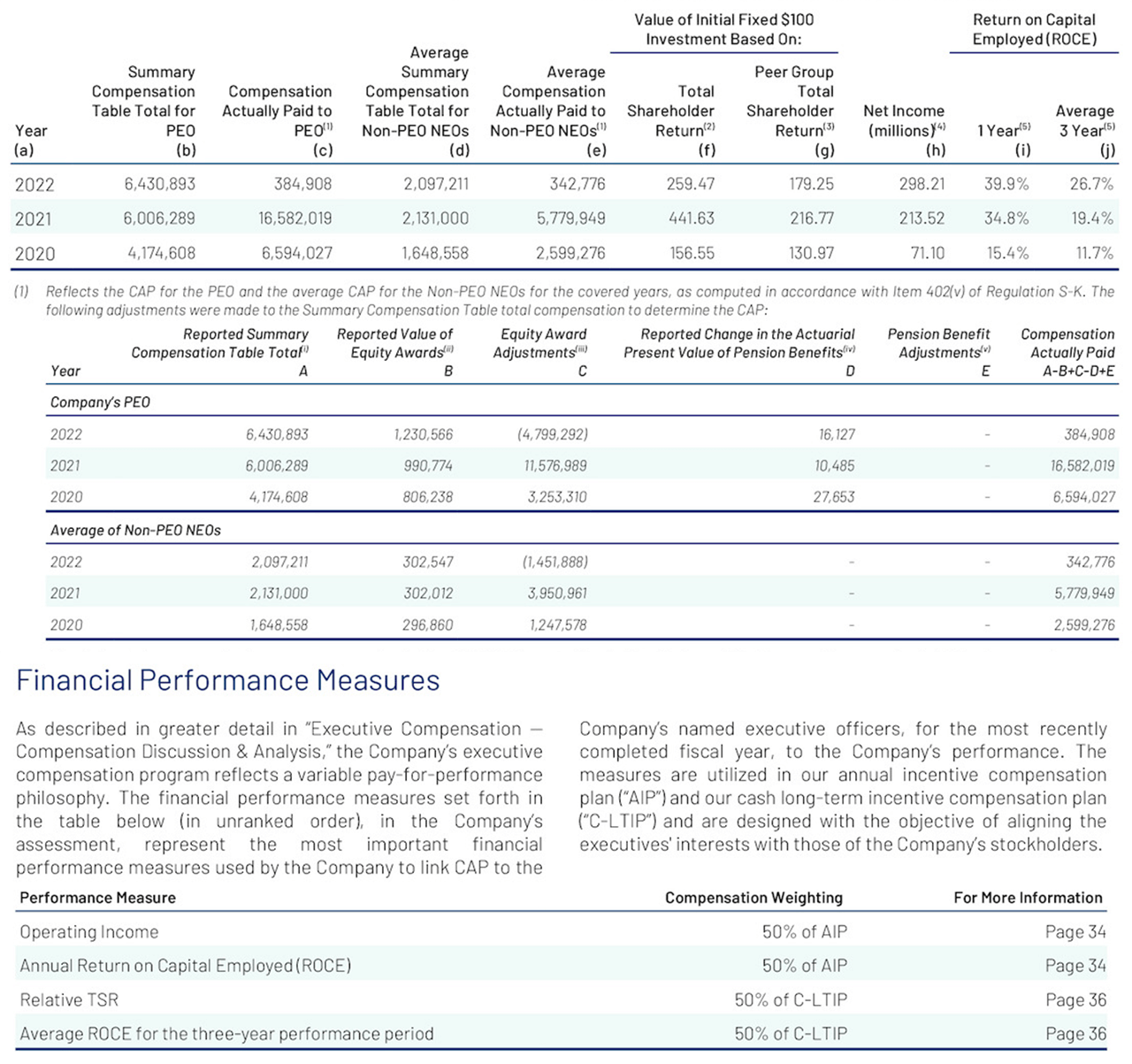 ---
W.W. Grainger, Inc. (GWW)
DEF 14A filed 3/16/2023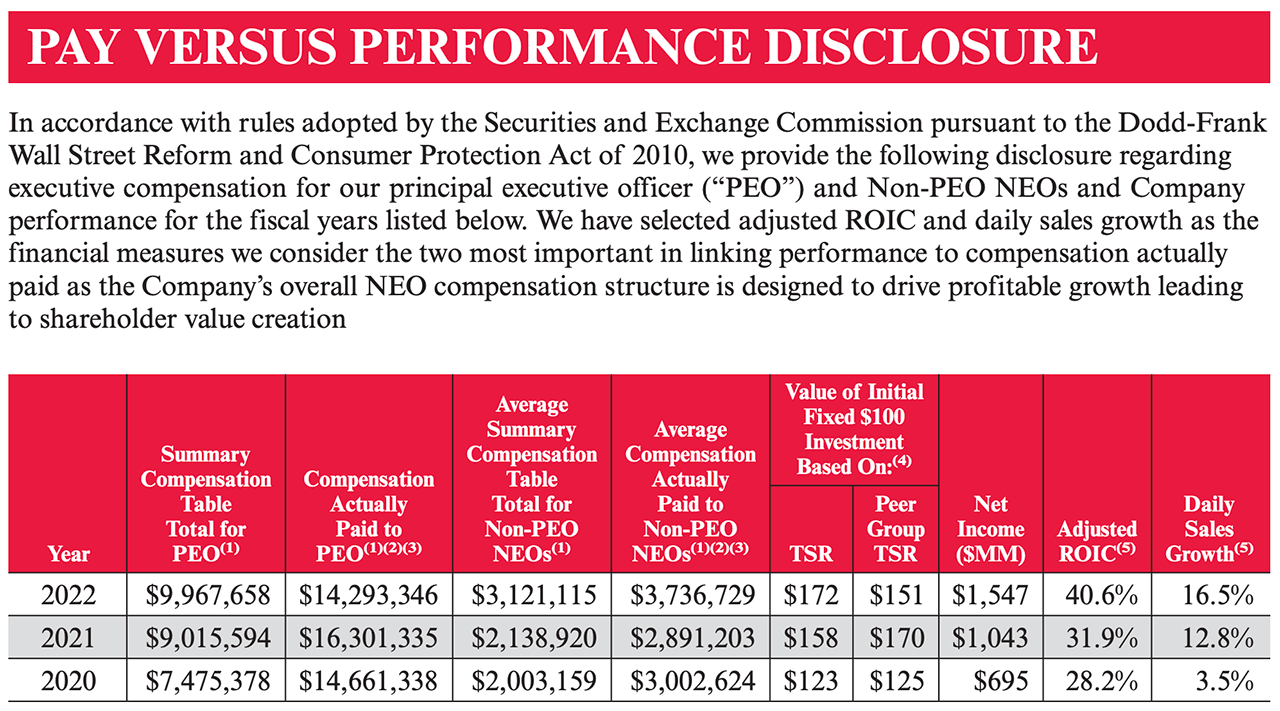 ---
Johnson & Johnson (JNJ)
DEF 14A filed 3/15/2023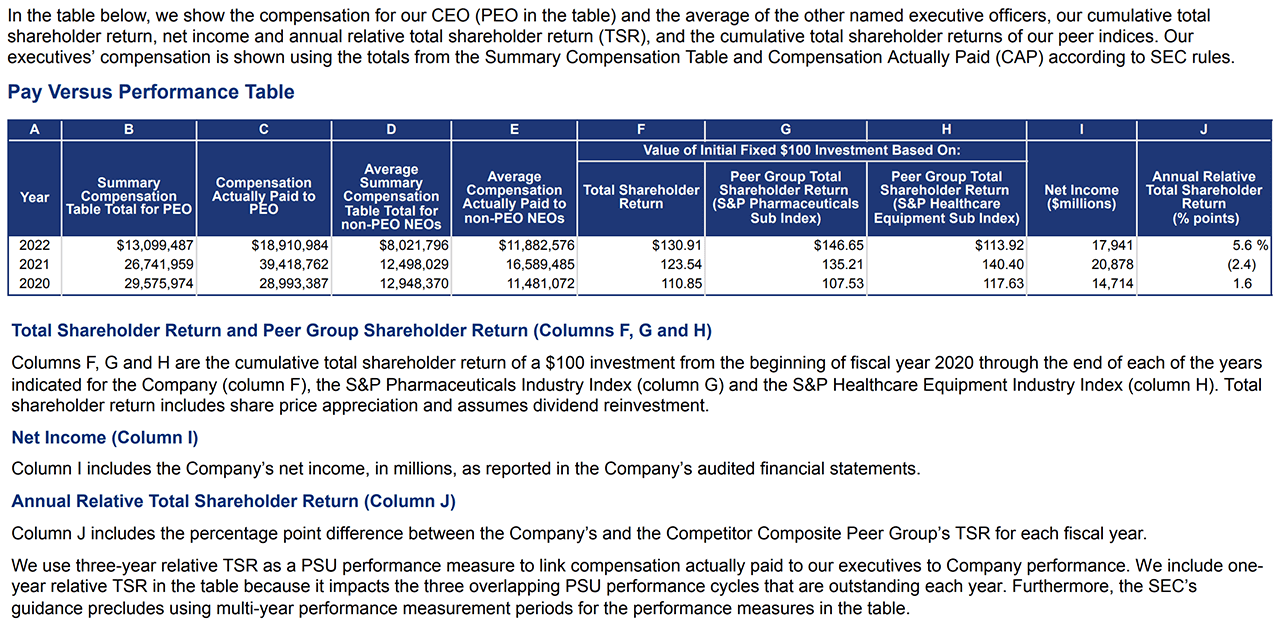 ---
Coca-Cola Co (KO)
DEF 14A filed 3/10/2023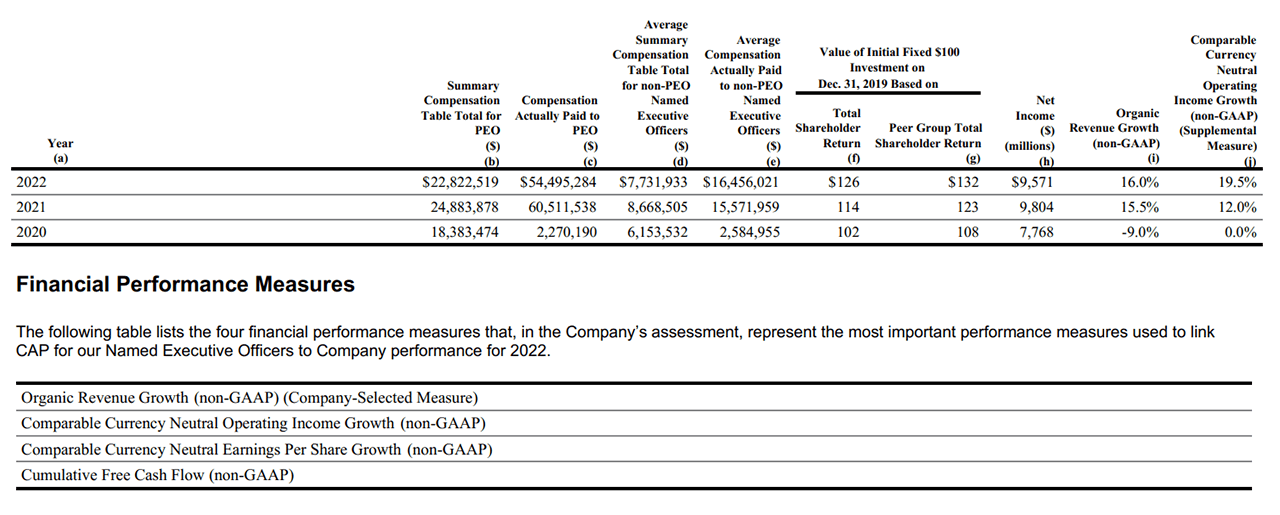 ---
Whirlpool Corporation (WHR)
DEF 14A filed 3/8/2023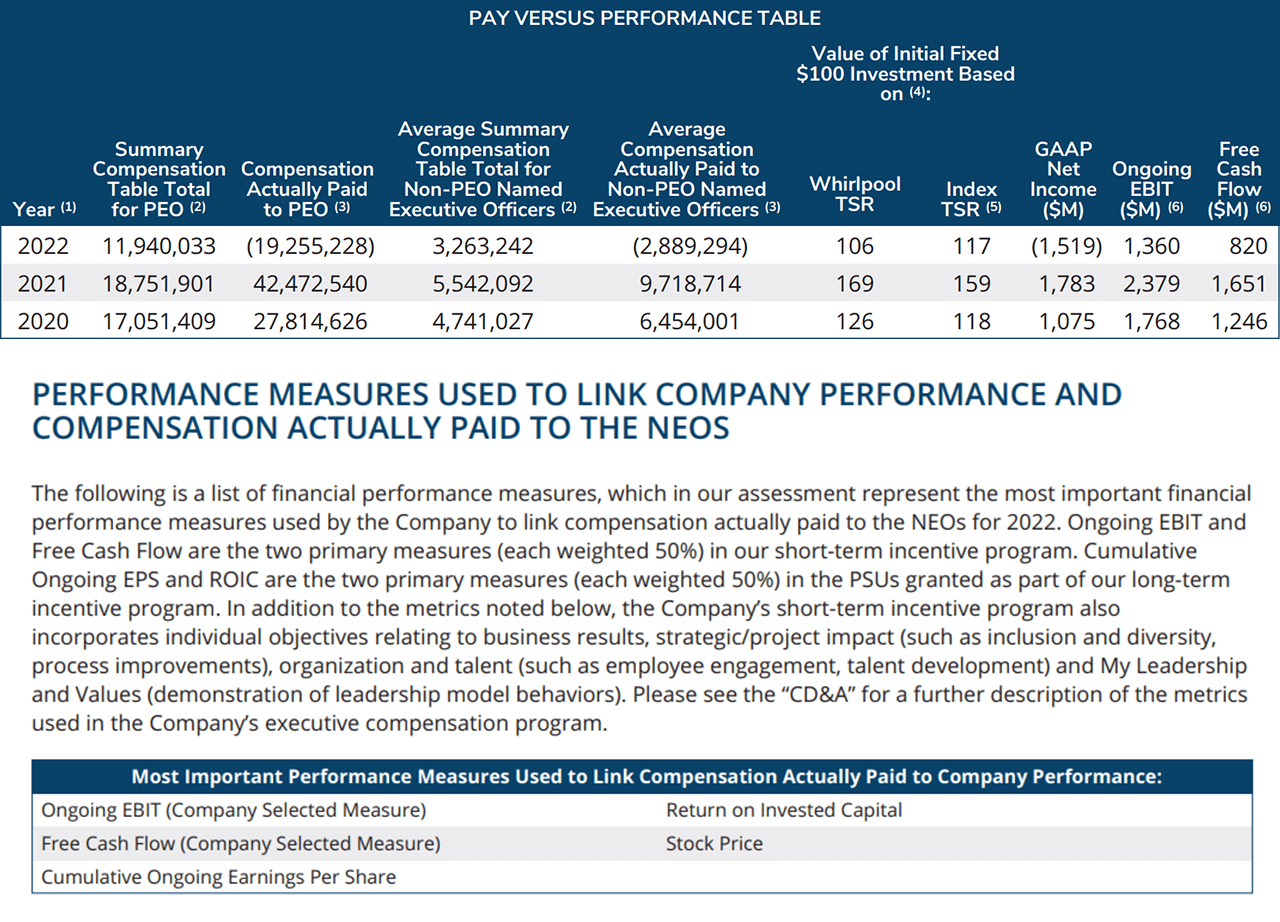 ---
Lithia Motors (LAD)
DEF 14A filed 3/8/2023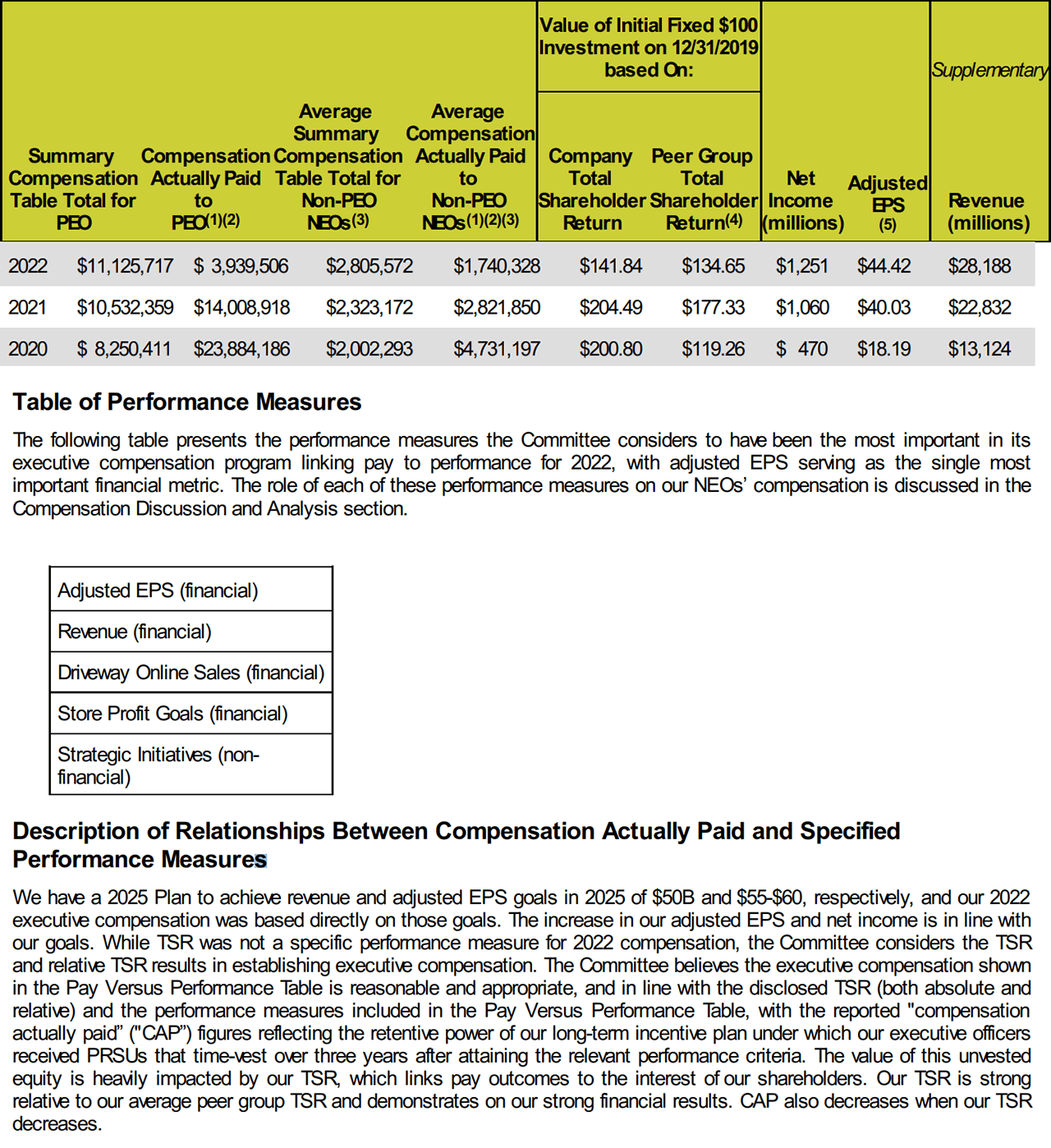 ---
IBM Corporation (IBM)
DEF 14A filed 3/6/2023

---
Kaman Corporation (KAMN)
DEF 14A filed 3/3/2023

---
Equitrans Midstream Corporation (ETRN)
DEF 14A filed 2/23/2023

---
Magellan Midstream Partners, L.P. (MMP)
DEF 14A filed 2/21/2023
Our CEO is the principal executive officer ("PEO"). The following table sets forth information concerning the compensation of our PEO(s) and other NEOs for each of the fiscal years ("FY") ending December 31, 2020, 2021 and 2022 and our financial performance for each such fiscal year:

Narrative to Pay Versus Performance Table
For the fiscal year ending December 31, 2022, the most important financial performance measures used to link compensation actually paid to our NEOs to company performance are DCF per unit, DCF and adjusted EBITDA. Our NEO's target total compensation is heavily weighted towards short and long-term performance with performance goals aligned with our unitholders' interests. The majority of target compensation was weighted toward long-term equity performance and time-based awards and the sole financial performance metric for LTIP awards was DCF per unit. The short-term incentive program's funding metric is DCF required to maintain distribution levels from the last quarter in the prior fiscal year and the financial performance metric under our short-term incentive program is Adjusted EBITDA less maintenance capital.

---
---
---