2021 Equilar Executive Compensation Summit Opening Week Recap
Keys to Employee and Workplace Well-Being in the Post-COVID Environment
June 13, 2021
Dan Marcec
---
---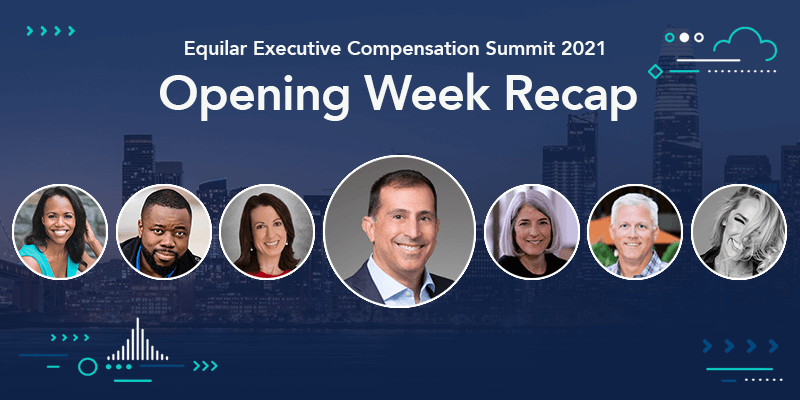 While business may feel more like usual in 2021, Equilar's second consecutive virtual Executive Compensation Summit is a reminder that today's world is anything but familiar. The way we work is changing permanently.
For the past 12 years, the Summit has hosted hundreds of senior-level professionals to explore the complex, interrelated issues around executive pay and corporate governance. The key themes at the general sessions in the opening week of this year's conference were focused on what it will look like when companies bring people back to work, and how to push forward with HR and compensation initiatives in the "new normal," which will be anything but normal.
Jeff Brodsky, a Vice Chairman at Morgan Stanley, provided the opening keynote for this year's four-day, virtual conference. As a senior advisor on strategic issues related to executive talent, succession, and diversity and inclusion, in addition to leading the company's COVID response, Brodsky spoke with Blair Jones, a Managing Director with Semler Brossy, to provide specific insights on a variety of themes critical to today's HR leadership, including leadership in crisis, the future of work, and how to drive real progress in diversity and inclusion initiatives. 
Meanwhile, Andy Welt, Senior Vice President, Broad Based Rewards Practice Leader at Fidelity Investments, and Jeanne Thompson, Senior Vice President for Fidelity Workplace Consulting, led a session offering strategies to re-evaluate the "New Frontier" for benefits, rewards and people strategies.
2020 Was the CHRO's Crisis
HR professionals were unexpectedly thrust into the corporate spotlight in 2020, leading to a lot of difficult decisions being made quickly.
"If the financial crisis was the CFO's crisis, 2020 was the CHRO's," Brodsky said. "What an interesting time to be sitting in that seat, taking workforces remote and dealing with physical and mental health issues due to COVID-19. And if that wasn't enough, social injustice finally got the attention it deserved for a long time."
Welt noted that while the discussion now is how COVID changed the workplace, this environment was already simmering in 2019. There was record low unemployment, and companies were already re-evaluating the landscape of how they want to operate. And of course, diversity and inclusion is not a new concept by any stretch.
"COVID pressed down on the accelerator, but these changes are rooted in history, and it's important to put things in that context," he said.
In these moments, despite being a consensus-driven organization, Brodsky said that he and other leaders at Morgan Stanley often had to make decisions first and gain feedback later. Looking toward the future of work, he thinks that there are plenty of opportunities and lessons to be learned from these challenging experiences, but the most important thing is to get people back together first. He likened those initial experiences with colleagues to the hug with a family member for the first time after a year or more. It's important to cross that boundary, and then start the healing process.
"Let's not get hung up on what getting people back to work looks like, let's just get them back to work," he said. "Organizations and companies need to feel that closeness like we do with our families."
How to Approach "Going Back" 
While Brodsky acknowledged that every organization has its unique needs and structures, he is unapologetically a proponent of in-person work.
"Culture makes an organization successful or unsuccessful, and it has to be at the epicenter," he said. "My fear is that if you go completely remote, people might understand culture, but it's very difficult to feel it."
And, he was quick to point out, in-person or remote work is not an all-or-nothing proposition.
"I think work and dress for work should be for the day. If you need to be in the office you need to be in the office, if you need to wear a suit you wear a suit, but neither needs to be every day for most people," Brodsky added. "The key to organizational success in the future will be the technology that will enable a hybrid work environment where some people are in and some people are out."
Indeed, there will be a sliding scale, and every organization will have to figure out what works for them.
According to Jeanne Thompson of Fidelity, there will be some push and pull as companies want employees to be able to assume new roles and be nimble, and at the same time, you have employees who were asked to work from home, furloughed, or even to work extended hours during the pandemic. They want more flexibility and well-being support.
"The biggest trends are the middle of the venn diagram, where everyone wants adaptability and resilience," said Thompson.
One common theme coming from each of these sessions is the mental health factor and how to work with people where they are after experiencing a year of tragedy, loss, confusion and disorientation. Brodsky talked a lot about his time managing the 9/11 crisis at Morgan Stanley, which was the largest tenant at Two World Trade when the tower went down, and emphasized that the overall wellness factor can't be overlooked in both the short- and long-term, regardless of the strategies companies take to bring people back.
Ultimately, the most likely scenario will be companies moving away from a one-size-fits-all view of working models, with traditional, remote and virtual employees (the latter being executives who need to be in multiple places at once or sales leads who don't have a "home" office, for example).
The question is how to integrate in a way that supports all different working environments. It's easy to say "all individual contributors can work from home indefinitely," but the single person living with a roommate in a small city apartment or the parent of three young children in a big suburban house will have very different needs when it comes to schedule flexibility, the need (and ability to accommodate) office and social interaction, and of course, technology.
"Virtual work has been one of the most impactful disruptors that I've seen in my career," said Welt. "The aspect of digital transformation and how that's unfolded has really impacted employees and how their roles are defined, and the entire HR paradigm has to reframe its strategy for the virtual environment."
People Management and the Role of Pay
2020 upended standard operating procedures for compensation professionals as well, who had to determine what was fair pay in the midst of all this.
"No good crisis should go to waste," Brodsky said. "As organizations, we'll be figuring out how people work, and whether remote working makes some job opportunities more or less attractive. That's the next chapter that we're going to write, and HR practitioners of all sorts are going to be at the epicenter." 
With respect to compensation and incentives going forward, one of the most notable outcomes from 2020 will be the introduction of diversity & inclusion metrics into executive pay plans going forward.
"How we manage diversity programs is a ticket for entrance, but how it's measured is the key," Brodsky noted. "Representation is easy to measure and see where you are making progress. But it's not just about that, it's about belonging."
According to Welt, a big thing to consider with diversity & inclusion is whether the benefits are accessible, adequate and affordable for all employees. To be successful, a lot of companies are analyzing their holistic benefits programs through that D&I lens, thinking about gaps in participation in retirement plans and savings and financial wellness.
The bottom line, Brodsky said, is that "data analytics in the HR space is going to be a huge growth area. It's going to require a ton of inputs."
Bringing Wellness to Life
To bring these concepts of health and workplace wellness to life, Equilar hosted two sessions to inspire and encourage rest and relaxation amidst an otherwise hectic schedule.
On day one of Summit, to welcome attendees to the event, Morgan Stanley at Work sponsored a special virtual trip to Broadway for an exclusive, behind the scenes experience with cast members from the Pulitizer- and Tony-winning musical Hamilton. The event featured a live digital performance from cast members Tamar Greene (George Washington) and Nikki Renee Daniels (Angelica). Greene and Daniels also discussed how Hamilton changed the landscape of Broadway and paved the way for persons of underrepresented communities to star in hit musicals.
Meanwhile, Nora Tobin, a wellness advisor for Fortune 100 companies (among many other entrepreneurial endeavors), led a session designed to equip professionals with productivity and focus. She offered tips on using our brain power to minimize "microstressors," such as counterbalancing our bodies' responses to staring at the blue lights from our computers, which weakens our energy levels, or to constant email dings or smartphone buzzes, which she likened to our "fight or flight" reactions in the wild when being chased by a lion. She also detailed practical strategies for drawing boundaries between work and life when they all occur in the same place, as well as tips for staying healthy when we do get back out on the road and start to travel for work again. 
The biggest challenge will be how companies can apply these lessons and provide these types of benefits to their people on a day-to-day basis. The most encouraging thing about the "new normal" is that listening to employees and understanding where they are on an individual level has always been the cornerstone of good HR policy. People do change, and those that are adept at adapting along with them, especially in times of crisis, have the opportunity to make a real impact.
"The thing that has made me successful is something I thought would get me fired one day—the willingness to hear what everyone else is thinking and the willingness to say it to leadership without fear of consequences," said Brodsky.
---
---
---