Tracking Human Capital Management Disclosures Across Corporate America
April 26, 2021
Amit Batish
---
---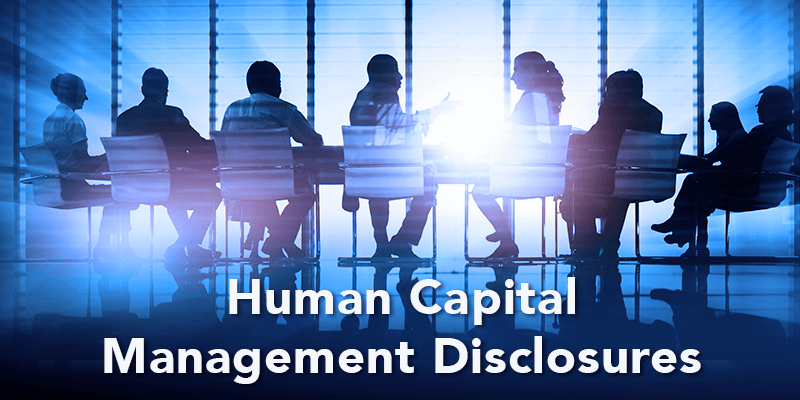 Last updated - April 26, 2021
Prior to the pandemic, human capital management (HCM) issues were gaining tremendous traction, as investors became more aware that a concrete and thorough HCM plan can help drive performance, and thus should be a greater part of overall business strategy. Of course, the COVID-19 pandemic further exacerbated this notion as the focus on employees became even more critical, particularly as companies sought to ensure the health and safety of their employees. As a result, companies are making a concerted effort to not only adequately address issues related to HCM, but also disclose their policies. In fact, according to Equilar, the median character count for HCM-related disclosures has increased by more than four times over the last year.
Over the next several weeks, Equilar will track disclosures related to HCM through its Disclosure Search platform as they are filed. This segment will feature prime examples of HCM Disclosures and will be updated on a weekly cadence.
---
Most Recent
---
Biopharmaceutical company Incyte disclosed a fully inclusive compensation program across its employee base as evidence of its commitment to human capital resources. For example, all full-time employees receive long-term equity grants, bi-annual compensation reviews that include gender parity confirmation, full medical coverage, and are eligible to participate in its annual incentive plan. Furthermore, part-time employees working at least 20 hours per week are also eligible for 95% healthcare coverage, as well as the opportunity to participate in the Employee Stock Purchase Plan.
In addition, the Company disclosed detailed programs that aim to increase representation of Black employees, which constitute just 5% of Incyte's U.S. workforce. These include the development of an Inclusion committee, co-chaired by the CEO and head of HR, as well as participation in recruiting and training networks that help develop talent. Incyte also noted its efforts to address underrepresentation of Black patients in clinical trials, which was highlighted during development of the COVID-19 vaccines.
Incyte Corporation (INCY)

---
Additional Disclosures
---
Restaurant and amusement company Dave & Buster's provided HCM disclosures specific to actions it took in response to the unique events of 2020. In addition to a breakdown of the Company's workforce, which comprises 53.5% racial minorities, Dave and Buster's detailed several measures enacted to address workplace challenges faced among underrepresented groups, such as creating an enterprise human rights policy, forming an HR steering committee, setting goals to improve diversity in corporate leadership, and increasing representation of women and racial minorities on internal governance committees.
With respect to COVID-19, Dave & Buster's disclosed potential lasting impacts that the pandemic may have on its workforce. Because it had to furlough many employees — management and hourly workers alike — the Company employed a new labor model, which may in the future allow stores to reduce workforce based on technological efficiencies.
Finally, the Company noted that its independent non-profit, D&B H.E.A.R.T. Fund, provided financial assistance to some furloughed team members facing exceptionally tough challenges during the pandemic.The fund is financed by contributions from employees, customers, and business partners, used to help employees who suffer catastrophic events resulting in severe economic hardship.
Dave & Buster's Entertainment, Inc. (PLAY)

---
In the third quarter of 2020, Home Depot re-evaluated its temporary COVID-19 benefits for frontline, hourly associates—which included additional paid time off, weekly bonuses, enhanced overtime pay, and extended healthcare benefits—determining that the company would begin a transition process to make these compensation changes permanent. For fiscal 2020 alone, the Company reported that these measures added an expense of approximately $2 billion.
The Home Depot, Inc. (HD)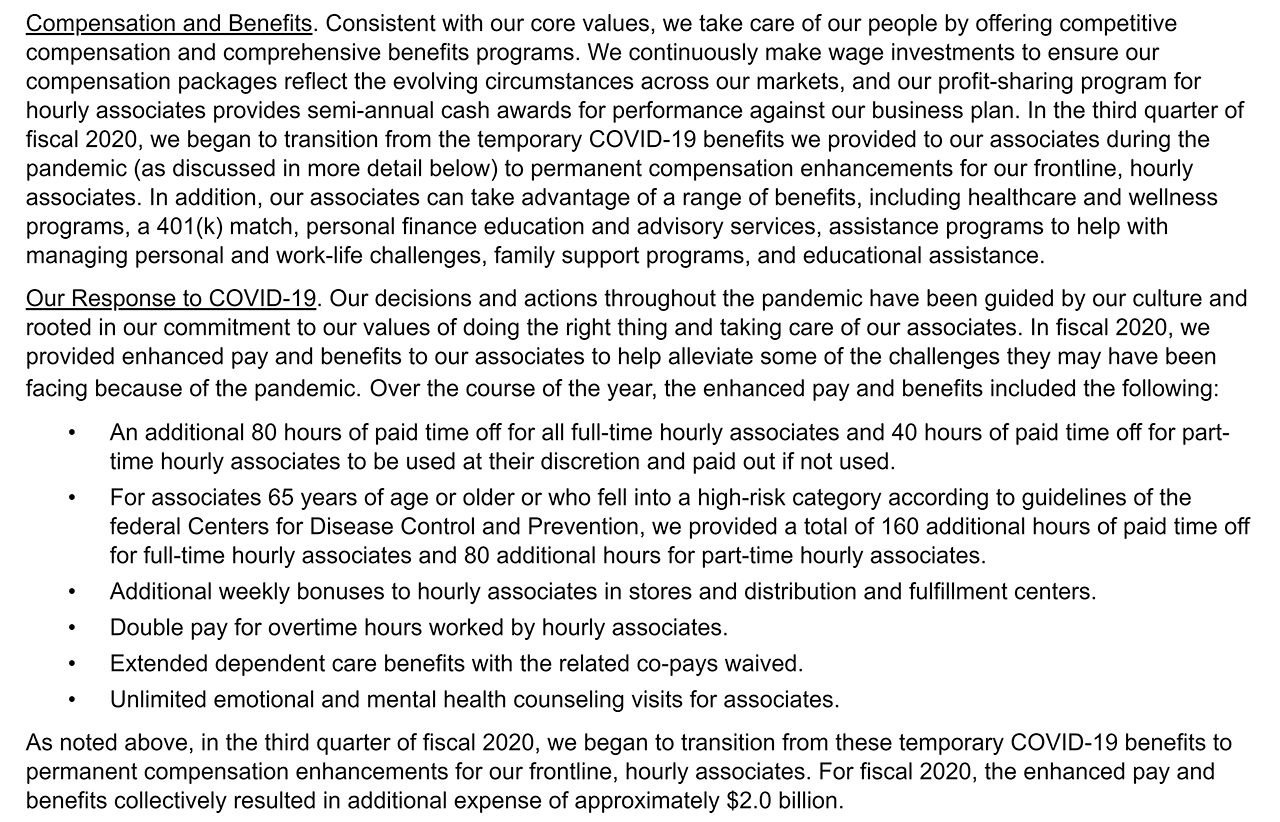 ---
BRP Group disclosed detailed programs and benefits for its "colleagues" that the Company believes contribute to a high annual retention rate. Notably, the insurance advisory firm did not lay off or furlough any workers during 2020, and in fact hired 60% more than in 2019, also awarding full merit pay increases and bonuses at the onset of the COVID-19 pandemic (when many other companies cut costs or put on spending freezes). The Company also disclosed that all jobs within the organization earn at least $15 an hour, clearly stating a position on this hot-button employment issue.
BRP Group, Inc. (BRP)

---
As a retail company, Five Below had to respond quickly to COVID-19 while keeping operations running "as usual" to the extent possible at its in-person locations. Its HCM disclosure details the measures put in place not only to protect essential in-store and distribution center employees, but also to support all workers—including a sick pay policy for those who may contract the virus, as well as a hotline for employees to reach out during this difficult time.
Five Below, Inc. (FIVE)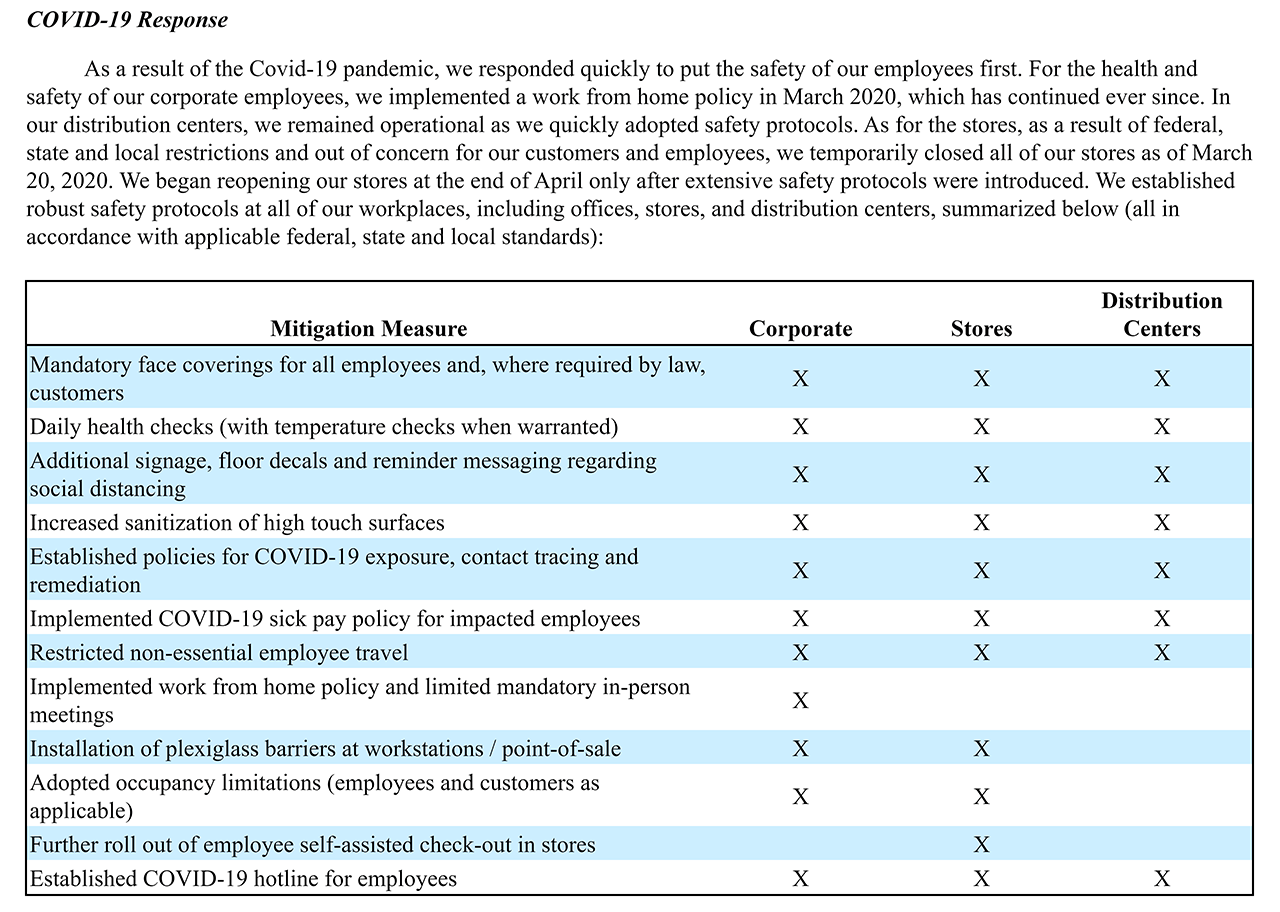 ---
Given that Ulta Beauty's revenue is derived from in-store, personal interactions, the Company disclosed its commitment to understanding the diverse range of guest perspectives and experiences at the store level through mandatory training and weekly learning opportunities. In addition, the Company's workforce outside of corporate leadership comprises 91% women, which is reflected in the fact that its board and executive management teams are a majority women.
Ulta Beauty, Inc. (ULTA)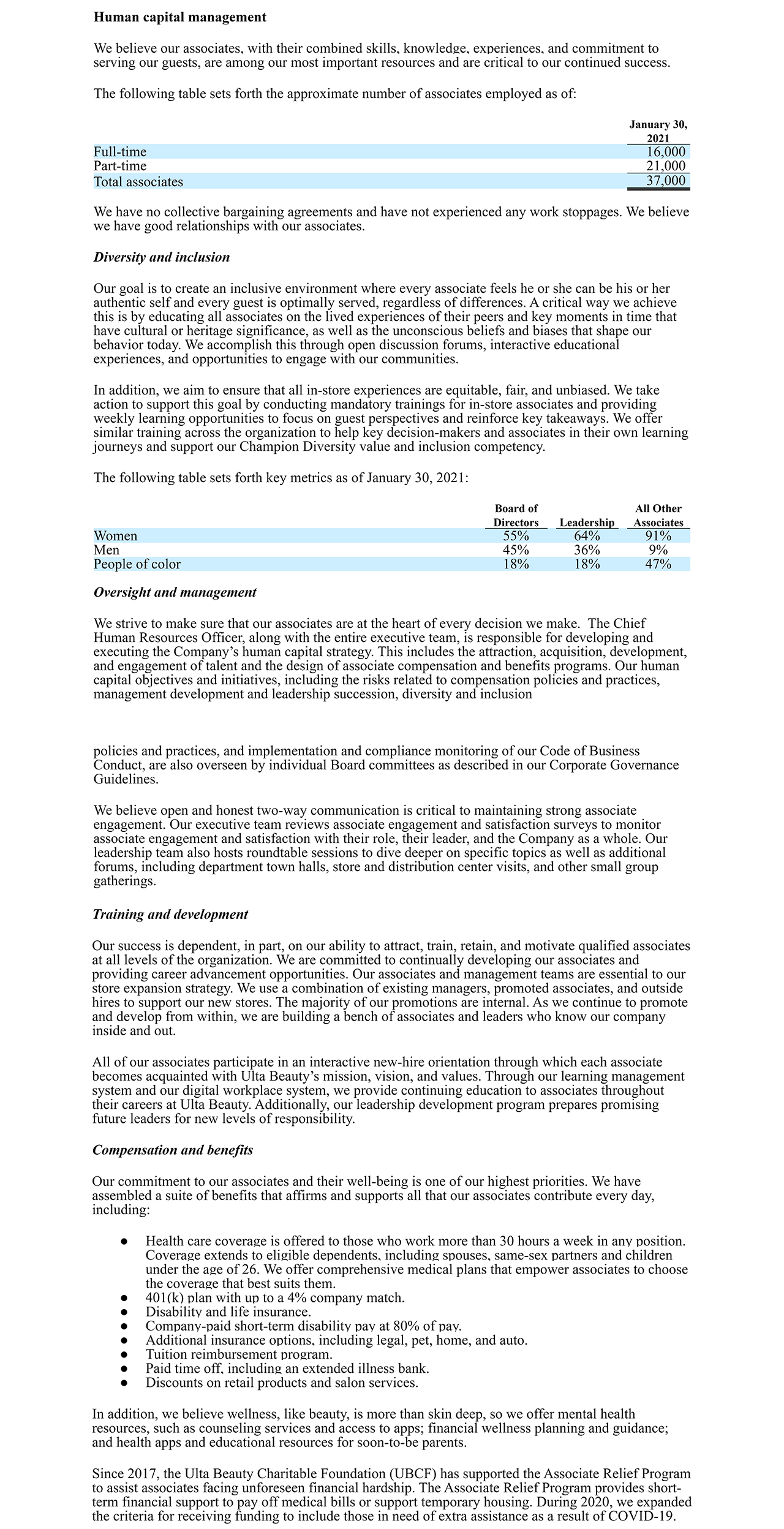 ---
Exelon included a breakdown of employees across various demographic groups to highlight efforts to employ a diverse workforce, including general categories for women, race/ethnicity (denoted as "people of color") and age.
Most notably, the 10-K reported that Exelon is in good standing with respect to pay parity for women. A footnote referenced the fact that the Company employs an independent third party to review management positions each year, and this review has consistently found no systemic pay equity issues. It's a reminder that even when disclosures may be small, they are important, as they provide a window for stakeholders to look behind the scenes.
Exelon Corporation (EXC)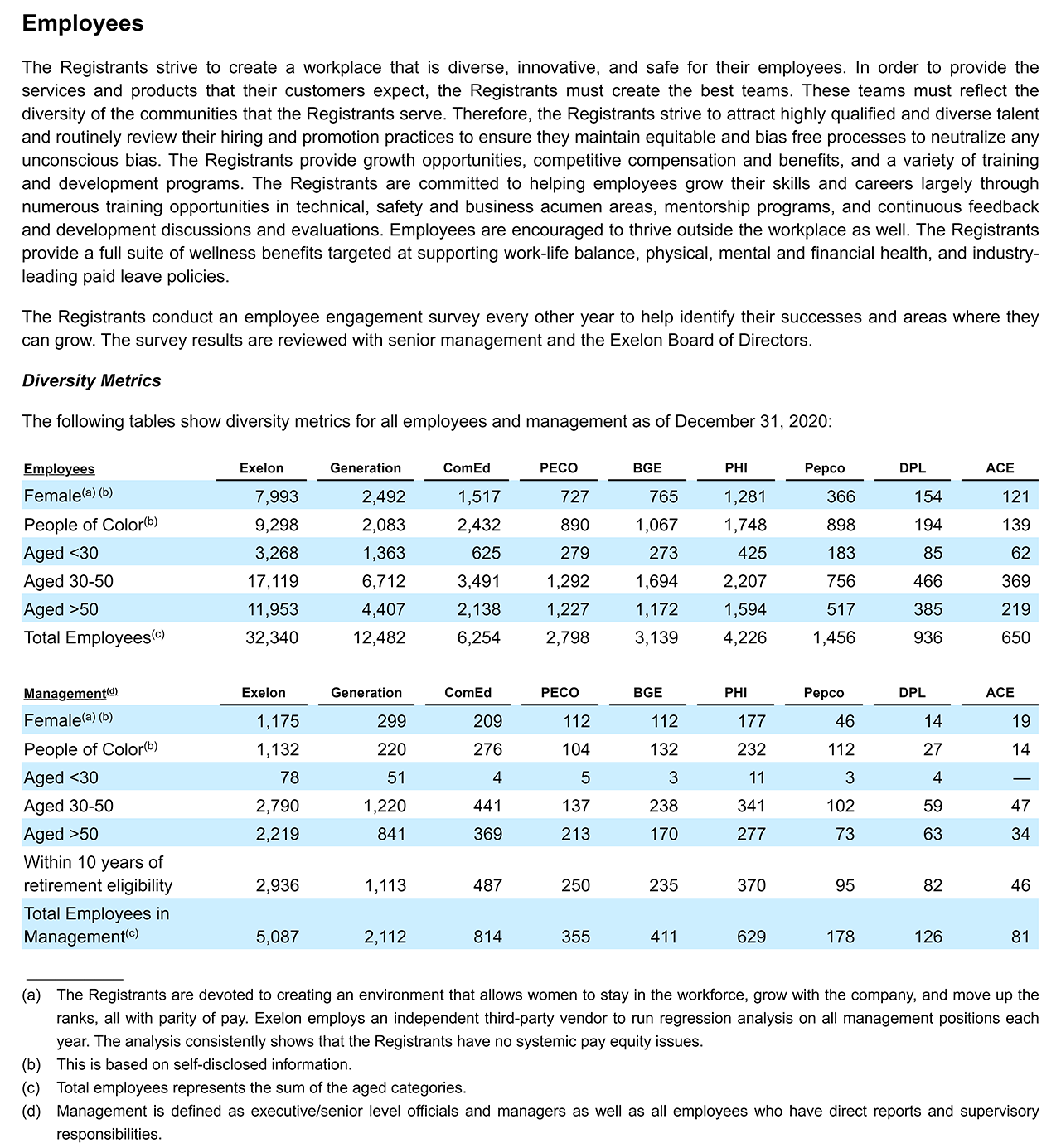 ---
One of the biggest barriers to diversity in the C-Suite and boardrooms is poorly conceived programs to recruit and develop women and minorities from top to bottom. The HCM section in Ansys' recent 10-K explained how the Company aims to achieve diversity in the talent pipeline serving its entire employee base. Specifically, the disclosure referenced that Ansys actively recruits through historically black colleges and universities, minority engineering societies, women in technology groups, and veterans and LGBTQ+A organizations.
Notably, the disclosure also referenced that the Company sought additional employee satisfaction surveys with respect to COVID-19 disruptions.
ANSYS, Inc. (ANSS)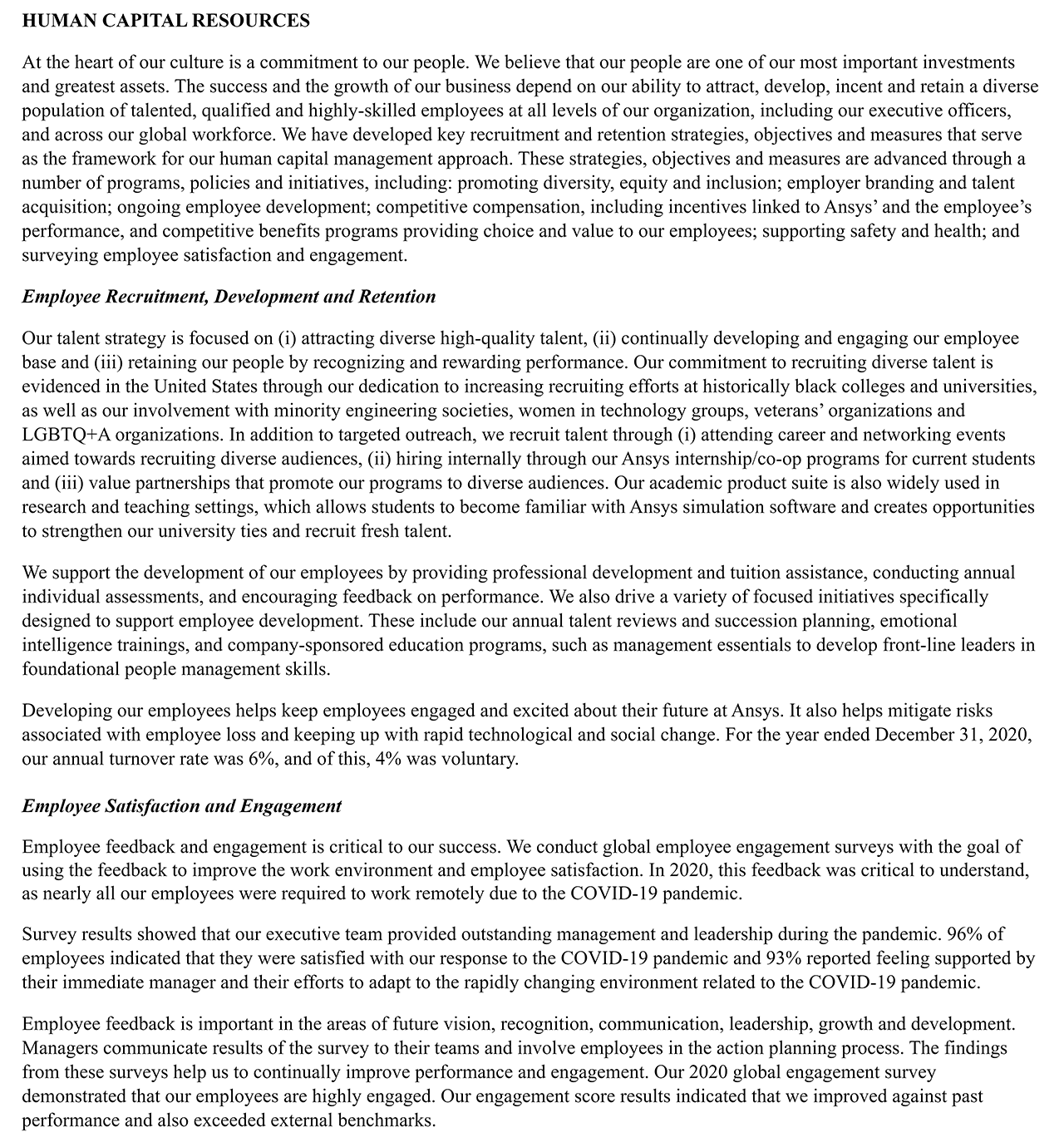 ---
Vroom disclosed its creative approach to employee engagement, with systems for employee feedback named in the spirit of its industry (automotive). In addition, the disclosure noted that the CEO and Chief People and Culture Officer meet personally with all new hires to discuss the Company's mission, vision and core values in detail.
Vroom, Inc. (VRM)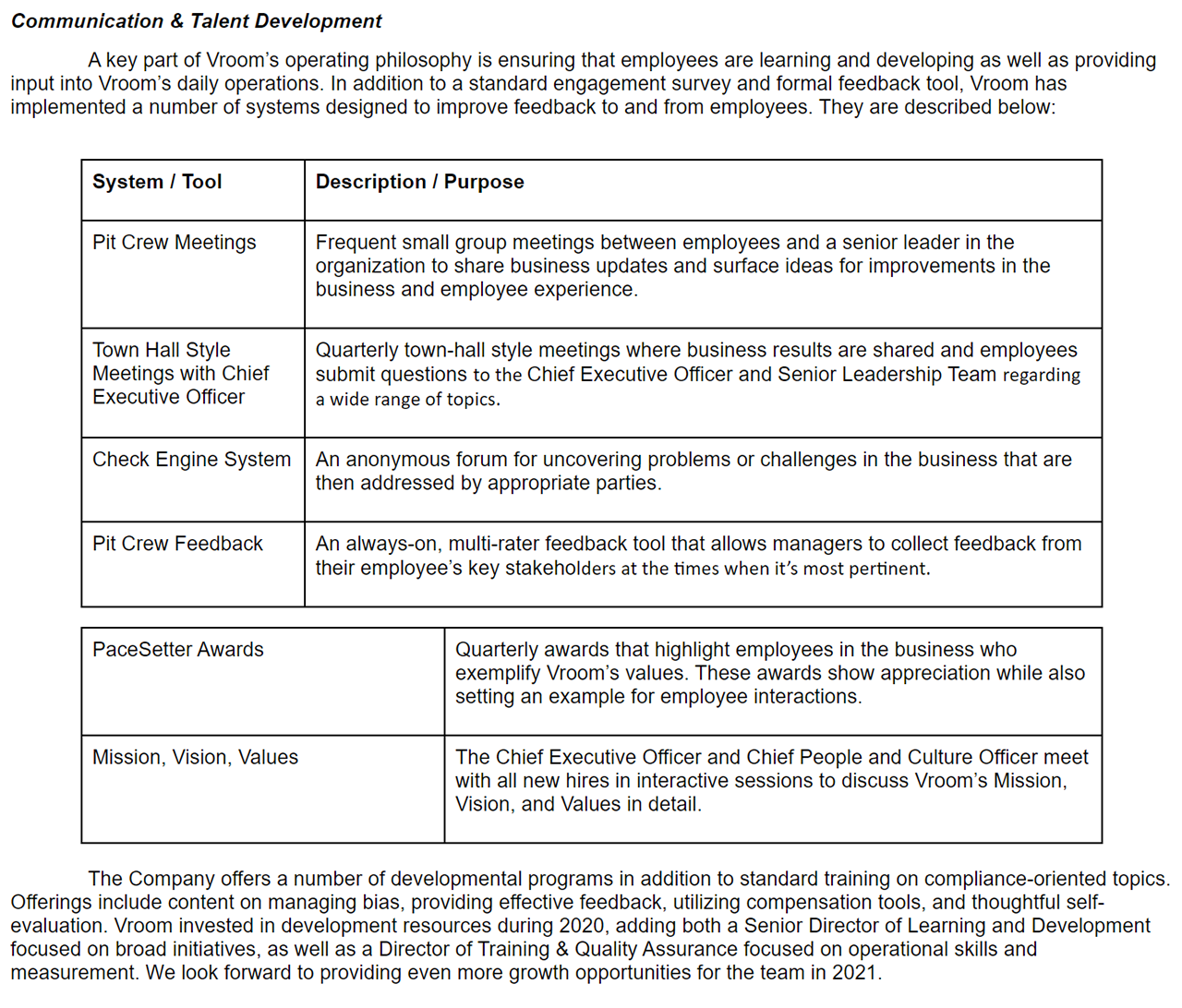 ---
Merck's disclosure included a chart representing how the Company hires and retains women and racially or ethnically diverse employees, showing percentages year over year across 11 different categories. This type of data has become more common among the HCM disclosures that Equilar has researched — often represented as seen below in a concise, digestible, chart format
Merck & Co., Inc. (MRK)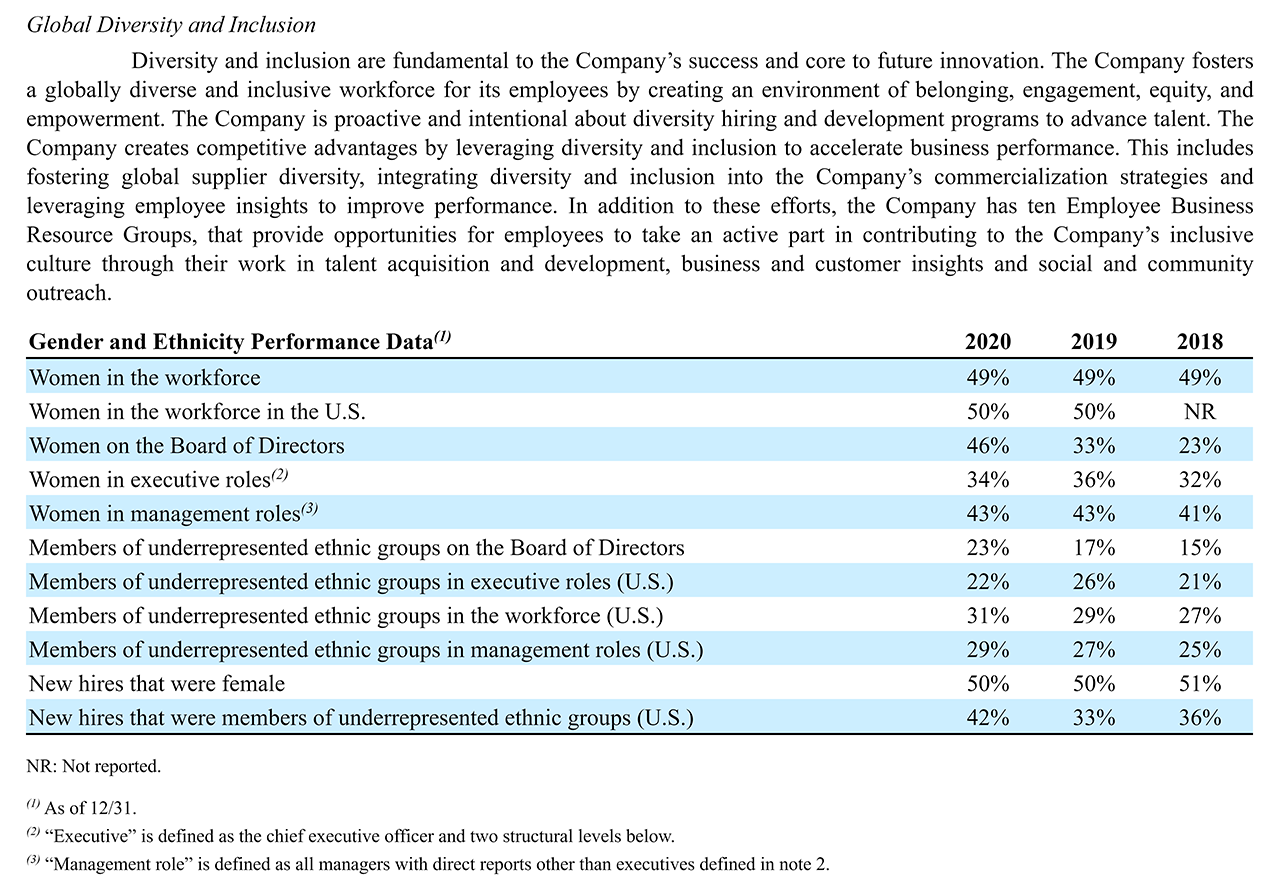 ---
TransUnion highlights its human capital management strategy in this disclosure. In particular, the Company highlights its diversity strategy and features data related to progress towards a diverse workforce.
TransUnion (TRU)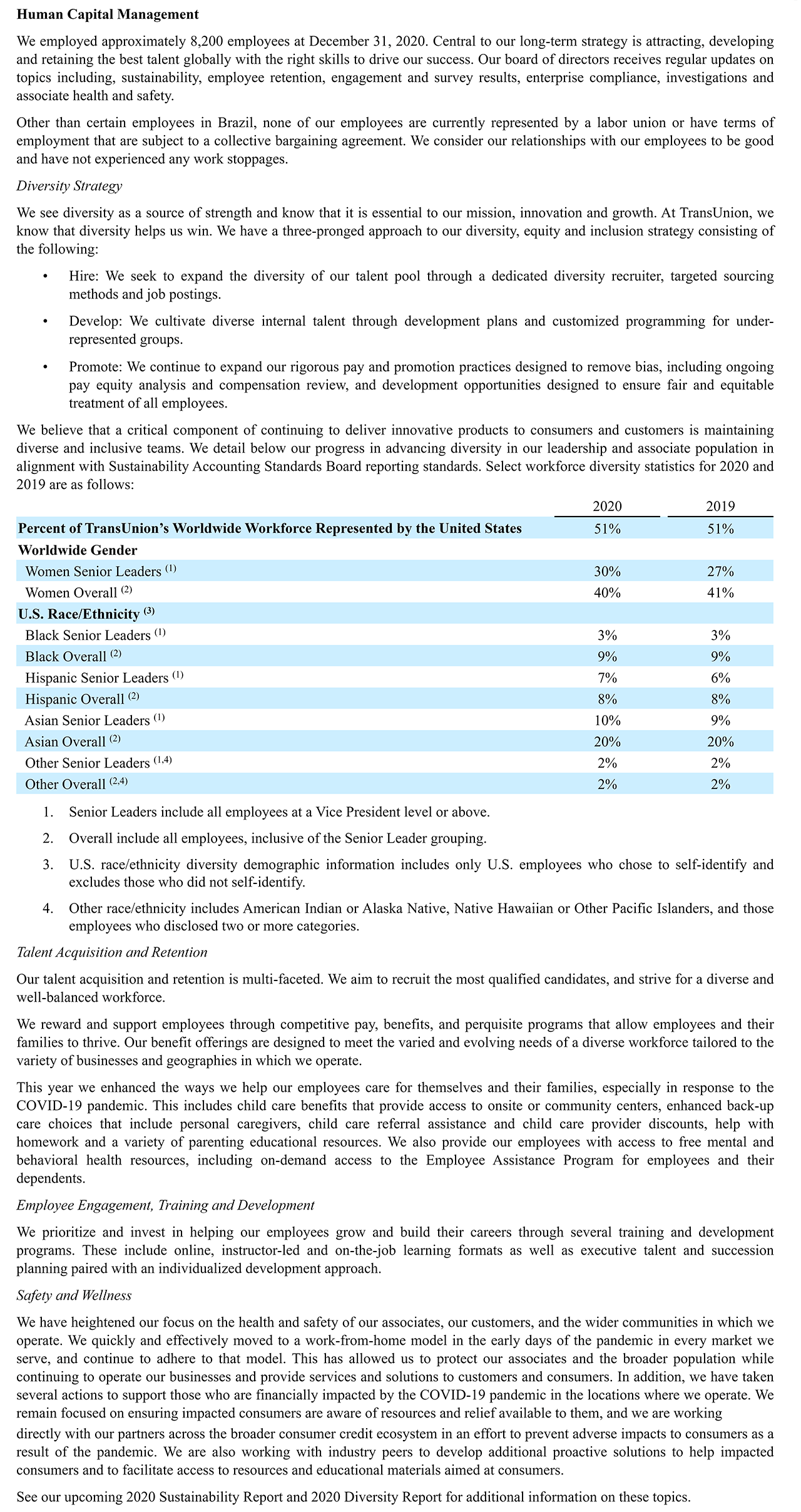 ---
Essex Property Trust makes a concerted effort to showcase its workplace diversity. The Company uses a graphic to highlight gender-based data pertaining to each title level within the organization.
Essex Property Trust, Inc. (ESS)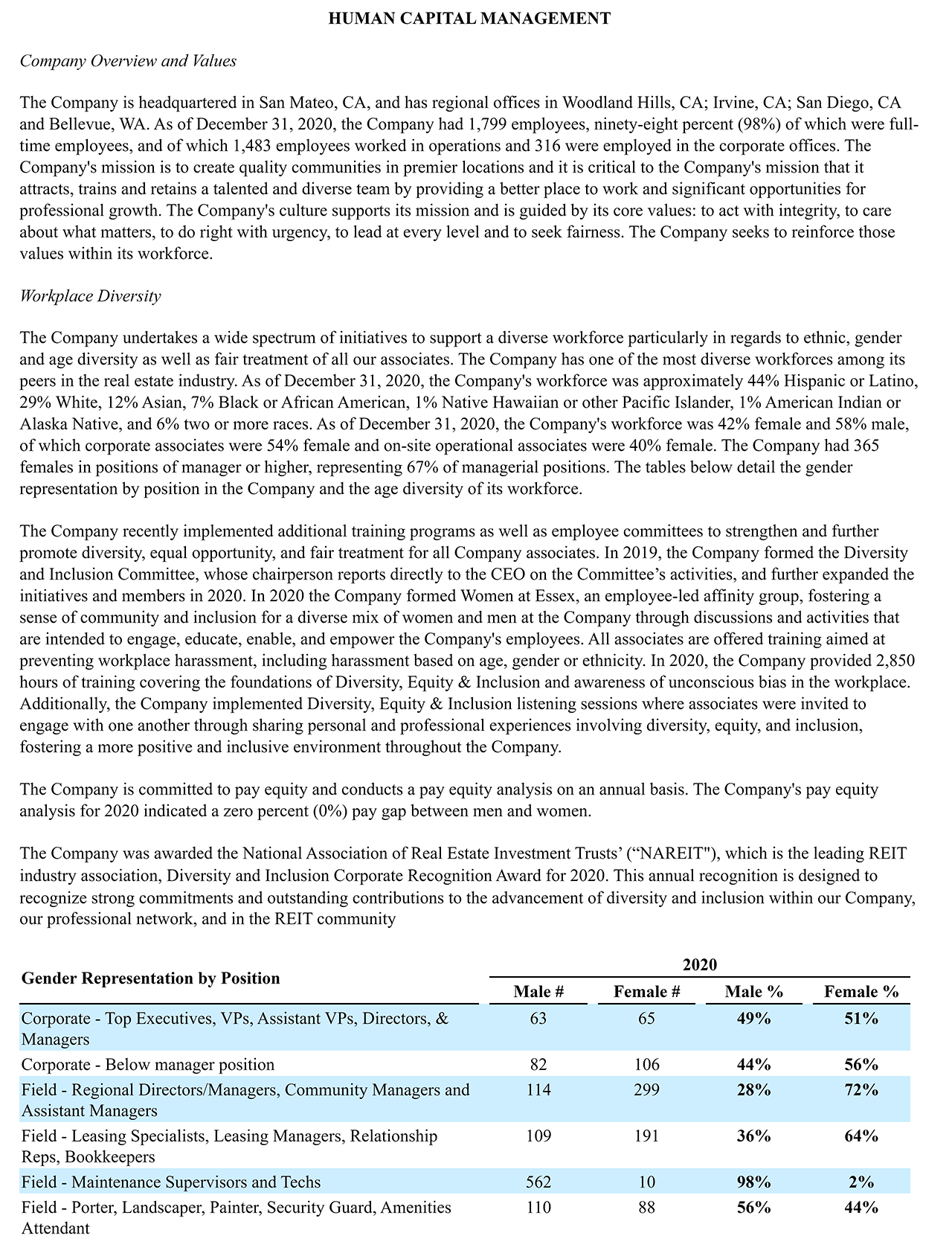 ---
Alexandria Real Estate Equities details its human capital management strategy in this disclosure, notably describing how it is supporting employees through the COVID-19 pandemic. Among other support, the Company provided $1,000 emergency bonuses to non-officer employees. The Company also highlights the diversity of its workforce by gender, age and ethnicity.
Alexandria Real Estate Equities, Inc. (ARE)

---
Biogen is among a handful of companies that details its pay equity philosophy within its human capital strategy. The Company indicates that it uses market data and benchmarks, and regularly reviews compensation practices.
Biogen Inc. (BIIB)

---
Under new SEC rules, public companies are now required to provide a description of their human capital resources. In this example, Kansas City Southern discloses its description of human capital resources, with a breakdown of location on its employees. The Company also disclosed its policies related to compensation and benefits, safety protocols, and more.
Kansas City Southern (KSU)

---
Lockeed Martin provides a thorough breakdown of what its human capital resources entail, as well as detailed descriptions of each category within the Company's human capital management strategy.
Lockheed Martin Corp. (LMT)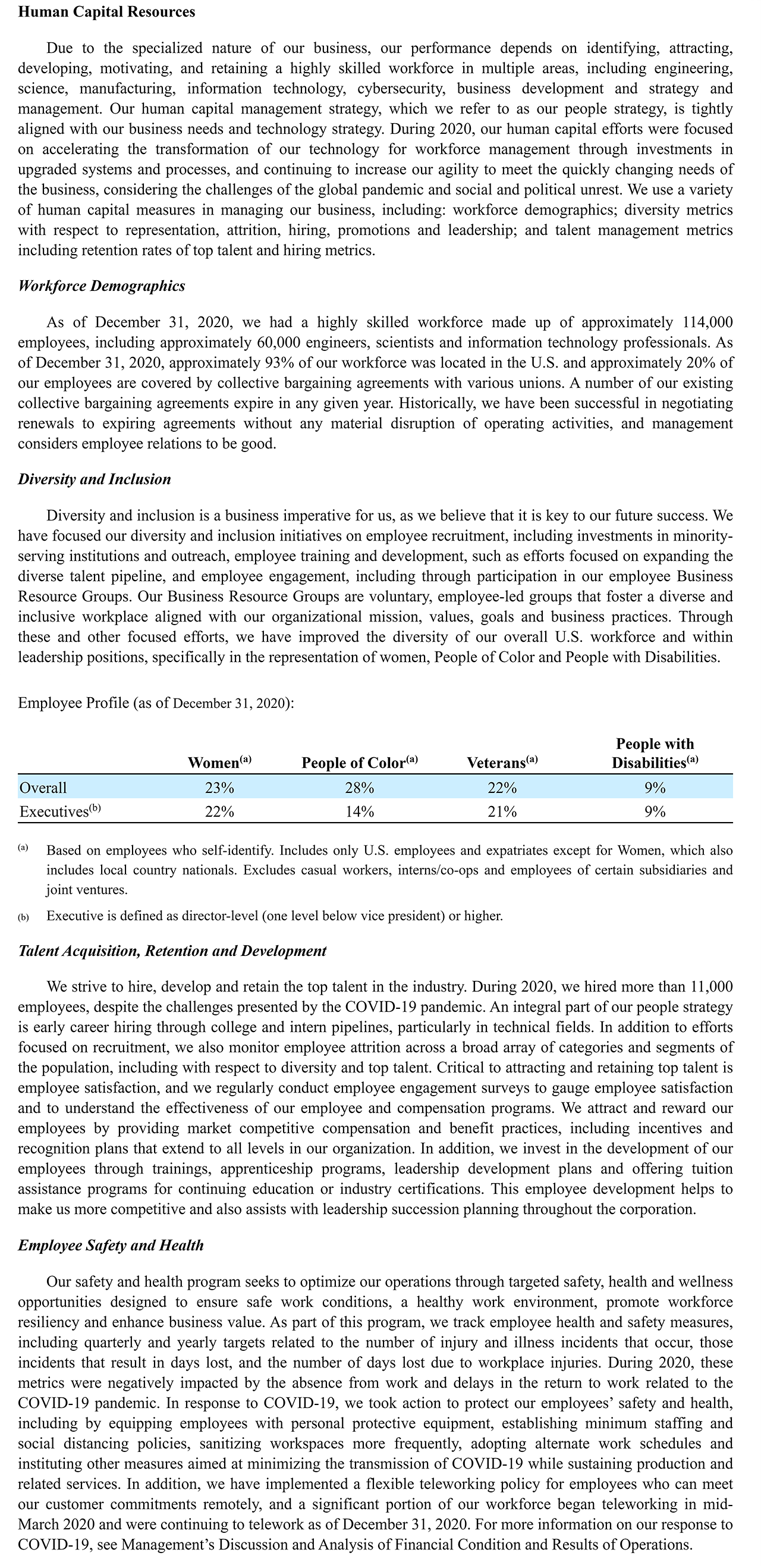 ---
Intel recently disclosed a detailed and well-structured plan for the Company's human capital management practices. The Company provides key statistics pertaining to its employee diversity, including some effective visual elements. Intel also provides a statement into its health and wellness programs, particularly in relation to the COVID-19 pandemic.
Intel Corporation (INTC)

---
Following along in the movement for greater social equality, Adobe is among many companies that has a detailed HCM plan, with diversity and inclusion leading the way. In fiscal year 2020, the Company formed a new Diversity Talent Acquisition team to help accelerate its goals of engaging with diverse talent. The Company also implemented various other programs related to human capital, including those pertaining to COVID-19, compensation, benefits and well-being, and growth and development.
Adobe Inc. (ADBE)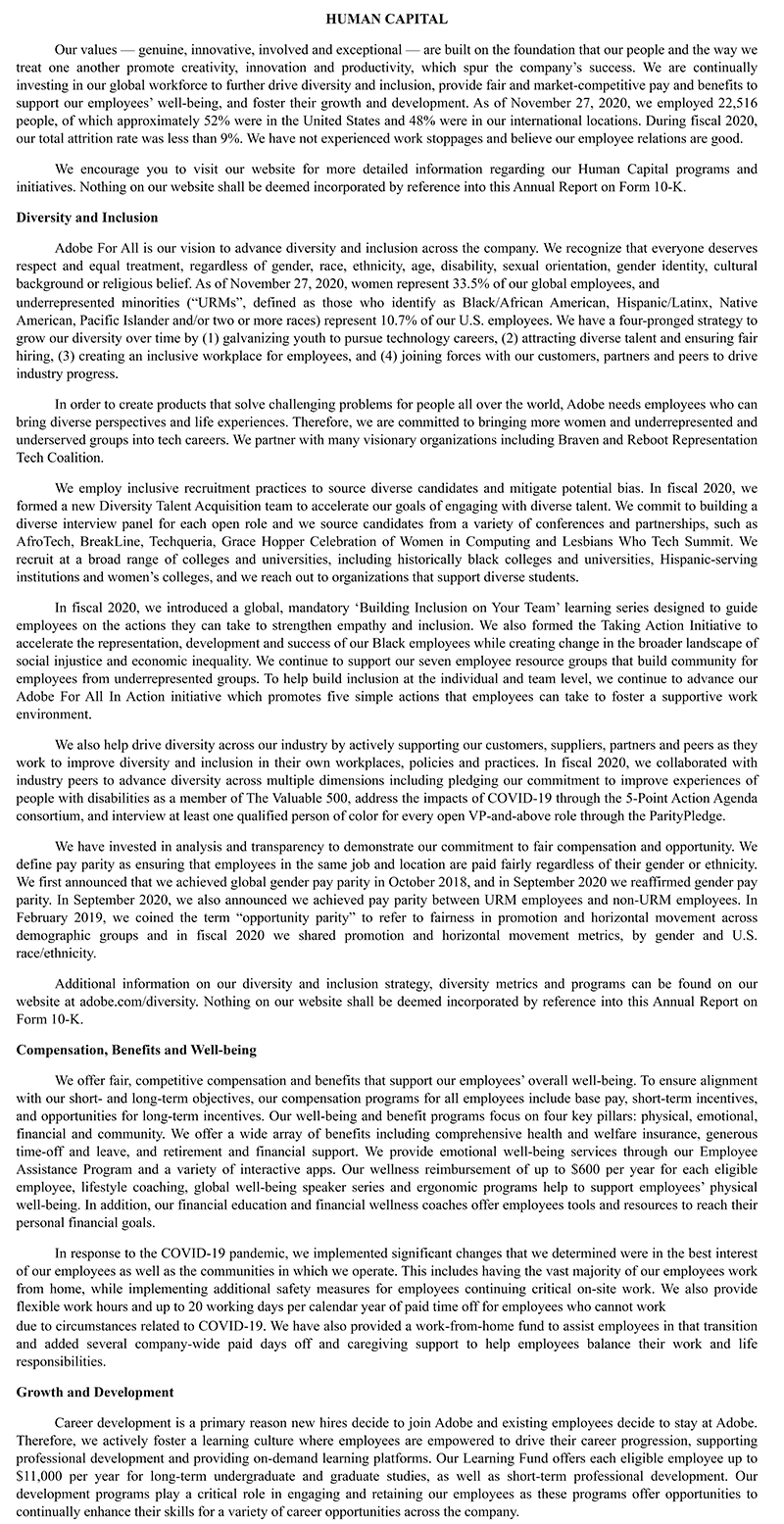 ---
In this disclosure example, Volt Information Sciences follows a similar format to many other HCM disclosures. The Company details the composition of its workforce by diversity. Additionally, outside of the traditional topics within HCM, the Company also highlights its communication and engagement efforts, which include quarterly CEO company-wide update calls and employee engagement surveys.
Volt Information Sciences, Inc. (VOLT)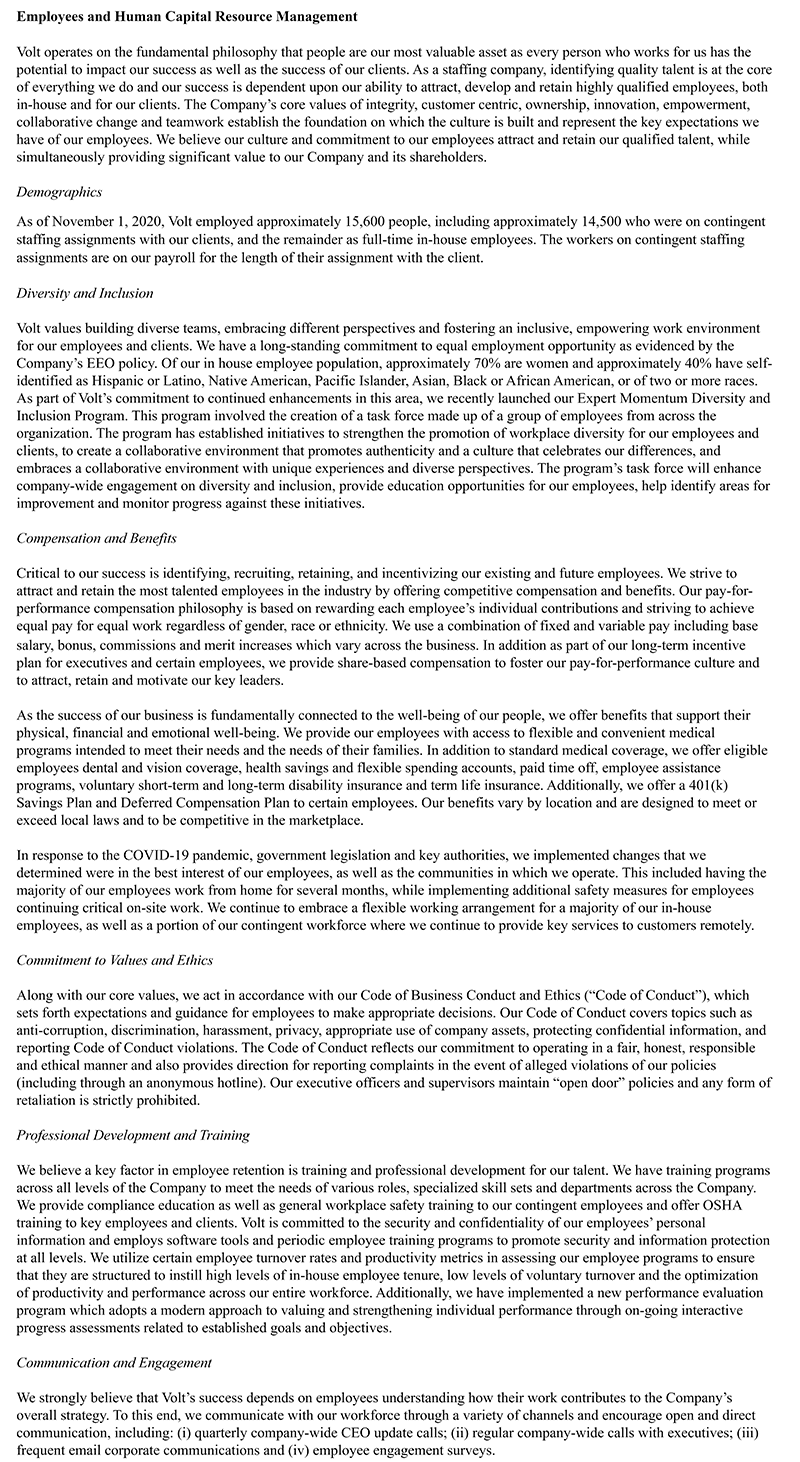 ---
Valvoline is among a handful of companies that recently disclosed a robust HCM plan. In the disclosure example below, the Company detailed plans related to talent acquisition, training and development, health and safety, citizenship, and diversity—which of course was a topic that gained tremendous momentum in 2020.
Valvoline Inc. (VVV)

---
In this disclosure example, Washington Federal elected to highlight its employee demographics in a digestible table, clearly indicating the representation of each ethnicity group. The Company also cites programs related to compensation and benefits, as well as learning and development.
Washington Federal Inc. (WAFD)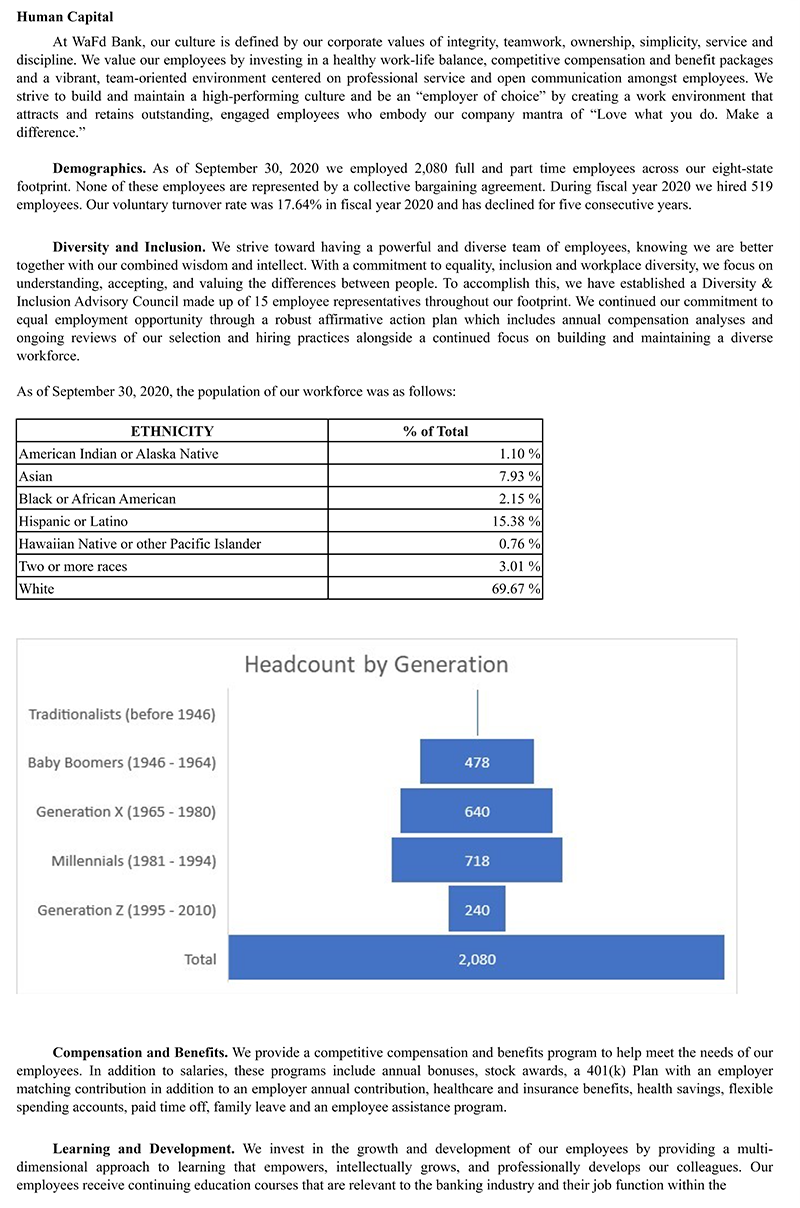 ---
In this example, Visa details how it has addressed employee safety protocols during the COVID-19 pandemic, also noting that the Company did not make any employee layoffs related to the pandemic in 2020. The Company also cited its current global workforce representation, as well as its commitment to increasing the number of employees from underrepresented groups.
Visa Inc. (V)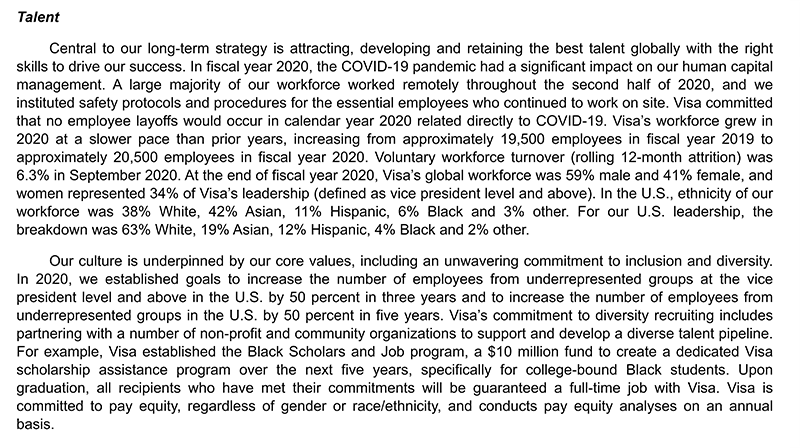 ---
About Equilar Disclosure Search
The Equilar Disclosure Search is the most comprehensive solution to accurately examine SEC public disclosures. The accessible interface allows you to search within all publicly disclosed SEC forms, including 8-K, 10-K, 10-Q, DEF14A, S-1 and more, using a variety of filters. You may search by keywords, tickers or within your peer group, or by financials, geography, and several other criteria. Results are displayed in excerpt form with the ability to click on a link to open the actual disclosure and the exact location of your search term. Request an overview of Disclosure Search or contact info@equilar.com to learn more.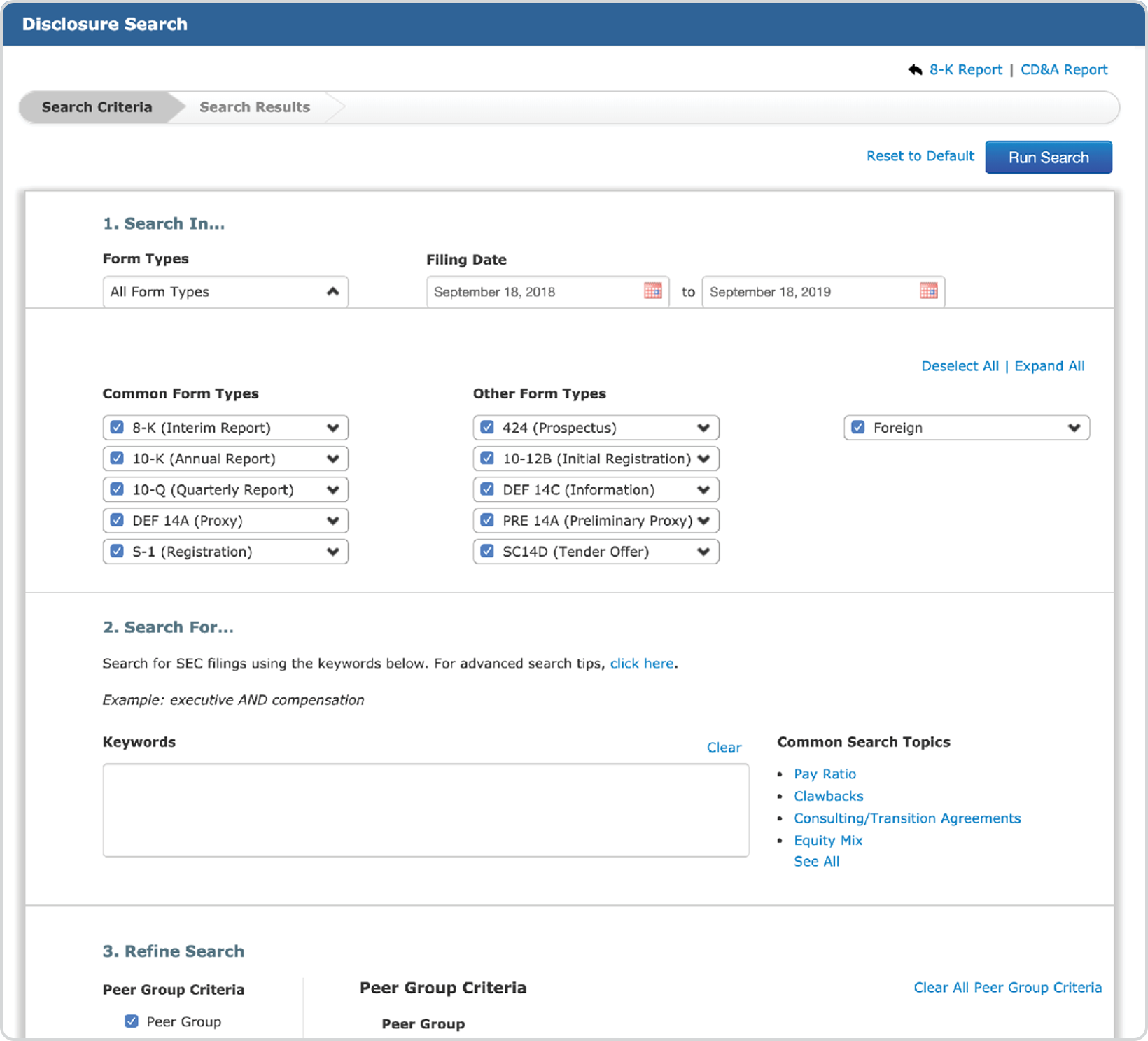 Contact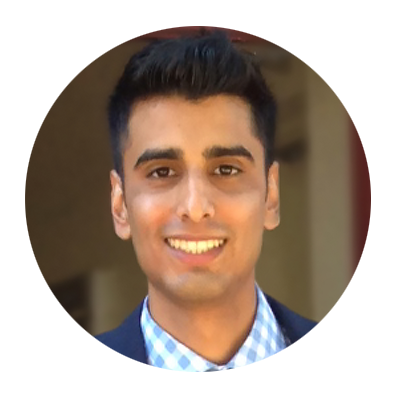 Amit Batish
Content Manager
Amit Batish, Content Manager at Equilar, authored this post. Andrew Gordon, Senior Director of Research Services, contributed data and analysis. Please contact Amit Batish, Manager, Content & Communications, at abatish@equilar.com for more information on Equilar research and data analysis.
---
---
---