Impacts of the COVID-19 Crisis on the Corporate Landscape
June 12, 2020
An Interview With Board Director Neil Novich
---
---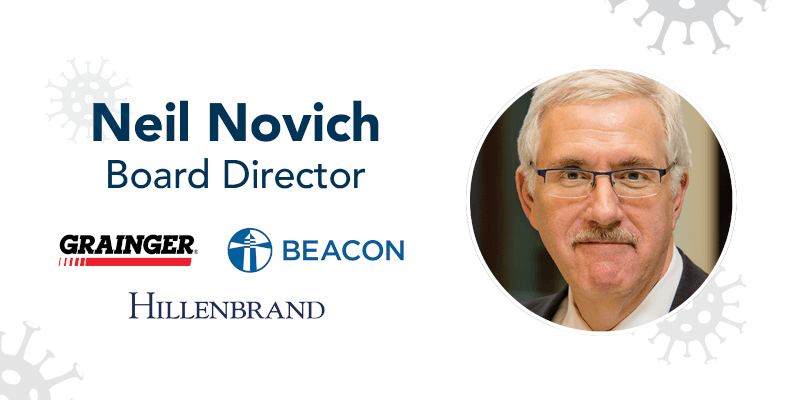 Novich is the retired Chairman, President and CEO of Ryerson. Prior to its sale to private equity, Ryerson was a Fortune 500 company with sales of $6 billion and was one of the largest global metals fabricators, processors and distributors. Prior to joining Ryerson, Novich was a partner with Bain & Co., an international management consulting firm. He has a degree in physics from Harvard University and masters' degrees both in nuclear engineering and in management from MIT. He also has multiple certificates in Machine Learning and Analytics from IBM/eDx, as well as multiple certificates in Cyber Security from RIT/eDx.
Novich currently serves on the boards of W.W. Grainger, Inc. Hillenbrand Inc and Beacon Roofing Supply. He also served on the board of Analog Devices from 2008 to 2020 He has been the compensation chair of four public companies and the audit chair of two. He is a Trustee of the Field Museum of Natural History and advises a variety of startup companies in Chicago. He is also a member of the Economic Club of Chicago and the Commercial Club.
---
The global landscape has shifted significantly since the onset of the COVID-19 crisis. At the corporate level, companies were forced to adjust their approaches to all facets of operations, including supply chain logistics, factory shutdowns, employee work stations and much more.
Equilar recently had the opportunity to sit down with Neil Novich, board director at W.W Grainger, Beacon Roofing Supply and Hillenbrand to discuss this very topic. Mr. Novich provided his expertise on how companies have handled the crisis and the challenges they should prepare to address as the pandemic continues.
Equilar: How can companies better prepare to mitigate the many risks associated with a future pandemic? What type of plans can companies and boards have in place to minimize the negative economic impact associated with a crisis like COVID-19?
Neil Novich: From the perspective of the boards I serve, I'd say that we were prepared for a significant disruption, but a pandemic was not the most likely event on our list. We were planning for scenarios such as a major cyber event, a factory shutting down, power grid failures or supply chain disruptions. We did do multiple scenario analyses on these potential situations, and planned how we would compensate for a variety of disruptive events. This preparation was very helpful as the full extent of the pandemic and required response became clear
To be best prepared, boards should do crisis planning every year. By doing that, you have a good degree of consideration of how major events could affect your business, even if you haven't prepared for the specific event that actually occurs. It's establishing a kind of muscle memory. My observation is that many companies have done a good job of dealing with this crisis. At the companies I serve, we have kept the operations running, kept employees safe and found work-arounds to do processes that are difficult to do in the new environment – and we had practiced for many of these potential changes in our operating environments.
To prepare even better for the future, I hope everyone took good notes on how they've handled the pandemic...good or bad. We've invented new processes for office work and new ways to run factories. My advice would be to not forget how we've managed to cope with this crisis and hence become more resilient in the future. A good example is having employees work from home who normally do not. We have had to make sure employees have the resources to work from home: the hardware, software and cybersecurity. We've redesigned work spaces in factories and distribution locations. Let's keep this creative thinking in place. There will be another crisis in the future, whatever and whenever it is, so let's not forget how we were able to innovate in order to deal with a new one.
Equilar: Based on your experience on the boards you serve (W.W Grainger, Inc., Beacon Roofing Supply, Hillenbrand Inc.), what is the biggest challenge that boardrooms face today with respect to the current crisis? Does it vary by each respective board or industry?
Novich: While certainly the day to day operation of the business is management's job, boards need to be aware of the unique risks in this particular situation. There are a few things to consider here. First, this is unusual because we don't think of there being a health hazard when two employees interact in the normal course of doing their jobs. Now, we have to be very aware of individual interactions and the design of work spaces. This directly impacts the health and safety of employees and customers. We must think through and be thoughtful about having too many people in a confined space.
Secondly, we contribute to the communities we operate in in many ways, but we have never seen a situation where small businesses are shutting down one to this degree. We need to be thinking about how to support the businesses we depend on and the ones that depend on us.
We must ensure that the company is dealing with the pace of real-time information and adjusting immediately to new situations. This could be when an employee in a facility tests positive for COVID-19, a state opening up versus not opening up and so forth. Boards need to know enough to fulfill their governance responsibilities. Boards want to know what management is doing to keep people safe. They'll want answers to questions like "how have you designed work and product flows in facilities to minimize the possibility of infection," "how do we ensure that the internal controls for financial information are still effective" or "how are we dealing with supply chain disruptions."
Finally, we must understand what scenarios are relevant. We don't know if we have seen the worst or if it will get worse when economies reopen, and that can vary across different companies and countries. This will impact how we make decisions that align with our strategy. While we're not abandoning our strategy, we do need to adjust it to the current environment. That means planning for the best case and the worst case. Be ready to ramp up production very quickly or make adjustments in other parts of your business if the worst happens.
Equilar: What similarities are you seeing between the current crisis and the 2008 financial crisis with respect to executive pay? What do you think will be the impacts on executive pay moving forward?
Novich: Executive pay is not at the top of my mind, and it was not in 2008. I'm worried about a lot of other things, very far down on my list is executive compensation. I'm a lot more worried about employee health and safety, the communities we serve, making sure our businesses can function appropriately. I want to know how well executives are doing their jobs. Are they doing the right thing and do they have the right priorities? Are they getting the right information? Are they moving quickly to stay on top of issues? Executive pay is something we will consider in due course. Let's do the right thing for our people and for the business, and let's deal with compensation later.
This is a very different crisis than the 2008 financial crisis. It affects small businesses differently than large businesses. In this recession, small businesses have shed 18% of their workforce, while large businesses have shed 14%. In the last recession, small businesses shed fewer people than large businesses. Every crisis is different, so I don't try to draw a parallel. The commonality is that businesses have to learn how to operate in current conditions. In 2008, we were not worried about people getting sick. We have to worry about that now. The thing that is similar is that we have to think about the long-term implications. In the last downturn, banking and housing were heavily impacted, but we're seeing all aspects of the economy getting hit this time around.
Equilar: Given the current environment, how do you anticipate the corporate governance landscape to shift in both the short- and long-term? What adjustments will companies have to make to their respective governance practices?
Novich: Governance is always evolving, and we have to adapt to each situation. The importance of ESG issues continues to advance. Taking care of workers will continue to be a top priority, so ESG will become even more important. Enterprise Risk Management will need to play a bigger role. Succession Planning will be more critical. At the executive level, boards need to make sure they always have a "pinch-hitter" across the management team. They should have formal plans to deal with illness on the management team, beyond what we would normally do. There needs to be a mechanism to keep that "pinch-hitter" 100% up to date.
Privacy is a major concern at the governance level (customer and employee information). We need to understand our employees' health status in a way we haven't considered before. We take people's temperatures, we ask if they feel okay and who they have come in contact with (inside our facilities). We need that information to keep everyone safe, but we need to treat it with the strongest privacy controls given the situation.
Equilar: Is there a defined role that corporations and executives should play during a crisis?
Novich: It really depends on the crisis. It also depends on the type of company or industry. For example, you have car companies jumping in to make ventilators and masks. If you have the right resources that will contribute to society, then you should do it. Companies are good at getting things done. It all comes down to the greater good of the broad stakeholder community. Companies and their employees should do what they can to contribute to dealing with the effects of the crisis.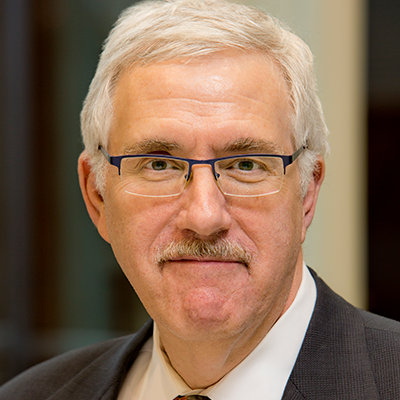 Neil Novich
Board Director
---
---
---