Equilar Institute
Blog Home
Colgate-Palmolive and C.H. Robinson Announce CEO Departures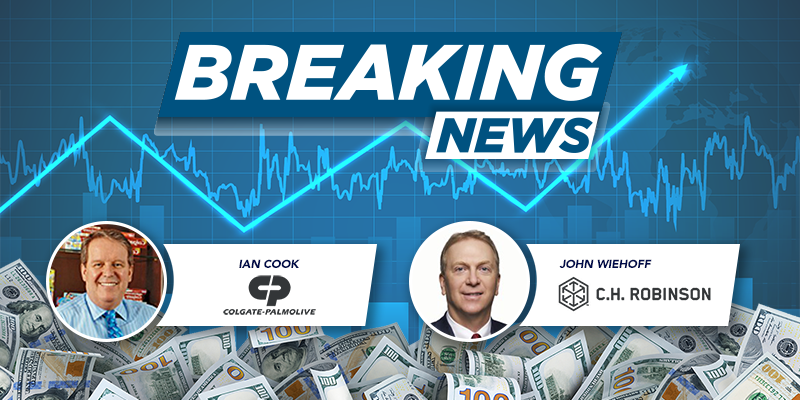 ---
---
February 12, 2019
On February 11th, both Colgate-Palmolive and C.H. Robinson announced that their current CEOs—Ian Cook and John Wiehoff, respectively—would be stepping down from the role in the coming months. Cook has been the CEO of Colgate-Palmolive (CL) since July of 2007 and will transition to the role of executive chairman and be succeeded by Noel Wallace on April 2, 2019.Wiehoff, who started with C.H. Robinson (CHRW) in 1992 and became CEO ten years later, will be succeeded at the CEO position by Robert Biesterfeld on May 9, 2019, as he transitions to the role of Chairman.
According to Equilar BoardEdge, Noel Wallace has been with Colgate-Palmolive in some fashion since 1987. He has extensive experience in leadership of the global branches within the company, and most recently served as the President and Chief Operating Officer, beginning in July of 2018.
Robert Biesterfeld has been the Chief Operating Officer of C.H. Robinson since March 2018, and the President of the North American Surface Transportation division since January 2016. He started with CHRW in 1999 and currently sits on several industry and non-profit committees and boards. Additionally, Biesterfeld currently sits on several industry and non-profit committees and boards.
From 2007-2017, Ian Cook realized roughly $227.8 million in total compensation, while only $139.2 million was reported in the company's annual proxy filing. More than half of Cook's realized total compensation came in the form of stock options, with 2016 being the year in which he exercised $25.7 million worth of options. Comparatively, over that same timeframe, John Wiehoff of CHRW realized $69.6 million, roughly 3.3 times less than Cook. As indicated by the figure below, 2007—Cook's first year as CEO of Colgate-Palmolive—was the only year in which Wiehoff realized more total compensation than Cook.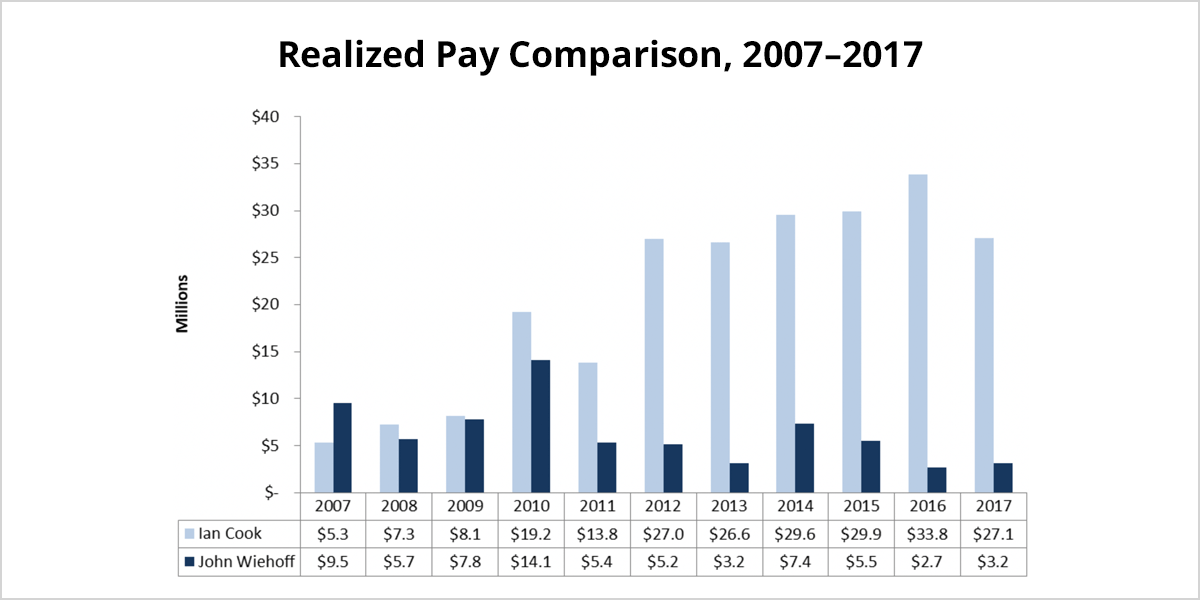 Though there have only been six CEO exits so far in 2019, these two represent the 14th and 15th announced departures at companies in the Equilar 500. Both of these CEO changes are of the internal variety, with the successor possessing extensive experience within the respective company, and the departing CEO transitioning to the role of chairman. This allows for a new CEO to have a mentor and sounding board when taking the reins of the company.
---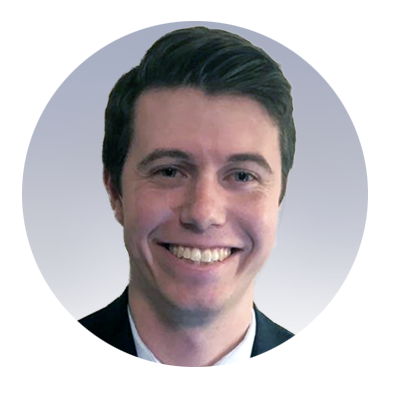 Alex Knowlton, Senior Research Analyst at Equilar, authored this post. Please contact Amit Batish, Content Manager, at abatish@equilar.com for more information on Equilar research and data analysis.
---