Equilar Institute
Blog Home
Disney Sets Succession Plan in Place Following Failed Say on Pay Vote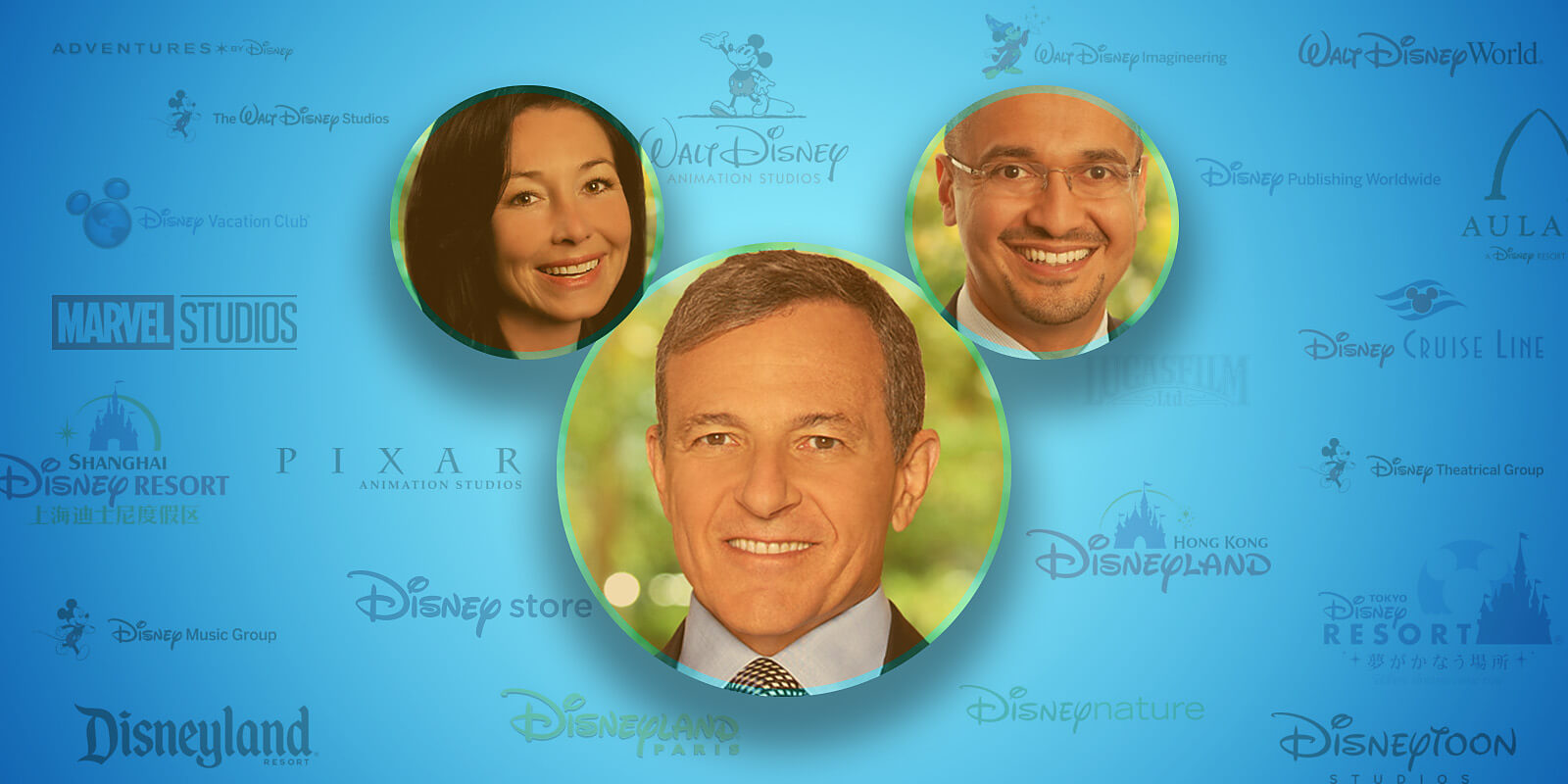 ---
---
April 2, 2018
Last month, Disney shareholders voted against the company's executive compensation plan, CNBC reported. The plan—which would have rewarded CEO Bob Iger up to $48.5 million a year over four years plus an equity grant worth about $100 million—did not sit well with 52% of shareholders.
According to the Journal, ISS said in its report that "the substantial payments to Bob Iger, in connection with his contract extension and the upcoming 21st Century Fox merger, are concerning" and that the equity award in his contract extension, "while primarily performance-based, is tied to fairly nonrigorous goals."
"The board accepts the result of today's non-binding vote and will take it under advisement for future CEO compensation," Aylwin Lewis, Chair of the board's compensation committee, said in a statement.
Shortly following its failed Say on Pay vote, Disney announced an overhaul of its board and executive teams. Of the more notable moves, the company appears to be positioning two top executives—Kevin Mayer and Robert Chapek—as possible successors to Iger. Mayer was named chairman of a new direct-to-consumer and international segment, while Robert Chapek was named head of the consumer products division, giving him oversight of what would be the company's biggest business unit by revenue and profit. While it is unclear if and when either of the two would take over the chief executive post, it seems evident that the company is grooming Mayer and Chapek to take on that responsibility at some point.
Disney also added two new directors to its board—Oracle co-CEO Safra Catz and Illumina CEO Francis deSouza. While both Catz and deSouza bring a wealth of experience to the table, some may raise questions about the timing of Catz's addition to the board, particularly due to her ties to Oracle. For the sixth consecutive year, Oracle failed its Say on Pay vote at its annual meeting in October of 2017 after it awarded the top three executives pay packages of over $100 million each in fiscal year 2018. In 2016, Catz received nearly $41 million in total compensation.
"Ongoing equity mega-awards to top executives perpetuate a pay-for-performance disconnect," ISS said in a report recommending that investors oppose the plan.
While the addition of Catz may be ironic given the history of shareholder dissent on pay plans at Oracle, the two are not related. There is no doubt that she and deSouza are seasoned executives who are sure to make an impact on any boardroom they join. Catz and deSouza also bring a diverse executive network to the board, establishing a combined 181 C-level and board connections spanning across 82 unique companies, according to Equilar BoardEdge data.
Prior to joining Illumina, deSouza served as president of products and services at Symantec, where he was responsible for driving the vision for the company's market-leading portfolio. He also served on the board of Citrix Systems from 2014 to 2016.
Before becoming CEO of Oracle, from 1994 to 2014, Catz held multiple executive-level positions at the company, including president, CFO, executive vice president and senior vice president. She also served on the board of directors for HSBC Holdings, one of the world's largest banking and financial services organizations from 2008 to 2015. Alone, Catz has established 127 executive and board connections across 39 companies. To further examine data on Catz's connections, click the image or button below to view her connections profile.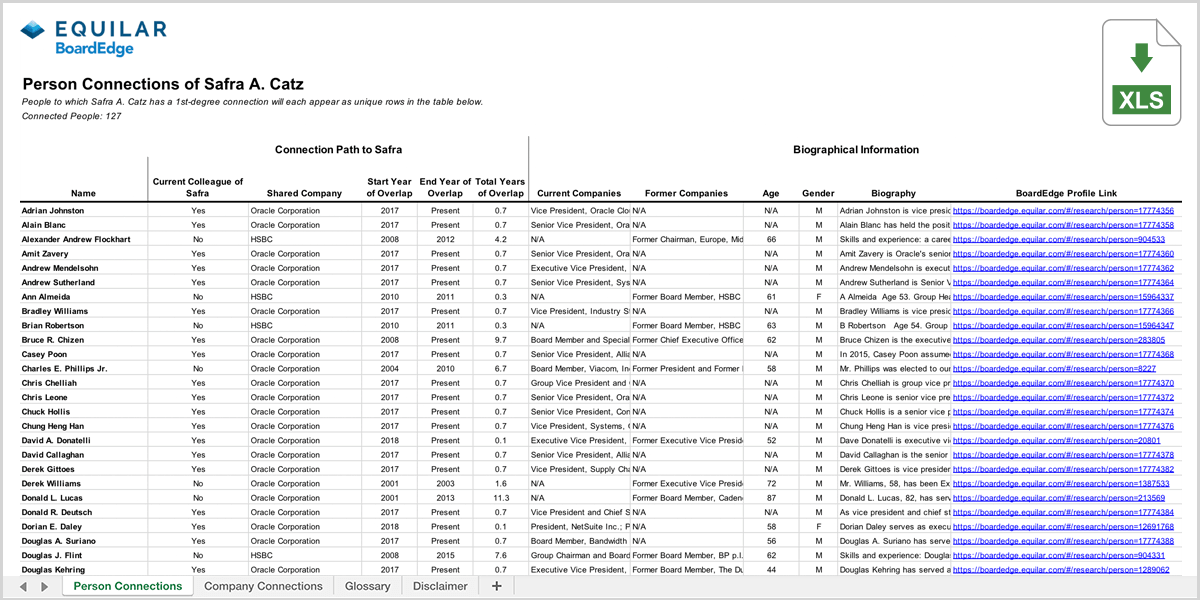 Download Executive and Board Connections
It's clear that Disney has made it a priority to revamp its strategy from the top down. As the company's failed Say on Pay vote will be on the board's agenda in the coming year, it will be interesting to see whether Catz's addition to the board—and her perspective on shareholder concerns around pay plans—will influence how the Disney compensation committee handles the creation of future executive compensation plans.
---
Reach out to Equilar to learn more about BoardEdge connections or request a download of any of the nearly 200,000 executives and board members in the database. Include specific requests for individual downloads in the comment field.
---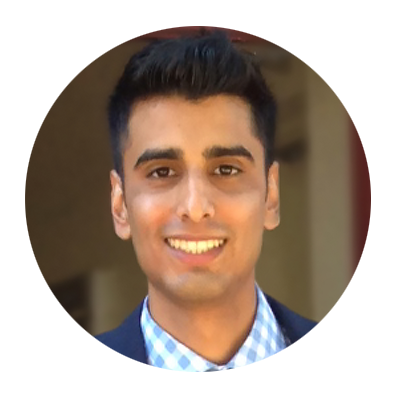 Amit Batish, Lead Copywriter, authored this post. Please contact Dan Marcec, Director of Content & Communications, at dmarcec@equilar.com for more information on Equilar research and data analysis.
---