Q2 2022 Equilar Gender Diversity Index
Momentum Slows as Russell 3000 Boards Progress to Gender Parity
September 8, 2022
Connagh Rowley
With stakeholders across Corporate America continuing to push for diversity, the presence of women is becoming increasingly prevalent in the boardroom. As a result, the Q2 2022 Equilar Gender Diversity Index (GDI)—featured in recent coverage from Reuters—continues to tick closer toward gender parity. In Q2 of 2022, the GDI increased from 0.54 to 0.56, with 27.9% of the 26,341 Russell 3000 board seats occupied by women, compared to 27.2% in Q1 2022. While this is progress, significant adjustments still need to be made for boardrooms to reach parity, represented as a GDI of 1.0.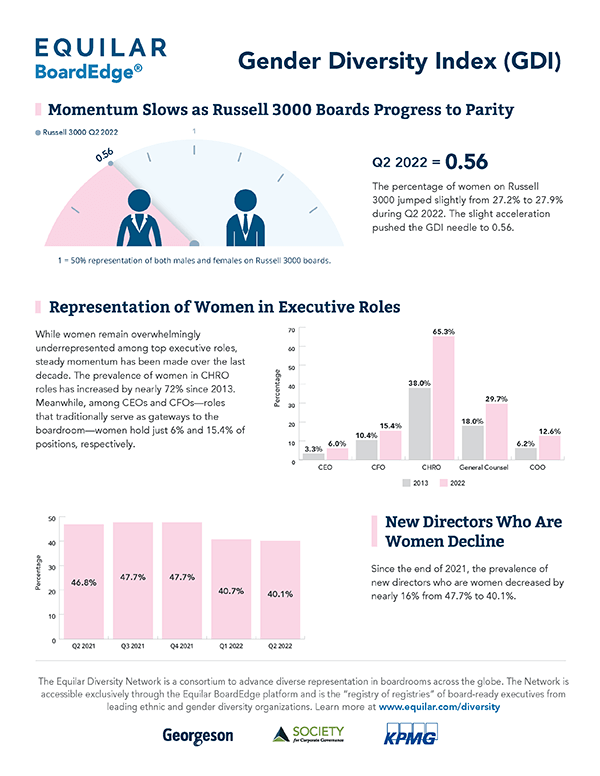 The prevalence of new female directors on boards in the Russell 3000 reduced slightly, from 40.7% in Q1 to 40.1% in Q2, continuing a trend of stalled growth since Q4 2021. Although at first glance this may appear to be a roadblock on the push for diversity, there is more than meets the eye. "As more boards self-disclose on their director gender diversity, the percentage increase of women on boards year-over-year may appear smaller," said Brigid Rosati, Director of Business Development at Georgeson. "Instead, as more investors broaden their focus on other aspects of diversity, such as ethnicity or sexual orientation, company boards may also welcome new directors based on these aspects of diversity. It is equally likely that a director might fulfill two or three diversity categories. This may also account for the slight slowdown in the percentage increase of women on boards."
Susan Angele, Senior Advisor, Board Governance at The KPMG Board Leadership Center, adds: "As gender diversity is measured, it's important to do so with an eye towards encouraging other aspects of diversity as well—race, ethnicity, sexual orientation, and other differences that add depth and perspective to the boardroom conversation."
Despite the pressure to diversify boards from investors, several companies still lack a female director. Of the 68 boards in the Russell 3000 that previously had no female members in Q1 2022, just one filled a board seat with a woman. On the other hand, as of Q2 2022, 125 Russell 3000 boards have achieved gender parity, an increase of 15 from the previous quarter.
Challenges Within the Political Environment
Over the last year, the political landscape has shifted on the topic of board diversity. In May 2022, California legislation SB 826 was overturned and deemed unconstitutional by Los Angeles Supreme Court Judge Maureen Duffy-Lewis, with the reasoning that the legislation affected men and women in an unequal manner. This piece of legislation required public corporations in California to have at least one woman on their boards. Meanwhile, a California judge also recently overturned AB 979, which required boards to include a minimum number of directors from underrepresented communities.
"The train has long left the station on board diversity, and momentum will continue with or without California laws SB 826 and AB 979," said Angele. "While we don't yet know the ultimate fate of these laws until all potential appeals have been exhausted, the impetus toward board diversity is a product of the changing nature of the business landscape and board agendas, the demographics of stakeholders including customers, suppliers, and employees, the increase in public access to information about board composition, the research supporting the business case for board diversity, and investor pressure driven by all of these factors."
Last August, Nasdaq's proposed board diversity listing rules were approved by the SEC. The new board diversity rules serve as a way to ensure that every company on their exchange has diverse board members regardless of their location, industry or company size. As of August 8th, 2022, Nasdaq requires companies listed on the exchange to have an initial board matrix, and by August 2023 companies must have at least one diverse director or to provide reasoning as to why they don't have one. Over the next year, the impacts of Nasdaq's rules on the corporate landscape will indeed become more evident.
Women in Executive Positions
Historically, an obstacle faced by diversity advocates was the lack of women in executive positions. Companies across Corporate America have traditionally been adamant on bringing seasoned corporate leaders to their boards, particularly those who have served in an executive role. While women remain overwhelmingly underrepresented among top executive roles, steady momentum has been made over the last decade. For instance, the prevalence of women in CHRO roles has increased by nearly 72% since 2013. Meanwhile, among CEOs and CFO—roles that traditionally serve as gateways to the boardroom—women hold just 6% and 15.4% of positions, respectively.
While boards have traditionally relied on roles such as the CEO and CFO as an indicator of board readiness, advocates argue that we are entering a new era in terms of boardroom qualifications and pipeline. "The talent pool of qualified female board candidates is deep and ever-expanding," said Angele. "Lack of a pipeline as a blanket statement is simply a misperception and may stem in part from old-fashioned views that conflate board readiness only with experience as a CEO, and in part from overly narrow networks. Boards that take a strategic approach to their board matrix, engage in broad searches beyond their immediate networks, and assess candidates based on skill set and value rather than title, have built highly diverse, effective boards."
Investors have also shifted their mindset on the skills and experiences that ideal board candidates should bring to the table. "Many investors are eager to see, and subsequently support, boards representing diverse skills and company stakeholders—customers, employers, investors, suppliers, etc," said Rosati. "Many companies would benefit from analyzing how their board is representative of their stakeholder ecosystem and re-adjusting where necessary. This will create opportunities to evaluate female candidates."
Nevertheless, the increase of women in executive positions is expected to continue as pressure around gender diversity mounts, creating greater opportunity for women to join Russell 3000 boards.
---
About Equilar Gender Diversity Index
The Equilar GDI reflects changes on Russell 3000 boards on a quarterly basis as cited in 8-K filings to the SEC. Most indices that track information about board diversity do so annually or even less frequently, and typically with a smaller sample size, sometimes looking back more than a full year by the time the information is published. While this data is reliable and accurate, the Equilar GDI aims to capture the influence of the increasing calls for diversity from investors and other stakeholders in real time.
The Equilar GDI is powered by Equilar BoardEdge, a database of more than one million public company board members and executives. BoardEdge includes exclusive features that show how board members and companies are connected to each other, as well as the Equilar Diversity Network (EDN), a "registry of registries" of board-ready executives from leading ethnic and gender diversity partnerships, organizations, and publications.
---
Contact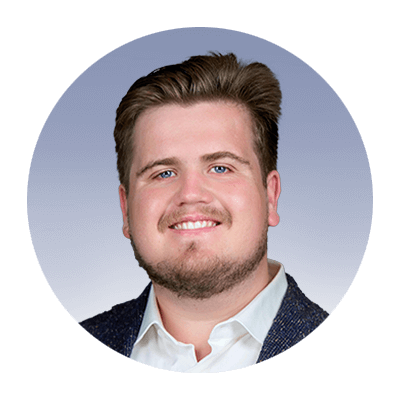 Connagh Rowley
Associate Editor at Equilar
Connagh Rowley, Associate Editor at Equilar, authored this post. Researchers Evin Peterson, Forrest Rouleau, Leo Rubenstein and Kelly Stangl contributed data and analysis. Please contact Amit Batish, Director of Content & Communications, at abatish@equilar.com for more information about this article.
---
---