Equilar | New York Times 200 Highest-Paid CEOs
Nine-figure Pay Packages are Becoming More Common
June 25, 2022
Amit Batish
The New York Times recently published coverage of the annual Equilar 200 study, which features the largest pay packages awarded to CEOs at U.S. public companies during fiscal year 2021. The 2022 edition marks the 15th year* of Equilar's partnership with The New York Times to analyze CEO pay among U.S. public companies with revenues over $1 billion.
The 2022 edition of the Equilar study saw a record number of CEOs awarded nine-figure pay packages. Jeff T. Green, CEO at The Trade Desk, was the recipient of the largest pay package, valued at approximately $835 million in 2021. The introductory page of this feature shows the Top 10 highest-paid CEOs in fiscal year 2021, as reported in the summary compensation table of their proxy statements filed to the SEC. Below the Top 10 table, there is a link to the full list of the 200 CEOs in an interactive chart that allows you to sort by total compensation, change in compensation value year-over-year, the CEO Pay Ratio and more.
*Due to the COVID-19 pandemic, Equilar and The New York Times did not conduct the study in 2020.
EXECUTIVE NAME
COMPANY (TICKER)
TOTAL COMPENSATION
CHANGE IN PAY
FY END REVENUE ($M)
1.

Jeff T. Green




The Trade Desk (TTD)

$834,959,367
5142%
$1,196
2.

Zig Serafin




Qualtrics International (XM)

$540,513,050
n/a
$1,076
3.

Peter M. Kern




Expedia Group (EXPE)

$296,247,749
6952%
$8,598
4.

Ariel Emanuel




Endeavor Group Holdings (EDR)

$294,949,638
1951%
$5,078
5.

Sue Nabi




Coty (COTY)

$283,791,455
n/a
$4,630
6.

David M. Zaslav




Warner Bros. Discovery (WBD)

$246,573,481
554%
$12,191
7.

David Baszucki




Roblox (RBLX)

$232,786,391
3336%
$1,919
8.

Andrew R. Jassy




Amazon.com (AMZN)

$212,701,169
n/a
$469,822
9.

G. Mike Mikan




Bright Health Group (BHG)

$180,813,849
n/a
$4,029
10.

Patrick P. Gelsinger




Intel (INTC)

$177,905,400
n/a
$79,024
---
Key Trends and Takeaways
CEO Pay Surged in 2021. Median total compensation for Equilar 200 CEOs soared to $23.2 million in 2021, a 29.4% increase from the previous year. By comparison, last year's study saw median pay reach $19.7 million for fiscal year 2020, up by 14.4% from the previous year.

The 200th CEO on this year's list—John C. May of Deere & Company—was awarded $19.2 million, a figure that has risen continuously over the years. The 200th highest-paid CEO in 2020 was awarded approximately $15.2 million, up from $14.5 million in 2018.

Massive Pay Packages are Becoming More Common. This year's study saw 12 CEOs receive compensation valued more than $100 million in 2021, an uptick from eight CEOs from last year's study. In fact, eight of those CEOs were awarded pay packages valued above $200 million, with two landing packages above $500 million. Prior to 2018, there had never been more than two $100 million-plus awards in a given year in the study's history.

Over the last two years, many companies elected to award their CEOs for staying in their role and guiding their companies through the uncertainty with large stock awards. In 2021, Equilar 200 CEOs were awarded a median $14 million in stock awards—a 14.4% increase from last year's study where the median stock award was $12.2 million in 2020.

The CEO Pay Ratio Continues to Soar. The CEO Pay Ratio at Equilar 200 companies reached 298:1 in 2021, a jump from 274:1 seen in last year's study. While the overall rise in pay and increased prevalence of massive pay packages for Equilar 200 CEOs contributed to a larger CEO Pay Ratio, median employee pay increased very slightly. In 2021, median employee pay was $81,645 at Equilar 200 companies, up by just 1% from $80,833 from last year's study, which pales in comparison to the near 30% increase in pay for CEOs. The CEO Pay Ratio is continuing to attract attention from key stakeholders—including lawmakers— particularly given the attention around human capital, and it is certain to remain a topic of discussion.

Women Increase Presence on the List. Among the 200 highest-paid CEOs in 2021, 17 were women, an increase from 13 on last year's list. Unlike last year, a woman made an appearance on the top 10 list—Sue Nabi, CEO of Coty, who was awarded $283.8 million in 2021. Median pay for women CEOs was nearly identical to overall pay for Equilar 200 CEOs at $23.2 million.

Equilar 200 Companies See Large Revenue Gains. Median revenue for companies was $16.8 billion in 2021, while the median revenue increase at individual companies was 19%. Meanwhile, last year's list saw just a 3% increase from the previous year, likely due to factors related to the COVID-19 pandemic.
Methodology Notes: The Equilar 200 includes the largest pay packages awarded to CEOs from U.S.-based or listed companies with more than $1 billion in revenue that filed proxy statements for fiscal year 2021 by April 30, 2022. "Total compensation" is defined as information disclosed in the summary compensation table of company proxy statements filed to the SEC. The figures represent what was awarded to a CEO in fiscal year 2021, and include salary, cash bonuses, stock and options awards valued in their entirety as of the grant date (i.e. grant date fair value), and other compensation (including benefits and perks). These numbers exclude change in pension values and deferred compensation. While many of the companies in the Equilar 200 are consistent from year to year, due to changes in revenue the list is not the same every year.
Equilar Executive Compensation Solutions
Equilar offers a wide range of tools and solutions that allow companies to optimize their executive benchmarking process. Tailor your benchmarking analysis to compare pay for specific executives within your organization against those of your peer group. Visit www.equilar.com/executive-compensation to learn more.
Contact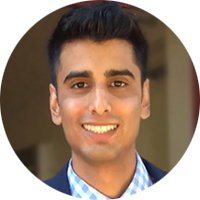 Amit Batish
Director of Content at Equilar
Amit Batish, Director of Content at Equilar, authored this report. Equilar Researchers, Nathan Grantz and Charlie Pontrelli, contributed the data and analysis for this study. For more information on Equilar research and data analysis, please contact Amit Batish, at abatish@equilar.com.
---
---