Equilar Institute
Blog Home
New ISS Policy Could Impact Director Compensation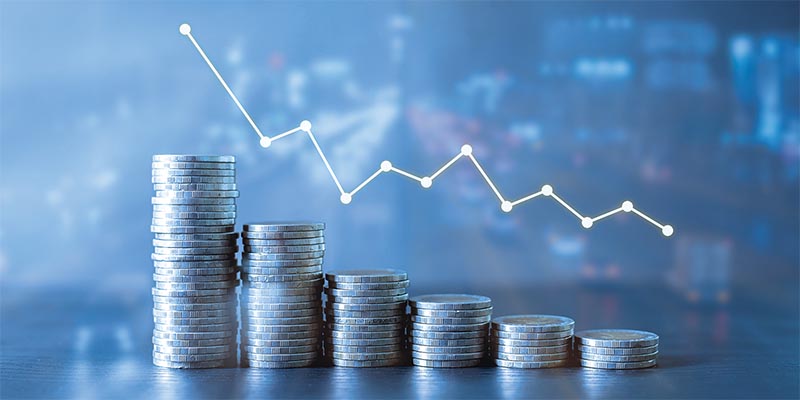 ---
---
March 11, 2020
Proxy advisory firms continue to have an influence on proxy voting outcomes. Typically, companies will take notice when proxy advisory firms release their annual voting guidelines. According to ISS' 2020 proxy voting guidelines, the firm will recommend a negative vote against directors responsible for setting excessive non-employee director compensation for two or more years. Director pay now will attract more scrutiny from investors than ever before, and companies will need to take steps to control excessive director pay.
Companies must report not only their director compensation policies but also the total pay each individual director receives for the fiscal year. Total pay includes the annual retainer plus any meeting fees and premiums received for serving in a leadership position. This analysis looks at the total director pay* for fiscal years 2017-2019.
Figure 1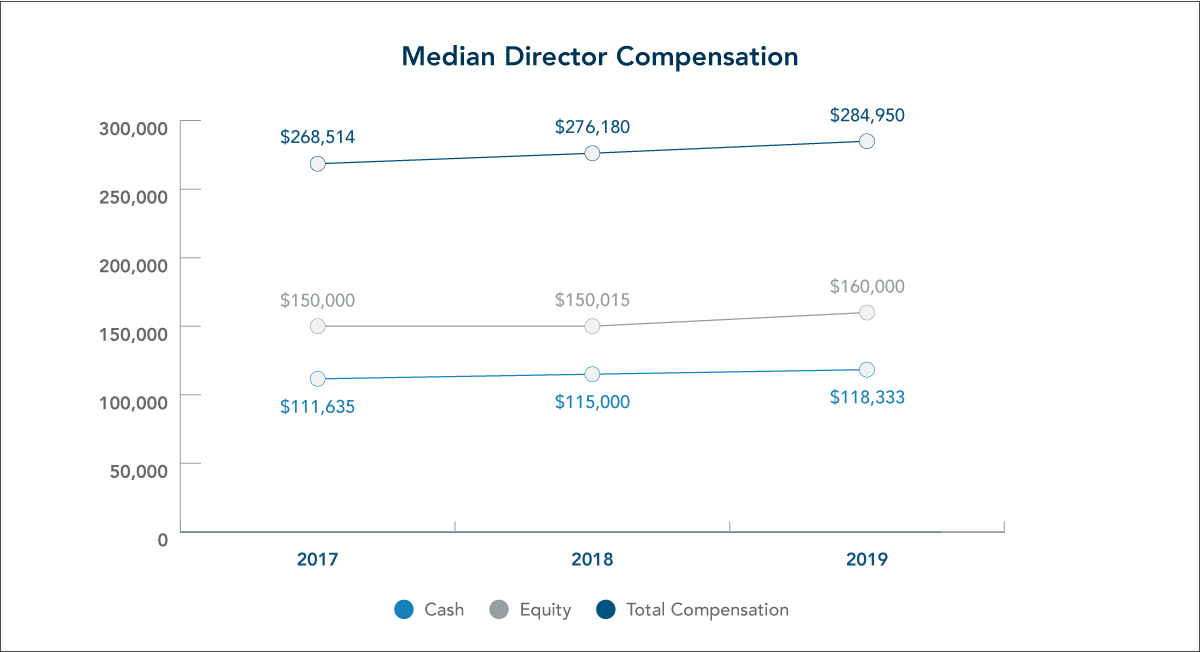 The median director pay in fiscal year 2019 was $284,950, which is 6.1% more compared to fiscal year 2017. Between fiscal years 2017 and 2019, cash compensation saw a 6.0% increase and equity compensation saw a 6.7% increase. The median pay mix stayed flat from 2017 to 2019 with cash compensation representing about 43% of the total compensation and equity representing about 57%. The 25th and 75th percentiles of all elements showed increases between 2017 and 2019 with the 25th percentile outpacing the 75th percentile in all categories. Each of these trends show similar patterns as expected with company director compensation policies shown in Equilar's Director Pay Trends Report.
For the purposes of this study, Equilar examined the ten companies across the Equilar 500 with the highest median director pay in 2019, as well as median director pay for those companies in 2017 and 2018.
| | | | |
| --- | --- | --- | --- |
| Company Name | Total Compensation 2019 | Total Compensation 2018 | Total Compensation 2017 |
| Tesla, Inc. | $7,465,079 | $37,500 | $32,500 |
| Regeneron Pharmaceuticals, Inc. | $1,218,907 | $1,307,211 | $2,101,585 |
| NVR, Inc. | $777,484 | $42,000 | $42,800 |
| Goldman Sachs Group, Inc. | $575,224 | $587,682 | $575,209 |
| Salesforce.com, Inc | $561,293 | $613,962 | $561,278 |
| Celgene Corporation | $537,507 | $525,470 | $532,371 |
| Dell Technologies, Inc. | $519,986 | $325,000 | N/A |
| Everest Re Group, Ltd. | $488,585 | $543,060 | $447,030 |
| Sprint Corporation | $487,500 | $480,500 | $427,958 |
| Oracle Corporation | $477,562 | $561,862 | $573,489 |
Of these ten companies, six have been in the top ten of median director pay for all three years. The six companies are highlighted blue in the table.
Tesla had the highest median director pay in fiscal year 2019, substantially above Regeneron Pharmaceuticals. Tesla's median director pay is more than 26 times the median director pay in 2019 and more than six times higher than Regeneron Pharmaceuticals. However, Tesla's high director compensation for 2019 is due to option awards that are granted once every three years, and in both 2017 and 2018, Tesla was not in the top 100. NVR follows a similar pattern with Tesla with granting option awards every three years.
Director compensation at the six companies highlighted in the table stayed relatively flat over the years with the exception of Regeneron Pharmaceuticals and Oracle. Regeneron Pharmaceuticals had a large director pay decrease due to shrinking the number of options a director receives to manage dilution from the increasing employee population. This change was not implemented due to active shareholder disapproval. However, Oracle has taken an active approach to decrease its director pay as a result of shareholder feedback. In 2018, Oracle received feedback that its director compensation was too high. The company then made changes to both the current year director pay and the future year with an overall 16.7% decrease in median director pay from 2017 to 2019. Even with this change, Oracle still remains in the top 10 of companies for median director pay.
The six highlighted companies come from different sectors, including healthcare, finance and technology. They also had revenues that ranged broadly from $6.7 billion to $39.5 billion. ISS' new proxy guideline regarding director pay will affect all companies.
The proxy voting results for this year will reflect the impact of the new ISS guideline. While proxy advisors wield a great deal of influence, in the era of Say on Pay, companies are now much better at engaging their shareholders and providing reasons for certain compensation decisions. Companies will now have to include director compensation into the conversation, if they haven't already. After much practice with executive compensation, it will be interesting to see how corporate issuers and shareholders both respond to this new policy.
*Total director pay is calculated as the sum of all fees earned or paid in cash and value of any equity granted during the fiscal year.
---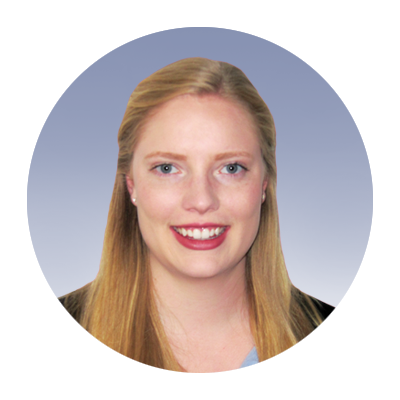 Christy Hershey, Research Analyst at Equilar, authored this post. Please Contact Amit Batish, Content Manager, at abatish@equilar.com for more information on Equilar research and data analysis.
---