Equilar Institute
Blog Home
Dissecting the CEO Pay Ratio by Sector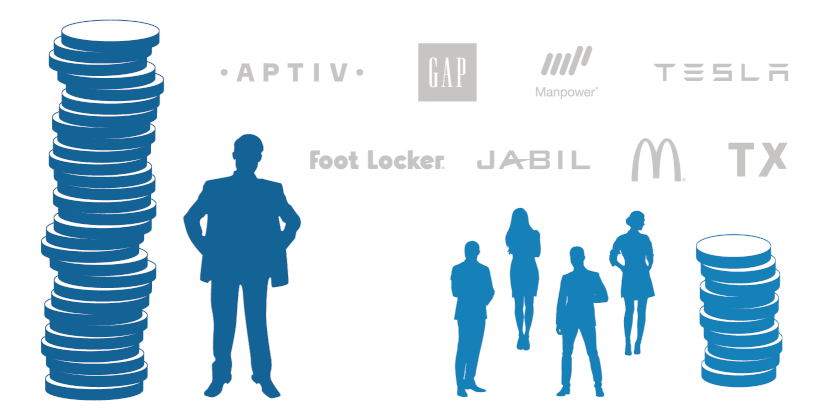 ---
---
January 9, 2020
In the past few years, the CEO pay ratio has emerged as a major talking point in corporate governance conversations. During the 2018 proxy season, companies with a fiscal year beginning on or after January 1, 2017  were required to report their pay ratio between CEOs and median workers in proxy statements for the first time. Consequently, pay ratios are now mentioned often in political discussions about CEO compensation.
Oftentimes, the pay ratio is used to support the claim that executive pay packages are inflated and highlight income inequality concerns. Presidential candidate Bernie Sanders, the state of California and the city of Portland have all proposed enforcing taxes on companies based on their pay ratios. However, certain types of firms require more part-time employees, some markets are dominated by a few large firms, and some feature many companies competing closely. Because labor needs and employment practices vary across industries, penalizing firms based on pay ratio is bound to impact some sectors more than others.
Breaking out the median pay ratio by sector for Equilar 500 companies gives a more informative view of the metric (Figures 1 and 2). Upon first glance, companies in the services, consumer goods, and healthcare sectors may undergo the most scrutiny based on the pay ratio metric. The services and consumer goods sectors find themselves with a higher ratio due to low median worker pay ($42,206 and $48,279, respectively). Healthcare earns its high mark by compensating their CEOs the most out of any sector, with a median total compensation of$16,387,148. It isn't surprising to see consumer goods and services in this spot, as the nature of these companies require more part-time labor. Despite the high pay ratio, they rank below the Equilar 500 median of $12,361,542.50 for total CEO compensation. Pay ratio does not appear to be a remarkably strong indicator of sectors with higher than average CEO pay. Industrial goods—the sector with the second-highest median CEO compensation—ranks below the Equilar 500 median for pay ratio.
Figure 1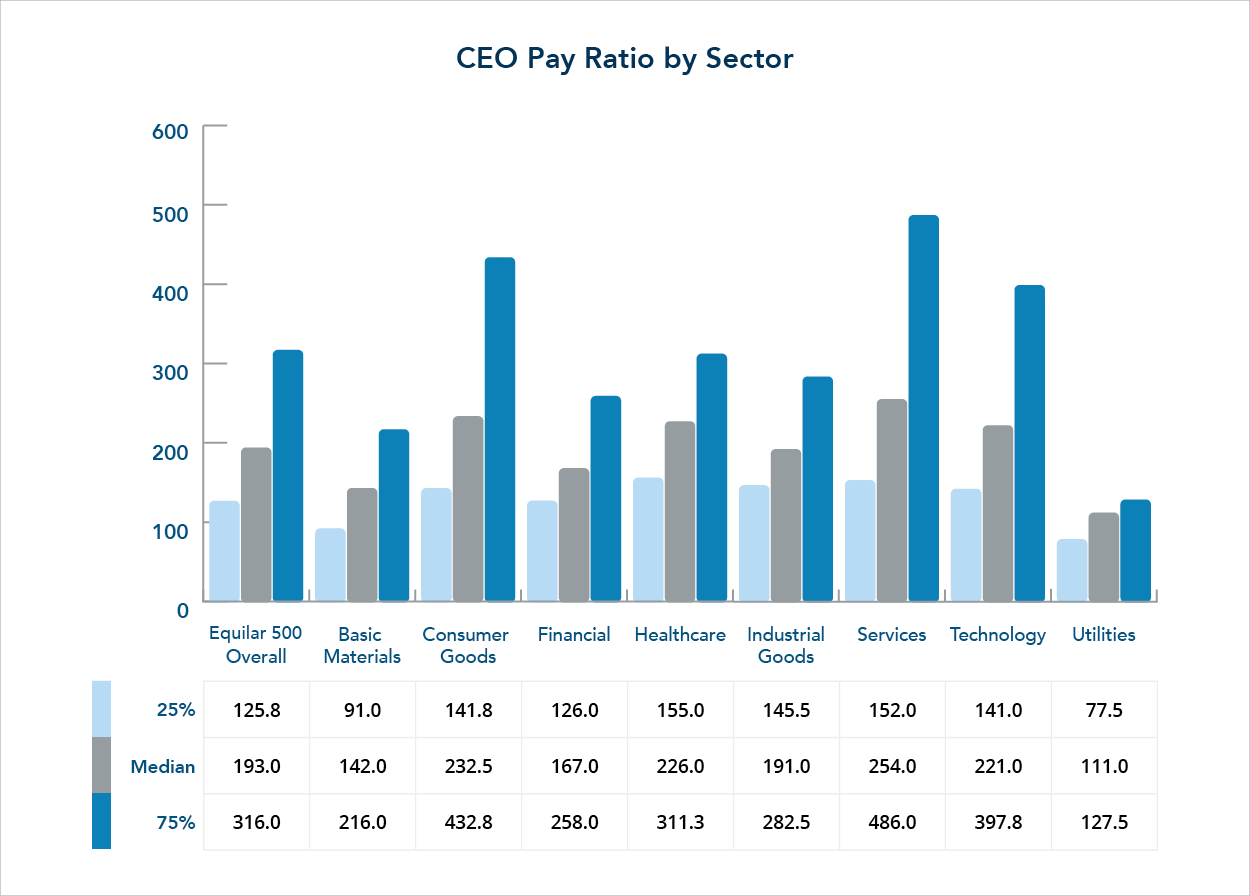 Figure 2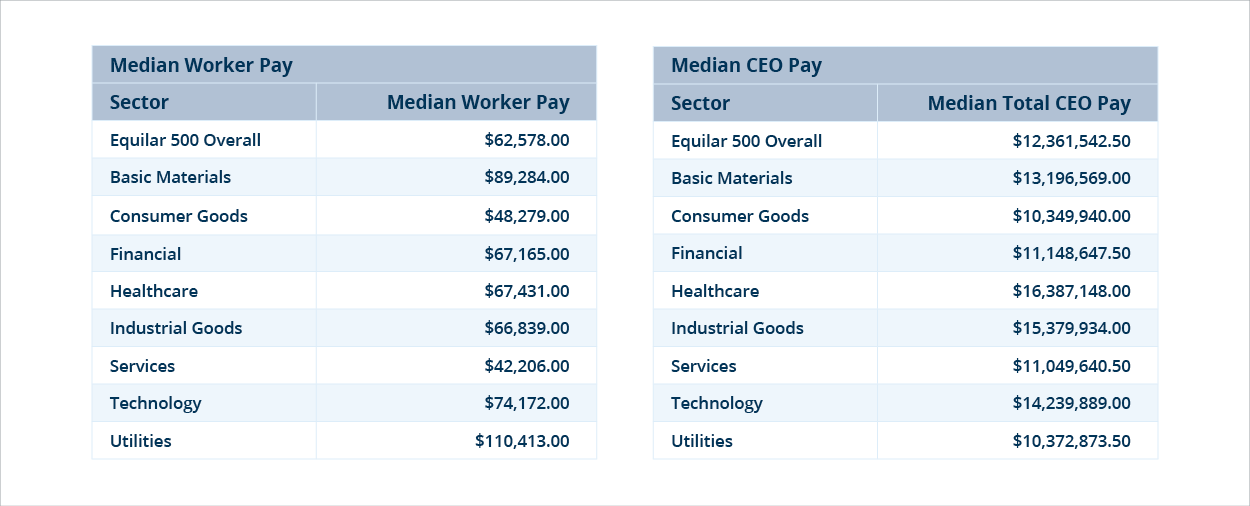 Companies in the utilities, basic materials and financial sectors all rank below the Equilar 500 median pay ratio. These companies also have the lowest median employee counts. Predictably, larger firms will be impacted the most by any compensation legislation based on CEO pay ratio due to a combination of more employees and a more demanding occupation for chief executives. High median pay ratio sectors like services, consumer goods, and healthcare all rank above the median employee counts. Since employee count is a good proxy for company size and use of part-time labor, industries that by their nature require more employees than others will tend to have high pay ratios even if their CEO pay is in line with current norms.
The Extremes of Pay Ratio
Figure 3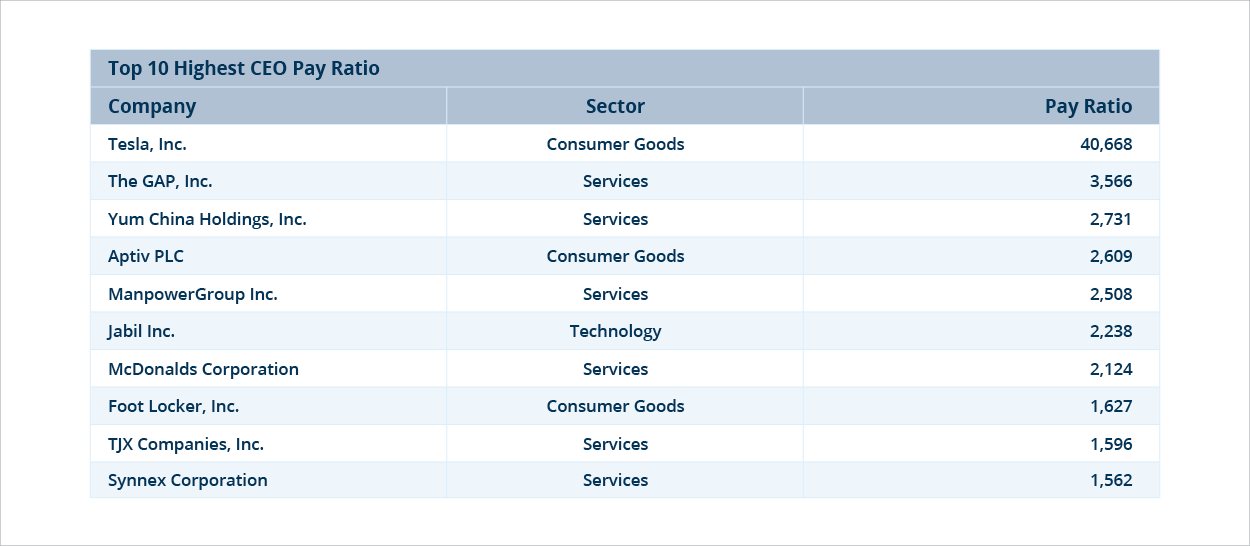 Amongst the ten absolute highest and lowest CEO pay ratios in the Equilar 500, certain sectors dominate (Figure 3). Six companies in the services sector found their way into the top ten highest pay ratios. Consumer goods firms also found themselves at the highest extreme, with three firms in the top ten. These firms may find themselves in danger of more tax penalties. On the other end of the spectrum, the technology and financial sectors each had four firms rank in the ten lowest pay ratios. Alphabet Inc. had a pay ratio of nearly zero, the only company with a ratio under 1.0. in the Equilar 500 as of publication.
SEC disclosure requirements for calculating pay ratios create concerns about the usefulness of the metric. For example, Tesla CEO Elon Musk's pay will only become realizable if the company clears very high performance targets. Regardless, the entire pay package must be used in the pay ratio calculation. This can cause extreme ratios that may not accurately reflect realized CEO compensation in a given year. Often, equity awards granted to a chief executive will not vest in the same year. Median worker pay, however, is typically all paid out over the course of the same year. Since the nature of CEO pay and worker pay is so different, it is difficult to find an acceptable disclosure methodology for pay ratio.
It is important to understand the complexity behind the pay ratio metric. Direct comparisons of CEO pay ratio across sectors can be difficult due to the different labor needs of various industries. Companies that by their nature need many part-time, low-wage employees tend to disclose higher ratios, even if their CEO compensation is in line to that of similar firms. Consequently, the CEO pay ratio is just one part of a holistic approach to evaluating CEO compensation levels.
---
---