Equilar Institute
Blog Home
Immelt Steps Down: A New Era for GE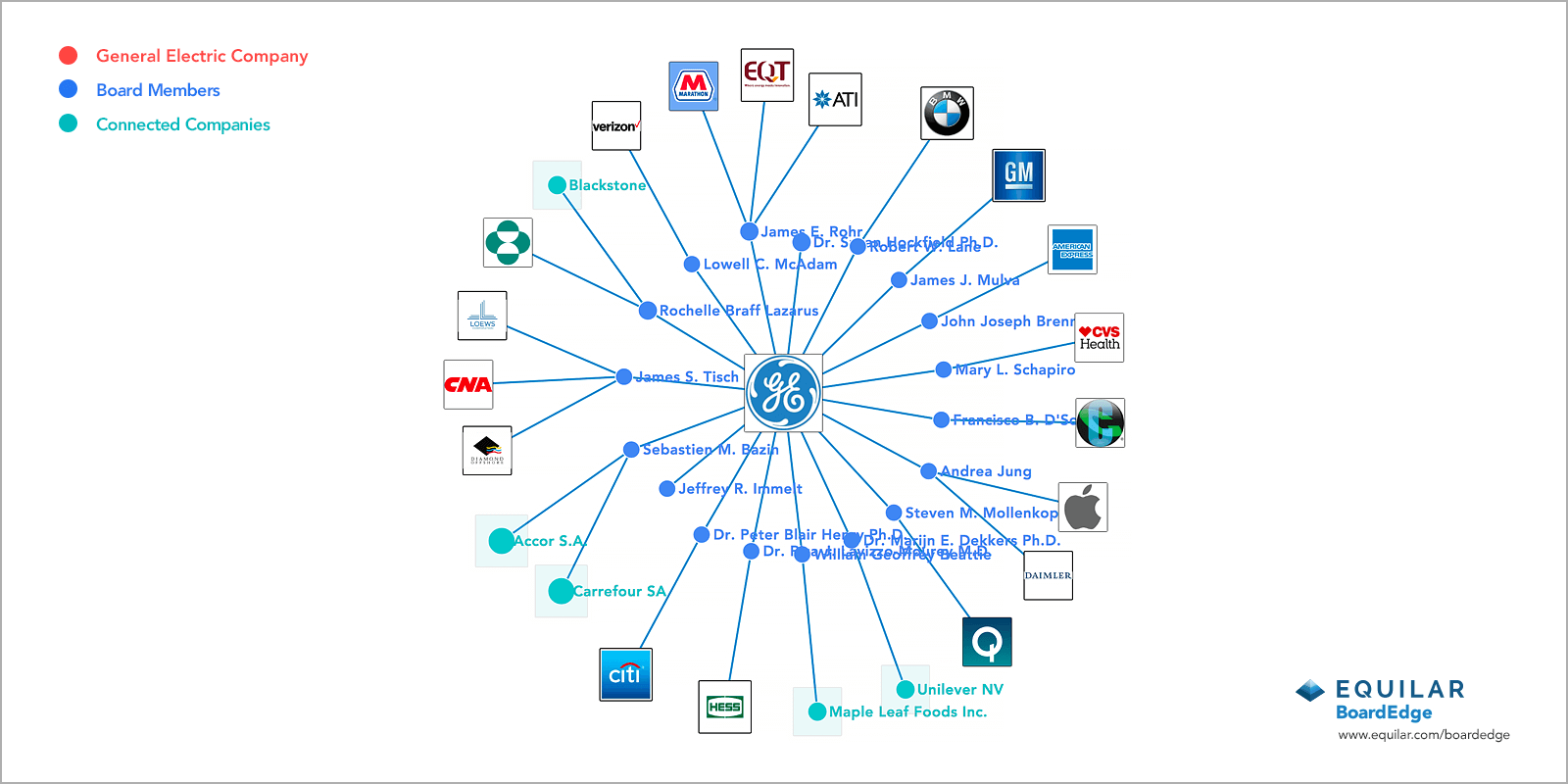 ---
---
June 26, 2017
General Electric Co. announced CEO, Jeff Immelt, would step down as chief executive, effective August 1, and will retire as chairman of the board December 31, reported The Wall Street Journal. John Flannery, GE's current head of healthcare business, will succeed Immelt as both CEO and chairman, joining the GE board in 2018.
The succession will end Immelt's 16-year tenure as CEO and 30-year career at GE. "I felt like 15 or 16 years was plenty of time to be CEO," said Immelt. "Doing it until I'm 65 didn't make sense for the company and didn't make sense for me."
Immelt joined the GE board in January 2000, originally as a public policy committee member before ascending to chairman of the board in 2001. According to Equilar BoardEdge data, Immelt has professional connections to 38 board members and executives at 31 public companies, far below the average 94 connections for S&P 500 directors. Immelt's lower number of connections is likely a result of having only served on one public company board, and having been at GE for more than 30 years overall.
Download Executive and Board Connections
Following a 27% decline in shares during Immelt's tenure, ranking GE the worst performing member of the Dow Jones, and facing pressures from activist investor Trian Fund Management LP, many believe GE is in need of refreshment.
According to Immelt and an independent GE director, Immelt's decision to step down was decided in 2013 as part of a long-term succession process, reported The Wall Street Journal. This extended succession planning process originally included external candidates, but was narrowed down to four internal candidates, John Flannery, Jeff Bornstein, Steve Bolze and Lorenzo Simonelli, in 2015.
The announcement of John Flannery being named incoming CEO may lead many critics may question whether an inside candidate will be able to move the company forward. Similar to Immelt, the GE board will be the first board Flannery has ever served on. The Equilar BoardMap for GE shows the company's direct connections to several other companies. (see the featured image for this blog)
Reach out to Equilar to learn more about BoardEdge connections or to request a download of any of the -plus executives and board members in the database. Include specific requests for individual downloads in the comment field.
---
For more information on Equilar research and data analysis, please contact Dan Marcec, Director of Content & Communications at dmarcec@equilar.com. Cydney Myers, associate editor, authored this post.
---