Media Center
Press Releases
Pay for Performance Becomes More Dominant in CEO Comp Plans
---
REDWOOD CITY, CA (September 20, 2017) —More than 60% of large-cap companies provide at least half of CEO equity compensation via performance incentives, up from 33.3% five years ago, according to a new Equilar report, Equity Compensation Trends, which features commentary from E*TRADE Financial Corporate Services, Inc.
In fiscal year 2016 alone, the percentage of Equilar 500* companies that provided at least half of CEO equity compensation based on performance awards increased from 52.5% to 60.8%. The remaining portion of equity compensation is time-based, meaning that awards vest at specific time periods, rather than being contingent on meeting particular performance goals in order to receive allocations of stock or stock options.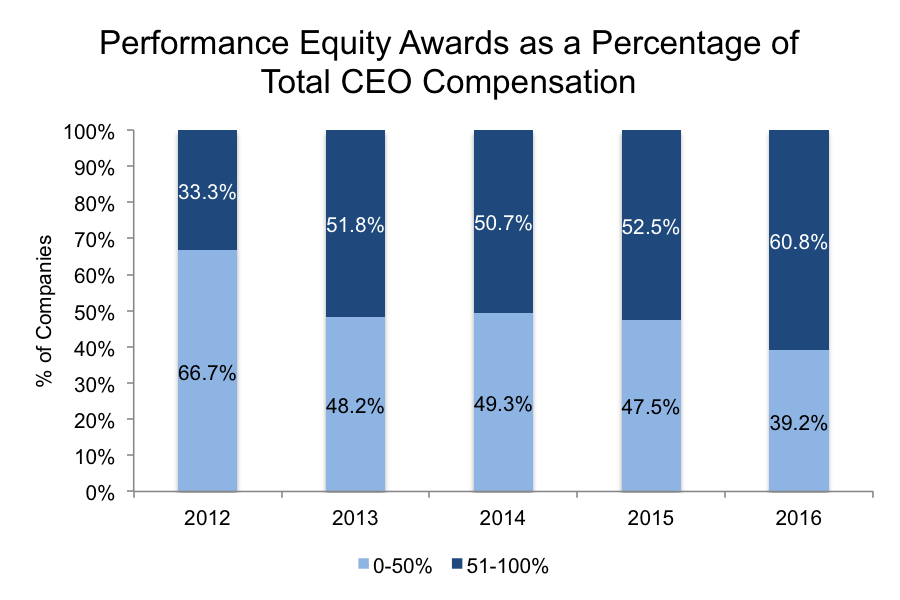 "Boards once favored stock options, which ultimately depend on a rising stock price, though awards weren't necessarily contingent on hitting performance targets," said Matthew Goforth, Senior Governance Advisor at Equilar. "The goal-based approach allows the board to spread the focus of management to internal business metrics and returning value to shareholders."
The total percentage of Equilar 500 companies providing CEO performance awards has increased significantly over the past few years, reaching 82.1% of companies in 2016, up from 69.7% in 2012. Most CEOs also receive time-based awards, considering that nearly 40% of companies are still offering a majority of equity compensation in this manner. However, these time-based awards are more often being provided as restricted stock as opposed to stock options, the report found.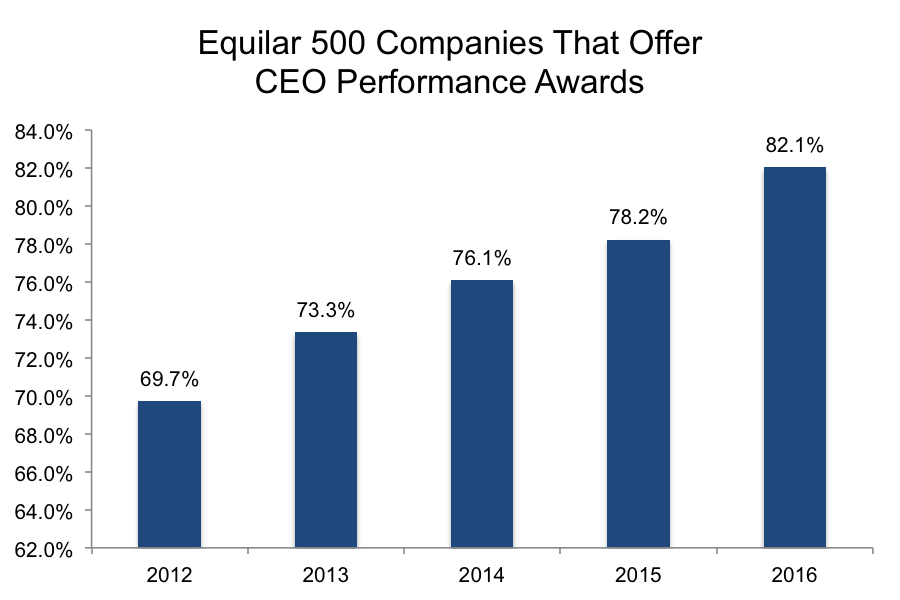 "The gradual increase of performance-based equity began soon after the passage of the Dodd-Frank Act in 2010, which, among other things, provided shareholders with more transparency into executive pay," said Craig Rubino, Director of Corporate Services at E*TRADE Financial Corporate Services, Inc. "While adoption of this type of equity compensation began slowly, it continues to increase year over year for mid- and large-cap companies and at measurable rates for small-cap companies."
When broken down by sector, 90.5% of industrial goods companies provided performance awards to CEOs in 2016, according to the report, the highest prevalence across the study. The technology sector saw the largest growth in the percentage of companies offering performance awards to CEOs during the study period, increasing from 63.7% in 2012 to 82.3% in 2016.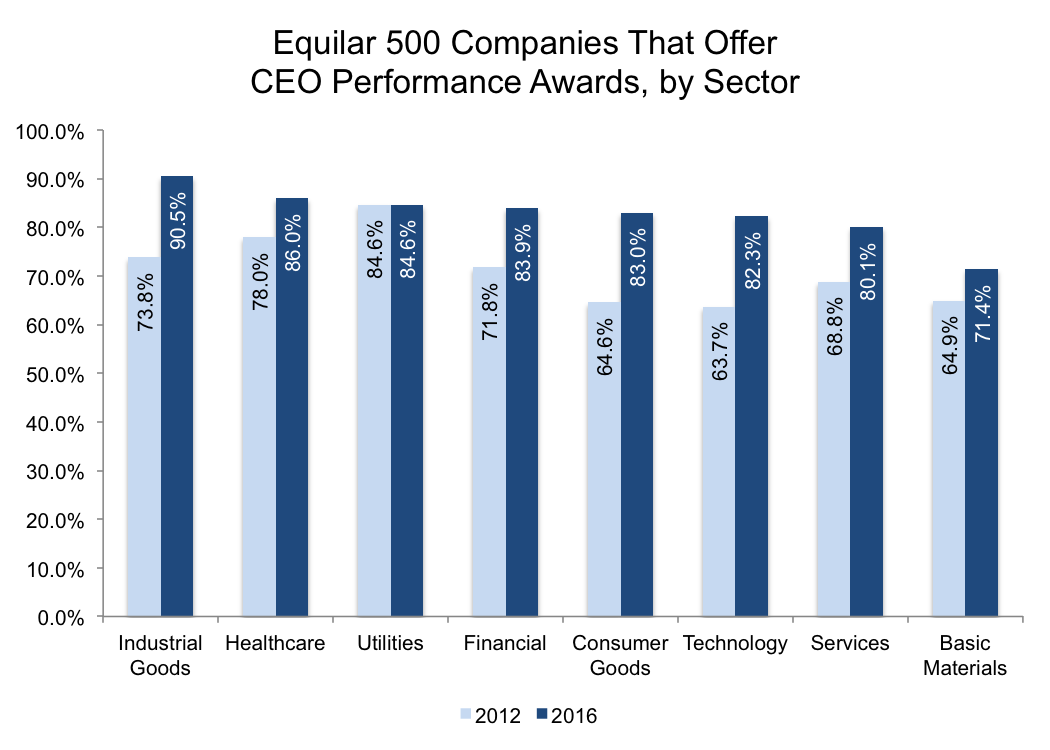 *The Equilar 500 comprises the largest U.S.-listed companies by revenue adjusted to approximate the industry sector mix of similar large-cap indices.
To request a copy of the full report, click here.
---
About the Report
Equity Compensation Trends, an Equilar publication, examines equity compensation design and granting practices of Equilar 500 companies, and tracks this data for those companies over the last five fiscal years. The Equilar 500 tracks the 500 largest, by reported revenue, U.S.-headquartered companies trading on one of the major U.S. stock exchanges (NYSE, Nasdaq or NYSE MKT (formerly AMEX)), adjusted to approximate the industry sector mix of similar large-cap indices. Companies that filed a proxy statement (DEF 14A) or disclosed compensation information in an amended 10-K filing (10-K/A) by May 1, 2017 were included in the fiscal 2016 year.
E*TRADE Financial Corporate Services, Inc. offered independent commentary to provide color and context based on experience regarding how companies structure equity pay.
About Equilar
Equilar is the leading provider of board intelligence solutions. Its data-driven platforms, BoardEdge and Insight, provide tools for board recruiting, business development, executive compensation and shareholder engagement. Companies of all sizes, including 70% of the Fortune 500 and institutional investors representing over trillion in assets, rely on Equilar for their most important boardroom decisions. Equilar also hosts industry-leading board education symposiums, conducts comprehensive custom research services and publishes award-winning thought leadership. Founded in 2000, Equilar is cited regularly by Associated Press, Bloomberg, CNBC, The New York Times, The Wall Street Journal and other leading media outlets. Visit www.equilar.com to learn more.
About E*TRADE Financial Corporate Services, Inc.
E*TRADE Financial Corporate Services, Inc. ("E*TRADE") is a premier provider of equity compensation administration tools for some of the nation's leading organizations, serving 1.4 million+ participants.¹ We offer flexible, easy-to-use, and powerful solutions for equity compensation management, including support for most equity vehicles, and seamless access for participants to services/education from E*TRADE Securities. For five years running, E*TRADE's proprietary Equity Edge Online® platform has been rated #1 for Loyalty and Overall Satisfaction in Group Five's Stock Plan Administration Study.2
The data and analysis contained in this publication has been prepared by Equilar. The commentary, where noted, has been provided by E*TRADE Financial Corporate Services, Inc. Equilar is not affiliated with E*TRADE Financial Corporate Services, Inc. or the E*TRADE Financial family of companies.
1 Data as of 6/30/17.
2 As of July 1, 2016, Group Five Stock Plan Administration Benchmark Study and Financial Reporting Benchmark Study rated Equity Edge Online® highest in Loyalty and Overall Satisfaction for the fifth consecutive year (2012–2016) among all plan sponsors who use a commercial system to manage the recordkeeping of their stock plans in-house. Group Five, LLC is not affiliated with E*TRADE Financial Corporate Services, Inc. or the E*TRADE Financial family of companies.
For more information, contact:
Amit Batish
Content Manager
Equilar, Inc.
abatish@equilar.com
650-241-6697