Media Center
Press Releases
CEO Pay Packages See Largest Increase Since 2013
---
REDWOOD CITY, CA (June 21, 2017) —Over the last five years, the value of CEO pay packages has been steadily increasing as companies shift away from discretionary bonuses and stock options toward pay for performance, according to the most recent Equilar report, CEO Pay Trends 2017, featuring independent commentary from Meridian Compensation Partners.
Overall, CEO pay for Equilar 500 companies—a sample of the largest public companies as measured by revenue—increased 6.1% in 2016 to a median $11.0 million. This was the biggest gain since 2013.
"Median CEO pay packages consistently climbed each year over the five-year study period examined for this report," said Matthew Goforth, Equilar Research Manager and lead author of the report. "At the same time, boards continue to tweak incentive pay to align CEO interests with both company strategy and shareholder returns over the long term."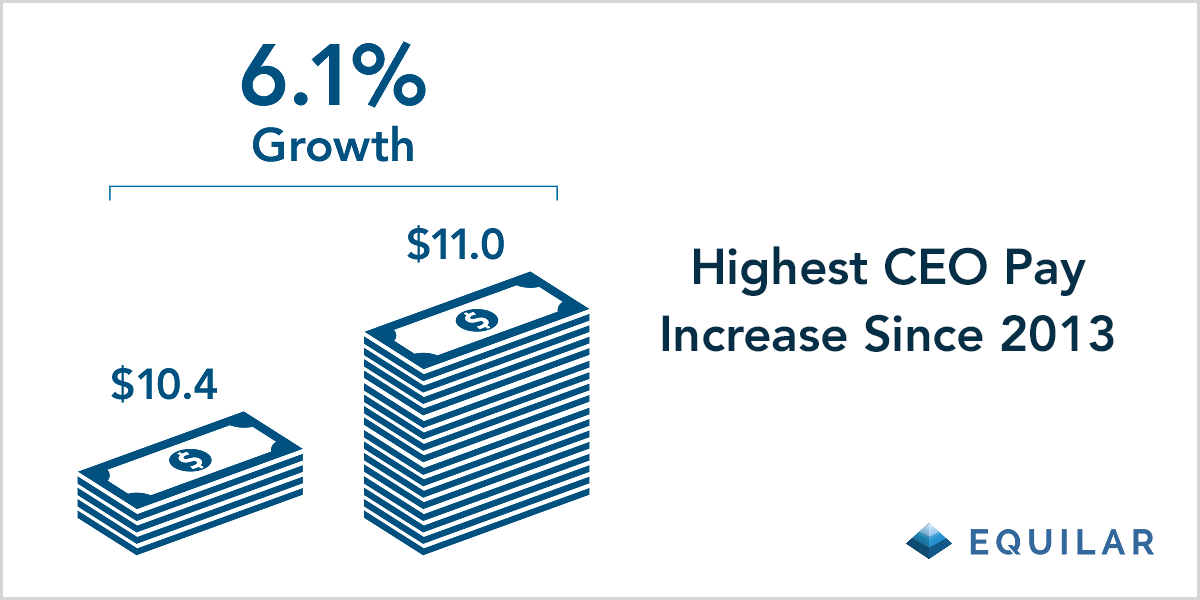 During the study period, a growing number of companies began granting performance-based long-term incentives (LTI) to their chief executives, reaching 81.5% of Equilar 500 companies in 2016. Meanwhile, the Equilar report found that the prevalence of CEOs receiving time-based stock options fell to a low of 50.0% in 2016.
"There is no doubt that proxy advisors and large institutional investors have influenced pay design, particularly with respect to the growing use of performance-based equity plans and a continued shift away from stock options, in both prevalence of usage and weight," said Virginia Rhodes, Lead Consultant with compensation consultant Meridian Compensation Partners. "These factors, coupled with the expense associated with options, have many companies opting for time-based restricted stock to provide the retentive element in their programs, as needed."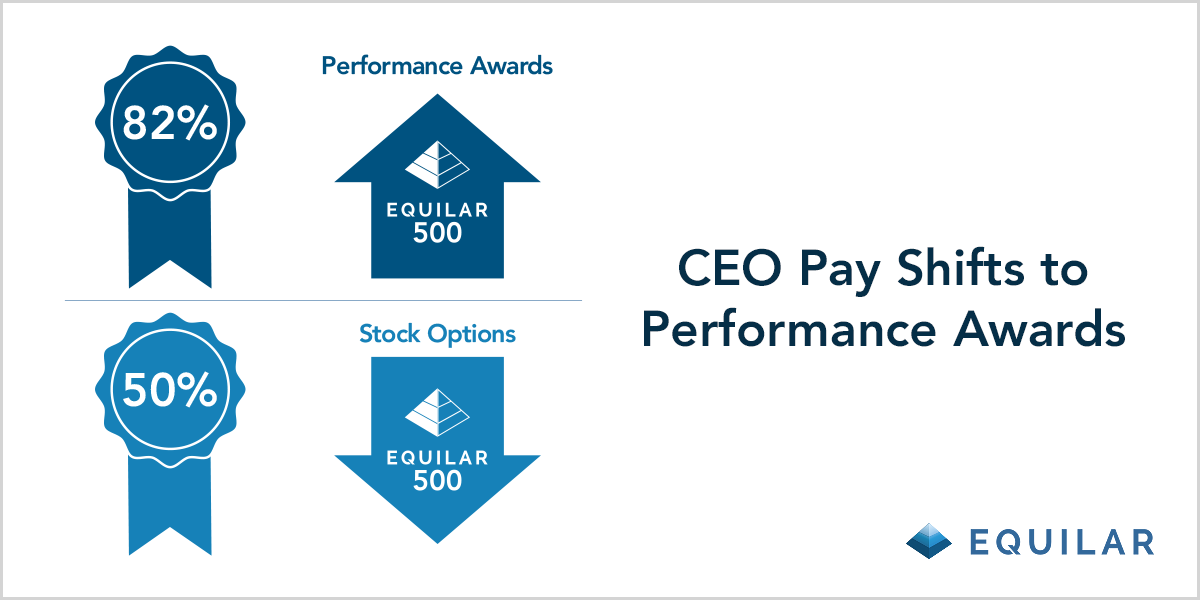 Other key findings from the report include:
The healthcare sector reported the largest CEO pay packages in 2016 at a median $13.3 million
Median value of stock awards climbed more than 9% between 2015 and 2016, and 43% since 2012
On average, CEOs received about 32% of total reported compensation in cash, 65% in equity and 3% in other compensation in 2016
Nearly 55% of reported LTI mix was performance-based in 2016 at the median, up from 49.9% in 2012
In 2016, utilities companies granted over 70% of LTI in performance awards, while the basic materials sector granted 50.2%—lowest of all the industry sectors
Request a copy of the full report by filling out the form or by contacting Equilar directly.
For further discussion and details on this topic, please join Equilar, Meridian Compensation Partners and the Center On Executive Compensation for a webinar on July 13. Registration will open soon—visit www.equilar.com/webinars to learn more about this and other events.
About the Report
CEO Pay Trends, an Equilar publication, examines the compensation of CEOs at Equilar 500 companies, and tracks this data for those companies over the last five fiscal years. The Equilar 500 tracks the 500 largest, by reported revenue, U.S.-headquartered companies trading on one of the major U.S. stock exchanges (NYSE, Nasdaq or AMEX), adjusted to approximate the industry sector mix of similar large-cap indices. Companies that filed a proxy statement (DEF 14A) or disclosed compensation information in an amended 10-K filing (10-K/A) by May 1, 2017 were included in the fiscal 2016 year. Previous years were defined similarly. Only CEOs who served at least one full fiscal year were included in the sample size.
About Equilar
Equilar is the leading provider of board intelligence solutions. Companies of all sizes rely on Equilar for their most important boardroom decisions, including 70% of the Fortune 500 and institutional investors representing over trillion in assets. Equilar offers data-driven solutions for board recruiting, executive compensation and shareholder engagement that bring together business leaders, institutional investors and advisors to drive exceptional results while ensuring sound corporate governance. The Equilar suite of solutions includes industry-leading board education symposiums, comprehensive custom research services and award-winning thought leadership. Founded in 2000, Equilar is cited regularly by Associated Press, Bloomberg, CNBC, The New York Times, The Wall Street Journal and other leading media outlets. Learn more at www.equilar.com
About Meridian Compensation Partners
Meridian Compensation Partners, LLC provides executive compensation consulting and corporate governance services to over 500 public and private corporations. With nine offices and 60 associates in the U.S. and Canada, our services include board level advisory services, compensation program design, and market intelligence on executive pay and governance matters. www.meridiancp.com
For more information, contact:
Amit Batish
Content Manager
Equilar, Inc.
abatish@equilar.com
650-241-6697