Media Center
Press Releases
<! -- CONTENT -- >
Equilar Report: Shareholder Engagement Policy Disclosures Become the Norm
---
REDWOOD CITY, CA (December 19, 2018)—The largest U.S. companies are now disclosing their shareholder engagement practices at exceptionally high rates, according to a new report from Equilar, Corporate Governance Outlook 2019, which features commentary from Hogan Lovells and Donnelley Financial Solutions (DFIN).
According to the report, 58.6% of Equilar 100—a sample of the largest U.S. companies by revenue—disclosed their shareholder engagement policies in 2018, a 24.7% increase from 2017. This is indeed a sign that companies are making a concerted effort to adequately address the concerns of investors.
"While the percentage of companies large and small that practice some level of governance engagement with investors continues to increase, what has increased more rapidly is the practice of companies actually discussing engagement practices in some form or another," said Ron Schneider, Director of Corporate Governance Services at DFIN. "In other words, the gap between 'engagers' and 'engagement disclosers' is narrowing."
Another interesting finding from the report revealed that shareholder proposals related to general shareholder rights increased by 56.3% at Equilar 500 companies from 2017 to 2018. While shareholder proposals pertaining to environmental, social and governance (ESG) issues still represent the largest proposal category, there was a 30.1% decline in these types of proposals from 2017 to 2018.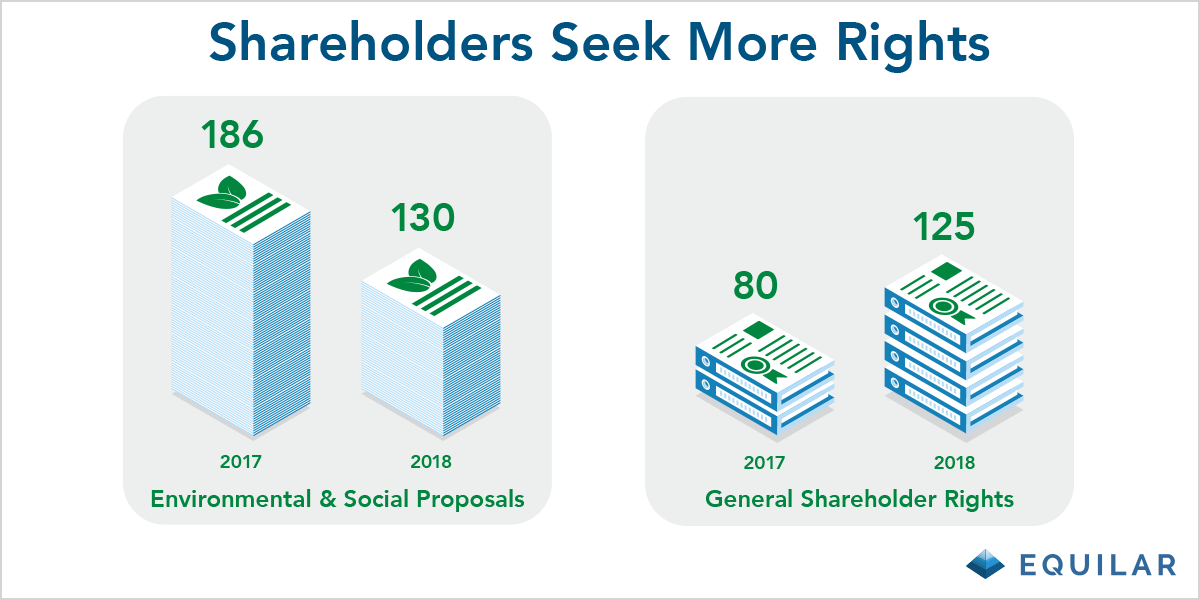 "Perhaps one reason for the decrease in the number of ESG-related shareholder proposals is a significant increase in negotiated withdrawals of submitted proposals," said Lillian Tsu, Partner at Hogan Lovells. "As a result of the increasing pressure to support ESG-related issues, it is likely that many withdrawals were the result of a company's willingness to engage with shareholder proponents to negotiate an agreement for the company to take actions and make additional disclosures in order to appease shareholders on ESG-related demands."
Alex Bahn, John Beckman, Alan Dye, Amy Freed and Martha Steinman, all partners with Hogan Lovells, also contributed commentary to the report.
The research referenced above resulted from a manual analysis of large-cap U.S. company proxy statements. Corporate Governance Outlook 2019 also features in-depth commentary and visual disclosure examples highlighting these trends in governance. DFIN provided disclosure examples from its "Guide to Effective Proxies."
Other key highlights include:
2018 saw the number of Say on Pay failures nearly double, while less than half of Equilar 500 Say on Pay votes met with 95% or greater approval

In 2018, the median CEO Pay Ratio at Equilar 500 companies was 168 to 1, while the average CEO Pay Ratio was 271 to 1

Over 500 directors in the Equilar 500 are within five years of their respective boards' mandatory retirement age, as of 2018. Additionally, nearly 80% of all mandatory retirement ages were either 72 or 75
Please click here to request a copy of the full report.
---
About Equilar
Equilar is the leading provider of Board Intelligence Solutions. Its data-driven platforms, BoardEdge and Insight, provide tools for board recruiting, business development, executive compensation and shareholder engagement. Companies of all sizes, including 70% of the Fortune 500 and institutional investors representing over trillion in assets, rely on Equilar for their most important boardroom decisions. Equilar also hosts industry-leading board education symposiums, conducts comprehensive custom research services and publishes award-winning thought leadership. Founded in 2000, Equilar is cited regularly by Associated Press, Bloomberg, CNBC, The New York Times, The Wall Street Journal and other leading media outlets. Visit www.equilar.com to learn more.
About DFIN
Donnelley Financial Solutions (DFIN) is a leading global risk and compliance solutions company. We provide domain expertise, enterprise software and data analytics for every stage of our clients' business and investment lifecycles. Markets fluctuate, regulations evolve, technology advances, and through it all, DFIN delivers confidence with the right solutions in moments that matter. Learn about DFIN's end-to-end risk and compliance solutions online at DFINsolutions.com or you can also follow us on Twitter @DFINSolutions or on LinkedIn.
About Hogan Lovells
Straight talking. Thinking around corners. Understanding and solving the problem before it becomes a problem. Performing as a team, no matter where we're sitting. Delivering clear and practical advice that gets your job done. Our 2,500 lawyers work together with you to solve the toughest legal issues in major industries and commercial centers around the world. Whether you're expanding into new markets, considering capital from new sources, or dealing with increasingly complex regulation or disputes, we help you stay on top of your risks and opportunities.
www.hoganlovells.com.
For more information, contact:
Amit Batish
Content Manager
Equilar, Inc.
abatish@equilar.com
650-241-6697