2016 Compensation Committee Forum - Agenda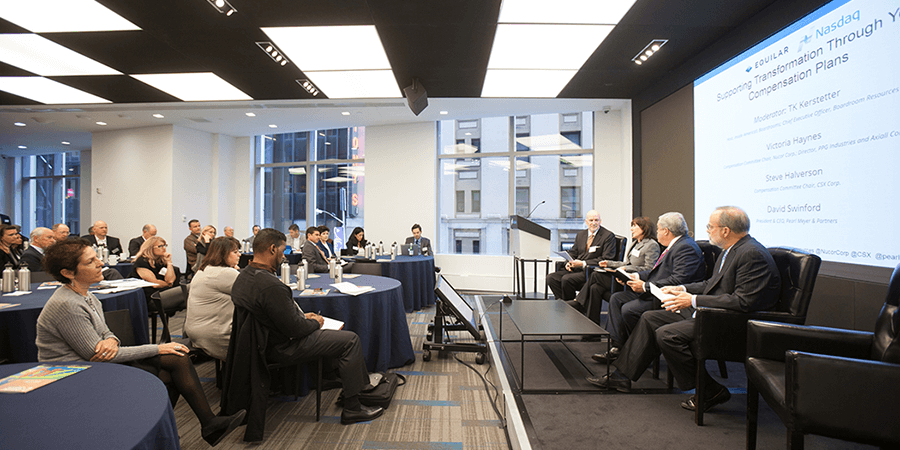 Registration and Breakfast
---
Welcome
David Chun, Chief Executive Officer, Equilar Inc.
---
Setting the Record Straight – Regulatory and Plaintiffs' Bar Priorities for 2016
Industry advisers will provide valuable insights on the status of final Dodd-Frank rules for CEO pay ratio, pay for performance, and clawbacks. In addition, the panel will shed light on compensation-related litigation, including several 2015 lawsuits related to director pay.
John Cannon, Partner, Shearman & Sterling

Charlie Tharp, EVP, HR Policy Association; Senior Advisor Research and Practice, Center On Executive Compensation

Marc Ullman, Partner, Meridian Compensation Partners

Moderator: Jake Amsbary, Securities Counsel, United Parcel Service Inc.; Policy Advisory Committee Chair, Society of Corporate Secretaries & Governance Professionals
---
The Canary in the Coal Mine – Why Peer Group Selection and Benchmarking Data Sources are Critical
Ever-increasing shareholder scrutiny is forcing boards to make sure their peer groups are appropriate and defendable. This panel will share investors' firsthand perspectives on the peer group selection process. In addition, panelists will offer advice on how to select the most relevant peers and make the most of the process to drive strategic compensation decisions.
James Johnson, Compensation Committee Chair, Ameren Corp. and Energizer Holdings; Director, Edgewell Personal Care and Hanesbrands

Kelly Malafis, Partner, Compensation Advisory Partners

Judy O'Brien, Compensation Committee Chair, Ciena Inc.

Lyndon Park, Vice President, BlackRock Investment Stewardship

Moderator: David Chun, Chief Executive Officer, Equilar, Inc.
---
---
Leveraging Resources – How Compensation Committees Can Get the Most out of HR and Consultants
Obtain multiple perspectives on how compensation committees can establish the most effective and beneficial relationships with their internal HR and compensation teams and outside compensation consultants and advisers to ensure the committee is prepared to make the best decisions related to executive compensation, talent management and succession planning.
Alan Guarino, Compensation Committee Chair, The Chef's Warehouse Inc.

Ken Julian, Vice President, Administration & Human Resources, Thor Industries

Peter Lupo, Managing Director, Pearl Meyer

Jan Suwinski, Compensation Committee Chair, Thor Industries

Moderator: TK Kerstetter, Host, Inside America's Boardrooms; Chief Executive Officer, Boardroom Resources
---
Table Talk – Peer Insights on Compensation Challenges
Attendees will divide into small groups to discuss issues related to:
---
---
Maximizing Shareholder Support for Your Compensation Plan
This panel will evaluate compensation-related shareholder proposal trends and proxy advisor scrutiny around pay for performance, equity approval and Say on Pay strategies. Gain a better understanding of the red flags investors are looking for and key considerations for staying out of proxy advisors' line of fire.
Cambria Allen, Corporate Governance Director, UAW Retiree Medical Benefits Trust

John Borneman, Managing Director, Semler Brossy Consulting Group

Drew Hambly, Executive Director, Corporate Governance, Morgan Stanley Investment Management

Moderator: Doug Chia, Executive Director, The Conference Board Governance Center
---
Catalyst for Change – Using Incentive Goal-Setting to Help Drive Strategy and Value Creation
Establishing goals that support the company's long-term strategy and shareholder return is a critical component of the executive compensation planning process. While unique to every business, this panel will share experiences on how boards can achieve pay and performance alignment while supporting the appropriate level of risk-taking. In addition, panelists will provide tips for forecasting goals in volatile markets and pitfalls to avoid when selecting metrics, as well as evaluate differences among S&P 500 versus small and mid-cap companies. Lastly, the panelists will address key considerations in evaluating CEO performance.
Michael Keehner, Compensation Committee Chair, Oppenheimer Holdings Inc.

Kathryn Neel, Principal, Frederic W. Cook & Co.

Bryan Smith, Senior Vice President, Global Head of Human Resources, Nasdaq

Dan Marcec, Director of Content, Equilar, Inc.
---
---
The Art of Storytelling – Selling Your Compensation Plan to Shareholders
Shareholder engagement continues to be one of the hottest topics in board governance. This panel will offer tangible advice on how to establish proactive outreach to investors, including the right timing, who is involved, and what makes meetings the most useful. In addition, panelists will provide tips on how to improve your proxy and CD&A and utilize it as an effective tool to communicate your pay program.
Glenn Booraem, Principal, Vanguard

David Fitt, Partner, Pay Governance LLC

Chip Lawrence, Compensation Committee Chair, Apache Corp.

Timothy Olson, Senior Corporate Counsel & Corporate Secretary, Northwestern Energy

Moderator: Ron Schneider, Director, Corporate Governance, RR Donnelley
---
---