Equilar Institute
Blog Home
Steven Temares Earned Over $170 Million as Bed Bath & Beyond CEO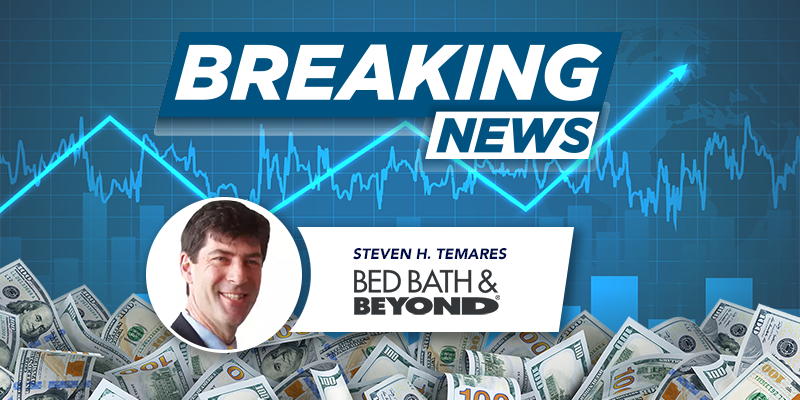 ---
---
April 13, 2019
Bed Bath & Beyond announced the resignation of Chief Executive Officer Steven Temares, effective immediately, according to The Wall Street Journal. The Journal reported that Temares' resignation comes in light of activist pressure following poor performance from the retail giant in recent years.
Steven Temares has served as CEO of Bed Bath & Beyond since 2003. From 2006-2017, he realized $172,655,854 in compensation, including the vesting of stock and exercise of options. This is the 32nd CEO from the Equilar 500 to announce their resignation in 2019.
Mary Winston, who recently joined the board of Bed Bath & Beyond, will serve as the interim CEO while the board searches for a permanent replacement. According to Equilar BoardEdge, Winston brings a wealth of executive and board experience to the table as the company searches for its next chief executive. Winston is the President of WinsCo Enterprises Inc. and a former executive vice president and CFO of Family Dollar Stores, Inc. She currently serves on the boards of Domtar Corporation, Dover Corporation, SUPERVALU, INC. and Acuity Brands, Inc. While Winston will serve as interim CEO, she is now the 27th female CEO in the Equilar 500.
There is no clear direction in which Bed Bath & Beyond may be heading, but one thing for certain is that the board is seeking a new vision. "As the company continues its efforts to improve its financial performance and enhance its competitive position, the board determined that now is the right time to identify the next generation of leadership," Bed Bath & Beyond Chairman Patrick Gaston said in a statement.
---
---