Equilar Institute
Blog Home
Glass Lewis Sends Warning Shot on Board Diversity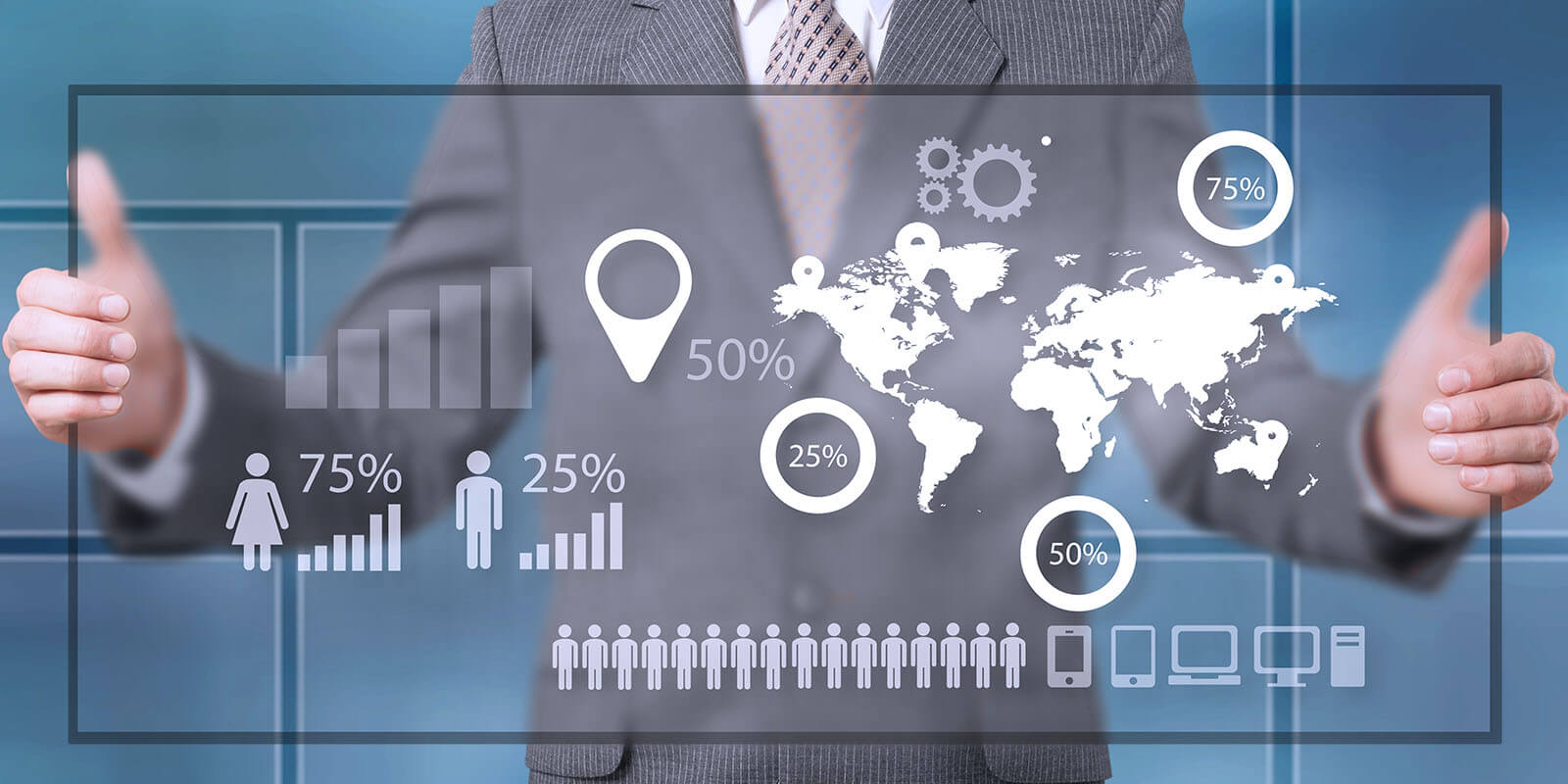 ---
---
December 15, 2017
Global proxy advisory firm Glass Lewis recently released its 2018 voting guidelines, with a majority of the U.S. version focused on "boards that serve the interest of shareholders." The first section of the document exclusively covers this topic, spanning close to 25 pages, nearly twice the length of its guidelines on alignment of executive pay and performance.
Proxy advisory firms are highly influential when it comes to executive compensation votes, given the visibility and the ubiquity of Say on Pay at every public company. Yet, it's not surprising if investors may seek more guidance when voting on board governance issues—specifically because they are fluid, and disclosures, because they are not as heavily regulated as compensation information, are inconsistent from company to company.
In particular, one of the new Glass Lewis guidelines says that the firm will recommend votes against nominating and governance committee chairs of boards that have no women. Though this will not go into effect until 2019, Glass Lewis will weigh the consideration on a case-by-case basis next year. In other words, the firm is giving companies a chance to either explain themselves in 2018 proxy statements, or make changes to their board in order to avoid a negative recommendation in the following year.
The Glass Lewis policy dictates:
"Depending on other factors, including the size of the company, the industry in which the company operates and the governance profile of the company, we may extend this recommendation to vote against other nominating committee members. When making these voting recommendations, we will carefully review a company's disclosure of its diversity considerations and may refrain from recommending shareholders vote against directors of companies outside the Russell 3000 index, or when boards have provided a sufficient rationale for not having any female board members or have disclosed a plan to address the lack of diversity on the board."
As Aaron Bertinetti, Glass Lewis SVP of Research and Engagement, suggested in an interview with Agenda Week, 2018 proxy statements will likely have significantly more disclosure around boards' approach to diversity. Given his firm's guidelines in addition to well publicized campaigns from investors such as State Street, BlackRock, CalPERS and the New York City Comptroller's office, among others, diversity disclosure may become more widespread next year.
Boards With No Women: Breakdown by Size, Geography and Sector
According to the most recent Equilar Gender Diversity Index, just over 20% of boards in the Russell 3000 had no women as of September 30, 2017 (21.4%, to be exact). This was a marked drop from the same time frame in 2016, when nearly one-quarter, or 738 boards, were all-male.
An Equilar analysis of all-male boards by size, geography and sector reveal additional details about what types of companies will be reviewed, and—depending on their disclosure—may be flagged for additional scrutiny on their approach to board composition.
Company Size
Generally, the companies with no women directors are small-cap players. To a point that Bertinetti made in his Agenda Week interview, some companies may indeed have a smaller pool to choose from if they are a niche player in a secondary or tertiary market, and that will be considered in the voting recommendations. However, a multinational Fortune 500 company should have no issue finding qualified women candidates, and the data bears that out. Less than 2% of the 600-plus boards without women are in the Fortune 500. Including those, the Fortune 1000 comprises about 10% of all-male boards.
Geographic Location
According to the Equilar study, approximately one-third of the Russell 3000 companies without women are headquartered in the southern United States. The second largest concentration is in the western U.S., where 28.0% of companies with all-male boards are located.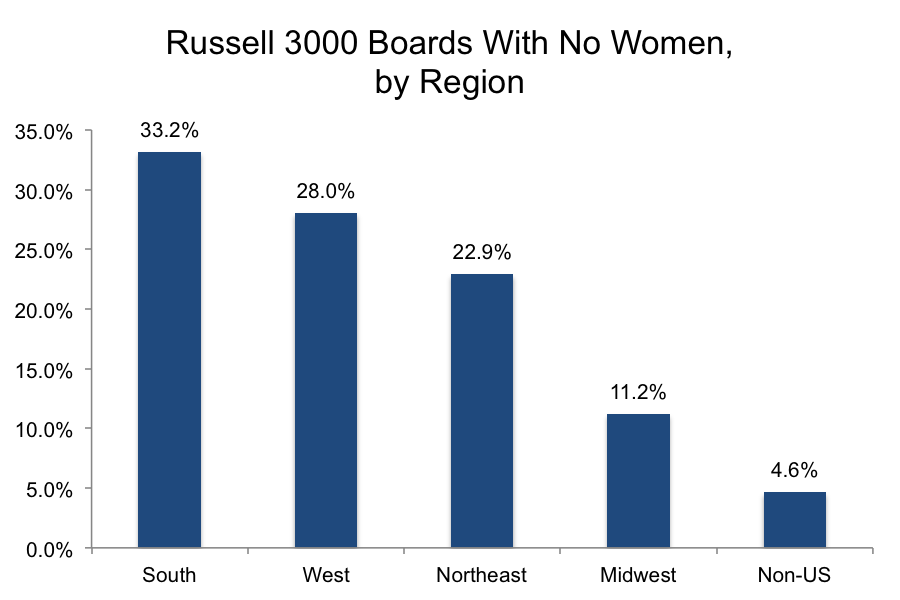 It's important to note that the figures above reflect the absolute values of boards without women. It would not be fair to say that one region is "more diverse" than another without further examination of each individually. For example, the sample of non-U.S. companies overall is small in relation to those based in any region of the U.S., and therefore it's to be expected that the proportion of all-male boards would be lower. But it does provide a reference point for where the highest number of all-male boards reside.
Breakdown by Sector
Among the companies without women, the technology and financial sectors had the highest concentration of all-male boards, accounting for just over 40% of the total combined. Similar to the point made above about geographic location, the data does not show what percentage of technology companies are all-male, just that the largest number of Russell 3000 companies without women are in the tech sector. Tech companies deserve some credit—at least among the largest companies in Silicon Valley—having seen the percentage of boards without women decline precipitously in the past couple of years, according to a separate Equilar study.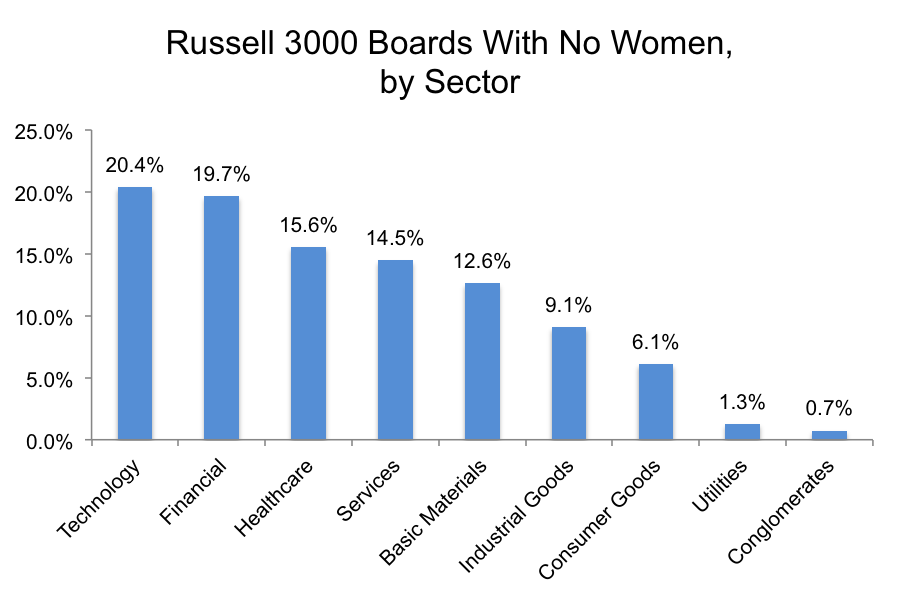 As noted above, since the number of companies in each sector varies, these figures don't take into account the fact that there may be more companies in the tech or financial sectors than some of the others. For example, there are very few conglomerates, so it's not surprising to see that sector with the lowest prevalence. That said, it provides perspective on where the highest concentration of these all-male boards are. And the absolute number does provide guidance for stakeholders in these sectors that are concerned with this issue to conduct further research.
The push for gender diversity—and indeed, all forms of diversity—is an important movement in boardrooms. Stakeholders want to ensure that the decision-makers and their fiduciary representatives reflect the diversity of employee, customer and investor bases. As the Glass Lewis guidelines and others go into effect, the impact will be widespread, but the degree to which change occurs will be interesting to watch.
Optimistically, there is no reason why any board should have to add a "token" member, given the vast number of qualified candidates available. However, shareholders and other advisors in the board recruiting and evaluation processes will continue to be mindful of "one and done" or other "comply and survive" practices that try to do the bare minimum in order to sidestep further scrutiny on the issue.
---
For information regarding the studies referenced in this post and to purchase the underlying datasets, or to learn more about Equilar's Research Services, please contact the Equilar research team at researchservices@equilar.com.
---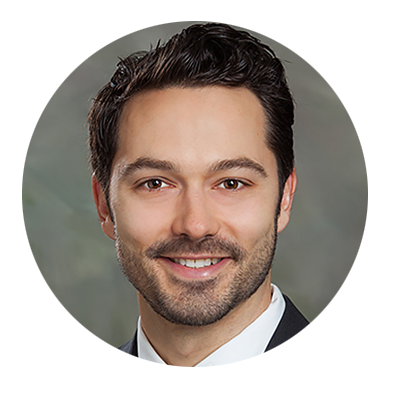 Dan Marcec, Director of Content & Communications at Equilar, authored this post. Please contact dmarcec@equilar.com for more information on Equilar research and data analysis.
---