Equilar Institute
Blog Home
Board Diversity Varies Based on Leadership Roles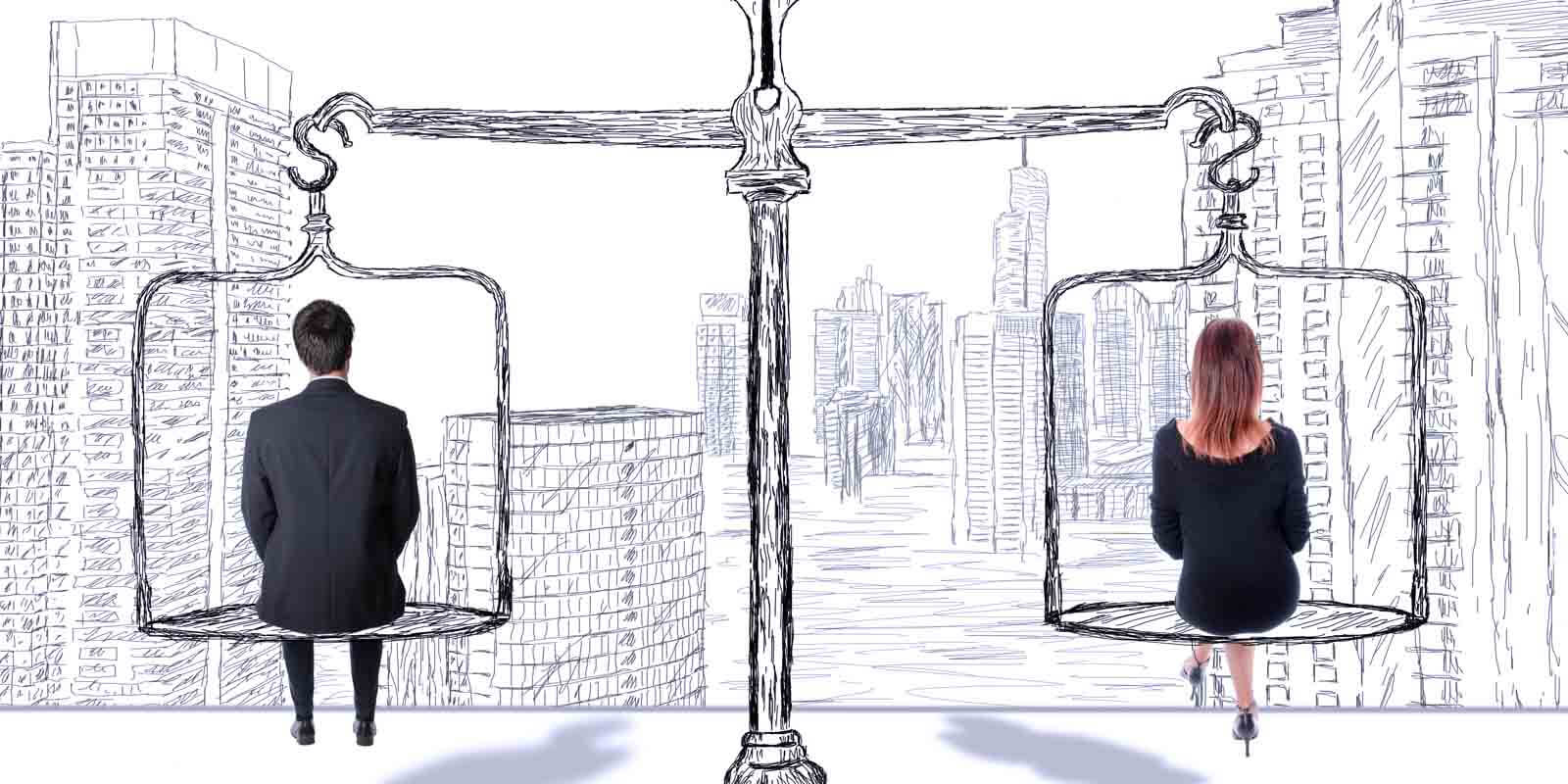 ---
---
October 16, 2017
As investors increase their focus on board composition, and gender diversity in particular, public boards are seeing greater pressure to recruit more women. According to recent editions of the Equilar Gender Diversity Index (GDI), approximately 25% of directors added to Russell 3000 (R3K) boards have been women so far in 2017, up almost three percentage points from 2016, and almost seven percentage points from 2014. In addition, the percentage of R3K boards with no women was 21.7% in Q2 2017, compared to 30.8% in 2014. These data points suggest that board leaders are beginning to respond, albeit slowly, to investors' magnified scrutiny. Given the intensified focus from institutional shareholders such as State Street and BlackRock in 2017, which have shown action by voting against nominating and governance (nom-gov) committee chairs and members when there are no women on the board, the paace may accelerate.
However, some would say that progress is not occurring fast enough. When pressure is applied from investors, it often falls upon nom-gov committee chairs, who are tasked with assessing board composition and recruiting new directors to provide missing skills, experience and/or perspectives. As a consequence, the scope and responsibility of these roles have expanded. Similarly, the lead independent director position, which is commonly filled by the same individual serving as nom-gov chair, has recently evolved as well. Most often the lead independent director role exists when the CEO-chair is a combined position, and the lead director is expected to represent shareholder concerns by facilitating sessions of independent board members and challenging executive management on issues important to investors.
A recent Equilar study found that 33.8% of nom-gov committees in the Equilar 500 were led by either the chairman of the board or lead director. (The Equilar 500 includes the 500 largest U.S.-headquartered or listed companies by revenue, weighted to approximate other, similar large-cap indices.) Of those, the lead director was the nom-gov chair more than three-quarters of the time. Similar patterns also appeared in the Russell 3000. Among R3k boards with a nom-gov committee, 27.7% of these committees were led by either the chairman of the board or lead director, and about 65% of those had the lead director, not the chairman, as the one heading the committee.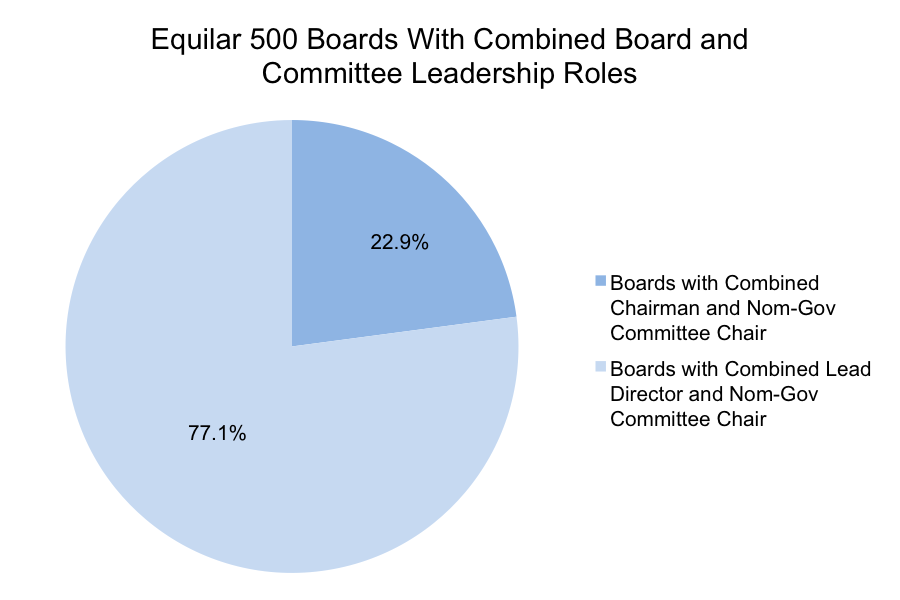 ---
Having the lead director chair the nom-gov committee correlates with more gender diversity, according to the study. Boards with a combined lead director-nom-gov committee chair role had over two percentage points more women at the median than their chairman-nom-gov committee chair counterparts in the Equilar 500. The median female percent of all Equilar 500 boards with nom-gov committees, regardless of who chaired them, fell in the middle of those two groups' medians. In the R3K, the difference was more stark. Boards with a lead director serving as nom-gov committee chair had more than four percentage points higher representation of women at the median than those with a chairman leading the committee. Just as with the Equilar 500, the median female representation of all R3K boards landed in between those medians.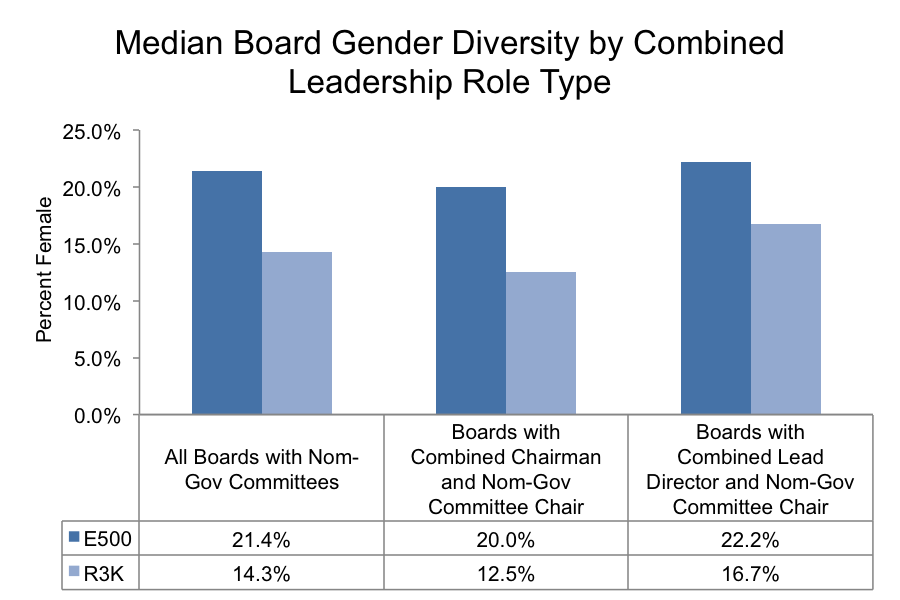 There are many potential reasons for this difference in gender diversity. One could be that boards with actively involved lead directors are generally more responsive to their investors and more open to adopting other governance best practices. Strong shareholder influence could simply be driving boards to both select their lead director as nom-gov chair and to recruit more women. In contrast, boards with a chairman who also leads the nom-gov committee may have more centralized leadership and less shareholder representation. There might even exist a correlation with management-board overlap and management stock ownership. If a company's executives control the board and proxy voting results then they could more easily put the chairman in charge of the nom-gov committee and ignore investors' grievances with their gender composition.
Another factor might have to do with female board leadership trends—women are more likely to be lead director than to be chairman, and more likely to chair the governance committee than the audit or compensation ones, according to the recent Equilar report, Board Composition and Director Recruiting Trends. A board with a woman acting as both lead director and nom-gov chair may be more likely to recruit female directors than a board with a male serving as both chairman and nom-gov chair.
In the context of evolving shareholder activism, the lead director and nominating-governance chair have become important and closely scrutinized roles. Whether their consolidation is fueling greater female representation in the boardroom, or the other way around, remains unclear. Regardless, it will be interesting to see how the trend of growing board refreshment and gender diversity affects board and committee leadership patterns, and vice versa.
---
For information regarding the studies referenced in this post and to purchase the underlying datasets, or to learn more about Equilar's Research Services, please contact the Equilar research team at researchservices@equilar.com.
---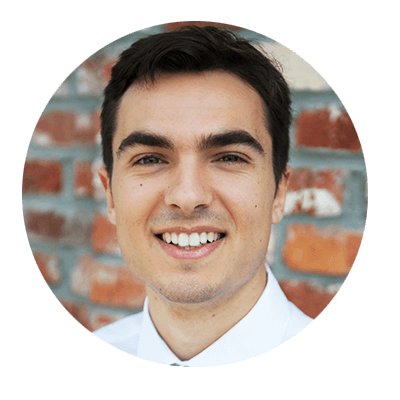 Andrew Abeles, Research Analyst at Equilar, authored this post. Please contact Dan Marcec, Director of Content & Communications, at dmarcec@equilar.com for more information on Equilar research and data analysis.
---