Equilar Institute
Blog Home
How CEO Stock Compensation Rose to a Median $5.3 Million in 2016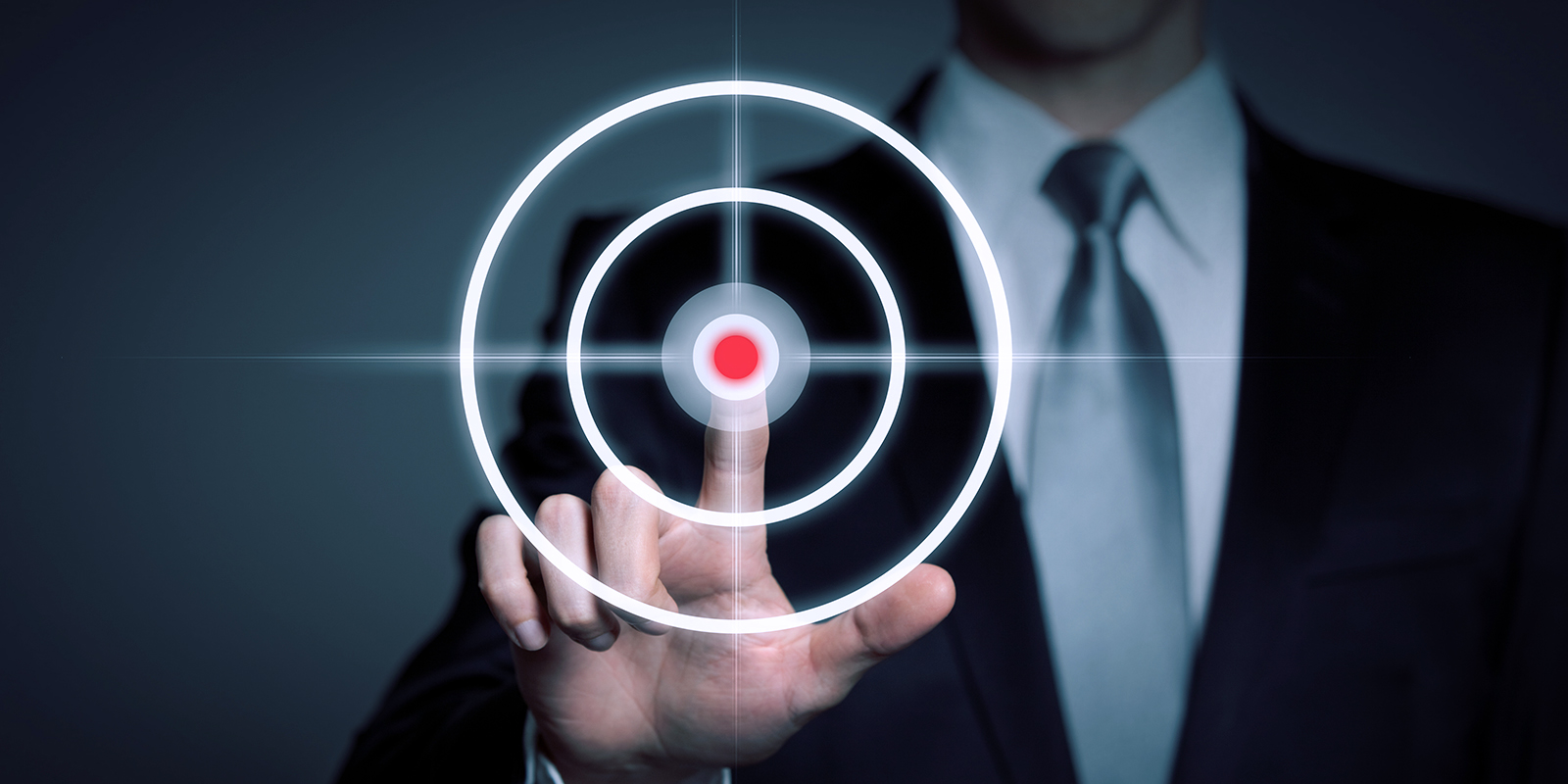 ---
---
June 27, 2017
The implementation of Say on Pay in 2011 introduced nascent pressures on executive pay practices to align compensation with performance and CEO interests with those of investors. The subsequent growing influence of proxy advisors on shareholder votes also had a heavy hand in emergent pay practices theretofore unseen in the executive compensation industry. Nevertheless, reported pay packages for the U.S.'s top-paid CEOs grew nine percent at the median to $16.9 million between 2015 and 2016.
CEO Pay Continues Its Climb, Bolstered by Stock Awards
Since 2012, the year following the introduction of Say on Pay, CEO salaries at Equilar 500* companies grew a median 10.6%, while annual bonus payouts climbed 15.7%, according to the Equilar publication CEO Pay Trends, featuring commentary from Meridian Compensation Partners. Meanwhile, the grant date fair value (GDFV) of stock awards increased more than 7% each year for cumulative growth of 43.5% in the same period, reaching a median near $5.3 million in fiscal 2016 (nearly 2.5x the median bonus and 4.6x the median base salary).
While equity grants that vest over a period of years may help align interests of CEOs and shareholders, time-vesting awards are sometimes criticized as "pay for pulse," meaning that a CEO need only serve in the role long enough to see the awards settled in his or her favor. To combat this perception, and because proxy advisors do not consider stock options performance-based awards, boards began linking equity awards to performance achievements in greater numbers than prior years. In 2012, 66% of Equilar 500 CEOs received a performance-based equity award, a figure that grew 16 percentage points to 82% in 2016. These performance-based grants typically vest after three years based on actual performance outcomes relative to goals. Performance-based long-term incentives (LTI) comprised about 55% of total LTI value for the median Equilar 500 CEO in 2016, compared to less than half of LTI in 2012.
Performance LTI Mix Shifts to Restricted Stock Units
Not only is the LTI mix tipping in favor of performance awards, but performance LTI is increasingly granted in restricted stock units (RSUs) over restricted stock awards (RSAs) to CEOs. In fiscal 2012, about 61% of the average performance LTI mix was granted in RSUs, while about 33% was granted in RSAs. Compensation reported for 2016 pegged RSUs at nearly 67% of the performance LTI mix as RSAs shrunk by a similar margin to nearly 28% of the average mix. RSUs typically lower the administrative burden and associated costs for the company making grants and restrict the voting and dividend rights to the recipient more explicitly than RSAs. Of the roughly 5% remaining in the average performance LTI mix, about half is typically granted in stock options and half in cash.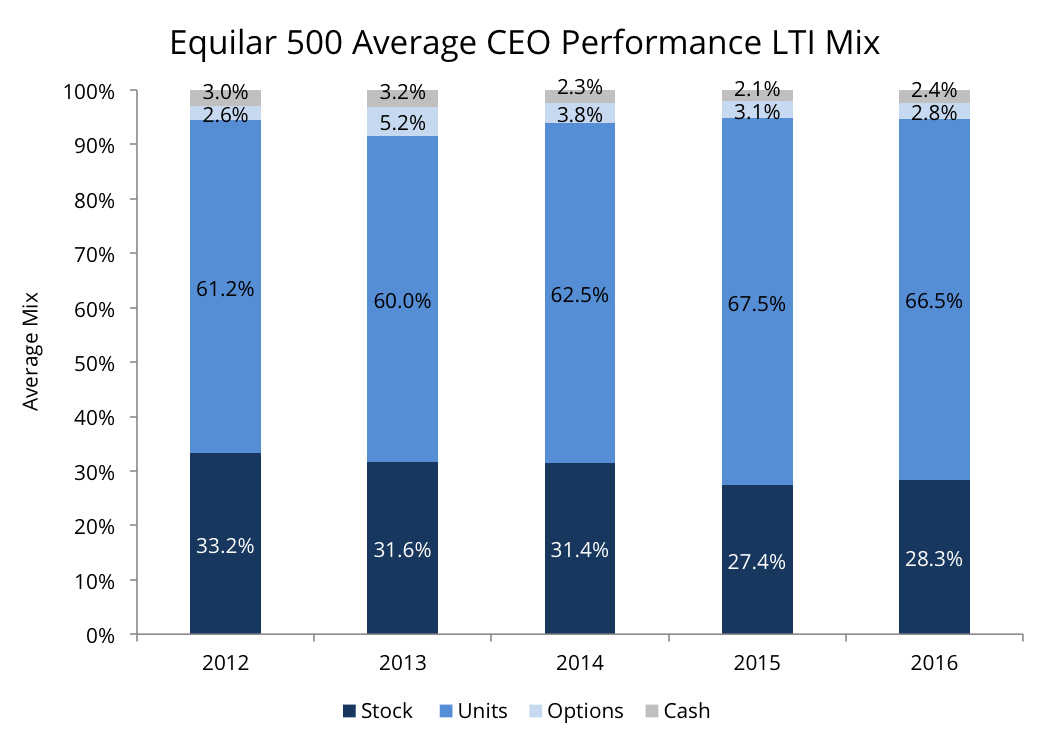 Performance LTI Metrics
Granting performance LTI to the CEO has become a check-the-box exercise for a majority of boards. The questions of how to grant those awards and the metrics to measure, however, are answered differently each year. In fiscal 2016, as compared to 2012, more CEOs received performance LTI in RSUs linked to relative TSR, return on capital metrics and cash flow.
In order to link LTI awards to performance, boards need to select metrics and measure performance in those areas over a specified period, typically three years. The chart below displays the top 10 metrics (including ties) chosen by boards of Equilar 500 companies for their CEOs' performance LTI awards over a five-year period. Greater than 10% of CEOs received awards linked to the following metrics: relative total shareholder return (TSR), return on capital/invested capital/equity (ROC/ROIC/ROE), basic or diluted earnings per share (EPS), revenue, free or operational cash flow, operating income/margin/profit, and earnings before interest and taxes (or earnings before interest, taxes, depreciation and amortization) (EBIT/EBITDA). More than one-third of companies include relative TSR or ROC/ROIC/ROE in their CEOs' long-term incentive plans.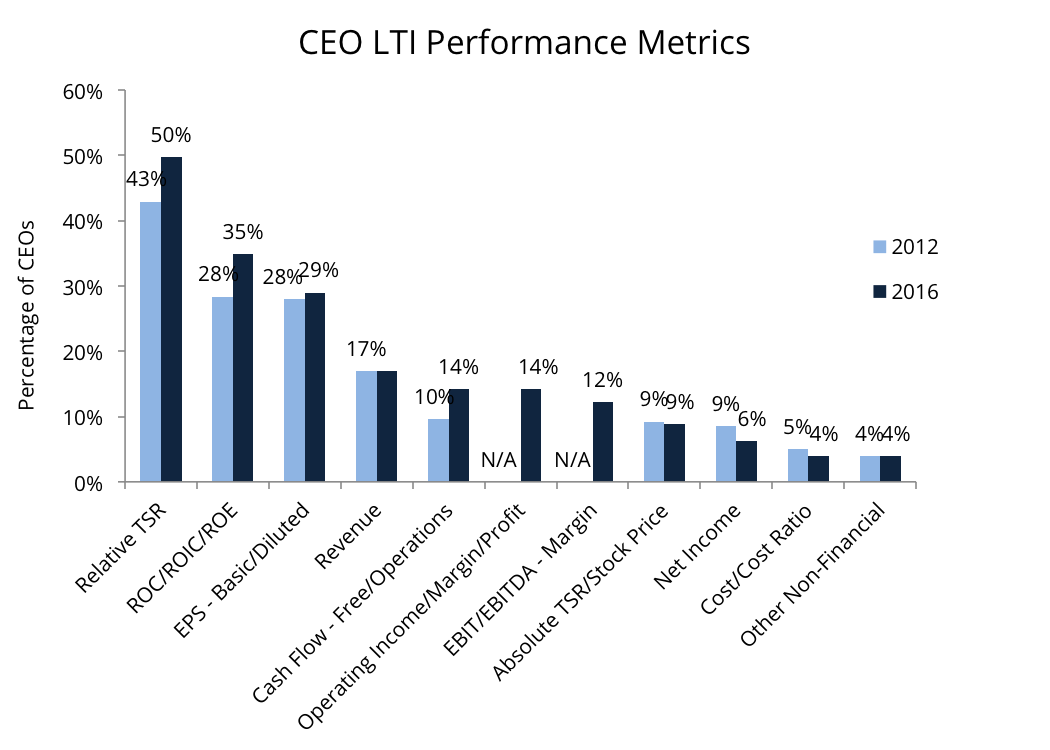 These Three Performance Metrics Gained Market Share Between 2012 and 2016
The prevalence of relative TSR grew 16% over the last five years. In fiscal 2016, half of Equilar 500 CEOs received an award linked to relative TSR performance, compared to 43% in 2012. That 16% increase placed relative TSR third in terms of cumulative positive change. Second on the list, ROC/ROIC/ROE prevalence grew 23% and is now a metric for over one-third of CEOs. Commensurate with that uptick, investors have favored return on capital metrics as a means to link CEO pay to long-term company performance over and above all other measures of performance (including TSR), according to research by Rivel Research Group and the Stanford Graduate School of Business. While it has not reached the level of relative TSR nor return on capital metrics, cash flow metrics experienced a more substantial growth rate, increasing nearly 50% to about one in seven Equilar 500 CEOs in 2016.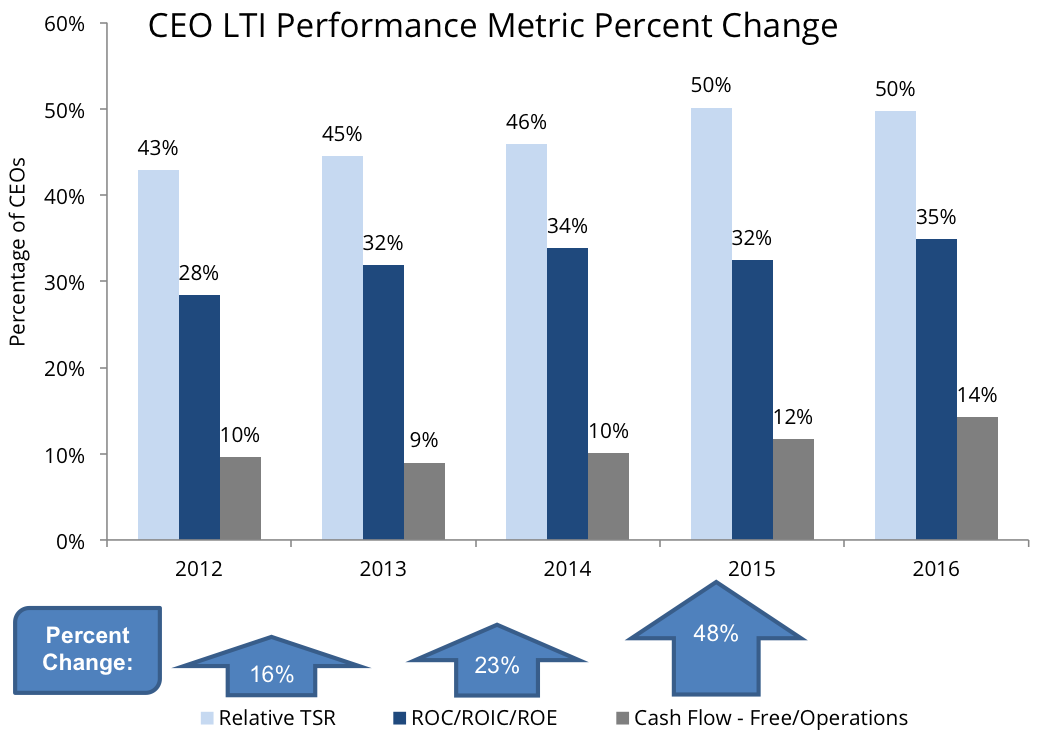 Growth in relative TSR occurred earlier in the study period from 2012 to 2014 before leveling off around 50% in 2015 and 2016. The reciprocal occurred for cash flow, which held relatively steady from 2012 to 2014 before a surge in the following two years. Return on capital increased in Equilar 500 CEO LTI plans more steadily over the five years since 2012.
Relative TSR's growth coincided with mounting pressure from proxy advisors that assessed pay practices by heavily weighting stock price performance. As dialogue between boards and investors gained traction, and proxy voting practices evolved at institutional shareholder firms, emphasis on TSR began to wane around the 2016 proxy filing period and continued into 2017 when fiscal 2016 pay packages were disclosed.
*The Equilar 500 comprises the 500 largest, by revenue, U.S.-headquartered public companies trading on the NYSE, Nasdaq or AMEX stock exchanges.
---
For information regarding the studies referenced in this post and to purchase the underlying datasets, or to learn more about Equilar Research Services, please contact the Equilar research team at researchservices@equilar.com.
Please contact Dan Marcec, Director of Content & Communications, at dmarcec@equilar.com for more information on Equilar research and data analysis. Matthew Goforth, research manager, authored this post.
---