Equilar Institute
Blog Home
Female CEOs Have More Women on Their Boards—A Lot More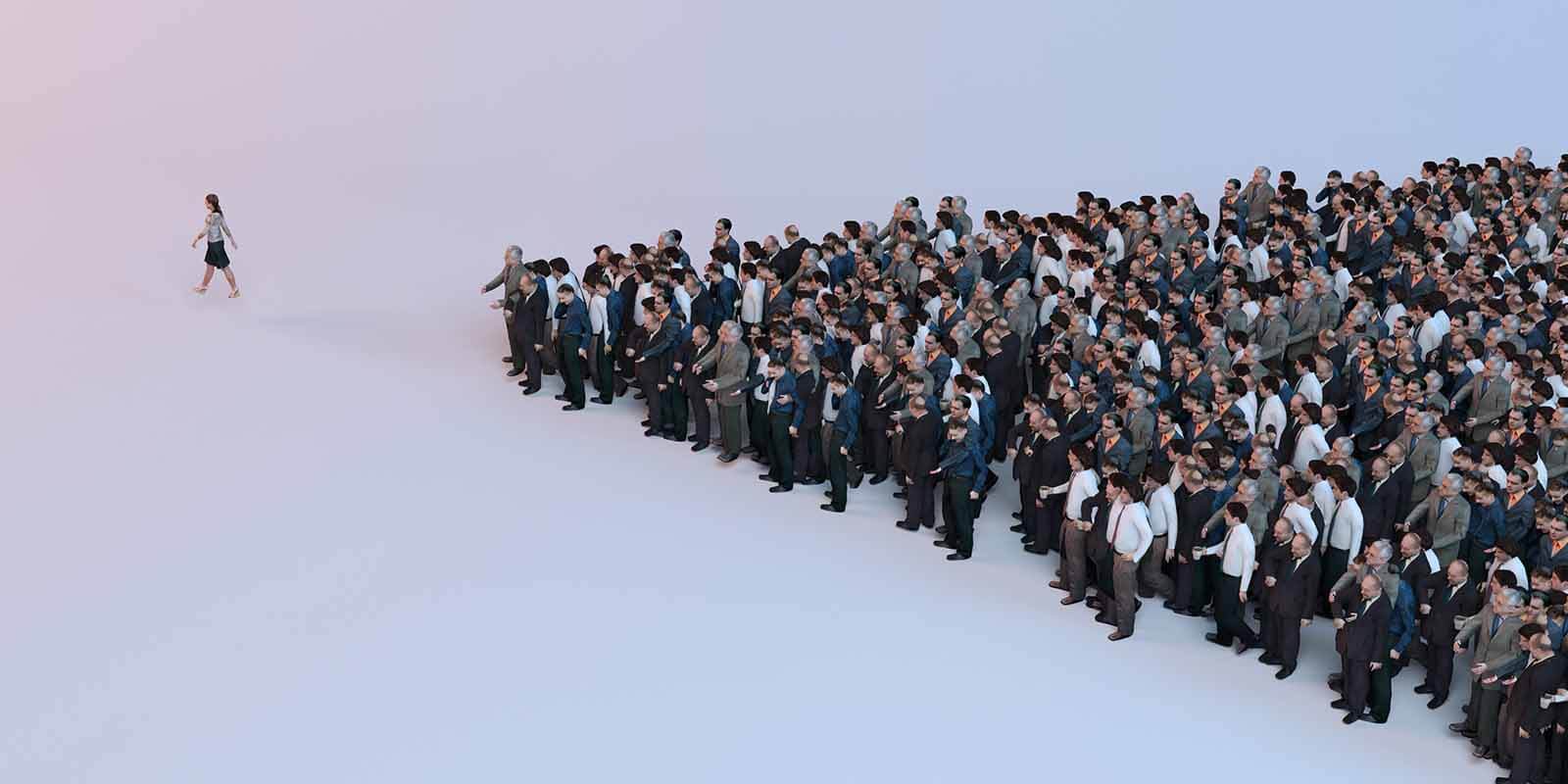 ---
---
May 25, 2017
As board composition, evaluation and diversity continue to be hot-button issues in corporate governance, investors are applying additional scrutiny on how companies approach succession planning at the highest levels of their organizations.
At the request of the Associated Press for its annual CEO pay study, Equilar analyzed data on chief executives who had served at least two consecutive fiscal years at companies in the S&P 500, and found that there were 21 female CEOs on the list.
In analyzing the boards of directors at those companies with female CEOs using BoardEdge data, Equilar found that 33.2% of board seats were occupied by women. In 2016, just 21.3% of S&P 500 boards overall were female, according to the Board Composition and Recruiting Trends report, and just 15.1% of board seats in the Russell 3000 overall were occupied by females in 2016, as noted in the recent Equilar Gender Diversity Index report.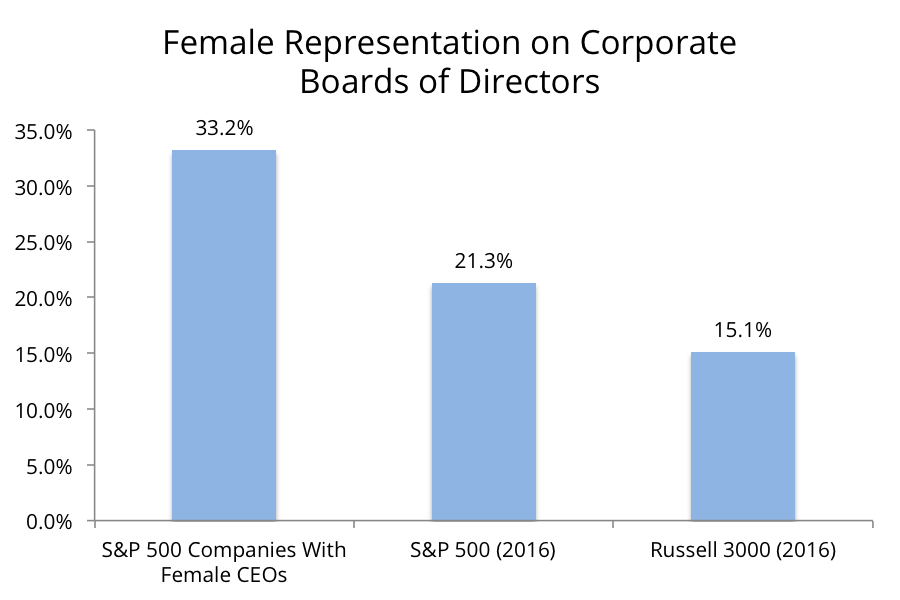 A separate study earlier this year found that companies with females in the President/COO positions also over-indexed the S&P 500 at large, but to a much smaller degree—23.9% vs. 21.3%.
Notably, three companies in the Equilar | AP study with female CEOs have already reached gender parity—American Water Works, Tegna and Alliant Energy—as was reported in the most recent Equilar Gender Diversity Index report. Two others, General Motors and ULTA Salon, Cosmetics & Fragrance, each had 45.5% female representation. Most notably, only two companies in the Equilar | AP study had fewer than the S&P 500 average of 21.3% women on boards.
The significant differences in female representation may correlate to average tenure on these boards. One method of refreshment on corporate boards is to add more board members or revaluate membership on an ongoing basis as opposed to just waiting for directors to retire. Looking at the average tenure for the companies with female CEOs, a recent study from Equilar compared this statistic at other large- and small-cap companies* found a stark difference. Companies with female CEOs in the Equilar | AP study had an average tenure of 5.8 years, vs. 9.1 for large-cap companies and 8.4 for small-cap companies on the whole. It's possible that when these boards are adding new members, they are focused on being more inclusive of qualified female candidates.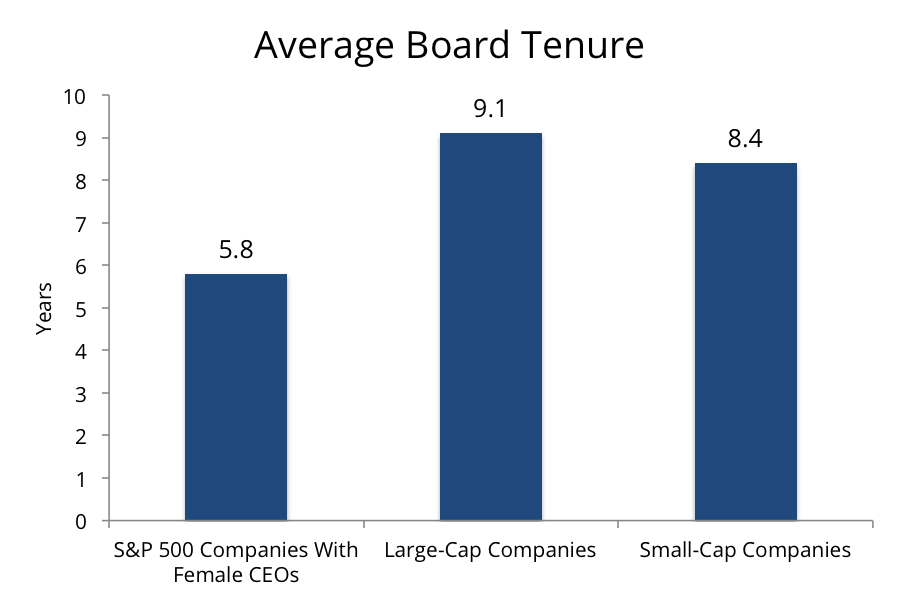 On a related note, companies in the Equilar | AP study have been CEO for at least two full fiscal years. In other words, these executives would have to had been there through two full board election cycles and would have had the opportunity to be a part of, if not directly influence, changes to the board's composition. And of these 21 female CEOs, 13 of them were also Chair of the Board.
As board composition continues to be a key focus for investors, companies will face more and more scrutiny not only about what decisions they are making, but also who is making them. Most advisors and advocates are not pushing diversity for diversity's sake, but they do expect a comprehensive and thoughtful approach to board evaluation and succession—and clear communication around that approach.
*"Large-cap companies" are defined as the companies listed on Wikipedia as being part of the S&P 500 index. See here for more details. "Small-cap companies" are defined as the bottom two-thirds of the Russell 3000 index, as measured by revenue.
---
For information regarding the studies referenced in this post and to purchase the underlying datasets, or to learn more about Equilar Research Services, please contact the Equilar research team at researchservices@equilar.com..
Browse the latest research, data and news updates surrounding board composition and diversity initiatives at www.equilar.com/diversity.
For more information on Equilar research and data analysis, please contact Dan Marcec, Director of Content and Communications—who also authored this post—at dmarcec@equilar.com.
---