Equilar Institute
Blog Home
18% of Large-Caps Leverage TSR Modifiers for Performance Awards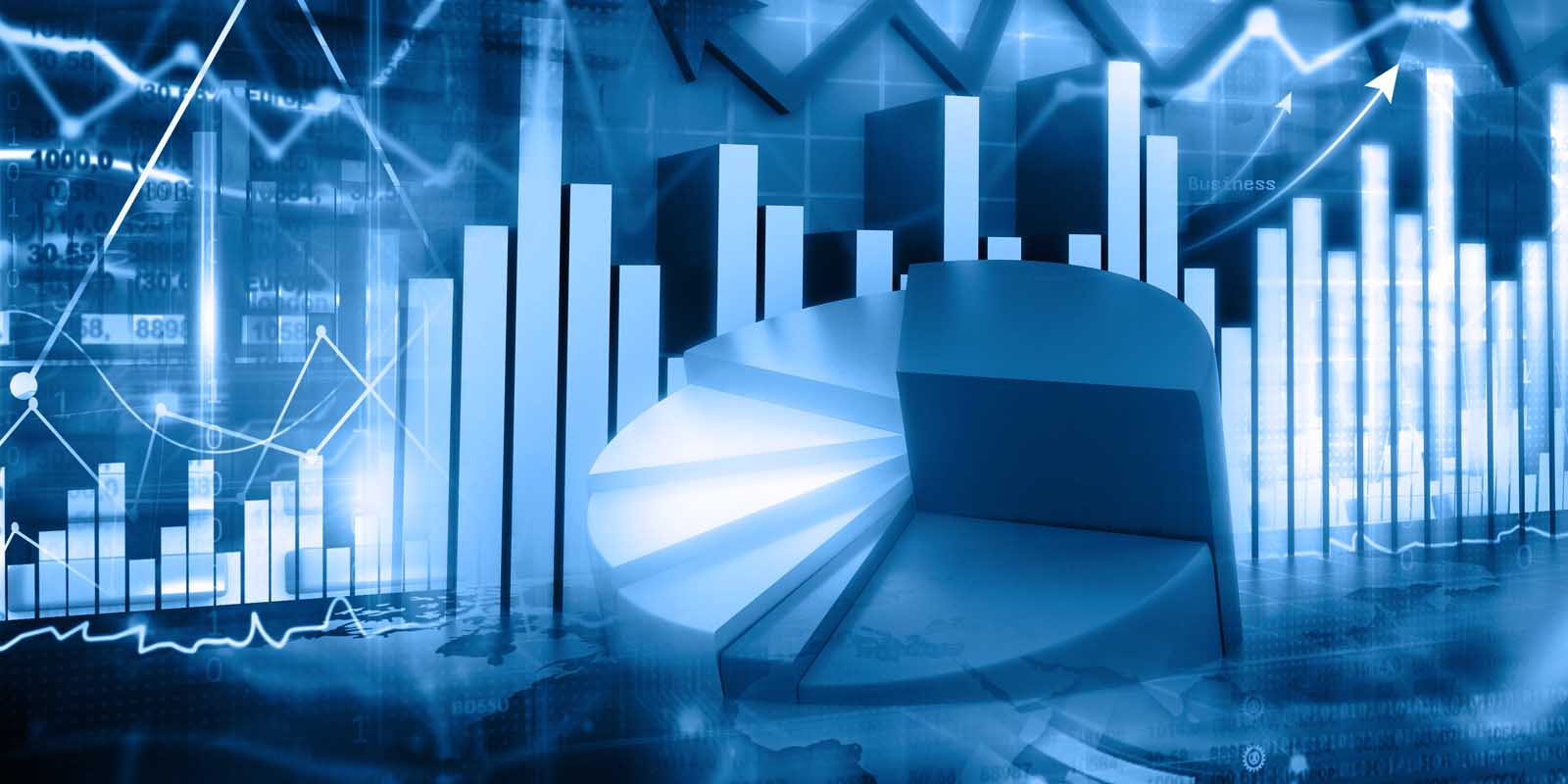 ---
---
May 17, 2017
Since the passage of Dodd-Frank, the percentage of S&P 500 companies granting performance-based long-term incentives (LTI) to their senior executives climbed from 65% to 83%. In that time, proxy advisory firms gained influence with shareholders voting to approve executive pay packages, and in response, total shareholder return (TSR) rose to prominence as the metric most often used to measure executive performance. In fiscal 2011, 42% of the S&P 500 tied relative TSR to their CEOs' performance LTI. By 2015, that figure climbed to 57%.
However, something interesting happened between 2014 and 2015—the percentage of firms linking relative TSR to performance awards plateaued. That signaled, among other things, that boards began to realign pay programs to sync with business strategy to drive shareholder value creation, while empowering executives with line of sight into the levers they're expected to actuate.
In the current shareholder-centric environment, it's little surprise the largest investors have enhanced their proxy voting teams and, in turn, grown increasingly savvy. Recent surveys indicate that shareholders value return on capital (ROC) more so than TSR to effectively make executive pay contingent on long-term performance, according to research by the Stanford Graduate School of Business and Rivel Research. Stock price nonetheless remains a central gauge for company performance, and compensation committees—along with their advisors—have invented creative ways to use TSR as a performance metric.
Linking performance metrics to LTI requires a few steps, including the selection of metrics, weighting of metrics and goal setting, in addition to mapping those goals directly to payout opportunities. For example, linking a CEO award to two metrics—say ROC and revenue—that are evenly weighted means each metric carries a 50% weighting—not an unusual scenario, according to the recent Equilar report Executive Long-Term Incentive Plans, featuring commentary from E*TRADE Financial Corporate Services, Inc. The award is ultimately contingent upon performance in each area, with each imposing equal influence on the award once the performance period comes to an end.
A minority of boards work TSR into award design another way, as a modifier of an award like that just described. Rather than weighting TSR, stock performance over the life of the award modifies the final payout after the weighted metrics determine the baseline opportunity. TSR modifiers come in a few different styles, namely: multipliers, additive modifiers and caps.
Multipliers adjust the award by a factor corresponding to performance, while additive modifiers adjust by an addition (or subtraction) of value. Say an award is set to pay out at 30% of target opportunity. In that case, a 20% multiplier would adjust the payout to 36%, while a 20% additive modifier would adjust the award to 50%. A cap does what it sounds like it should do, and caps the award's value based on performance restrictions. For example, if maximum performance in weighted metrics maps to 200% of targeted payout, but a modifier cap is triggered due to negative absolute TSR, then that CEO would only be eligible for 100% payout (the target) rather than the 200% maximum opportunity merited prior to factoring in the modifier.
In an analysis of fiscal 2014 and 2015 performance LTI granted to S&P 100 CEOs, Equilar found that just shy of 20% of the index leveraged a TSR or stock price modifier. The majority of modified grants were made in restricted stock units (RSUs, commonly PSUs for performance awards), or 61% in 2015. The remainder were largely granted in restricted stock, while cash-based awards linked to a TSR modifier were relatively rare.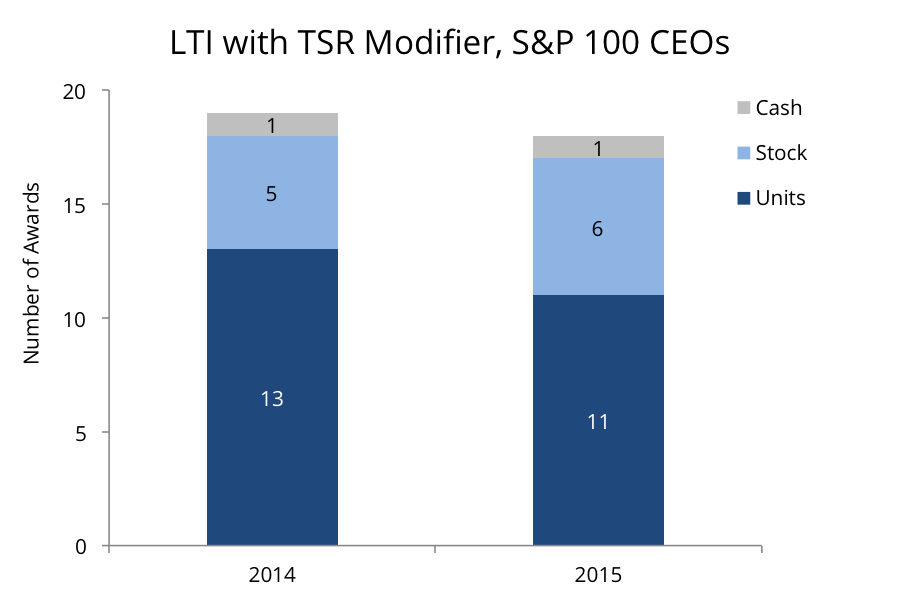 Boards most commonly linked two weighted performance metrics to awards with TSR modifiers, and roughly half the awards fit this category. Trailing closely was one metric, and in only two instances in 2014 and 2015 did such awards depend on three weighted metrics.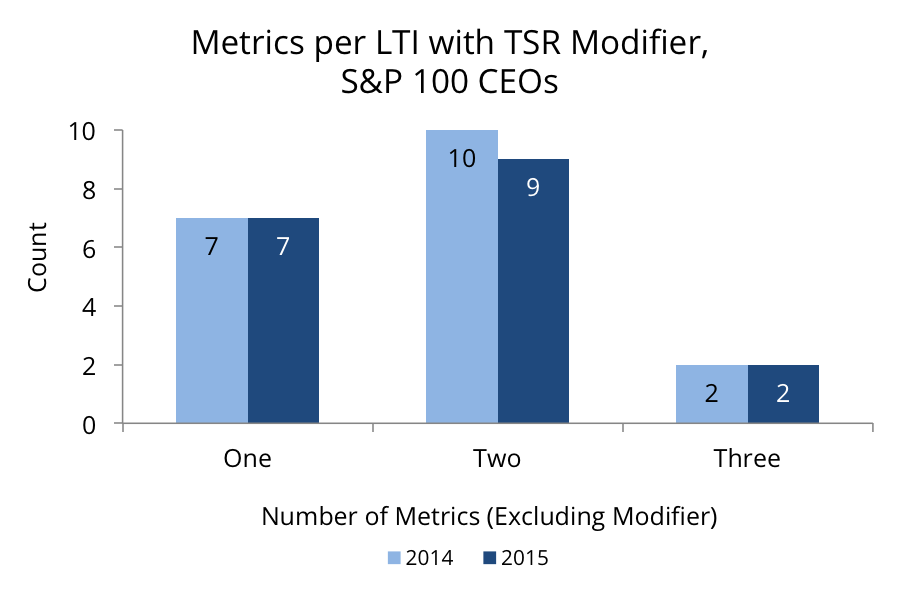 Interestingly, the most likely weighted metric to be modified by TSR was in fact, also TSR. The most common scenario would likely shake out as such:
A performance-based LTI is made contingent on TSR performance relative to a group of peers, with median performance mapping to the target value (100% of the award) and performance exceeding the 75th percentile mapping to 200% of target. However, a modifier caps the award at target should absolute TSR end up in the red. In other words, should shareholders actually lose on their investment over the life of the award, the CEO would only realize target payout even though the company may have outperformed all its peers.
ROC, revenue, cash flow and earnings per share (EPS) round out the list of the most common weighted metrics ultimately modified by TSR.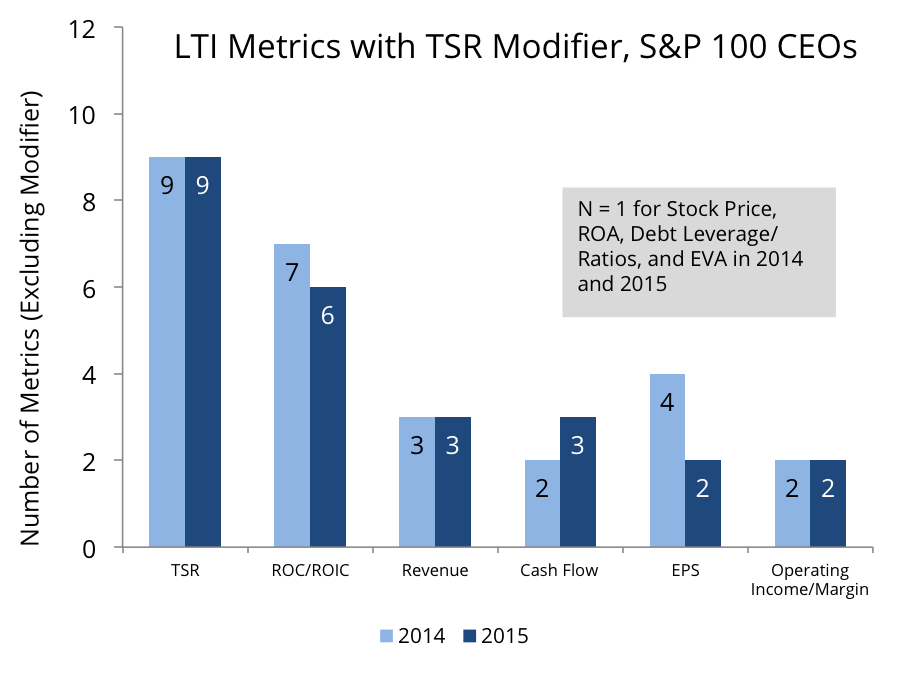 As previously described, the most common modifier of weighted TSR metrics was a cap for fiscal 2015. Ten of the 11 modifiers of TSR metrics were caps based on TSR performance. Of the awards that excluded a weighted TSR metric, five leveraged a TSR multiplier and two an additive modifier.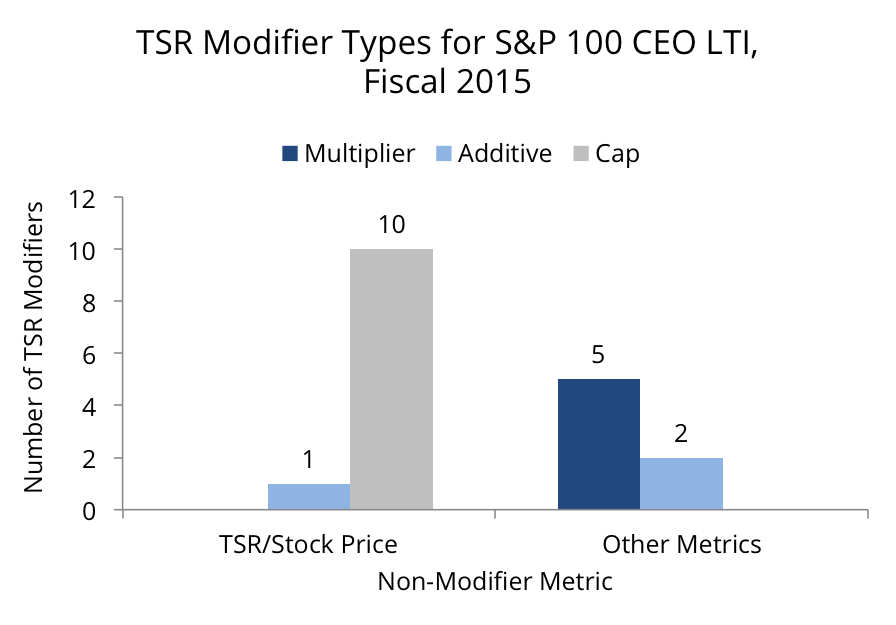 While the debate continues over TSR as an effective motivator and means to link executive performance to long-term incentives, both boards and investors will be sure to search for creative ways to integrate TSR into performance plans. Along with additional features such as post-vest holding periods, an absolute TSR modifier on a relative TSR award allows companies to take a discount on the grant-date value reported in the proxy statement. Such so called "haircuts" enable some flexibility in award design as well, allowing the board to grant an identical number of shares at a lower value or to grant a larger volume of shares for the same value as the award would merit absent the modifier entirely. Regardless, the quest to best "pay for performance" continues, and nearly 20% of large-caps seem to have identified TSR modifiers as an important tool in incentive design.
---
For information regarding the studies referenced in this post and to purchase the underlying datasets, or to learn more about Equilar Research Services, please contact the Equilar research team at researchservices@equilar.com.
For more information on Equilar research and data analysis, please contact Dan Marcec, Director of Content & Communications at dmarcec@equilar.com. Matthew Goforth, research manager, authored this post.
---