Media Center
Press Releases
Boards Disclose Best Practices to Alleviate Investor Concerns
---
REDWOOD CITY, CA (December 13, 2017) —The largest U.S. companies are engaging in more transparent disclosure practices, according to a new report from Equilar, Corporate Governance Outlook 2018, which features commentary from Hogan Lovells and Donnelley Financial Solutions.
More than half of the Equilar 100, a sample of the largest U.S. companies by revenue, file information to the SEC regarding their investor engagement, board evaluation and CEO succession policies. While some of those disclosures are straightforward, boilerplate information, more and more companies are including specific details about these practices in their proxy filings.
Over the past five years, the percentage of companies that detail shareholder engagement practices or outcomes from investor meetings has increased from 17.7% to 47.0%. Meanwhile, more than one-quarter of Equilar 100 companies disclosed specific details about CEO succession planning (28%) and board evaluations (26%). Both figures represented steady annual increases over a five-year period.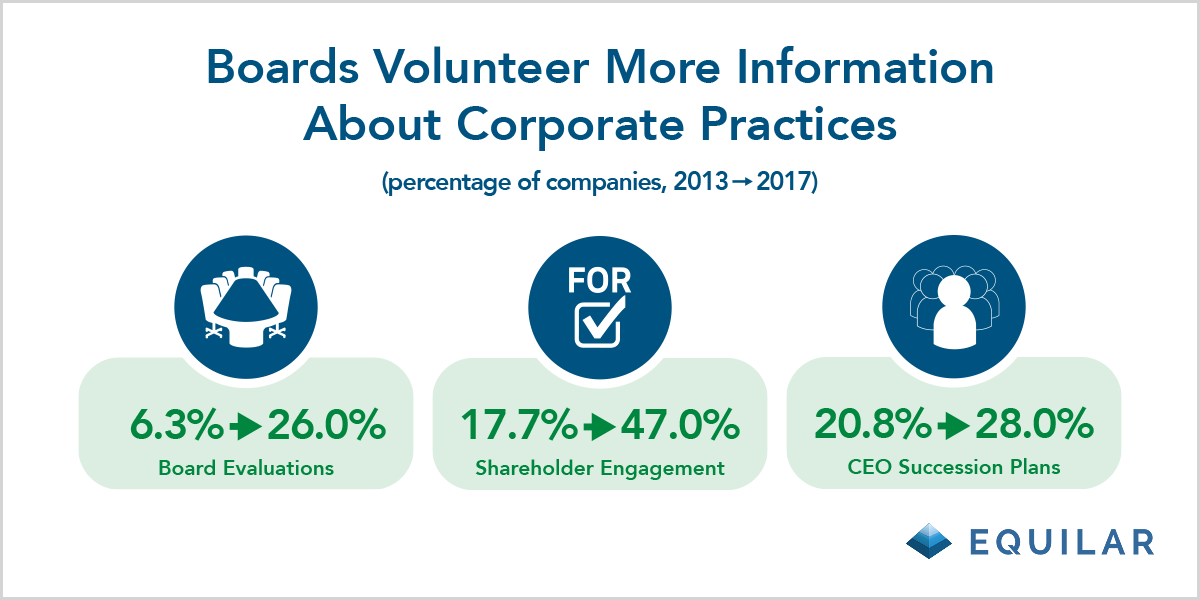 "Over the past five years, we have seen an acceleration of the evolution of proxies from compliance documents to a communications focus," said Ron Schneider, Director of Corporate Governance Services with Donnelley Financial Solutions. "This involves going beyond disclosing information to explaining why governance, compensation and other key practices are appropriate for a company and therefore deserving of investor support."
"The pace of technological innovation has created unprecedented challenges for executives and boards of directors," added Amy Freed, a Partner with Hogan Lovells. "Directors and executives need to work harder, react more quickly, and be more engaged."
Alex Bahn, John Beckman, Alan Dye, Martha Steinman and Lillian Tsu, all partners with Hogan Lovells, also contributed commentary to the report.
The research referenced above resulted from a manual analysis of Equilar 100 proxy statements. Corporate Governance Outlook 2018 has nearly 50 pages of research that also includes a larger sample of companies—the Equilar 500—and features in-depth commentary and visual disclosure examples highlighting these trends in governance. Other key highlights include:
The total amount of shareholder proposals in the Equilar 500 decreased from 400 in 2016 to 352 in 2017—however, social and environmental proposals increased in that time frame.

Roughly half of all Say on Pay proposals in 2017 received over 95% approval from shareholders—99% of all proposals passed with majority support, with only five Equilar 500 companies receiving less than 50% shareholder approval.

Zero companies in the Equilar 500 disclosed a CEO pay ratio ahead of the required rule for 2018.

Of the 426 companies in the Equilar 500 that granted performance awards to named executive officers, 204 did not use TSR as a performance metric in 2017. Return on capital/return on invested capital/return on equity (ROC/ROIC/ROE) was the most common metric at these companies, appearing 84 times in executive awards at companies that forewent TSR.
Please click here to request a copy of the full report.
---
About BoardEdge
Equilar is the leading provider of board intelligence solutions. Its data-driven platforms, BoardEdge and Insight, provide tools for board recruiting, business development, executive compensation and shareholder engagement. Companies of all sizes, including 70% of the Fortune 500 and institutional investors representing over $15 trillion in assets, rely on Equilar for their most important boardroom decisions. Equilar also hosts industry-leading board education symposiums, conducts comprehensive custom research services and publishes award-winning thought leadership. Founded in 2000, Equilar is cited regularly by Associated Press, Bloomberg, CNBC, The New York Times, The Wall Street Journal and other leading media outlets. Visit www.equilar.com to learn more.
About Donnelley Financial Solutions
Donnelley Financial Solutions (NYSE: DFIN) provides software and services that enable clients to communicate with confidence in a complex regulatory environment. With 3,500 employees in 61 locations across 18 countries, we provide thousands of clients globally with innovative tools for content creation, management and distribution, as well as data analytics and multi-lingual translations services.
Leveraging advanced technology, deep-domain expertise and 24/7 support, we deliver cost-effective solutions to meet the evolving needs of our clients. Download the 2017 "Guide to Effective Proxies" from Donnelley Financial Solutions. Visit https://info.dfsco.com/Proxy_Guide for more information.
About Hogan Lovells
Straight talking. Thinking around corners. Understanding and solving the problem before it becomes a problem. Performing as a team, no matter where we're sitting. Delivering clear and practical advice that gets your job done. Our 2,500 lawyers work together with you to solve the toughest legal issues in major industries and commercial centers around the world. Whether you're expanding into new markets, considering capital from new sources, or dealing with increasingly complex regulation or disputes, we help you stay on top of your risks and opportunities. Visit www.hoganlovells.com for more information.
For more information, contact:
Dan Marcec
Director, Content & Communications
Equilar, Inc.
dmarcec@equilar.com
706-461-8333