Media Center
Press Releases
General Counsel Pay Rises 6.9% in 2015
Pay Jumped 50% Year over Year for S&P 500 Healthcare HR Execs
---
REDWOOD CITY, CA (November 16, 2016)—In the past year, pay for the top legal positions at U.S. public companies increased 6.9%, eclipsing $1 million, according to a new report from Equilar, General Counsel Pay Trends 2016, featuring commentary from BarkerGilmore. The increase is a reflection of the growing importance of the general counsel role and these legal experts' integral involvement as an executive management team.

"Over the past 15 years, the number of companies that consider their GC a member of the executive management team has grown from 55% to 93% today," said Bob Barker, Managing Partner for executive search firm BarkerGilmore. "GCs are increasingly viewed as having similar clout as the CFO, with their role requiring them to navigate complex and ever-changing laws, regulations and public policies. Though senior law firm partners frequently acted as primary counselors to CEOs and boards in the 1990s, today it is rare when the GC does not assume this critical responsibility."
The overall growth among GCs at all public companies becomes much more nuanced upon closer inspection. The Equilar report—which included a total of more than 1,400 GCs for companies ranging in size from less than $1 million to nearly $500 billion—also examined GC compensation at S&P 500 companies to normalize for company size and type in order to draw a closer comparison for analysis. Between the GCs reported among the top 5 paid employees in proxy statements and information submitted for the annual Equilar Top 25 survey, the report uncovered data for GC compensation at a total of 269 S&P 500 companies for 2015.
Overall, pay increased 2.4% growth for GCs in the S&P 500 from 2014 to 2015, reaching $2.1 million. However, GC pay varied within the S&P 500 by industry sector, from $1.6 million for utilities to $3.0 million in healthcare. In 2015, the healthcare sector saw both the largest annual increase in median TDC from 2014, at 32.4%, while the technology sector experienced the largest decrease, falling from $2.5 million in 2014 to $2.2 million in 2015, a difference of $323,394.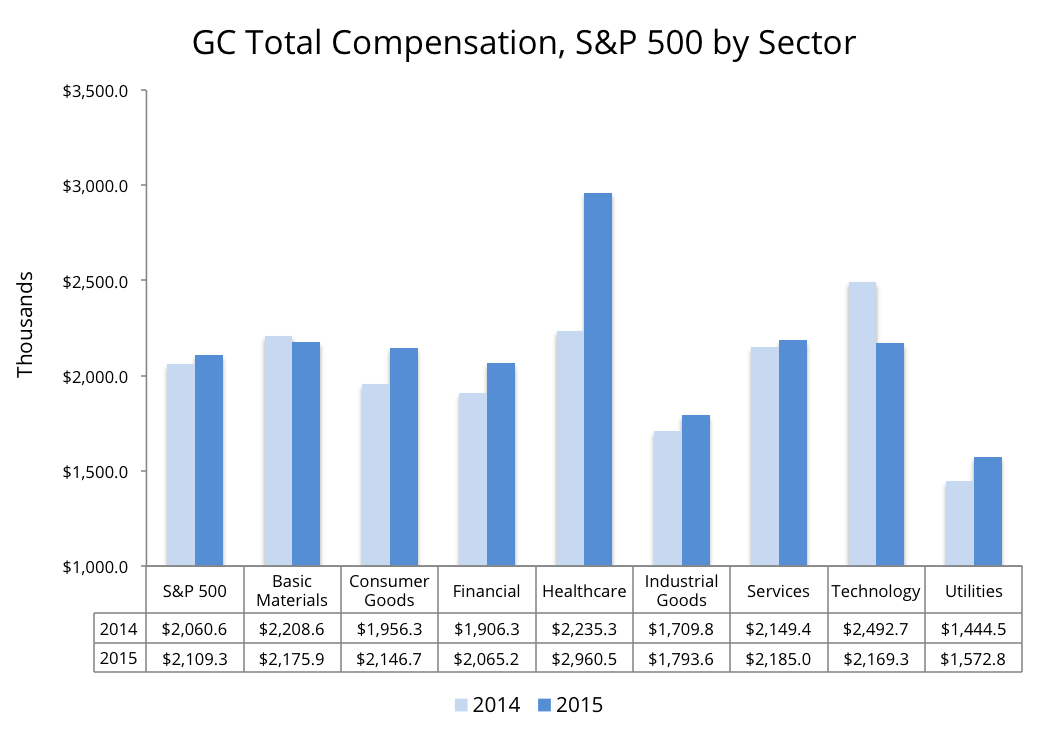 "For highly regulated industries such as financial services, insurance and healthcare, a clear understanding of the business and regulations is certainly an advantage and typically a firm requirement for candidacy," said Barker. "That said, the areas in which GCs add most value to the executive team and board are related to corporate governance, compliance, risk management and M&A—considering that the primary role of the GC is to be a guardian of the company, the core competencies of sound judgment and integrity are paramount while industry knowledge can be learned."
About the Report
General Counsel Pay Trends 2016, an Equilar publication, examines compensation for the top-paid legal officers at their respective companies in fiscal years 2014 and 2015. The report compiles data on more than 1,400 GCs from company proxy filings as well as the Equilar Top 25 Survey, combining this information to analyze pay through the TrueView methodology. The report features data on total compensation, pay component breakdowns, and equity and incentive plans. BarkerGilmore has offered independent commentary to provide color and context to how companies recruit and compensate their GCs.
About Equilar
Equilar is the leading provider of board intelligence solutions. Companies of all sizes rely on Equilar for their most important boardroom decisions, including 70% of the Fortune 500 and institutional investors representing over $13 trillion in assets. Equilar offers data-driven solutions for board recruiting, executive compensation and shareholder engagement that bring together business leaders, institutional investors and advisors to drive exceptional results while ensuring sound corporate governance. The Equilar suite of solutions includes industry-leading board education symposiums, comprehensive custom research services and award-winning thought leadership. Founded in 2000, Equilar is cited regularly by Associated Press, Bloomberg, CNBC, The New York Times, The Wall Street Journal and other leading media outlets. Learn more at www.equilar.com
About BarkerGilmore
BarkerGilmore is a boutique executive search firm dedicated exclusively to the placement of General Counsel, Chief Compliance Officers and their strategic hires. Our niche concentration affords us access to a specialized network of talent, and we have established the relationships that allow us to identify the best legal professionals for any assignment. We are attentive to each of our client's business culture and understand their brand, strategy and leadership needs. We pride ourselves on being able to provide the highest standard of service and at establishing meaningful and long-lasting relationships with our clients.
The hard measures of our operational efficiency keep existing clients returning to the firm and provide our new clients with the peace of mind of knowing the success of their search is inevitable. Our industry leading, audited metrics over the past three years include: a 96% retention rate of placements made, 44% of which are women, 24% ethnically diverse, a 96-day average timeframe to execute a search, and guaranteed results. For more information visit www.barkergilmore.com
For more information, contact:
Dan Marcec
Director of Content & Marketing Communications
Equilar, Inc.
dmarcec@equilar.com
706-461-8333
---