Media Center
Press Releases
Tech Companies Lag in Gender Diversity on Boards of Directors
---
REDWOOD CITY, CA (November 18, 2015) — Technology companies have significantly increased the number of women in their boardrooms since 2010, but the sector as a whole continues to lag behind other industries in terms of diversity at the highest corporate levels, according to a new report from Equilar.
The percentage of females on boards at S&P 500 technology companies increased from 13.7% in 2010 to 18.3% in 2014, collectively accounting for the second-lowest representation of female directors in any industry. Less than one-sixth of all directors in the basic materials sector were female in 2014, trailing all other industries. Overall, 19.8% of directors on S&P 500 boards were female in 2014, up from 15.7% in 2010.
Twitter's recent announcement that the company plans to diversify its board is just the latest instance of a larger trend that's permeating corporate America. Institutional investors are leading a push to diversify boards that better reflect their constituencies and a wider range of input and experience—for example, CalSTRS and BlackRock explicitly outlined board diversity guidelines in 2015.
"Shareholders are applying pressure for boards to align with the demographics of their investors and the population at large," said Amit Batish, Director of Content, Equilar. "While diversity encompasses a variety of characteristics—be it skillset, age, experience or ethnicity—gender diversity on corporate boards is a marquee topic in corporate governance."
Despite the overall lag comparative to other sectors, tech companies have shown progress. The industry counted 72 companies in the S&P 500 in 2014, and five companies had zero females on their boards, compared to 15 in 2010.
In 2014, 29 tech companies in the S&P 500 had boards with more than one in five females, an increase from 17 companies with similar characteristics in 2010. Frontier Communications led the way, counting five female directors on its board of 12 members in 2014, the only company to eclipse 40% representation.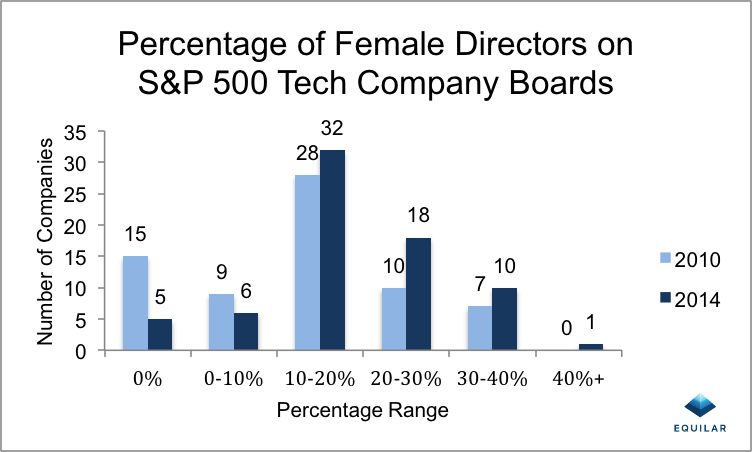 Technology is among the leaders in gender diversity when it comes to board leadership positions. In 2014, there were 54 women occupying leadership positions on S&P 500 boards—such as chair, vice chair, lead director or presiding director—an increase of 22.7% from 44 in 2010. Female directors at tech companies sit in nine such positions, or one-sixth of the total.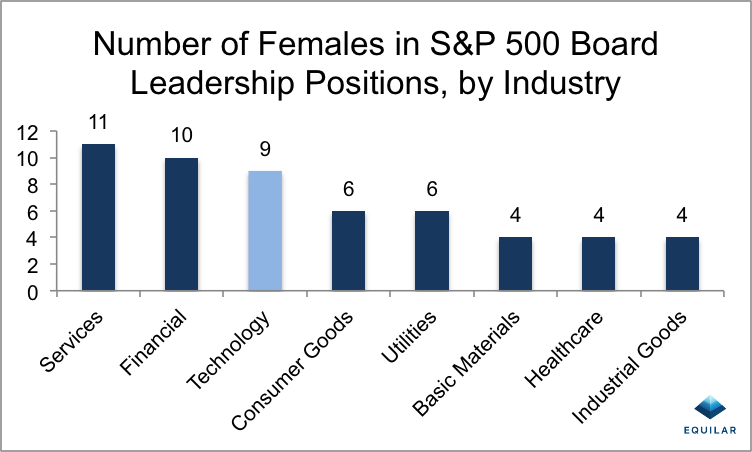 Despite recent gains, females hold just 6.8% of all board leadership positions in the S&P 500 overall, and males occupy the other 739 board leadership roles, or 93.2%.
"As more women join boards, it's natural that they step into more leadership roles as well," said Marcec. "However, the growth in female board leadership positions has not been steady and continues to oscillate from year to year across sectors."
The data in this report is powered by Equilar's BoardEdge, a new data platform that features detailed information on more than 135,000 U.S. board members. BoardEdge not only includes more than a dozen categories about each board member's background and leadership experience, but also features a network tool clearly displaying how board members are connected to each other.
---
Founded in 2000, Equilar provides proprietary executive data, unbiased research services and exclusive corporate governance tools. Our flagship products – Insight, BoardEdge, Engage, and Atlas – translate complex, unstructured data sets into valuable information to help executives, board members, and investors make the best decisions possible. As the trusted data provider to 70% of the Fortune 500, Equilar helps companies accurately benchmark and track executive and board compensation. Equilar's research is cited regularly by The New York Times, Bloomberg, Forbes, Associated Press, CNN Money, CNBC, The Wall Street Journal and other leading media outlets.
For more information, contact:
Amit Batish
Director of Content & Marketing Communications
press@equilar.com
650-241-6697