Media Center
Press Releases
<! -- CONTENT -- >
Equilar Report: Companies Communicate Shareholder Value Through Proxy Design
---
REDWOOD CITY, CA (February 19, 2019)—As investor pressure continues to mount, companies are constantly looking for creative approaches to showcase shareholder value. One of the most effective avenues to do this is the annual proxy statement. A new Equilar report, Innovations in Proxy Design: The Compensation Discussion & Analysis, which features commentary from DFIN, details how corporations are going above and beyond SEC requirements to tell their pay stories.
Over the last five years, corporations have gone into much greater detail when it comes to explaining executive pay in the proxy. For instance, 84% of companies now include a compensation program checklist, up from 75.8% in 2014. A tool like a compensation program checklist may serve as a comprehensive overview of pay practices that essentially displays transparency to shareholders.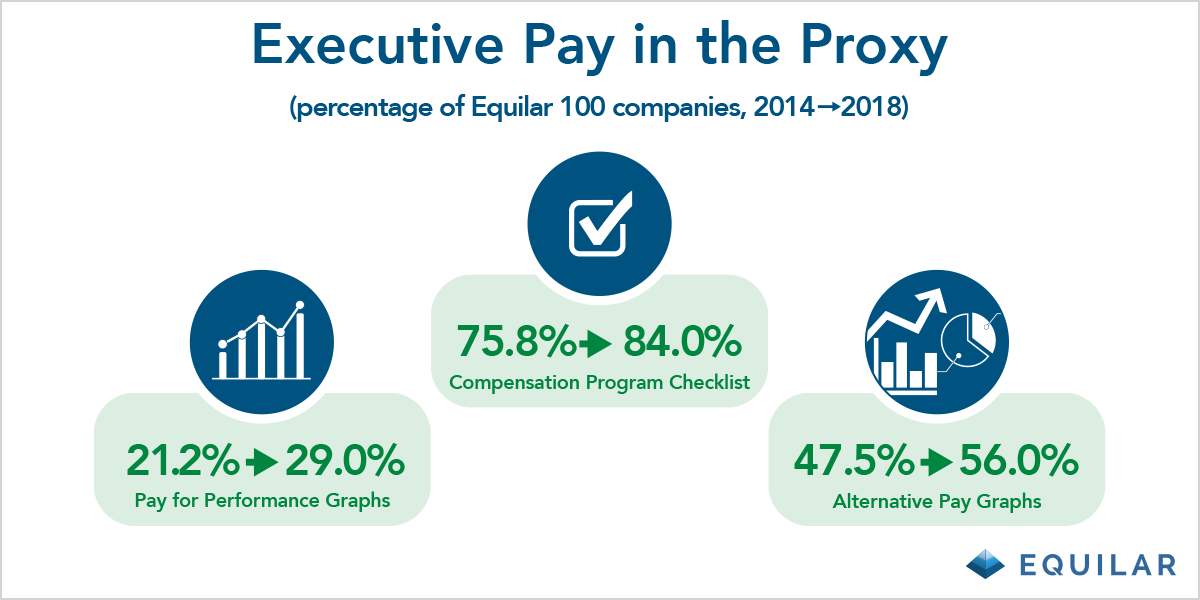 Additionally, the use of supplemental graphs continues to rise in prevalence. "Almost 90% of Equilar 100 companies included some sort of supplemental graphic in the CD&A section of the proxy," said Alex Knowlton, Managing Editor of the report. "This showcases the adaptations that companies are making to facilitate navigation and understanding of the proxy statement."
As companies attempt to explain how mandatory disclosures of executive compensation align with corporate strategy and philosophy, the length of the CD&A section continues to increase each year—average length reached 9,728 words in 2018. Prudential Financial had the highest CD&A word count at 18,850 in 2018, while Berkshire Hathaway had the lowest at 576 words.
"One reason [for the increase in CD&A length] is that we expect more companies to add clear descriptions of how pay supports business strategy to supplement the existing pay for performance arguments," said Ron Schneider, Director of Corporate Governance Services at DFIN. "Another factor is that more companies are likely to introduce ESG-related qualitative or quantitative considerations or metrics into their executive pay programs. With growing interest in ESG or CSR and sustainability risks and opportunities on the part of investors, expanded discussion by companies of these topics will add to the length of disclosures whether in the CD&A or elsewhere in the proxy."
Other key findings from the report include:
75.0% of Equilar 100 companies used a proxy summary in the annual proxy in 2018, while 78.0% had an executive summary at the top of the CD&A section

56.0% of Equilar 100 companies included a graph displaying an alternative pay calculation different from those displayed in the summary compensation table, such as realized or realizable pay

79.0&% of companies use color in their CD&As
Please click here to request a copy of the full report.
---
About the Report
Innovations in Proxy Design: The Compensation Discussion & Analysis, an Equilar Publication, analyzes the annual proxy statements and subsequent CD&As of companies in the Equilar 100—the top 100 U.S.-listed companies by revenue—over the last five fiscal years. Samples included a total of 100 companies from 2016 to 2018, and 99 companies in 2014 and 2015. Fiscal year one was defined as companies that filed proxies between November 1, 2017 and October 31, 2018 with subsequent years following suit. Disclosure examples were chosen to highlight both the typical and exceptional examples of proxy disclosure. DFIN offered independent commentary for added context and color regarding specific proxy statement disclosures and how information is presented to the reader for consumption.
About Equilar
Equilar is the leading provider of Board Intelligence Solutions. Its data-driven platforms, BoardEdge and Insight, provide tools for board recruiting, business development, executive compensation and shareholder engagement. Companies of all sizes, including 70% of the Fortune 500 and institutional investors representing over trillion in assets, rely on Equilar for their most important boardroom decisions. Equilar also hosts industry-leading board education symposiums, conducts comprehensive custom research services and publishes award-winning thought leadership. Founded in 2000, Equilar is cited regularly by Associated Press, Bloomberg, CNBC, The New York Times, The Wall Street Journal and other leading media outlets. Visit www.equilar.com to learn more.
About DFIN
DFIN is a leading global risk and compliance solutions company. We provide domain expertise, enterprise software and data analytics for every stage of our clients' business and investment lifecycles. Markets fluctuate, regulations evolve, technology advances, and through it all, DFIN delivers confidence with the right solutions in moments that matter. Learn about DFIN's end-to-end risk and compliance solutions online at DFINsolutions.com or you can also follow us on Twitter @DFINSolutions or on LinkedIn.
Download the 2018 "Guide to Effective Proxies" from DFIN. Visit info.dfinsolutions.com/proxy-guide-handbook-social for more information.
For more information, contact:
Amit Batish
Content Manager
Equilar, Inc.
abatish@equilar.com
650-241-6697