Q2 2023 Equilar Gender Diversity Index
Driving Board Representation Through Executive Pipeline
August 31, 2023
Joyce Chen
Heightened pressure from shareholders and the general public around gender diversity across Corporate America has led to a notable rise in the representation of women in boardrooms in recent years. As more women break through the corporate glass ceiling and reach C-suite positions, their visibility and qualifications make them strong candidates for board seats.
Despite the ongoing efforts to promote gender diversity in boardrooms, progress has been minimal and has not fully reflected the momentum of the movement. The Q2 2023 Equilar Gender Diversity Index (GDI) showed little progress, increasing from 0.58 in Q1 2023 to 0.59, indicating a positive yet slow trend towards equality. While any progress is encouraging, achieving complete parity, symbolized by a GDI of 1.0, remains an ambitious goal that requires significant adjustments within boardrooms.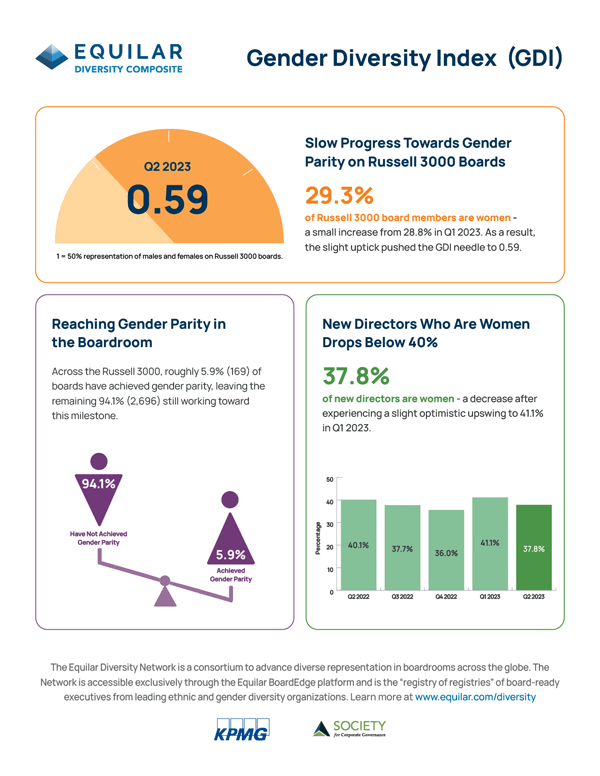 The slight increase in the GDI was accompanied by a rise in women's board representation on corporate boards, which grew from 28.8% to 29.3%. The GDI has consistently grown by a quarterly average of 2.8% since Q4 2017. This is a promising trend, reflecting a sustained effort needed to ensure equal representation and create more opportunities for women in leadership roles.
In Q2 2023, the appointment of female board members experienced a slight decline, with women comprising 37.8% of new board appointments. This represents a decrease from the previous quarter, when 41.1% of the newly appointed board members were women. While this represents a drop in the growth of gender diversity, it may be worth noting that promoting diversity, equity and inclusion within companies involves multifaceted efforts. The Q2 statistics may not fully capture the comprehensive initiative organizations are taking. It is possible that organizations are directing their focus towards other aspects of diversity, such as elevating ethnic diversity among executives. This prioritization could be a contributing factor—among others—to the apparent slowdown in gender diversity growth during the second quarter of 2023.
"As boards diversify, they tend to recruit candidates from networks that are more diverse, and this dynamic, along with increases in board turnover, builds the momentum," said Susan Angele, Senior Advisor, Board Governance at The KPMG Board Leadership Center. "On the flip side, we see a level of 'diversity fatigue,' and also political and legal attacks on DEI. I think we are seeing fluctuations in the statistics from quarter to quarter in part attributable to the push and pull of these forces."
Additionally, companies with no female directors did not make any additions to their boards during Q2 2023, which raises concerns about potential stagnation in efforts to enhance gender diversity in corporate leadership. This could indicate the reduced urgency to address the issue of gender imbalance on boards due to the absence of gender quotas or other requirements for board composition.
Meanwhile, just 5.9% of boards have achieved gender parity, and that statistic is not guaranteed to improve the following quarter. While organizations are taking steps to promote gender diversity, they might encounter challenges in sustaining and building upon these gains. Efforts to increase board diversity could be met with resistance, cultural barriers or biases within certain industries or companies. Angele questions this resistance: "Why wouldn't a company want a board that draws on the rich diversity of the country and the business environment? And why wouldn't a high-performing, diverse board serve as a signal to top diverse talent that this is a place where they will be welcome?"
Thus, it is key for companies to continue to prioritize the pursuit of gender parity to achieve greater results.
As women advance in executive positions, their opportunities to serve on boards also grow. However, it is important to acknowledge that historically, women have been underrepresented in top executive roles. Positions such as CEO and COO, which often serve as pathways to board directorships, have shown a persistent gender gap. Only 6.4% of CEOs and 12.3% of COOs are women.
On the other hand, certain executive roles have witnessed great progress with respect to female representation. For instance, the chief human resources officer (CHRO) has experienced a notable increase in female representation over time. In 2013, women held 37.9% of CHRO positions, and by 2022, this percentage increased significantly to 64.6%. As a direct result, the percentage of recently appointed board members in the Russell 3000 with CHRO experience has more than doubled over the last decade—up from 1.1% in 2012 to 3% in 2021, according to Equilar data.
Additionally, Susan Caminiti from CNBC states that the push for CHROs coincides with the SEC's current demand for greater transparency in organizations. CHROs offer both business insight and specialized expertise, ensuring that the board effectively addresses human capital management strategy to achieve sustainable organizational success. The increased need for CHROs on boards is likely to boost women's representation, considering the significant number of women in CHRO roles.
The data from Q2 2023 reveals a mixed picture, with both progress and stagnations in terms of gender diversity in boardrooms. This emphasizes the importance of continuously pushing forward and not becoming complacent as there is an ongoing need to maintain momentum in promoting gender parity at the highest levels of corporate leadership. The numbers should serve as a call to action for organizations to reevaluate their efforts to create a more inclusive business environment. By actively embracing and prioritizing gender diversity on boards, organizations can move closer towards achieving the goal of gender parity in the near future.
---
About Equilar Gender Diversity Index
The Equilar GDI reflects changes on Russell 3000 boards on a quarterly basis as cited in 8-K filings to the SEC. Most indices that track information about board diversity do so annually or even less frequently, and typically with a smaller sample size, sometimes looking back more than a full year by the time the information is published. While this data is reliable and accurate, the Equilar GDI aims to capture the influence of the increasing calls for diversity from investors and other stakeholders in real time.
The Equilar GDI is powered by Equilar BoardEdge, a database of more than 2.5 million public company board members and executives. BoardEdge includes exclusive features that show how board members and companies are connected to each other, as well as the Equilar Diversity Network (EDN), a "registry of registries" of board-ready executives from leading ethnic and gender diversity partnerships, organizations, and publications.
---
Contact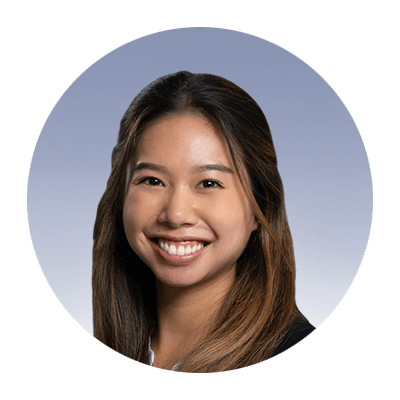 Joyce Chen
Associate Editor at Equilar
Joyce Chen, Associate Editor at Equilar, authored this post. Equilar Researchers Ryan Cody, Yifan Ding, Lexie Tang and Laura Wu contributed data and analysis. Please contact Amit Batish, Senior Director of Content, at abatish@equilar.com for more information about this article.
---
---