Media Center
---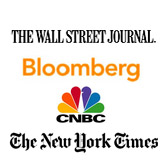 ---
Equilar research is cited frequently by Bloomberg, BusinessWeek, Reuters, The New York Times, The Wall Street Journal and other leading media outlets. Equilar has been recognized as one of the fastest-growing private companies in America by Deloitte, Inc. magazine and the Silicon Valley Business Journal.
The Equilar award-winning product suite is the gold standard for benchmarking and tracking executive compensation, board compensation, equity grants and award policies and compensation practices.
The Equilar product and custom research services enable corporations, human capital consulting firms, law firms, investors, individual executives and the media to accurately compare pay packages across thousands of public companies using SEC and proprietary survey data.
---
---

Boards Zero In on ESG in 2020 Proxies
March 16, 2020
---

Women in Finance Are Rising—at Last
March 6, 2020
---

California Law Pressures Small-Company Boards to Include Women
March 6, 2020
---

Closing the gap: Women in the boardroom
March 4, 2020
---

Bernie Sanders Aims New Tax Hike at Executive Retirement Plans
February 27, 2020
---

February 6, 2020
---

T-Mobile's Firebrand Chief Set to Reap $100 Million From Merger
February 11, 2020
---

Alphabet's Chief Legal Officer Stepping Down Amid Investigation
January 10, 2020
---

Apple CEO Tim Cook's total pay dropped last year, but he still took home over $125 million
January 3, 2020
---

California Law Spurs Companies to Add Female Directors
December 18, 2019
---
> View all of Equilar in the News
---
September 11, 2019
Russell 3000 Surpasses Milestone Marker of 20% Female Representation on Boards
---
April 10, 2019
Highest-Paid CEOs: A New Top 10 Emerges
---
March 07, 2019
Equilar GDI: Russell 3000 Boards Will Achieve Gender Parity by 2034
---
February 21, 2019
Equilar Report: Companies Communicate Shareholder Value Through Proxy Design
---
December 19, 2018
Equilar Report: Shareholder Engagement Policy Disclosures Become the Norm
---
December 18, 2018
Equilar GDI: Russell 3000 Female Board Representation Inches Closer to 20%
---
December 11, 2018
Board Pay Reaches a Quarter Million Dollars
---
November 1, 2018
General Counsel Pay Increases by Almost 7%
---
October 10, 2018
Prevalence of Women on Corporate Boards Continues Yearly Growth
---
October 10, 2018
Equilar Launches Board Brief for Effective Investor Meeting Preparation
---
August 30, 2018
Equilar GDI: More Than One-Third of New Directorships Went to Women in Q2 2018
---
August 24, 2018
Prevalence of Options Decreases as Companies Tie Awards to Performance
---
> View all Press Releases