Media Center
---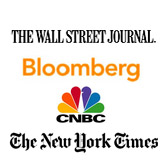 ---
Equilar research is cited frequently by Bloomberg, BusinessWeek, Reuters, The New York Times, The Wall Street Journal and other leading media outlets. Equilar has been recognized as one of the fastest-growing private companies in America by Deloitte, Inc. magazine and the Silicon Valley Business Journal.
The Equilar award-winning product suite is the gold standard for benchmarking and tracking executive compensation, board compensation, equity grants and award policies and compensation practices.
The Equilar product and custom research services enable corporations, human capital consulting firms, law firms, investors, individual executives and the media to accurately compare pay packages across thousands of public companies using SEC and proprietary survey data.
---
---

Amid racism protests, companies take to social media to disclose diversity
June 16, 2020
---

Remember Boeing's Max? It's Still Grounded.
June 12, 2020
---

NYT: Pay Cuts Become a Tool for Some Companies to Avoid Layoffs
May 24, 2020
---

CNN: Moderna unveiled encouraging coronavirus vaccine results. Then top execs dumped nearly $30 million of stock
May 22, 2020
---

Financial Times: Coronavirus puts top executives' pay in the spotlight
May 17, 2020
---

Agenda: Boards Begin Reversing Executive Pay Cuts
May 8, 2020
---

Companies That Don't Cut Executive Pay Now Could Pay for It Later
April 21, 2020
---

More GE Executives Forgo Some Pay Amid Coronavirus Pandemic
April 15, 2020
---

The CEO's coronavirus conundrum: how much pay to sacrifice?
April 7, 2020
---
> View all of Equilar in the News
---
May 28, 2020
Equilar GDI: Board Diversity Remains a Priority During Pandemic
---
May 12, 2020
Carl Guardino Joins Equilar Board of Directors
---
April 23, 2020
The 100 Highest-Paid CEOs: Pay Trends Before the COVID-19 Pandemic
---
April 16, 2020
Report: Trends in LTIP Design Pre-COVID-19 and What to Expect Ahead
---
March 11, 2020
Russell 3000 Boards on Pace to Achieve Gender Parity by 2030
---
September 11, 2019
Russell 3000 Surpasses Milestone Marker of 20% Female Representation on Boards
---
April 10, 2019
Highest-Paid CEOs: A New Top 10 Emerges
---
March 07, 2019
Equilar GDI: Russell 3000 Boards Will Achieve Gender Parity by 2034
---
February 21, 2019
Equilar Report: Companies Communicate Shareholder Value Through Proxy Design
---
December 19, 2018
Equilar Report: Shareholder Engagement Policy Disclosures Become the Norm
---
December 18, 2018
Equilar GDI: Russell 3000 Female Board Representation Inches Closer to 20%
---
December 11, 2018
Board Pay Reaches a Quarter Million Dollars
---
> View all Press Releases