Media Center
---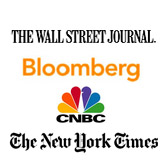 ---
Equilar research is cited frequently by Bloomberg, BusinessWeek, Reuters, The New York Times, The Wall Street Journal and other leading media outlets. Equilar has been recognized as one of the fastest-growing private companies in America by Deloitte, Inc. magazine and the Silicon Valley Business Journal.
The Equilar award-winning product suite is the gold standard for benchmarking and tracking executive compensation, board compensation, equity grants and award policies and compensation practices.
The Equilar product and custom research services enable corporations, human capital consulting firms, law firms, investors, individual executives and the media to accurately compare pay packages across thousands of public companies using SEC and proprietary survey data.
---
---

October 4, 2018
---

Some Companies Spend Plenty to Lure Executives Willing to Relocate
September 19, 2018
---

September 10, 2018
---

California Moves to Mandate Female Board Directors
August 29, 2018
---

A Tech Solution to Finding Board Members
August 29, 2018
---

How Should Pepsi's Indra Nooyi Be Graded?
August 9, 2018
---

Few Execs Leave Money on the Table Upon Departure
July 16, 2018
---

Lowest Pay Ratios Go to 'Richest' CEOs
July 2, 2018
---
> View all of Equilar in the News
---
August 30, 2018
Equilar GDI: More Than One-Third of New Directorships Went to Women in Q2 2018
---
August 24, 2018
Prevalence of Options Decreases as Companies Tie Awards to Performance
---
June 27, 2018
Annual Equilar Study Shows CEO Compensation Continues Upward Trend
---
May 09, 2018
Equilar GDI: One-Third of New Board Members Were Women in Q1 2018
---
April 11, 2018
CEO Pay Reached $15.7 Million in 2017 for 100 Largest Companies by Revenue
---
March 15, 2018
New Study Reveals Highest-Paid Sales Executives at U.S. Public Companies
---
March 8, 2018
Equilar Recognizes International Women's Day by Spotlighting Female Board Members
---
February 14, 2018
Boards Respond to Pressure and Increase Gender Diversity
---
February 13, 2018
Equilar and Georgeson Partner on Boardroom Diversity Initiative
---
February 7, 2018
Executive Compensation Filings Grow to Nearly 10,000 Words on Average
---
> View all Press Releases