Media Center
---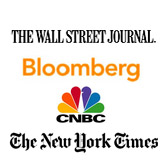 ---
Equilar research is cited frequently by Bloomberg, BusinessWeek, Reuters, The New York Times, The Wall Street Journal and other leading media outlets. Equilar has been recognized as one of the fastest-growing private companies in America by Deloitte, Inc. magazine and the Silicon Valley Business Journal.
The Equilar award-winning product suite is the gold standard for benchmarking and tracking executive compensation, board compensation, equity grants and award policies and compensation practices.
The Equilar product and custom research services enable corporations, human capital consulting firms, law firms, investors, individual executives and the media to accurately compare pay packages across thousands of public companies using SEC and proprietary survey data.
---
---

Want to Make Money Like a C.E.O.? Work for 275 Years
May 25, 2018
---

For CEOs, $11.7 million a year is just middle of the pack
May 25, 2018
---

Diversity Milestone: First Board Reaches 80% Women
June 26, 2017
---

June 21, 2017
---

June 21, 2017
---

Here's How Much More American CEOs Make Than You Do
June 21, 2017
---

Here's What the Highest-Paid Female CEOs Have In Common
June 20, 2017
---
> View all of Equilar in the News
---
April 11, 2018
CEO Pay Reached $15.7 Million in 2017 for 100 Largest Companies by Revenue
---
March 15, 2018
New Study Reveals Highest-Paid Sales Executives at U.S. Public Companies
---
March 8, 2018
Equilar Recognizes International Women's Day by Spotlighting Female Board Members
---
February 14, 2018
Boards Respond to Pressure and Increase Gender Diversity
---
February 13, 2018
Equilar and Georgeson Partner on Boardroom Diversity Initiative
---
February 7, 2018
Executive Compensation Filings Grow to Nearly 10,000 Words on Average
---
February 1, 2018
Survey Results Show a Median CEO Pay Ratio of 140:1
---
January 24, 2018
Corporations to Lose $92 Billion in Tax Deductions—Will It Matter?
---
December 13, 2017
Boards Disclose Best Practices to Alleviate Investor Concerns
---
> View all Press Releases