Equilar Institute
Blog Home
Peltz vs. P&G: How Board Composition May Influence the Proxy Fight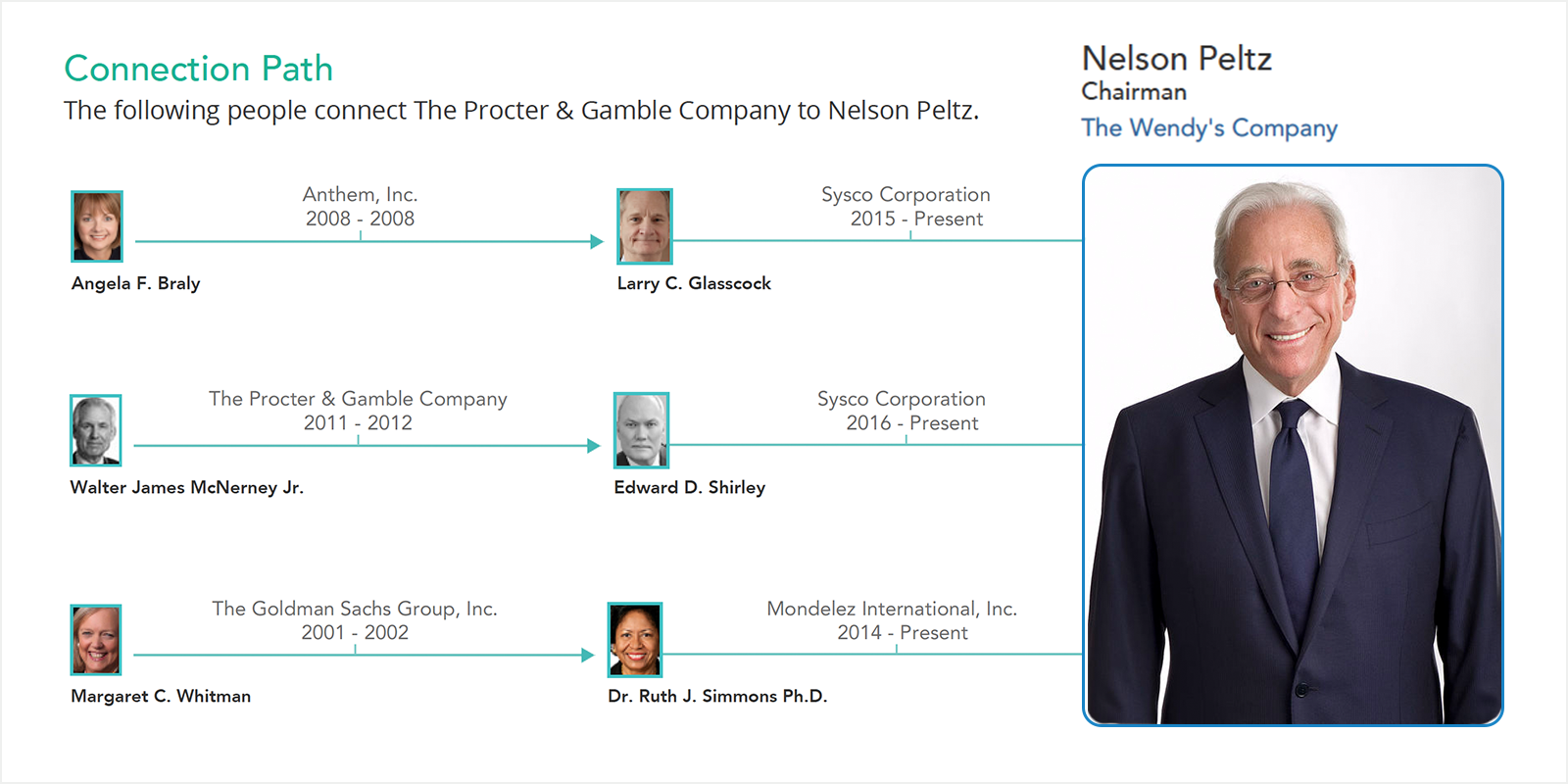 ---
---
September 21, 2017
The battle for board seats between Procter & Gamble and activist investor Nelson Peltz of Trian Fund Management continues to heat up. With the October 10 annual shareholders' meeting looming, where the vote will be finalized if the two parties don't reach an agreement beforehand, both sides have taken great strides to make their case.
Click here to view Procter & Gamble's "Vote Blue" Campaign
Click here to view Trian's "Revitalize P&G" Message
There are many factors that come into play as shareholders weigh their decisions. From Peltz' perspective, the current performance of Procter & Gamble is not up to par with its peers. Trian issued a press release on September 18 outlining what the firm feels the board has not addressed adequately, including stock price performance, executive compensation and incentives, and corporate structure. Of course, Peltz and P&G are telling two sides of this story, as the advertisements linked above indicate.
One thing that Trian's press release did not indicate as a reason for the proxy fight is the current composition of the board, and there are many factors shareholders consider when evaluating board elections. At the highest level, investors appear satisfied with the current board, given a 97.3% approval rating at the most recent shareholder meeting. Just two directors received voting approval lower than 95%, which generally is considered a flag for concern. Those directors received 94.8% and 94.5% approval, respectively.
Many other issues are under consideration when shareholders vote on the board, including diversity, independence, age, tenure and influence. The following analysis takes into account these various elements using data from the Equilar BoardEdge database.
Board Diversity
Four of the company's 11 current directors are female, accounting for 36.4% of the board. In addition, two male directors have diverse cultural backgrounds. According to the recent Equilar report, Board Composition and Director Recruiting Trends, just 21% of large-cap board seats and 16% of board seats across the public company universe (Russell 3000) were occupied by women. Furthermore, Procter & Gamble is among a minority of companies that disclosed its board composition in terms of both gender and racial/ethnic diversity. On this front, P&G is on the leading edge.
As one panelist put it at the recent Board Leadership Forum, "activists have done a good job of making boards less stale, but not less male and pale."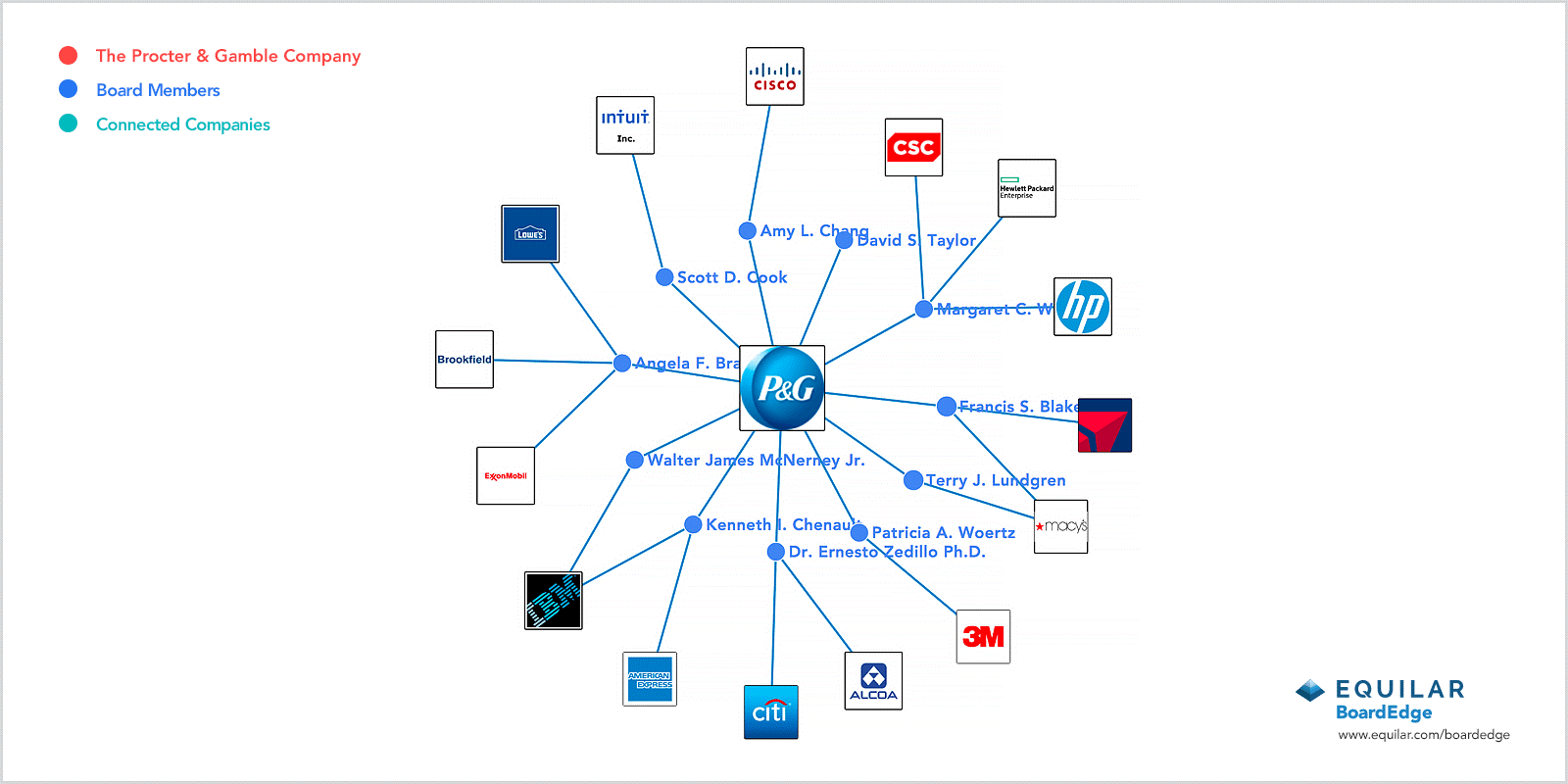 Independence, Tenure and Age
All but one of P&G's directors are independent, i.e. they do not work for the company. With 90.9% of the board already independent, obviously Peltz would add to those ranks. But at this point, there aren't any flags on this front. According to Equilar data, 83.3% of directors at large-cap companies are independent.
While P&G's directors other than the company's CEO are all independent, many investors and advisors raise red flags if directors have been on the board too long. One school of thought suggests that any director with more than 12 years on the board can no longer be independent. While this is certainly not a rule that can be applied to every director, that 12-year milestone has become a flag worthy of consideration for investors and shareholders.
Currently, four P&G directors have tenures of 15 years or more. With that in mind, adding Peltz would bring in fresh thinking and perspective and bring down the board's overall average tenure, which currently is 9.3 years, more than a full year above the average of 8.2 years for other large-cap companies. Furthermore, P&G's tenure is nearly double the median of the companies in its disclosed peer group, which includes companies like Colgate-Palmolive, Wal-Mart, Johnson & Johnson and others.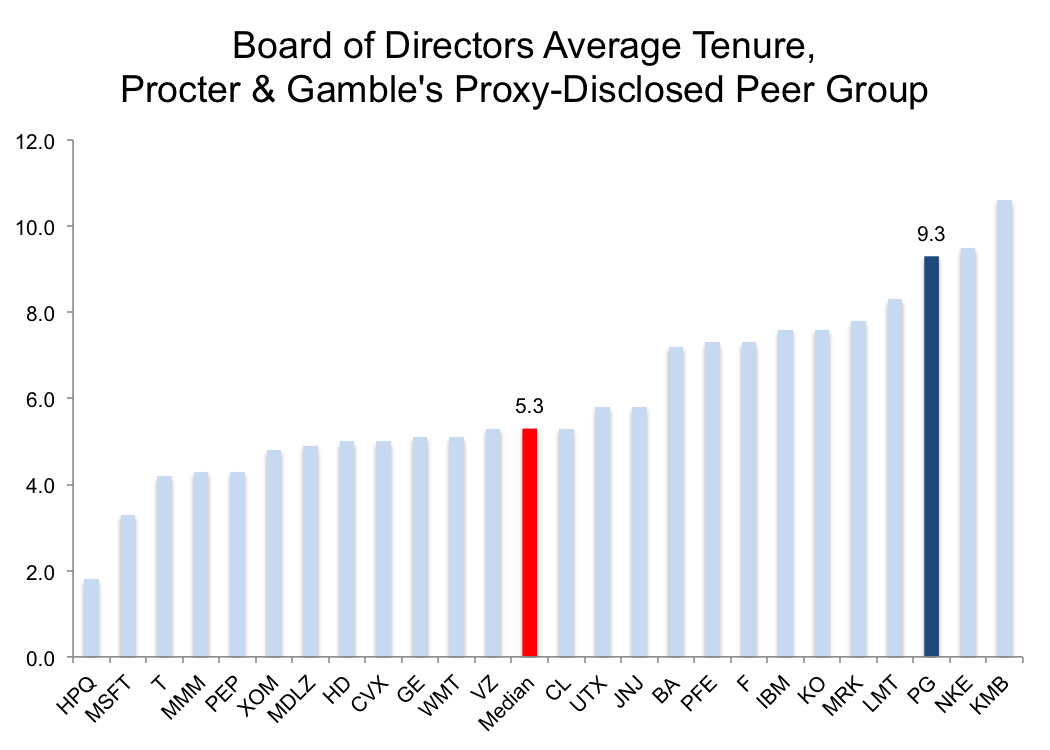 Meanwhile, the board's average age—65—is above the average 62.7 for other large-cap companies, but none of its directors are currently over 70. Two-thirds of Procter & Gamble's peer companies have a mandatory retirement age, all of which are 75 or below. Peltz is 74. While mandatory retirement ages are criticized as overly prescriptive, average age of a board is something that many investors take to heart, especially if they are considering how changes now will affect the company further out than the next few years.
Board Commitments and Overboarding
One major concern among investors and advisors that has arisen in recent years relates to the time commitments that allow a director to adequately serve a given board. Referred to as "overboarding," influential proxy advisors have set a limit to the number of public company boards they believe any individual should serve. That figure is five boards for an independent director, and two additional boards for any sitting CEO. According to Equilar BoardEdge data, Peltz already serves on four public company boards, and adding a fifth would mean that he would be on the verge of being "overboarded." One other P&G director is a CEO who also serves on two outside boards.
Influence and Ownership
Overall, Peltz aptly concludes that his firm's $3.5 billion stake in P&G far outweighs the current board's "skin in the game" collectively. As a result, he contends that he has a lot more riding on this proxy fight than any individual director.
That fact aside, the fight is notable in the sense that Peltz has a considerable number of connections to the current slate of directors at P&G. In fact, he has mutual connections with 10 of the 11 directors, according to Equilar BoardEdge data, meaning that he has worked with individuals that have served as executives and board members with the current P&G directors. For example, Edward Shirley, who is Peltz' current colleague at Sysco, served on the P&G board with six current directors from 2011-2012. The image below is a preview of the different connections paths Nelson has to the P&G board.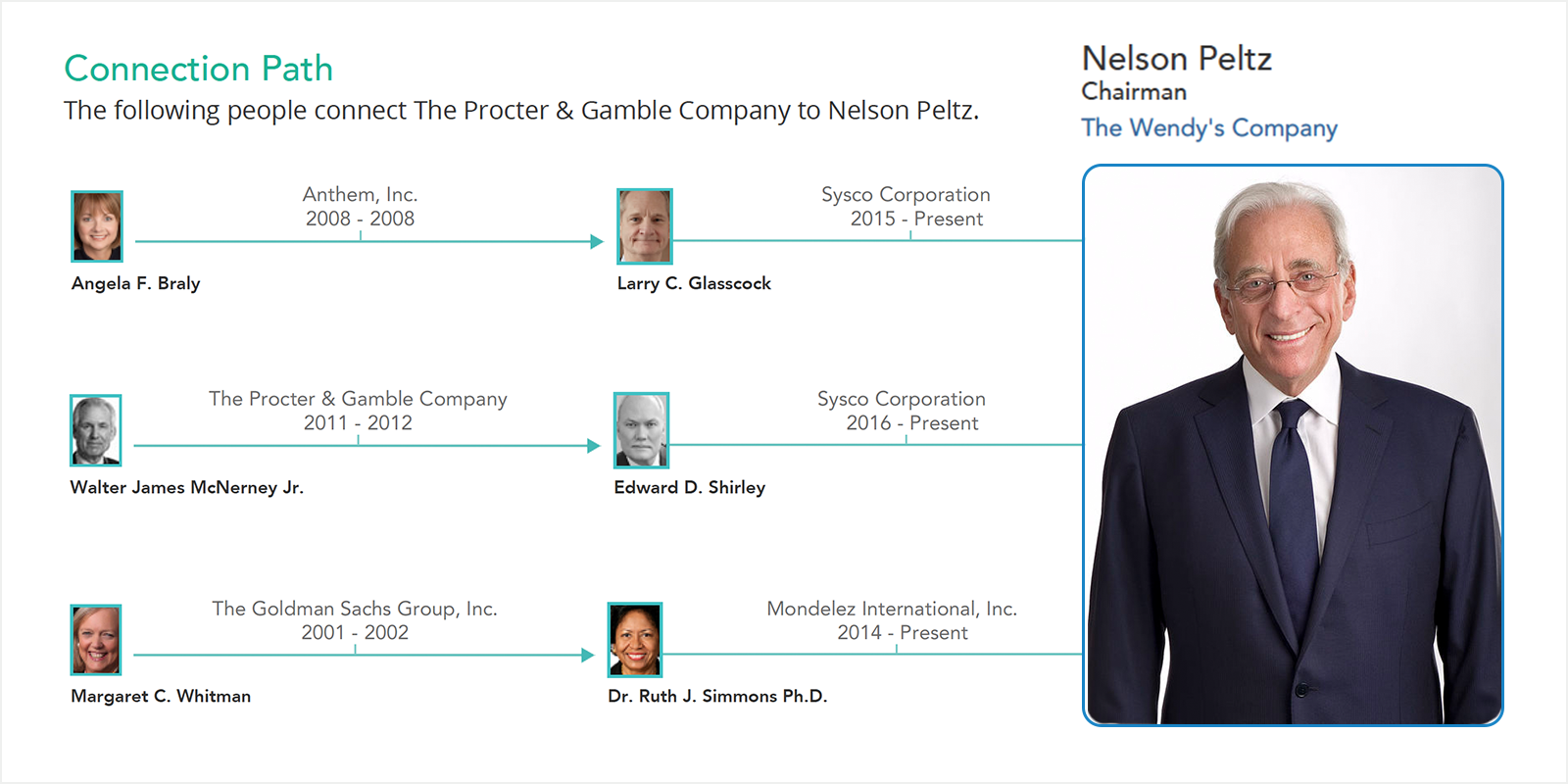 These connections could in fact be a key to the shareholder vote in the end. Despite all the back and forth about keeping the integrity of current board composition intact, if Peltz is elected and takes a seat at the table, the board will have to work together, and all parties will likely leverage these shared connections to find common ground.
More broadly, Peltz's connections to the corporate governance universe are vast. According to an Equilar study from 2016, the average large-cap company director had 94 connections to other executives and board members. According to BoardEdge data, Peltz has first-hand connections to 168 board members and executives spanning 103 companies with whom he has worked directly over the years. As a result, that knowledge, influence and experience could bring a wealth of experience to the P&G board, which shareholders will have to take into account when they vote the ballot over the next couple of weeks.
Download Peltz' board, executive and company connections by clicking the image below, and view his direct relationships to other top leaders at public companies.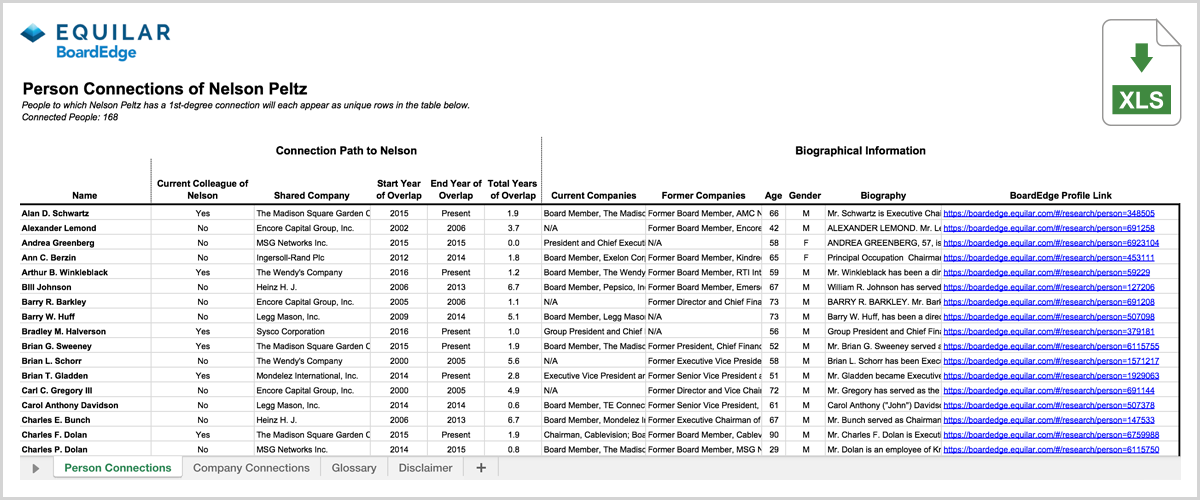 Download Executive and Board Connections
---
Reach out to Equilar to learn more about BoardEdge connections or request a download of any of the -plus executives and board members in the database, and learn how to use this connections data for business development and board recruiting. Include specific requests for individual downloads in the comment field.
---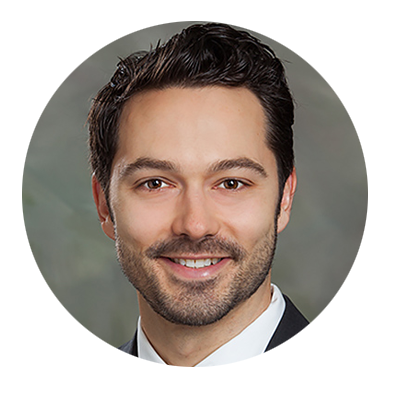 Dan Marcec, Director of Content & Communications at Equilar, authored this post. Contact him at dmarcec@equilar.com for more information on Equilar research and data analysis.
---