Media Center
Press Releases
Director Pay Rises 20% in Five Years, Driven by Equity Awards
---
REDWOOD CITY, CA (October 18, 2017) — Annual compensation for boards of directors at the largest U.S. public companies has risen nearly 20% over the past five years, according to a new report from Equilar, Director Pay Trends, which features independent commentary from Meridian Compensation Partners.
In fiscal year 2016, the median annual retainer—or base pay in cash and equity—was $245,000 for directors at Equilar 500* companies, up 19.5% from $205,000 in 2012.
"Median annual retainer for board members at large-cap companies amounts to approximately 2% the value of the top CEOs at these companies," said Amit Batish, Director of Content at Equilar and Editor-in-Chief of the report. "However, because directors have been paid increasingly in stock value in the past few years, investors and other corporate stakeholders have been keeping a close eye on board compensation as a check and balance on these key decision makers."
Director pay overall has increased consistently on a year-over-year basis, with modest increases anywhere from 2% to 5% annually. It's important to note that because director pay is now more commonly being awarded in equity grants, values are increasing, but that's not necessarily money board members are putting directly in their pockets at the end of the year.
Among the companies that awarded equity to their directors, median value was $150,000 in 2016, up from $125,000 in 2012. Cash awards—which are provided at 98% of companies—increased in value from $75,000 to $90,000 at the median, according to the report.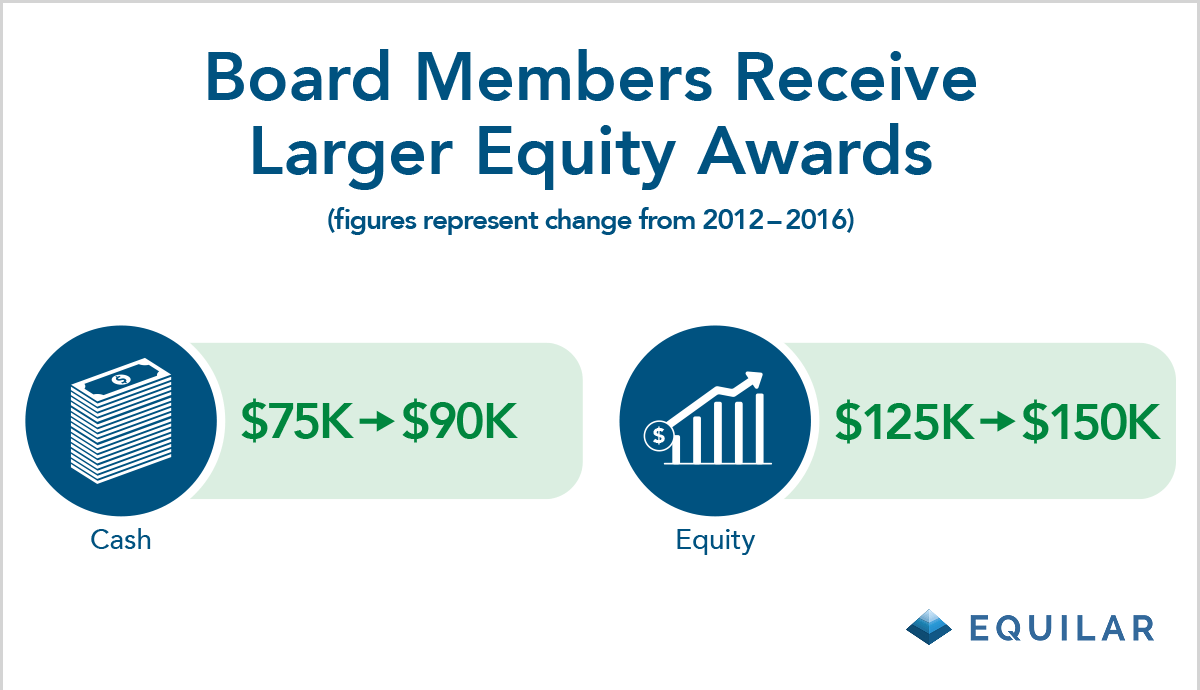 "With respect to program design, director compensation should be aligned with directors' role as fiduciaries," said Ron Rosenthal, Lead Consultant at Meridian Compensation Partners. "Thus, directors of U.S. public companies typically receive a combination of cash and equity compensation that is 'fixed'—i.e., the amount of compensation granted does not vary based on performance."
Though executive compensation has been a more popular topic of interest and scrutiny over the last few years, some elements of director pay, such as meeting fees, have declined and are falling out of favor. In the 2016 fiscal year, just 14.5% of companies awarded meeting fees to directors, down 15 percentage points from 29.5% in 2012. The largest decrease in companies granting meeting fees occurred between 2013 and 2014, and then again between 2014 and 2015, with both years dropping 4.2 percentage points from the previous year.
According to Rosenthal, these trends reflect a number of considerations, including the view that meeting attendance is a basic duty requiring no additional compensation. However, some boards want to recognize the additional responsibilities and time commitment associated with committee service and thus the prevalence of committee member retainers has increased in recent years. These retainers, while modest in value, serve to recognize the additional duties for, and additional contributions by, directors that serve on board committees.
"The elimination of meeting fees also enhances the transparency of the director compensation program, as shareholders can more easily understand the annual compensation that will be paid to directors," Rosenthal said.
Please click here to request a copy of the full report.
* The Equilar 500 tracks the 500 largest, by reported revenue, U.S.-headquartered companies trading on one of the major U.S. stock exchanges (NYSE, Nasdaq or NYSE MKT (formerly AMEX)), adjusted to approximate the industry sector mix of similar large-cap indices.
---
About Equilar
Equilar is the leading provider of board intelligence solutions. Its data-driven platforms, BoardEdge and Insight, provide tools for board recruiting, business development, executive compensation and shareholder engagement. Companies of all sizes, including 70% of the Fortune 500 and institutional investors representing over trillion in assets, rely on Equilar for their most important boardroom decisions. Equilar also hosts industry-leading board education symposiums, conducts comprehensive custom research services and publishes award-winning thought leadership. Founded in 2000, Equilar is cited regularly by Associated Press, Bloomberg, CNBC, The New York Times, The Wall Street Journal and other leading media outlets. Visit www.equilar.com to learn more.
About Meridian Compensation Partners
Meridian Compensation Partners, LLC provides executive compensation consulting and corporate governance services to over 500 public and private corporations. With 11 offices and more than 60 associates in the U.S. and Canada, our services include board level advisory services, compensation program design, and market intelligence on executive pay and governance matters. www.meridiancp.com
For more information, contact:
Amit Batish
Content Manager
Equilar, Inc.
abatish@equilar.com
650-241-6697