Media Center
Press Releases
Prevalence of Women on Corporate Boards Continues Yearly Growth
---
REDWOOD CITY, CA (October 10, 2018) —According to a new report from Equilar, Board Composition and Director Recruiting Trends, which featured commentary from Georgeson, KPMG's Board Leadership Center and Semler Brossy Consulting Group, the percentage of women on boards is continuing to increase. Women now represent 22.8% of Equilar 500 directors and 17.6% of Russell 3000 directors.
"This trend to drive board refreshment is exciting and is the result of concerted efforts on many fronts," said Blair Jones, Managing Director at Semler Brossy Consulting Group. "When groups like 2020 Women on Boards first started talking about 20% female board representation by 2020, the goal was bold. Now, the goal is within sight."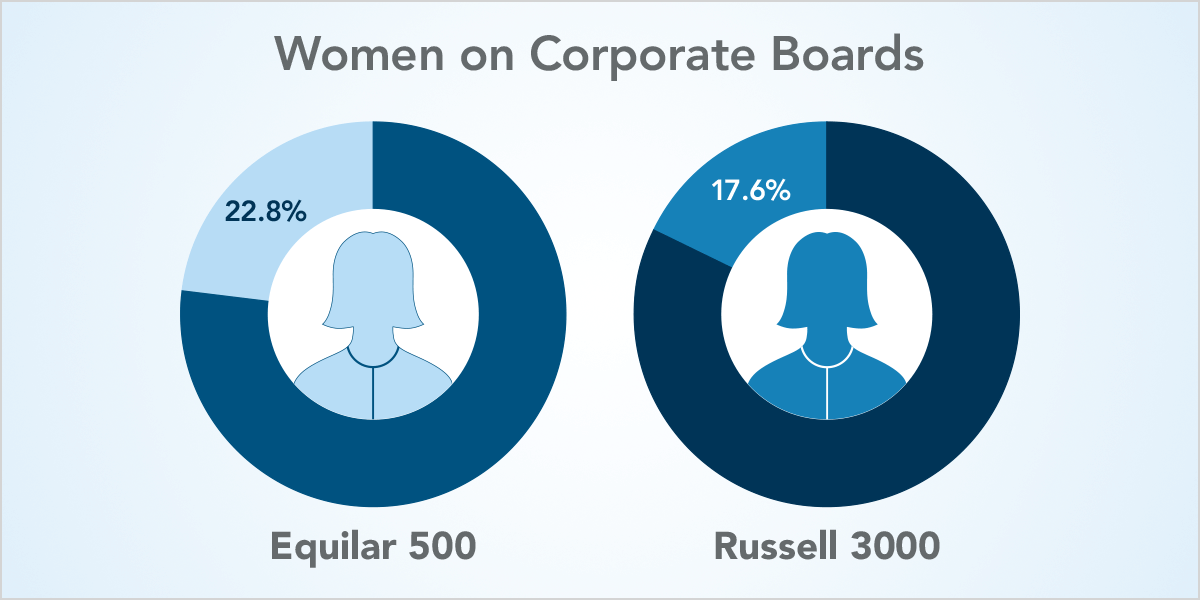 Over the last year, gender diversity has become an area of focus across corporate America. California recently passed a law that will require public companies headquartered in California to have a minimum of one female on its board of directors by December 31, 2019. That minimum will be raised to at least two female board members for companies with five directors or at least three female board members for companies with six or more directors by December 31, 2021.
High profile investors, such as BlackRock and State Street, are also continuing to play an integral role in not only promoting diversity on boards, but other areas of concern with regard to composition.
"Investors are increasingly leveraging their voting power at annual meetings to address concerns over board composition such as over-boarding, lack of new members, lack of skills, gender diversity and insider affiliations," said Brigid Cremin Rosati, Director of Business Development at Georgeson. "Several large institutional investors updated their proxy voting policies in 2018, including on director elections and board composition."
Another interesting trend uncovered in the report revealed that more companies are disclosing a mandatory retirement age for directors. From 2014 to 2018, the number of mandatory retirement age disclosures has increased steadily by 8.8 percentage points and 3.6 percentage points in the Equilar 500 and Russell 3000, respectively. Currently, 42.1% of Equilar 500 boards and 20.4% of Russell 3000 boards have a mandatory retirement age. As board refreshment continues to be a point of focus for investors, this trend shouldn't come as a surprise.
"Age limits and term limits are convenient ways to generate turnover gracefully, but they should not replace needed turnover as the needs of the company change," said Susan Angele, Senior Advisor of Board Governance at KPMG's Board Leadership Center. "Setting the right age limit is more challenging now than in the past due to changing demographics at both ends of the spectrum – individuals are living healthy, active lives longer, and executives are also joining boards at a younger age. The result is that an executive who joins a board in their 30s could be on the board for 40 years or more before reaching the designated mandatory age limit. As boards evaluate their composition, they frequently consider the average age and tenure as well as the range."
Other key findings from the report include:
The average board size of Equilar 500 companies was 10.7 in 2018, led by the utilities sector with an average board size of 11.4 directors.

The percentage of women in board leadership positions has declined by 10.1% at Equilar 500 companies from 2017 to 2018, sitting at 7.1%. However, female leadership has risen slightly, from 5.8% to 6.1%, at Russell 3000 companies over that same time frame.

Average director age has increased slightly over the last five years, reaching a pinnacle of 61.3 and 60.4 years in 2017 at the Equilar 500 and Russell 3000, respectively.

Both average and median director tenure have declined each year over the last five years, with the median tenure at Equilar 500 companies only 6.3 years in 2018, a 21.3% decrease from 2014.

On average, the prevalence of Equilar 500 directors with CEO experience has increased by about 0.6 percentage points each year from 2014 to 2018.
To request a full copy of the report, click here.
---
About the Report
Board Composition and Director Recruiting Trends, an Equilar publication, analyzes boards of directors as disclosed in annual proxy statements (DEF 14A) or amended 10-K filings (10-K/A) of the Equilar 500 and Russell 3000 companies over the last five years. Years are defined by fiscal year end dates between April 1st and March 31st. The Equilar 500 consists of the 500 largest, by reported revenue, U.S. headquartered companies trading on one of the major U.S. stock exchanges (NYSE, Nasdaq or NYSE MKT (formerly AMEX)), adjusted to approximate the industry sector mix of similar large-cap indices. The report identifies particular trends in the composition and disclosure of public company boards.
About Equilar
Equilar is the leading provider of Board Intelligence Solutions. Its data-driven platforms, BoardEdge and Insight, provide tools for board recruiting, business development, executive compensation and shareholder engagement. Companies of all sizes, including 70% of the Fortune 500 and institutional investors representing over trillion in assets, rely on Equilar for their most important boardroom decisions. Equilar also hosts industry-leading board education symposiums, conducts comprehensive custom research services and publishes award-winning thought leadership. Founded in 2000, Equilar is cited regularly by Associated Press, Bloomberg, CNBC, The New York Times, The Wall Street Journal and other leading media outlets. Visit www.equilar.com to learn more.
About KPMG Board Leadership Center
The KPMG Board Leadership Center champions outstanding governance to help drive long-term corporate value and enhance investor confidence. Through an array of programs and perspectives—including KPMG's Audit Committee Institute, the WomenCorporateDirectors Foundation, and more—the Center engages with directors and business leaders to help articulate their challenges and promote continuous improvement of public- and private-company governance. Drawing on insights from KPMG professionals and governance experts worldwide, the Center delivers practical thought leadership—on risk and strategy, talent and technology, globalization and compliance, financial reporting and audit quality, and more—all through a board lens. boardleadership.kpmg.us
About Georgeson
Established in 1935, Georgeson is the world's foremost provider of strategic shareholder services to corporations and shareholder groups working to influence corporate strategy. We offer unsurpassed advice and representation for annual meetings, mergers and acquisitions, proxy contests and other extraordinary transactions. Our core proxy expertise is enhanced with and complemented by our strategic consulting services, including solicitation strategy, shareholder identification, corporate governance analysis, vote projections and insight into investor ownership and voting profiles. Our local presence and global footprint allow us to analyze and mitigate operational risk associated with various corporate actions worldwide. https://www.georgeson.com/us
About Semler Brossy Consulting Group
Semler Brossy is an established, independent executive compensation consulting firm founded in 2001. Over the years, our clients have trusted us with their toughest business issues, helping them work through changes in strategic direction, turnaround situations, CEO succession, transactions such as mergers, acquisitions and IPOs, and conflicts between management and the Board. We have built and maintained longstanding corporate and board consulting relationships because we always view issues from a multi-faceted business perspective. Our principals have deep and extensive experience working with a broad cross-section of U.S. companies, from Fortune 100 to smaller, privately held firms, some over several decades. Many clients are global, with all the attendant compensation issues. Industries we currently serve include financial services, healthcare, consumer products, technology, manufacturing, retail and professional services. www.semlerbrossy.com
For more information, contact:
Amit Batish
Equilar, Inc.
abatish@equilar.com
650-241-6697