Knowledge Center
Executive Compensation Blog
---
Going Overboard? Restrictions May Shrink Qualified Director Pool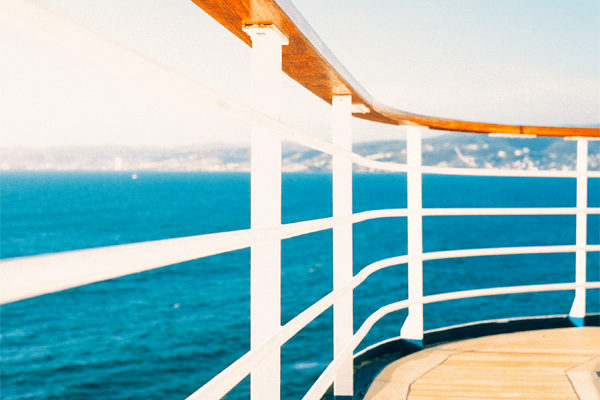 With shareholder engagement and outreach coming to the forefront in the wake of Dodd-Frank, directors' responsibilities are continually expanding into significant professional obligations. As a result, many shareholders and other governance stakeholders are scrutinizing more closely whether board members...
---
On Guard: Cybersecurity in S&P 500 Boardrooms, Part 1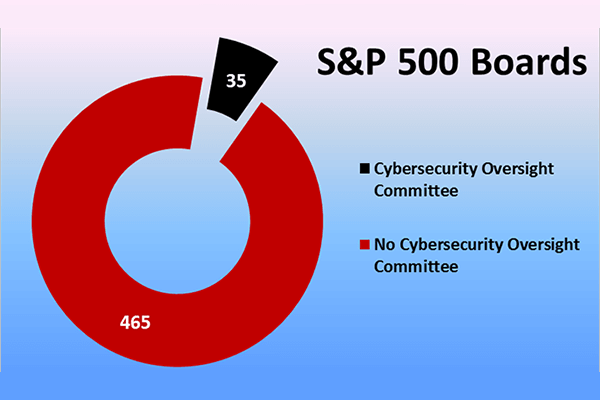 High profile data breaches grab headlines and deservedly so—exposure of private, proprietary information puts businesses, investors, and consumers at risk. Corporate and large organizational data breaches are increasing in both frequency and magnitude, as illustrated in this interactive infographic by...
---
@Jack Is Back: Twitter's New CEO Finds Himself in Rare Company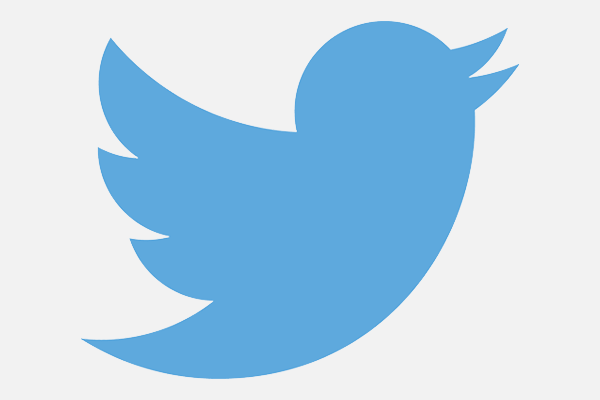 After months of speculation, Twitter named its new CEO this week—the company's co-founder (and former CEO) Jack Dorsey. Following several quarters of slowing user growth, pressure on Twitter from its investors and from Wall Street in general reached a pinnacle. In June, Dick Costolo stepped down after five...
---
The Changing Face of Fortune 1000 Boardrooms, in Five Charts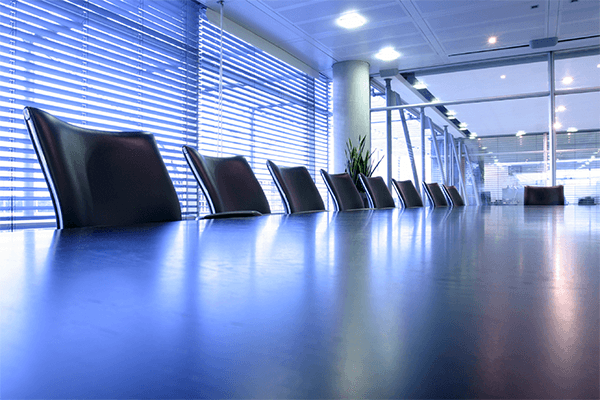 We're in an unprecedented era in shareholder engagement, and as a result, the make-up of U.S. boardrooms is changing to reflect this new reality. Rules and regulations following Dodd-Frank have heightened the availability of information and awareness around issues inside the boardroom, and the increasing...
---
Chairman/CEO Votes: Signs of Shareholder Trust or Playing It Safe?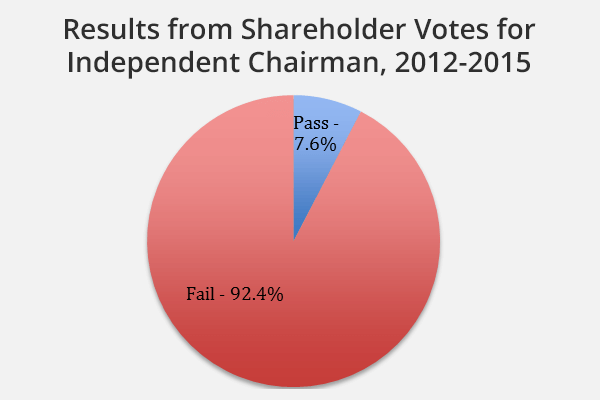 On September 22, Bank of America shareholders voted whether CEO Brian Moynihan would continue in his role as Chairman of the Board. In the weeks leading up to the shareholder meeting, many wondered if a vote to split the roles and implement an independent chairman would set a precedent...
---
Eradicating Cyber-risk: CEO Expertise and Experience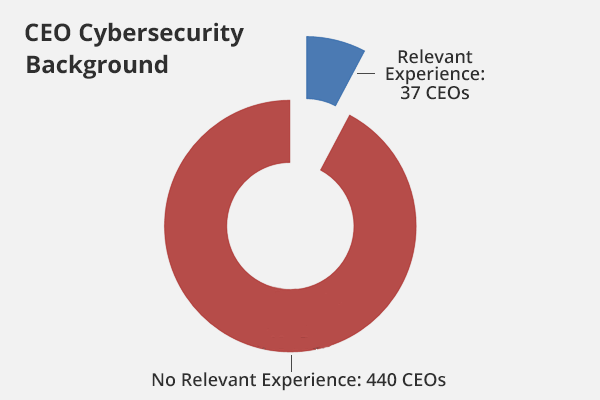 As companies rely more heavily on compiling, storing, utilizing, and disseminating large amounts of proprietary and private data, securing such information continues to pique the interest of invested parties. Customers, consumers and vendors entrust their information to firms and expect that...
---
Change-in-Control: Pay Trends in Transition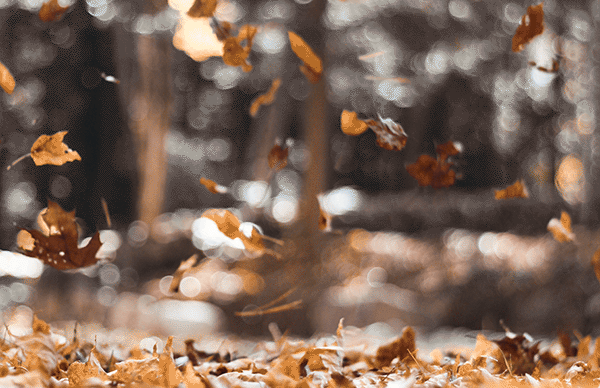 Although corporate change-in-control (CIC) situations happen infrequently, stakeholders place the details of such transactions under a microscope, scrutinizing them from every angle. In particular, proxy advisory firms and shareholders view the handling of CIC payments to the decision-making...
---
Weighing in on Performance Metrics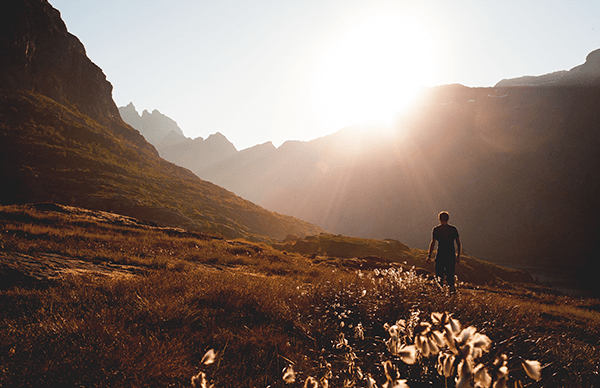 When it comes to doling out long-term incentive plans, shareholders and companies both hold vested interests in how awards are structured. Not only do equity awards contribute to the retention of executives, but they also set the tone for the direction in which a company aims to grow...
---
Director Compensation Under Scrutiny: Are Pay Increases Justified?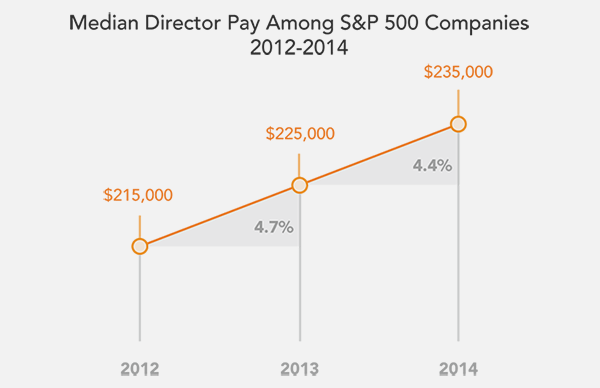 Median director pay among S&P 500 companies has increased significantly in recent years. According to the latest Equilar research, director retainers reached a median $235,000 in 2014, up from $215,000 two years prior. In response, shareholders see the amounts board members are paying...
---
SEC Shines a Spotlight on CEO-Employee Pay Ratio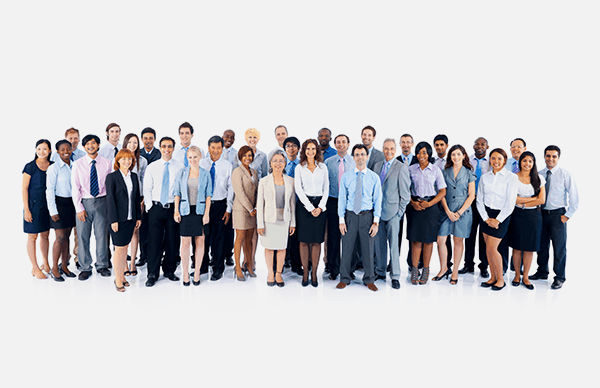 Dodd-Frank initially mandated that U.S. public companies disclose the ratio of median pay between their CEOs and their employees, and thus the subject has been a source of much discussion since its passing. But five years later, exactly how that rule should be implemented hadn't been set in stone...
---
Does It Really Pay for CEOs to Perform? A Comparative Analysis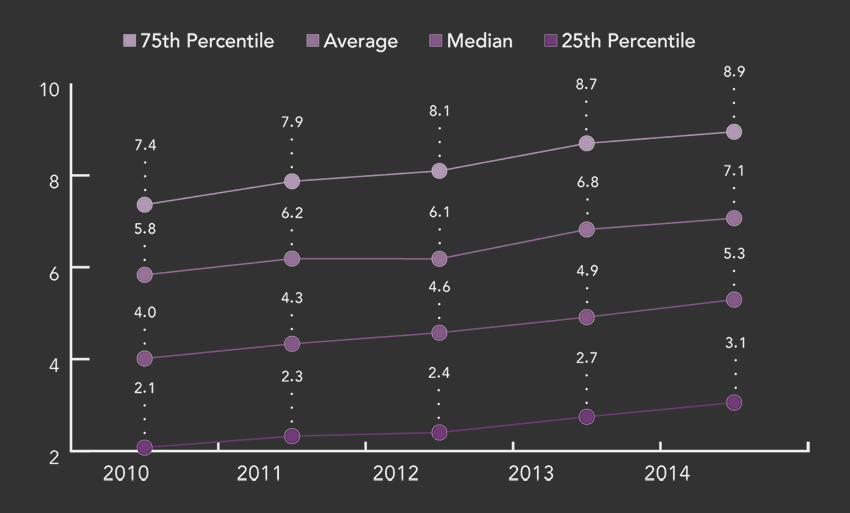 CEO pay continues to rise, reaching a median $10.3 million among S&P 500 companies in 2014, according to Equilar's latest research. But alongside consistent growth, CEO compensation has also experienced increased scrutiny since the passing of Dodd-Frank and the advent of "Say on Pay" 5 years ago. In response to the legislation, and because stakeholders view...
---
Dodd-Frank's Fifth Anniversary: In Retrospect and Prospect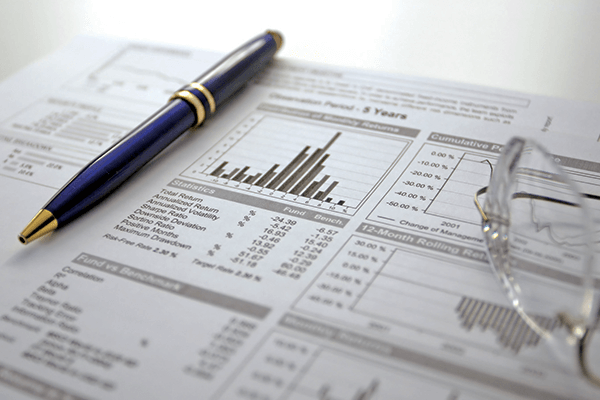 The Dodd-Frank Wall Street Reform and Consumer Protection Act – better known colloquially as "Dodd-Frank" – celebrated its fifth anniversary on July 21, 2015. Though the sweeping financial markets reform initiated by this legislation has yet to be fully implemented, Dodd-Frank's mandates have effected significant changes across the American economy with...
---
Equity Compensation Plans: Breaking down Dilution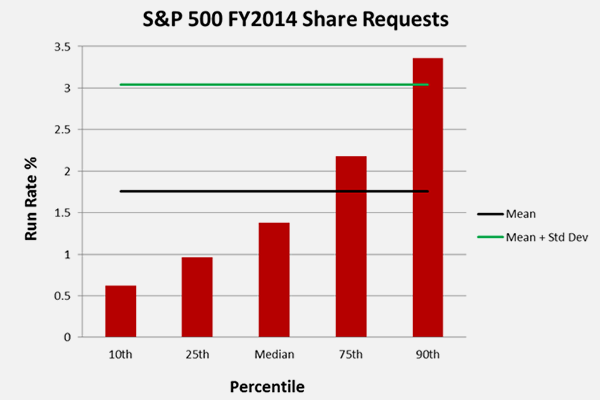 A well-designed equity compensation or performance incentive plan has potential to be a "win-win" for those with skin in the game, and corporate issuers have the opportunity to align their stakeholders' interests by including equity pay in executive compensation packages. Shares granted under equity compensation and incentive plans can serve both to align...
---
Enforcing Accurate Financial Reporting — Clawbacks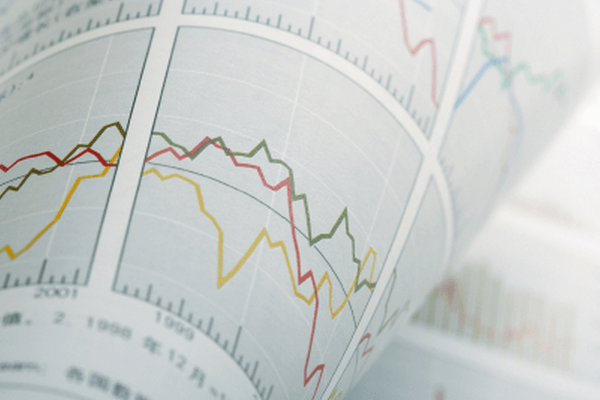 The Securities and Exchange Commission (SEC) recently proposed a set of rules that would govern the clawback provisions of listed companies. These standards would apply specifically to compensation that is linked to accounting-related metrics, stock price and total shareholder return. Any excess executive compensation over the previous three fiscal years as a result of...
---
Pay Versus Performance Rule Faces Potential Issues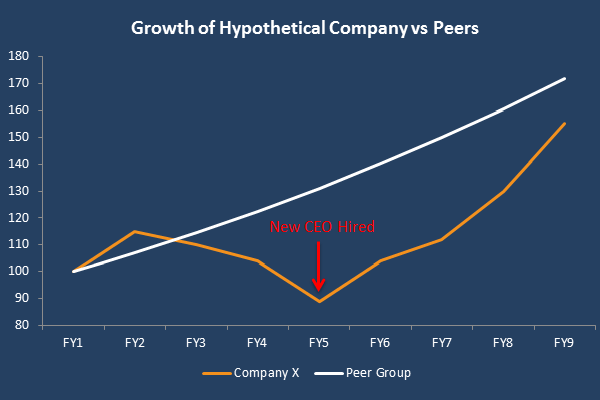 As noted in a previous post, the Securities and Exchange Commission (SEC) recently released language concerning the Pay Versus Performance disclosure required by the Dodd-Frank Wall Street Reform and Consumer Protection Act. Public comment on the proposed rule is open until July 6, but in the meantime, we can preview some of the issues companies and other interested...
---
CFO Pay Increases: Falling Behind the CEO?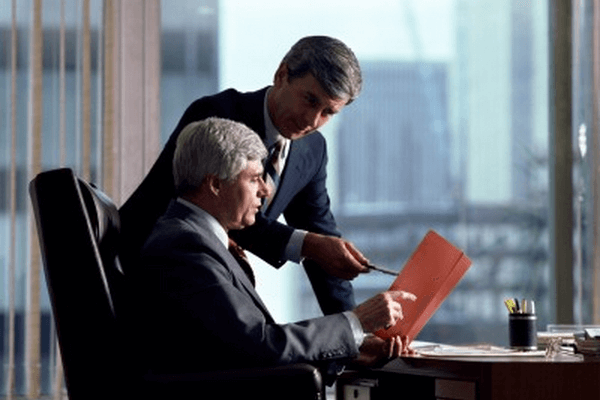 In a recent post, we looked at changes in CEO pay in the S&P 1500 and how that compares to the average worker. While the CEO is typically a company's highest paid and most high-profile employee, they are but one member of the executive team. Using Equilar's database, we can examine whether CEOs have been uniquely well-compensated over the past several years or if that trend...
---
Peer Group Construction and Analysis Update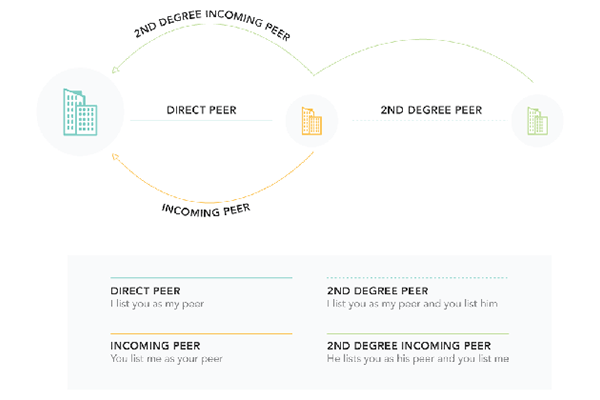 A key part of Equilar Insight's Pay for Performance Analytics, Equilar Market Peers provides a unique and powerful methodology for creating peer groups. Establishing a peer group is a vital step in a company's pay and performance benchmarking practices. Other stakeholders and industry players may establish their own peer groups as a means of assessing a target company's pay structure...
---
Anticipating the CEO Pay Ratio – CEO Pay vs Median Income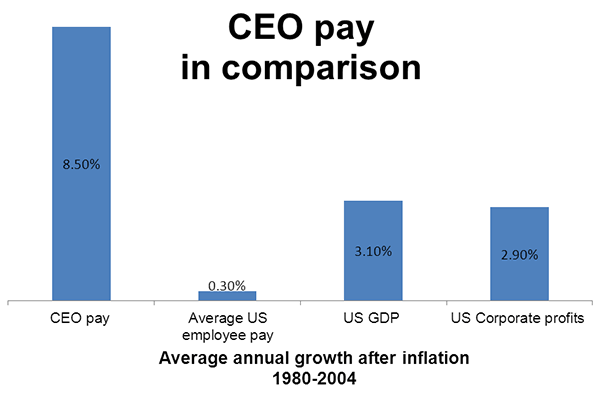 The difference in pay between CEOs and the average worker became a hot-button issue in the years following the financial crisis of 2008. The Dodd-Frank Wall Street Reform and Consumer Protection Act mandates that companies disclose the pay ratio between the CEO and the company's median employee, but five years later, the SEC has yet to determine how that rule will be implemented...
---
CEO Pay Rising for Both Genders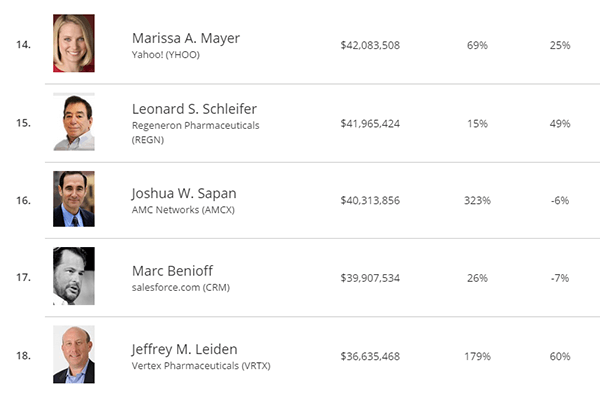 On May 16, 2015, Equilar announced the publication of the Equilar 200 CEO Pay Study in The New York Times. This list contains the 200 highest-paid chief executive officers among public U.S. companies valued at $1 billion or more in market capitalization. This is the second of two annual CEO studies Equilar compiles with The New York Times based on proxy filings from thousands of U.S. firms.
---
Shopify IPO Emerges With New Details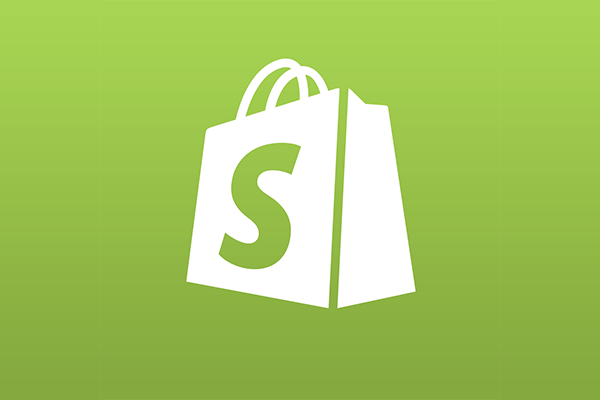 Shopify, an e-commerce software company based in Ottawa, Ontario, revealed last Wednesday in a new SEC filing that it is aiming to raise upwards of $107.8 million through its IPO with shares pricing between $12 and $14 each. Upon the offering, Co-Founder, Chairman of the Board, and Chief Executive Officer Tobias Lütke is expected to own 14.62% of the company, which is valued at $126,779,793 based upon the price...
---
Why Do Some Companies Defend a Failed Say on Pay Vote?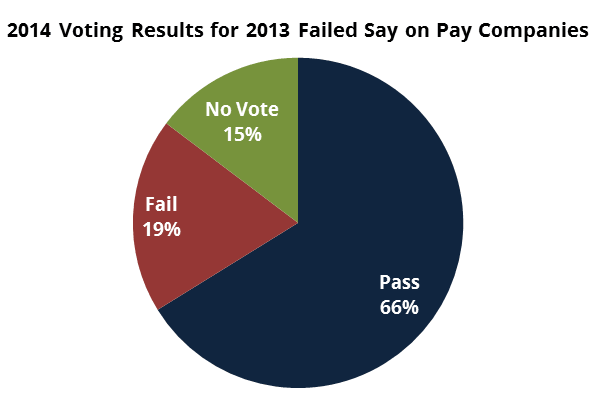 The years since the passage of the Dodd-Frank Wall Street Reform and Consumer Protection Act have seen increasing attempts to link executive pay with performance. One requirement of the bill is that companies hold regular shareholder votes on executive compensation packages. This offers a fascinating glimpse into internal battles to determine appropriate pay levels and incentive plan structures. In our Impact of...
---
SEC Proposes Pay For Performance Rule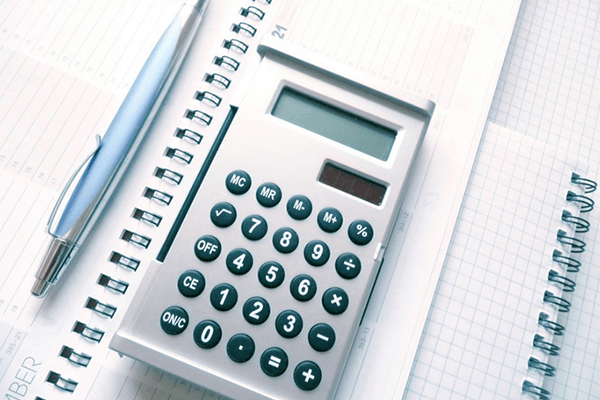 On April 29, 2015, the SEC released a proposal to enact Section 953 of the Dodd-Frank Act. Section 953 deals with the relationship between compensation and company performance. This is the second executive compensation rule proposed this year by the SEC, following the hedging rule proposed in February....
---
Zero Base Salary Earned by American Airlines CEO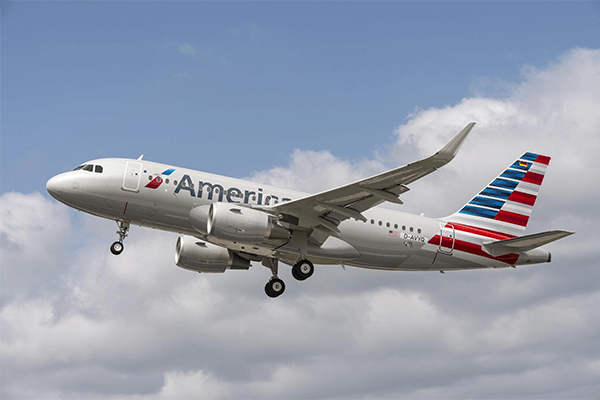 It's common practice for most firms to make a certain percentage of executive compensation "at risk." This can be in the form of variable cash payouts as well as equity awards, which intrinsically align the officer in questions' goals with those of and the company as a whole. This variable component usually comes with a reasonable dose of fixed compensation, in the form of base salary and....
---
Equilar 100 Study Key Findings, as seen in The New York Times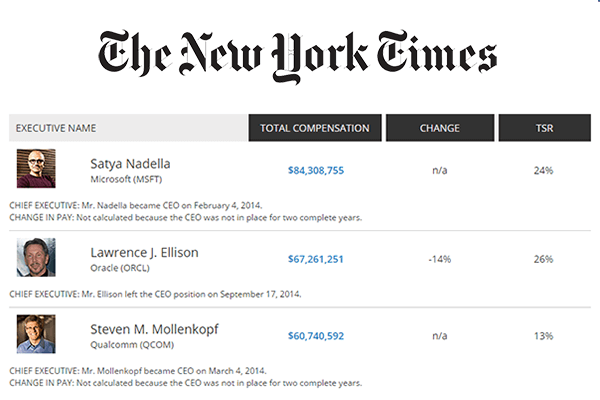 On Friday, April 10th, the New York Times published its coverage of the Equilar 100 CEO Pay Study, an analysis of CEO pay at the 100 largest public U.S. companies as measured by revenue. Over the past nine years, Equilar has collaborated with The New York Times as the preferred data provider of executive compensation and corporate governance information. Gretchen Morgenson, author of the article...
---
CEO Median Pay Ratio: Standard Deviation in Standards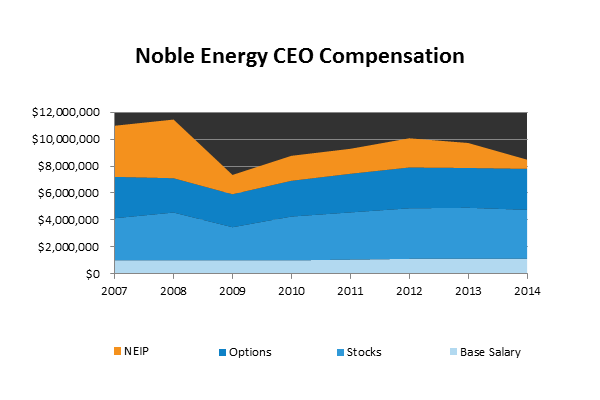 One of the measures proposed by the Dodd-Frank Wall Street Reform and Consumer Protection Act (the Dodd-Frank Act) is mandatory disclosure of the ratio between the CEO's compensation and the compensation of the average worker. Though this rule has not yet been finalized, several companies have made a concerted effort to adhere to the potential ratio. One such company, Noble Energy (NYSE: NBL), included....
---
Google CFO Hire Makes a Big Splash in Executive Compensation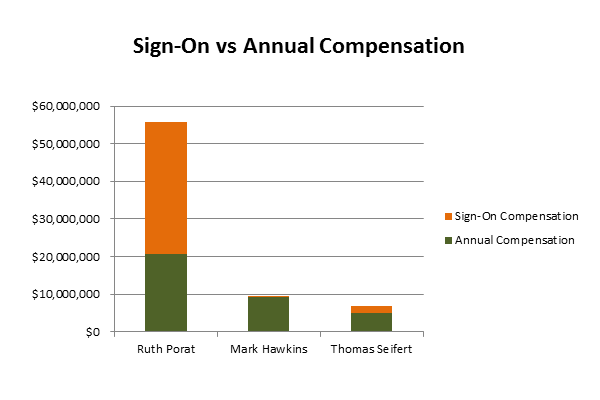 Executive compensation has made the news recently with Google offering a $70 million pay package to incoming CFO Ruth Porat. Beyond the eye-catching headline, several interesting kernels are buried inside the deal. Google granted Ms. Porat $30 million in one-off new hire awards, consisting of a $5 million cash bonus and $25 million worth of restricted stock units. Another significant component of her compensation...
---
Domino's Proxy Statement – That's a Big Pizza Pie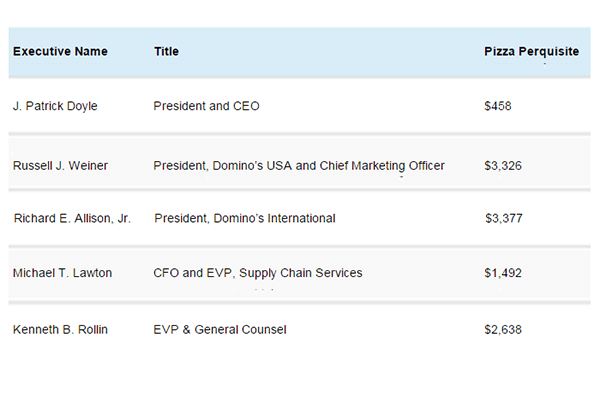 Every year, as thousands of proxy statements are processed and analyzed, there are many interesting nuggets of information. While not always the most critical data points, their uniqueness can be appreciated. This blog post will focus on one of these finds. Domino's Pizza (DPZ) has seen a rise in its stock price dating back to 2009. On January 2, 2009, Domino's was trading at...
---
Succession Planning Implications for CEO to Executive Chair Transitions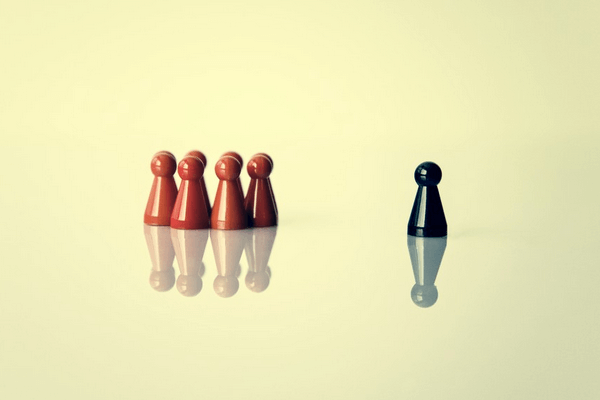 CEO succession and transition planning is an essential topic for boards and a primary focus of shareholders. Committees responsible for succession planning are addressing the issue on an ongoing basis throughout the year to develop plans that ensure a smooth and effective transition. One strategy companies have employed is naming the outgoing CEO as executive chairman...
---
The Return of Proxy Access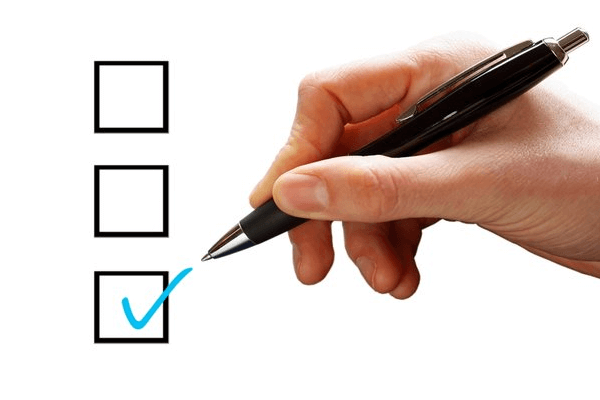 With each proxy season comes a deluge of shareholder proposals, making it onto the ballots of many public companies under SEC Rule 14a-8. These proposals are formal in nature for most public companies and often there is considerable variation in the level of support received depending on the proposal's subject. While many proposals receive far less than majority support from...
---
Proxy Filings Bring March (and April) Madness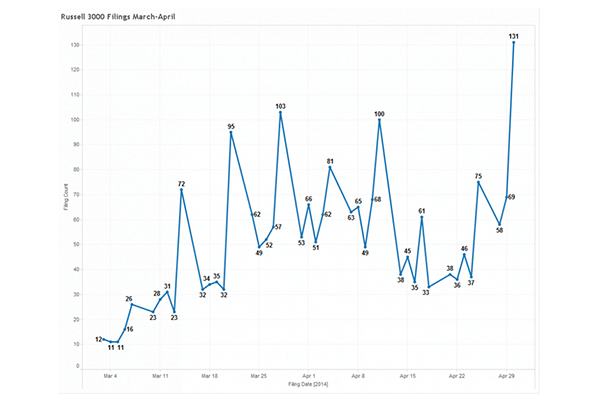 March and April can be a busy time of the year for people and companies alike, as deadlines approach to file taxes and other filings with the IRS and SEC. Unlike the notable deadline of April 15 for taxes, the lesser-known SEC deadline of April 30 is a date several companies circle on the calendar to ensure they have filed the required financial...
---
Investor Survey 2015 — What Matters to Investors in Proxy Statements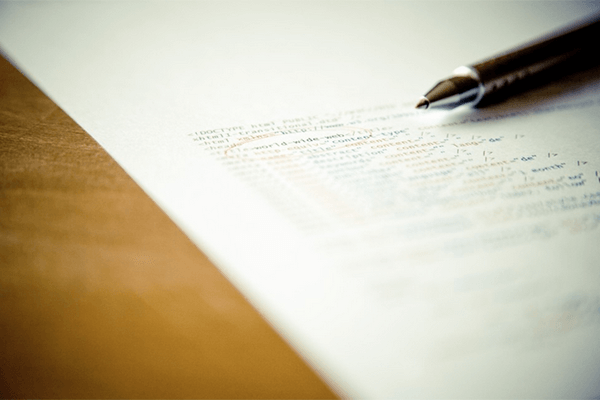 In the fall of 2014, RR Donnelley, Equilar, and the Rock Center for Corporate Governance at Stanford University surveyed 64 asset managers and owners with a combined $17 trillion in assets to understand how institutional investors use the information in corporate proxies to make voting and investment decisions. This outreach effort resulted in Equilar's 2015 Investor Survey, among other...
---
Key Findings from 2015 Innovations in CD&A Design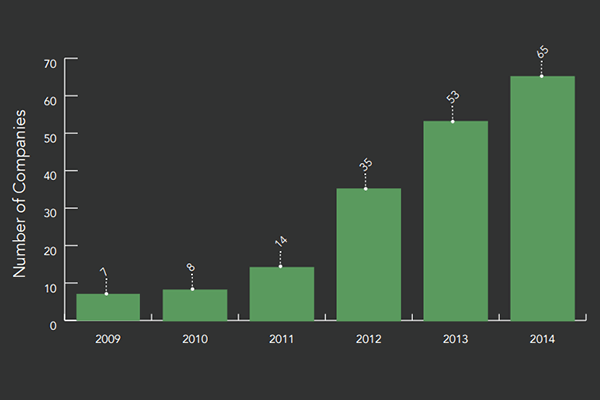 CD&A length decreased slightly in 2014 despite steady growth over the previous five years. As companies continue to emphasize disclosure to communicate more effectively with shareholders, CD&A word counts decreased 1.3% from an average of 9,046 words in 2013 to 8,922 words in 2014...
---
A Behind-the-Scenes Look at Annual Incentive Plans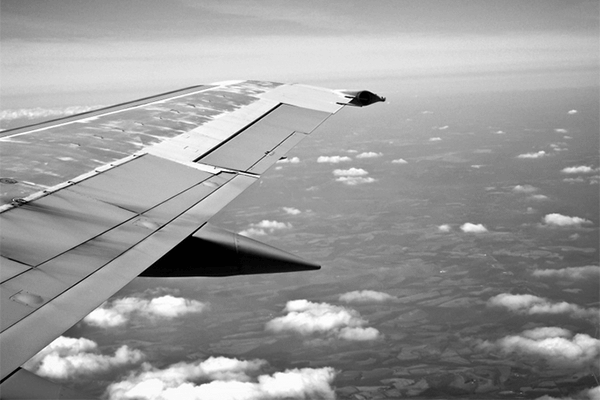 In the fall of 2014, RR Donnelley, Equilar, and the Rock Center for Corporate Governance at Stanford University surveyed 64 asset managers and owners with a combined $17 trillion in assets to understand how institutional investors use the information in corporate proxies to make voting and investment decisions. This outreach effort resulted in Equilar's 2015 Investor Survey, among other...
---
Tax Man Cometh: Tax Gross-Ups and Other Certainties in Life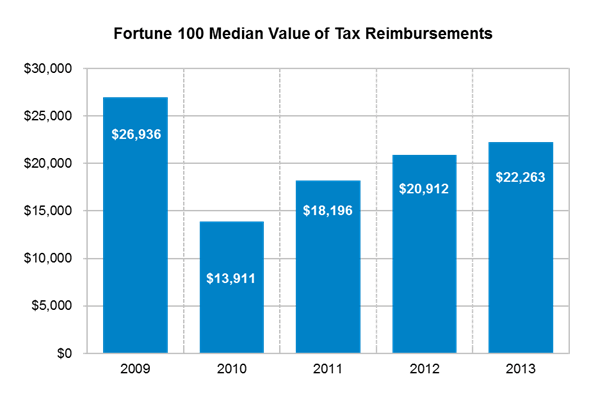 The start of any new year marks the rapid onset of the less macabre of Benjamin Franklin's two certainties. For most Americans, filing taxes is complicated enough to spawn an entire industry dedicated to the assistance thereof. For recipients of corporate perquisites, the calculations are even muddier. There is another perquisite for these individuals – one referred to by numerous monikers...
---
NPR Planet Money on "Board Games" – A Look at Compensation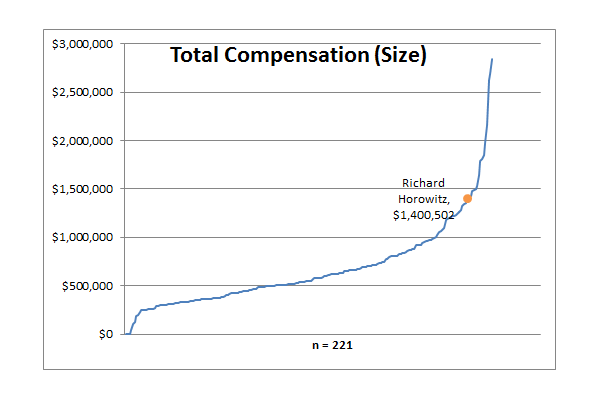 The topic of CEO pay has once again made the news, this time through the medium of National Public Radio's This American Life. This particular episode, entitled "Board Games" – whose transcript is available here – recounted the attempts of two activist investors to reduce the compensation of one Richard Horowitz, Chairman of the Board, President and Chief Executive Officer of P&F Industries, Inc. (NASDAQ: PFIN)...
---
Apple Executive Compensation Highlights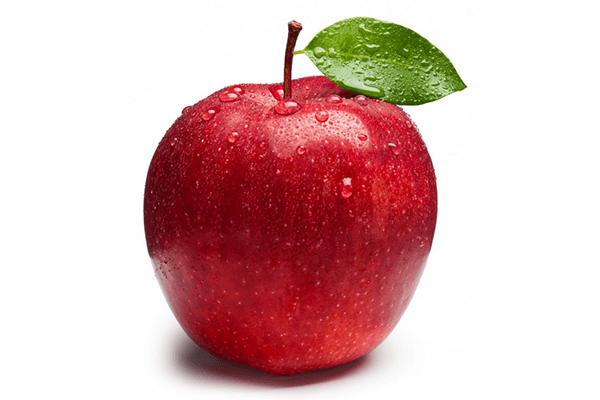 On Thursday, January 22, Apple Inc. (AAPL) filed its annual proxy for the upcoming shareholder meeting. Provided in the proxy is compensation information for its named executive officers (NEOs), notably including CEO Tim Cook and Senior Vice President of Retail and Online Stores Angela Ahrendts (who joined the company in May 2014). Apple's CEO saw his compensation package increase in a few aspects in...
---
Pay for Performance: 3 Key Updates to ISS and Glass Lewis Models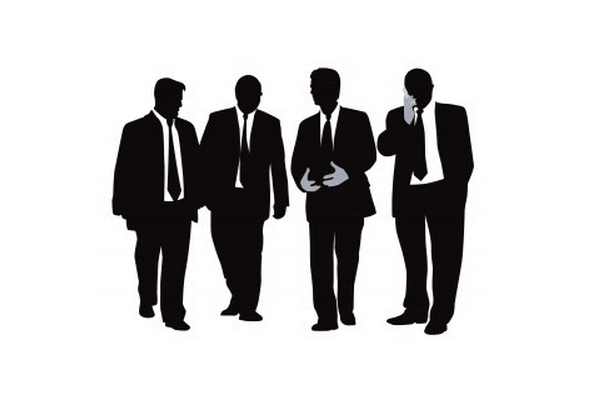 We have updated our Equilar Insight ISS Simulator and Glass Lewis Model in the Pay for Performance center to reflect recent changes in their methodology. ISS Simulator: New threshold values to determine the level of concern for "Pay-TSR Alignment" and "Relative Degree of Alignment". Glass Lewis Model: Early access to the upcoming...
---
An Important Factor to Keep in Mind for IPOs – Stock Structure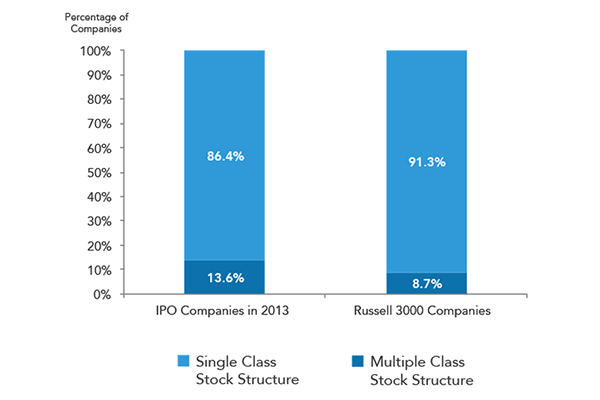 A recent article by Equilar highlighted some of the key executive compensation and governance considerations for companies undergoing initial public offerings (IPOs). The past two years have produced a large number of U.S. companies that have undergone IPOs and the market appears poised for more during the first...
---
Shake Shack Prepares for its IPO, Founder and Chairman to Cash In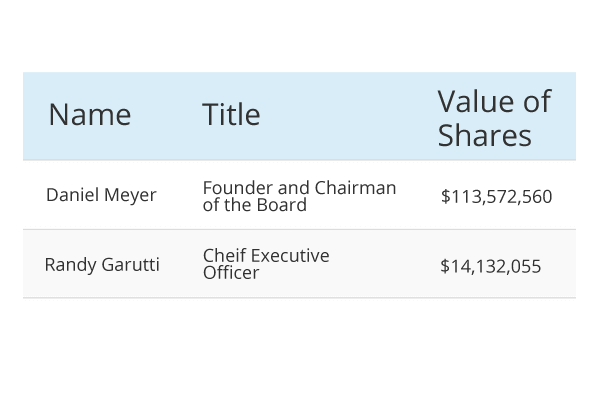 Shake Shack, a fast casual restaurant chain based in New York, NY, is looking to raise upwards of $80.0 million through its IPO with shares pricing between $14.00 and $16.00 each. Upon the offering, Founder and Chairman of the Board Daniel Meyer is expected to own 21.3% of the company, which will be valued at $113.6 million based upon the company's price range...
---
Box IPO in the Works – How Does it Measure Up?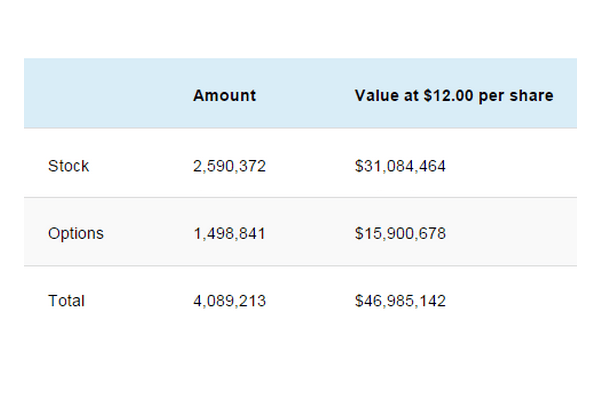 Box, a prepackaged software company based in Los Altos, California, is looking to raise upwards of $186.9 million through its IPO. The Box IPO is expected to price shares between $11 and $13. Upon the offering, CEO Aaron Levie is expected to own 3.4% of the company, which is valued at $46,985,142 based upon the midpoint of $12. When compared with several other Silicon Valley CEOs that...
---
Security Perquisites for CEOs – Paying for Protection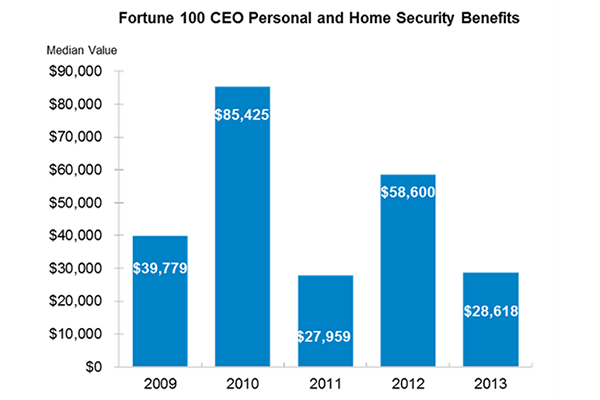 Personal and home security perquisites are absolutely on the list of benefits to influential individuals such as the CEOs of Fortune 100 companies. Less glamorous than corporate aircraft and less controversial than tax gross-ups, this is one expenditure that is often overlooked in the footnotes of the summary compensation table. Nevertheless, this perquisite is deemed necessary by approximately half of the...
---
Performance Metrics Rigor Gets Renewed Focus in 2015
As mentioned in Agenda's recent article, 'Comp Committees Gun for Better Pay Metrics' by Lisa Botter: "Executive compensation data firm Equilar's recent Compensation and Governance Outlook Report for 2015 found that companies were focusing on metrics. 'When setting the metrics for incentive plans, the ability for targets to be achieved has become a focal point for issuers, shareholders and proxy advisors...
---
What Benefits & Perquisites Do Companies Provide to Executives?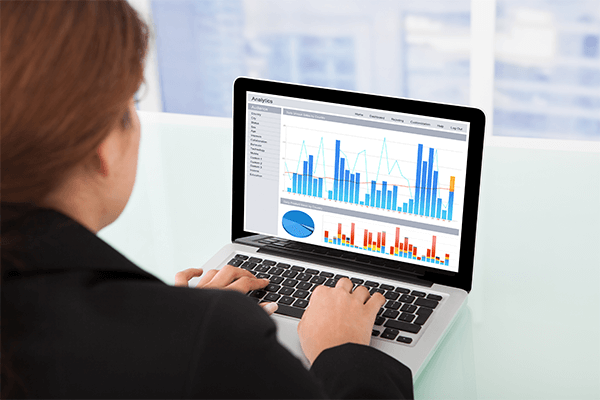 In recent months, we have seen an increased interest in benefits and perquisites analyses for management at leading companies. As organizations prepare for proxy season 2015 and the disclosure of "other" compensation for named executives, sensitivity to excessive perks is acute. Companies are looking out for the trends and adjusting, given the higher level of public scrutiny, while also...
---
IPOs in Silicon Valley Set for Big Week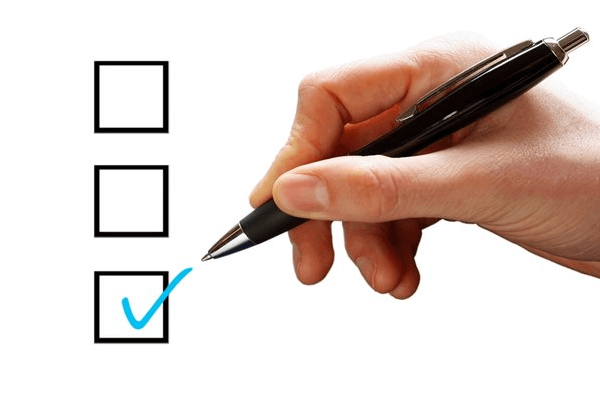 Three Bay Area technology companies planning to go public next week recently amended S-1 filings in preparation for their IPOs. LendingClub (LC), the peer-to-peer loan company based in San Francisco, is seeking to become to the second largest tech initial public offering of the year behind only Alibaba Group. While not expected to raise nearly the amount of LendingClub through their offerings, Hortonworks...
---
Pay Equity Among Top 15 C-Suite Executives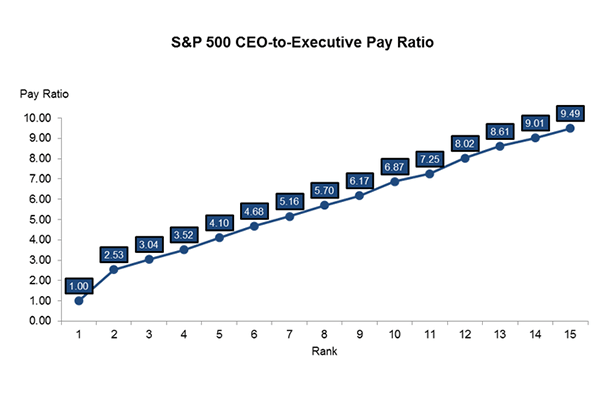 The pending CEO-to-median-worker pay ratio rule by the SEC has brought the discussion regarding pay equity to the forefront. Although most companies do not consider the median worker's pay when setting the chief executive's pay, comparison among top level executives is a subject that many compensation committees factor into their decisions...
---
Allergan Change in Control Policy Analysis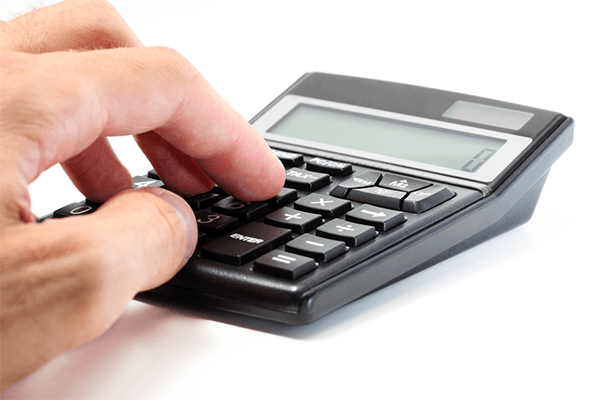 On November 16, 2014, Allergan agreed to be acquired by Actavis for $66 billion. At the effective time of the merger, each share of Allergan's common stock issued and outstanding, immediately prior to the acquisition, will be converted into the right to receive $129.22 in cash, without interest, and 0.3683 of an ordinary share of Actavis...
---
Change in Control Analysis of Halliburton's Purchase of Baker Hughes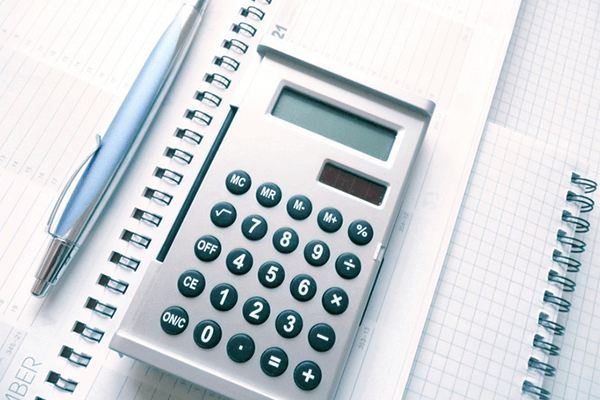 Halliburton agreed on Monday to buy Baker Hughes for about $35 billion in cash and stock. Baker Hughes previously entered into agreements with each of its senior executives, which were intended to provide for continuity of management in the event of a change in control. Based on its most recent proxy filing, Baker Hughes' senior executives are...
---
Virgin IPO: Estimating the Potential Value for Sir Richard Branson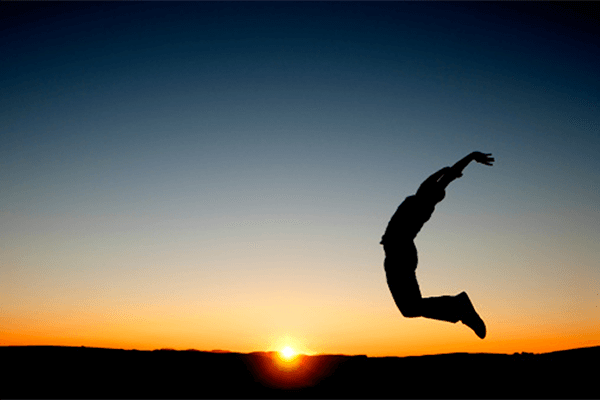 Virgin America, the privately owned airline based in Burlingame, California, is hoping to raise upwards of $320 million through its IPO on NASDAQ this week. Based on an S-1/A filed today, the company still anticipates that the initial public offering price per share will be between $21.00 and $24.00...
---
Spinoff Transactions and Founder Awards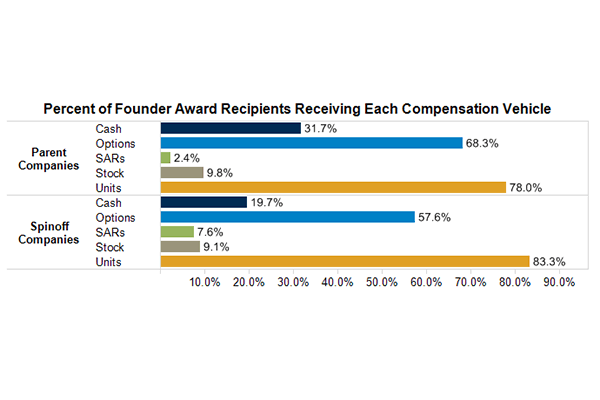 Spinoffs serve an important economic function, allowing parent organizations to refocus themselves on core competencies and spinoff companies to pursue their own business goals, perhaps through seeking new buyers with whom they could achieve greater strategic, legal, or technical synergy...
---
Retention Awards for Financial Industry CEOs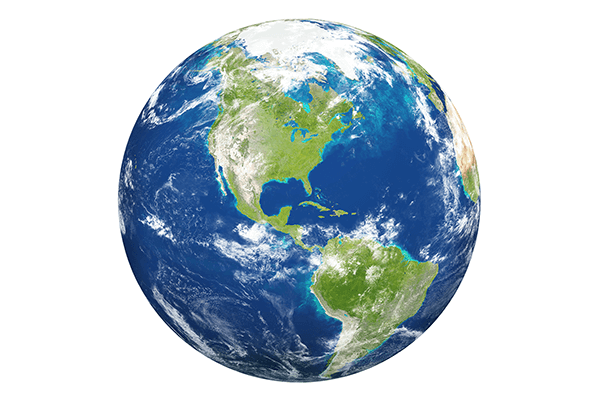 With the improving economy and increased competition for talent, our clients' interest in the prevalence of retention awards and best practices for top management has increased accordingly. One of our recent custom research projects explores retention awards for a sample of CEOs in the REIT and financial services industries. This highlights how companies are...
---