Knowledge Center
Equilar Blog
---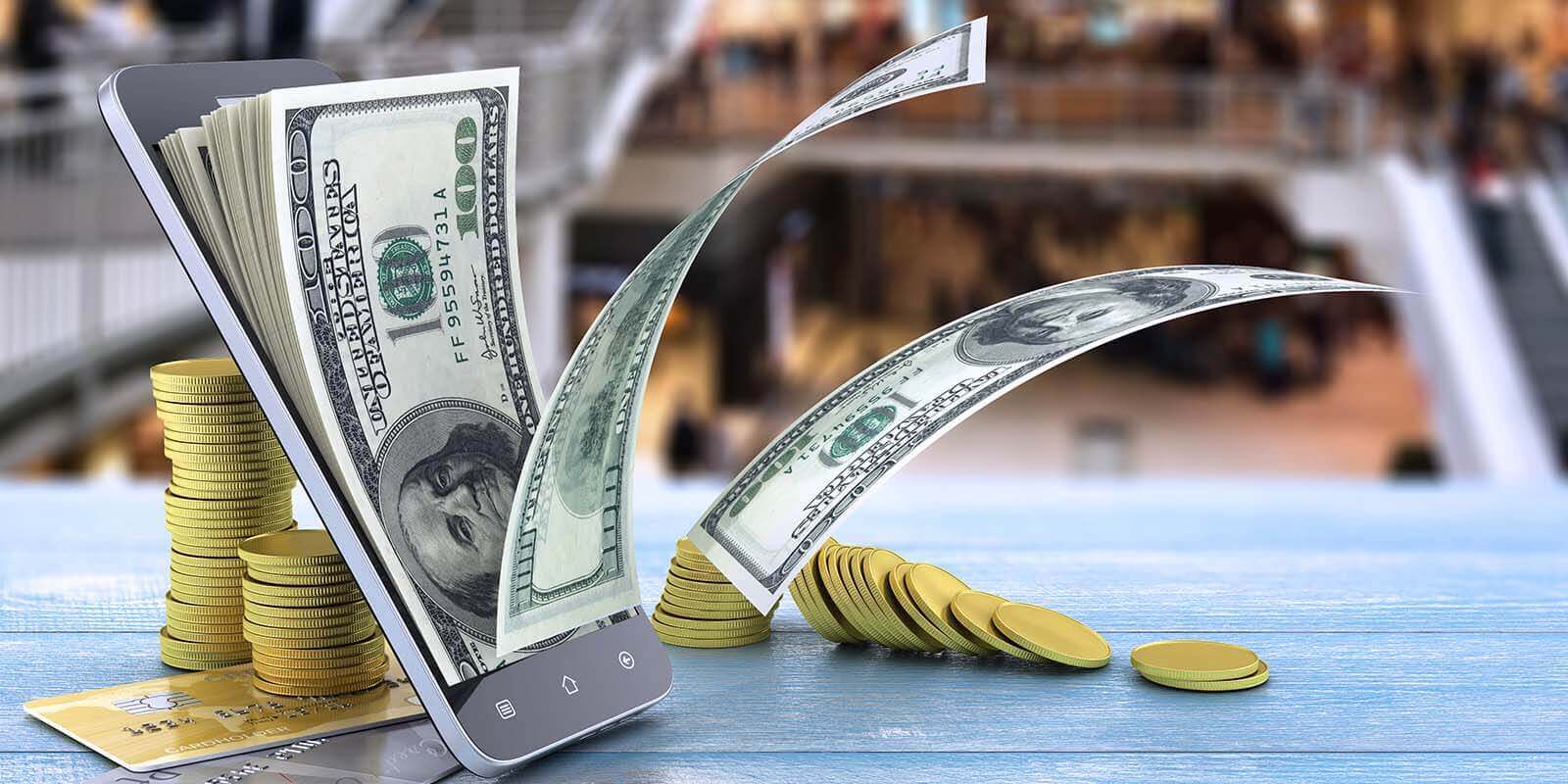 March 01, 2017
Snap Inc. recently filed its Form S-1, setting in motion plans for an upcoming initial public offering. The filing included fiscal year 2016 compensation for CEO Evan Spiegel and two other executives, providing the first public disclosure of the company's top executive compensation...
---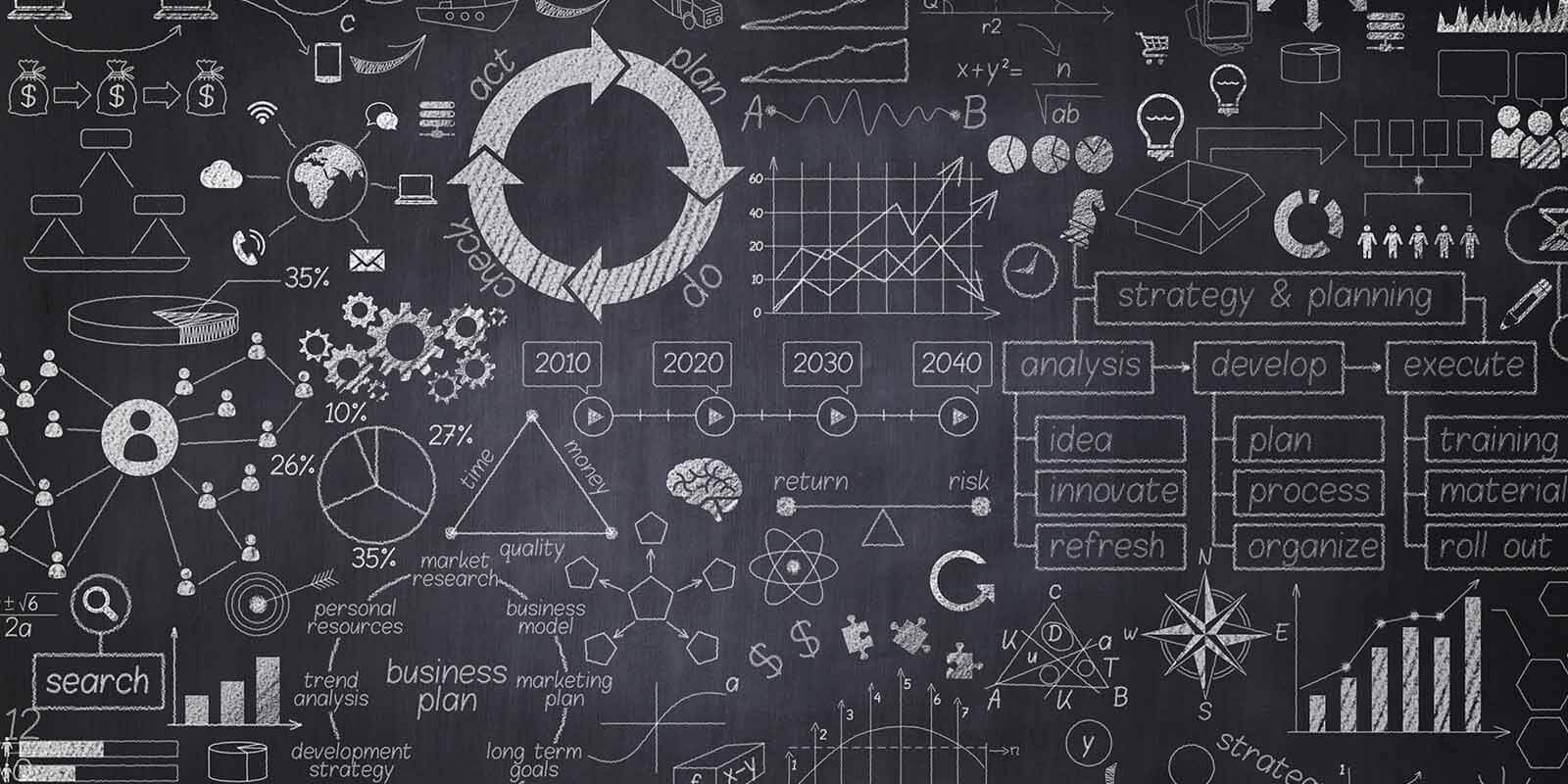 February 24, 2017
Long-term incentive plan design and executive compensation in general have experienced considerable shifts over the past few decades...
---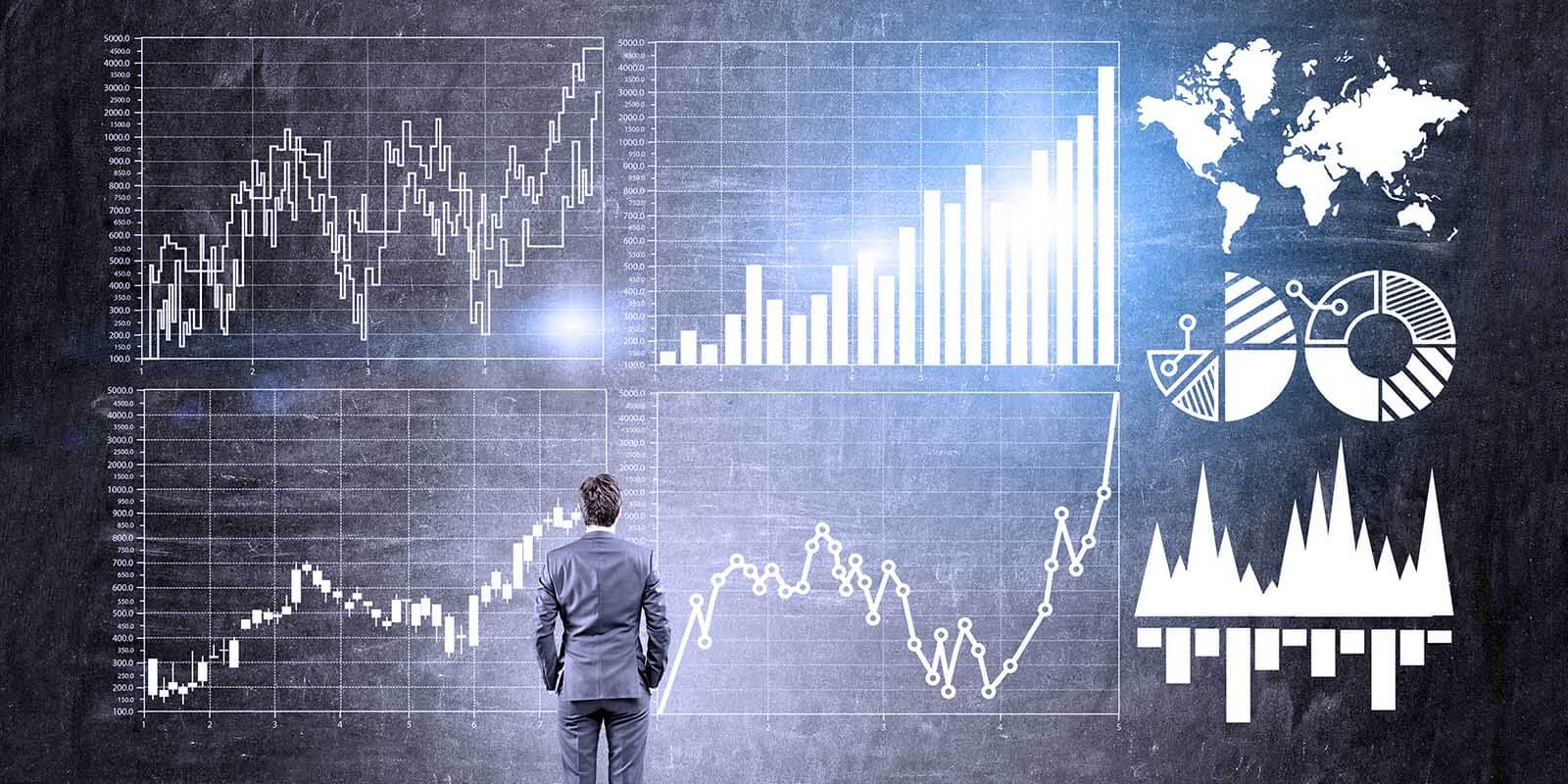 February 21, 2017
As the Dow Jones Industrial Average (DJIA) crested 20,000 for the first time in history just days after Donald Trump was inaugurated as President of the United States, it's no surprise that the value of stock ownership among the nation's top CEOs would have increased in kind...
---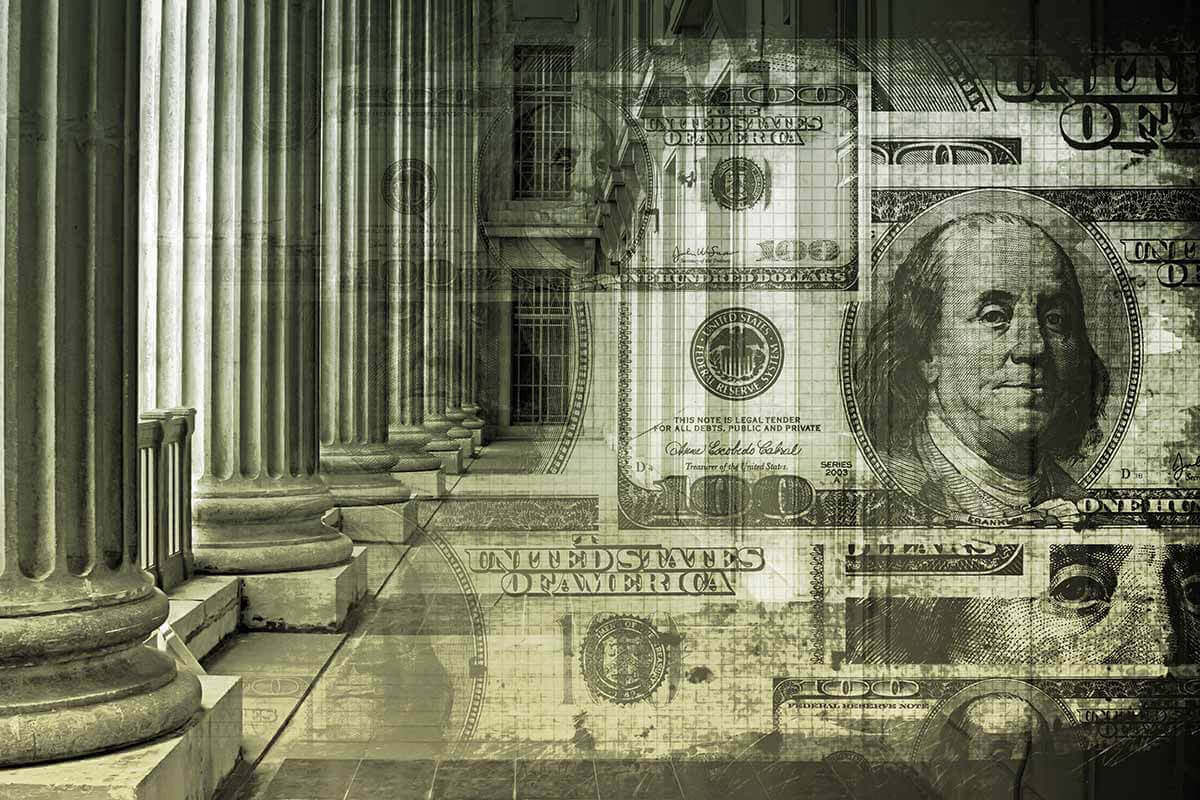 February 14, 2017
In recent years, the role of general counsel (GC) has expanded in scope, and GCs' responsibility for overseeing and addressing legal issues across departments, as well as offering their expertise and advice to executive officers and the board of directors, has gained prominence...
---
The #1 Investor Issue in 2017: Board Composition
from Equilar Board Intelligence
February 13, 2017
Statistics show that diversity on boards has been slow to manifest, and the methods boards have in place to evaluate performance and identify opportunities to add new members are often unclear and undefined. However, this data tells part of but not the entire story...
---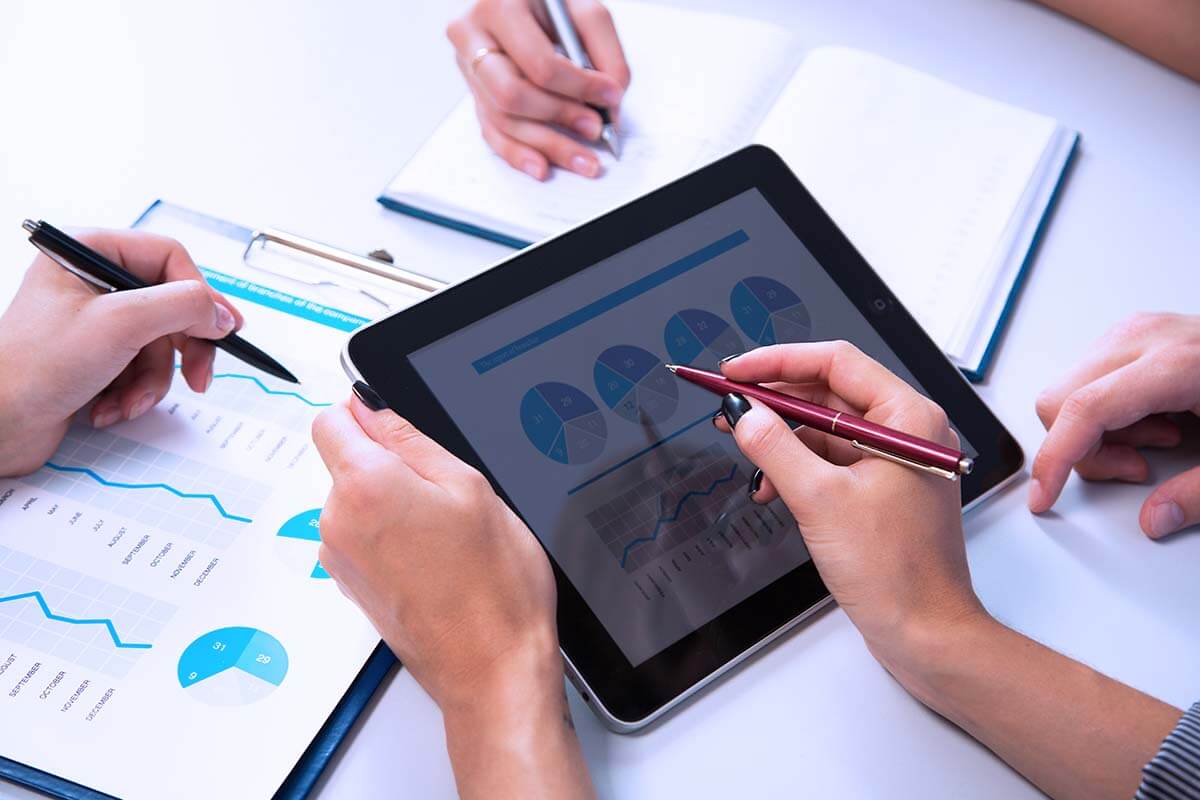 February 13, 2017
Since the passing of Dodd-Frank, executive compensation rules and regulations have required companies to include increasing amounts of information in their annual proxy statements. As a result, these filings have continued to expand. In fact, according to the recent Equilar report...
---
February 8, 2017
While there is meaningful progress being shown in some regards, and companies are slowly but surely adding females and other diverse directors to their boardrooms, in others, there is little accountability and responsibility being taken. And investors who care about these issues are working to influence change...
---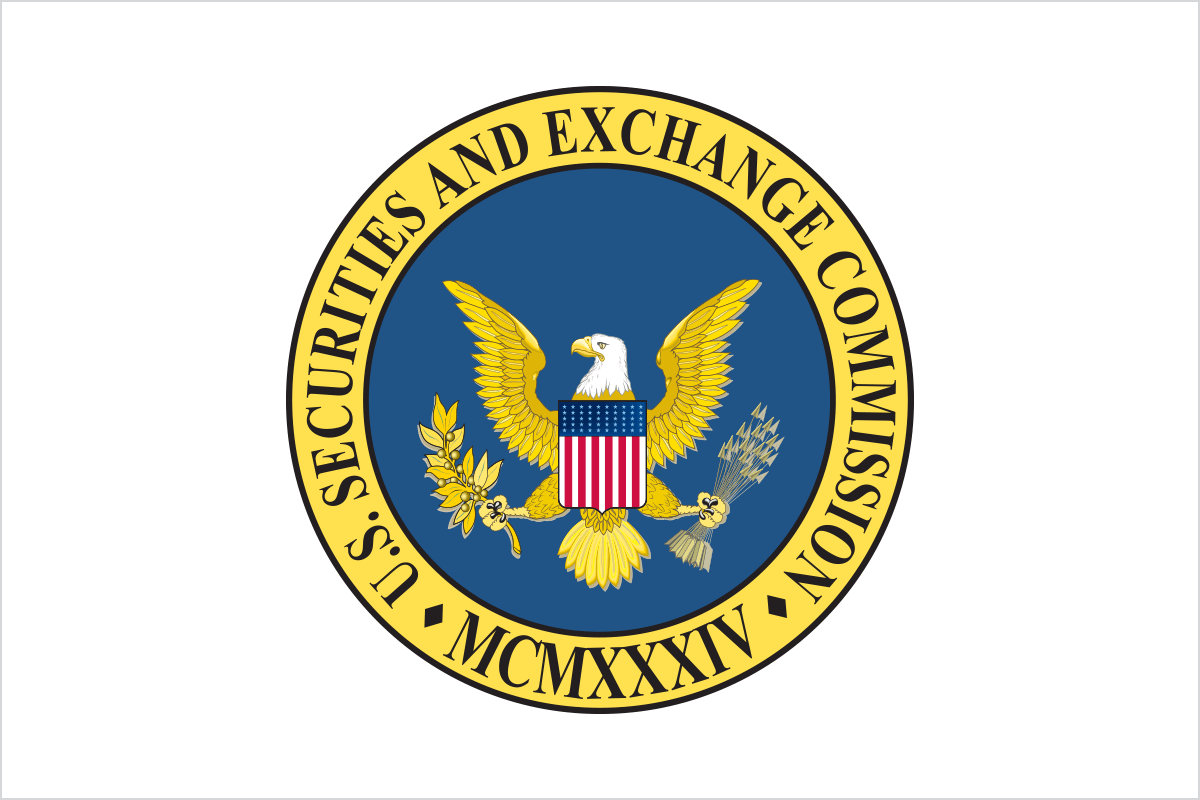 February 07, 2017
On February 6, the SEC published the "Reconsideration of Pay Ratio Rule Implementation," a development that comes as a surprise to absolutely no one who has followed Dodd-Frank and executive compensation over the past few years...
---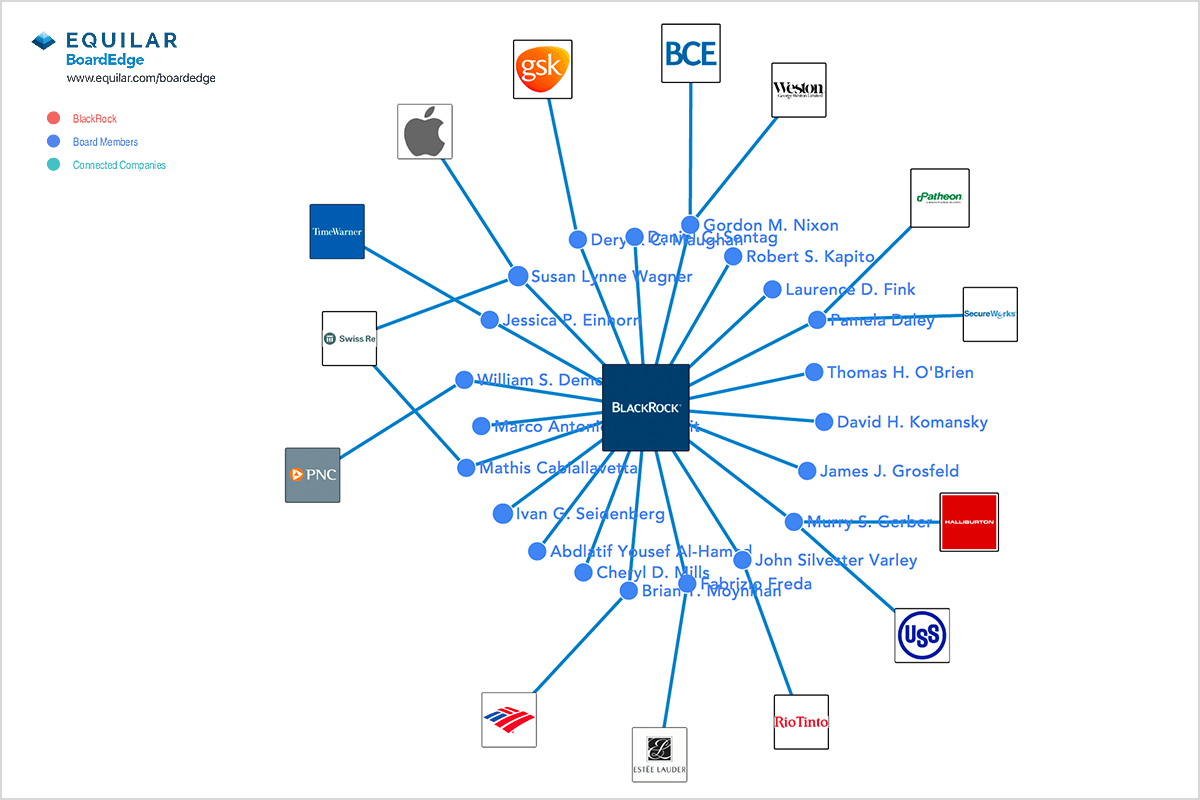 February 07, 2017
Just in time for proxy season, three of the largest institutional investors in terms of assets under management are staffing up to focus on corporate governance and compensation issues, the Financial Times reports...
---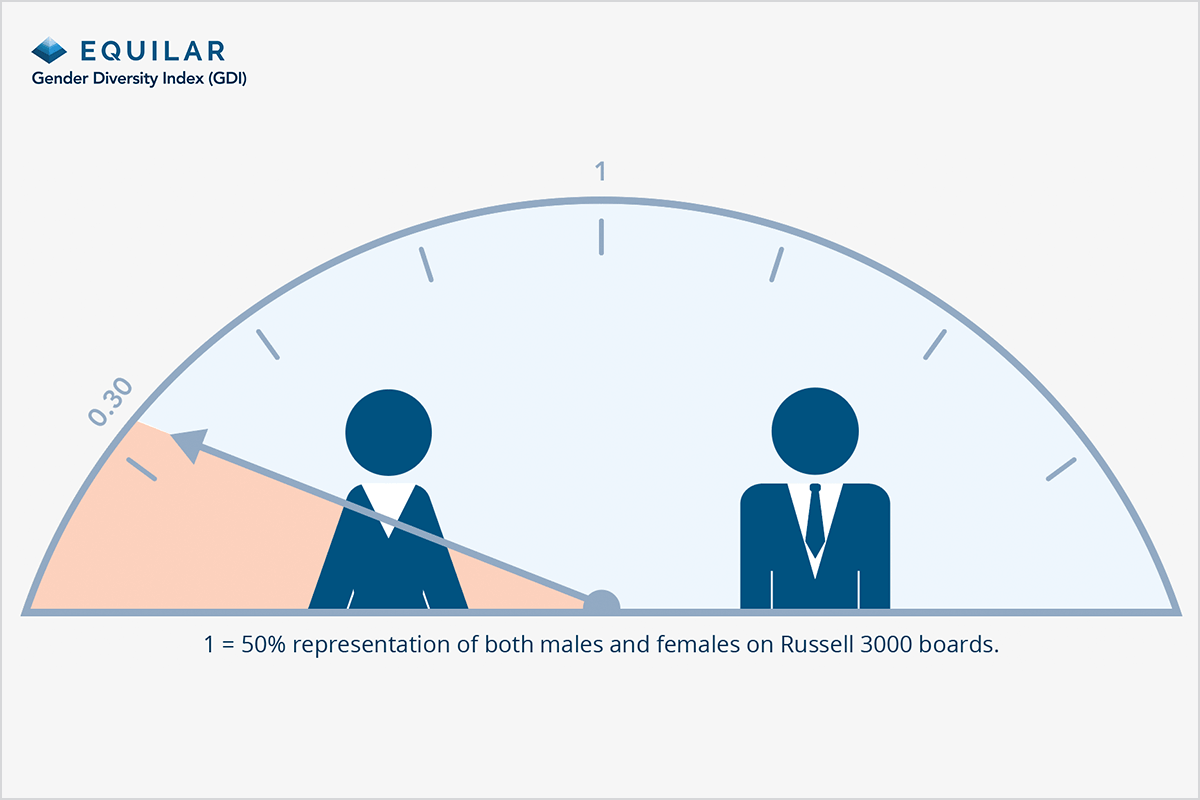 January 31, 2017
The new Equilar Gender Diversity Index (GDI) revealed that it will take nearly 40 years for Russell 3000 boards of directors to reach gender parity. If the current rate of growth remains the same, Russell 3000 boards would reach 50% male and 50% female representation in Q4 2055...
---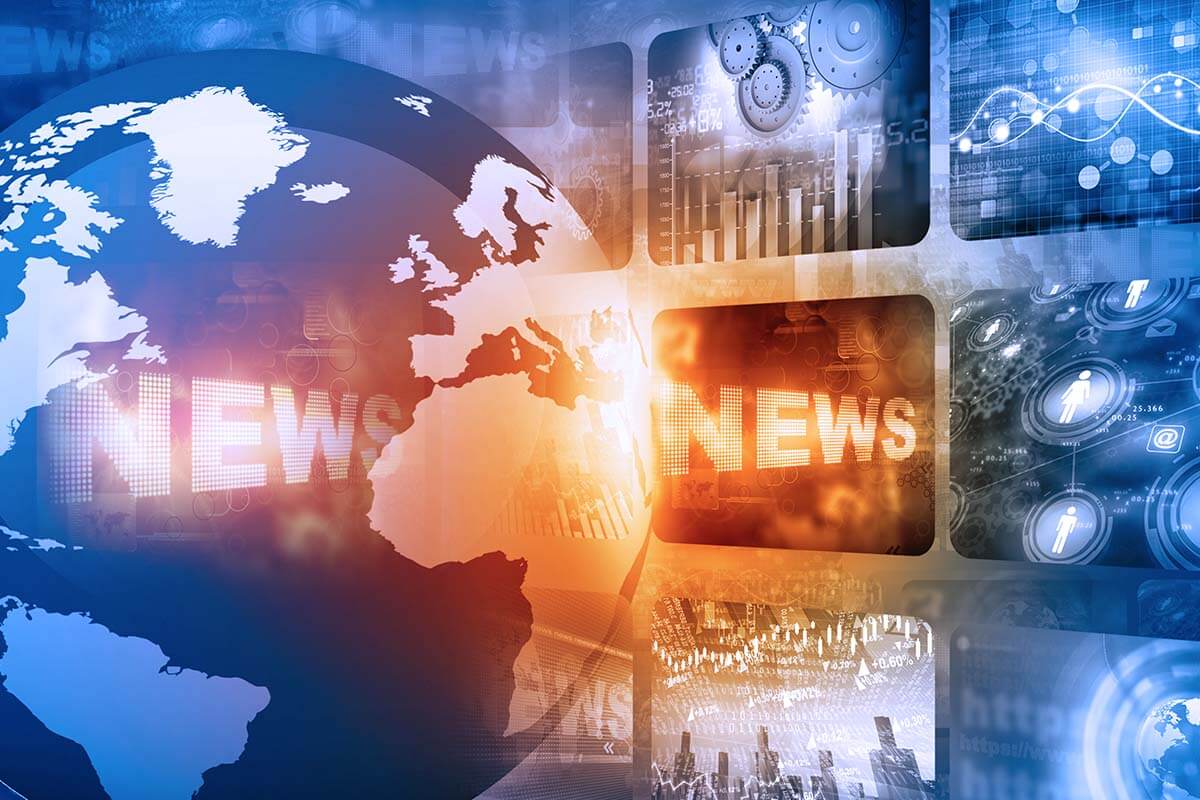 January 31, 2017
With investor calls for pay equality increasing, especially in the tech sector, Salesforce CEO Marc Benioff urged his fellow executives to join the effort. In 2015, the company spent $3 million to equalize compensation...
---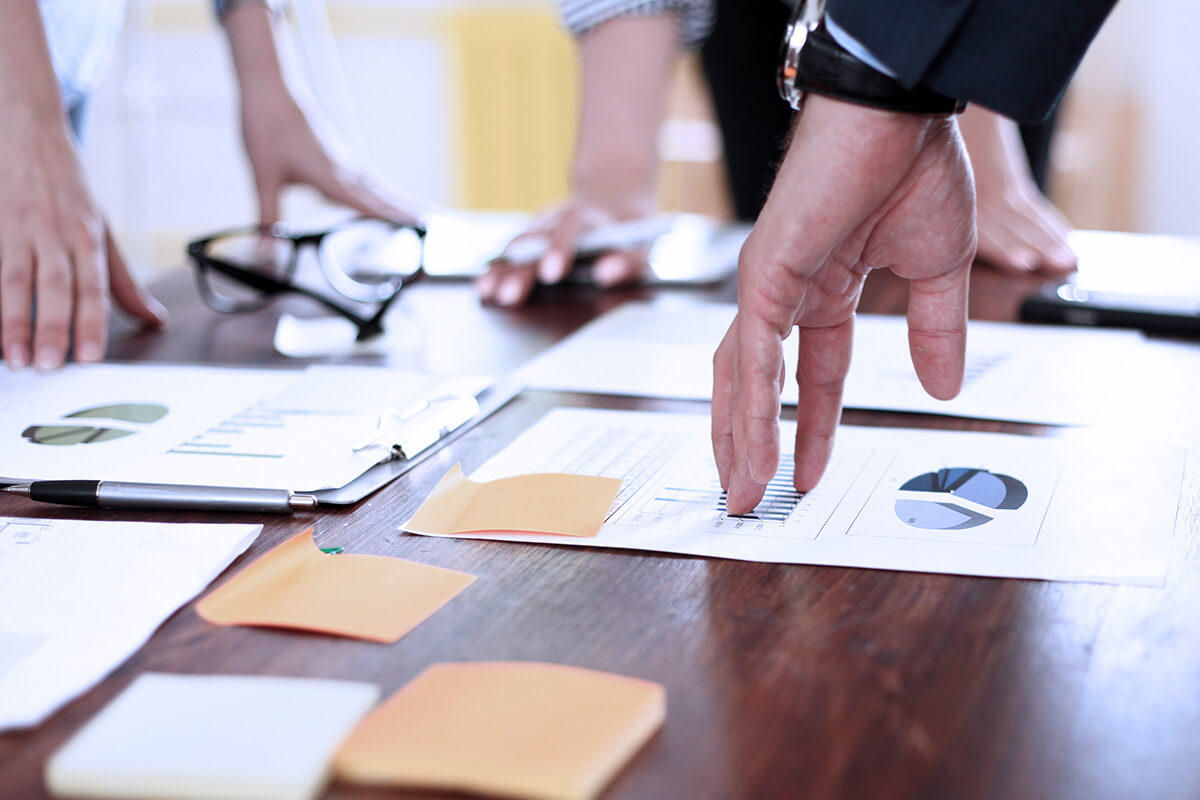 January 31, 2017
With the evolution of policies and practices in 2016, as well as the current state of uncertainty for Dodd-Frank, the corporate governance and executive compensation landscape is likely to be impacted in 2017...
---
Board of Directors Age and Term Limits: Requiring Refreshment
from Equilar Board Intelligence
January 31, 2017
A recent Equilar research study looked at mandatory retirement ages and tenure limits for energy companies in comparison to the S&P 500 overall. Board refreshment is already a hot-button issue, and is likely to be one of the most prominent discussion points between investors and issuing companies this year...
---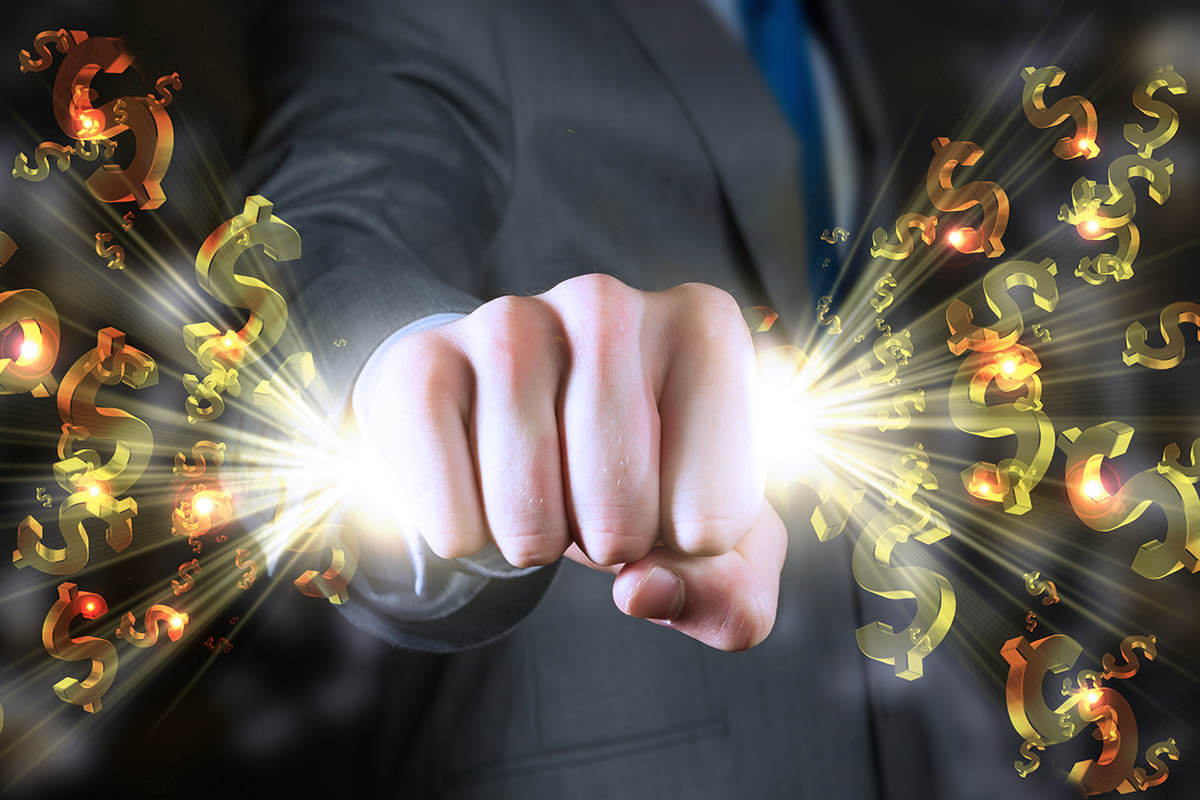 January 30, 2017
With the impending CEO pay ratio still on the books as required disclosure for public companies starting in 2018 proxy statements, the focus on compensation for the top corporate executives is likely to intensify this year...
---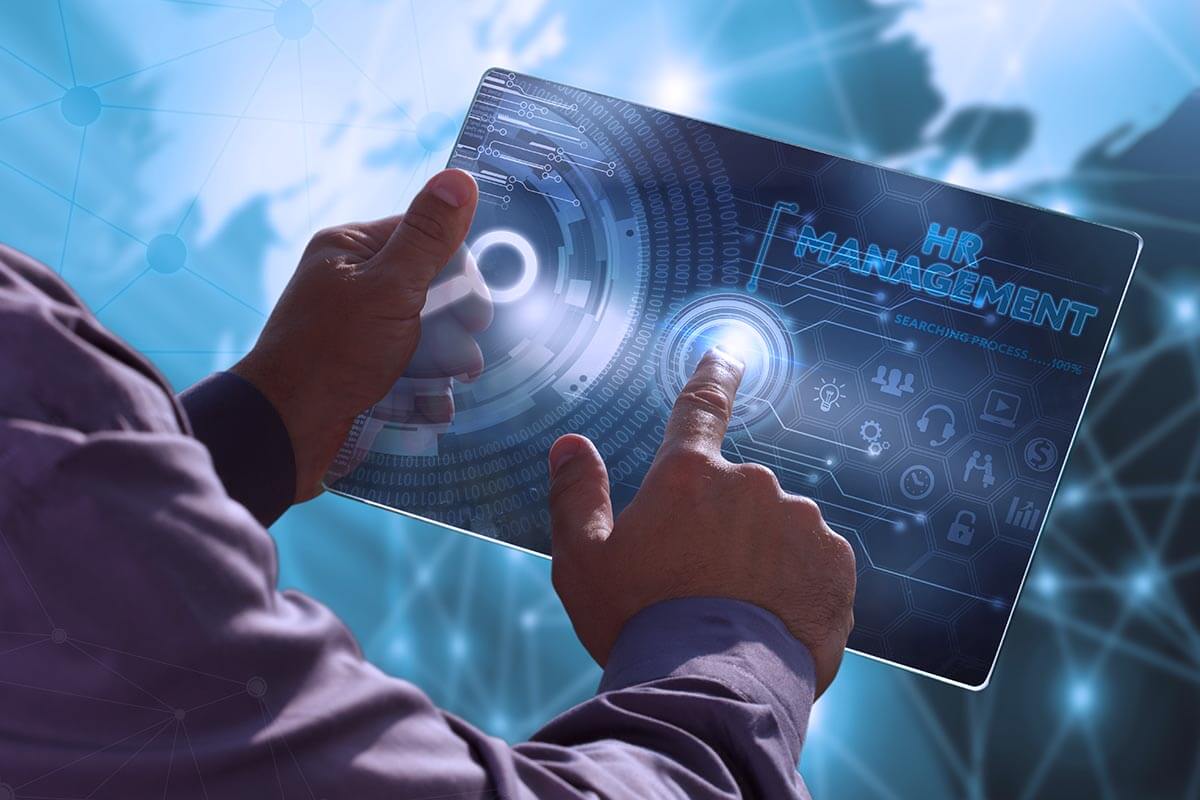 January 24, 2017
Over the last few years, human resources (HR) executives have developed a more integral role in corporate operations of their respective companies and, subsequently, pay for these individuals has risen...
---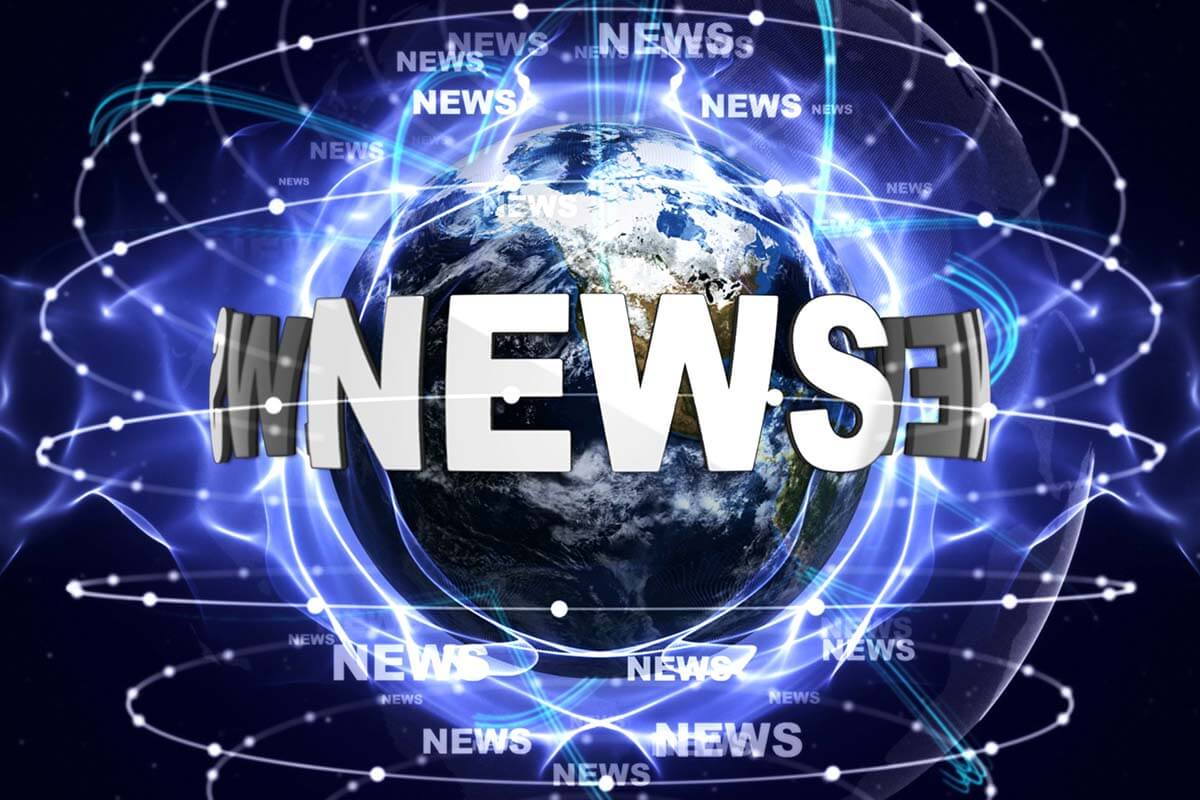 January 24, 2017
The President-elect Trump era saw the stock market accelerate to new highs, and the general expectation of loosened regulations during his administration leads many to believe an improved economic climate is on the way...
---
Women in Leadership: Board Diversity at Companies with Female Executives
from Equilar Board Intelligence
January 24, 2017
Equilar analyzed the board connections of the 13 women who served as President of an S&P 500 company in 2016 to examine how their boards are composed with respect to diversity in the overall index...
---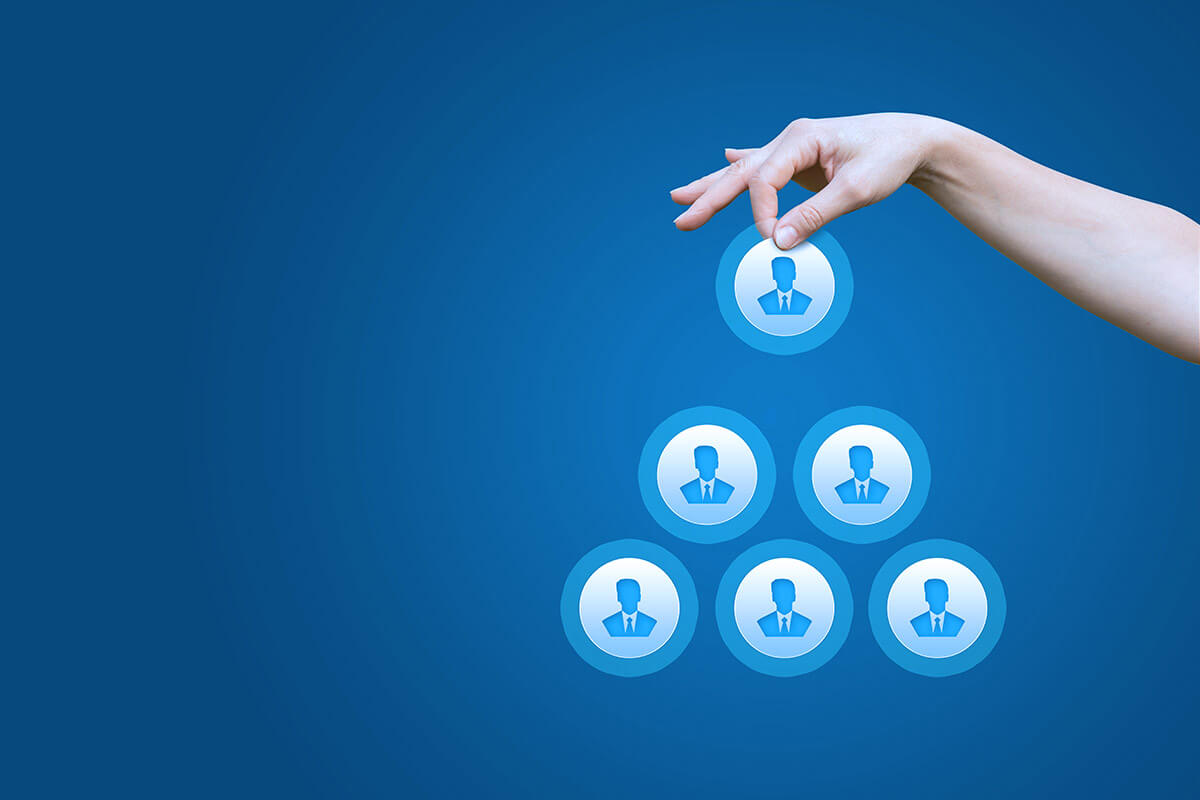 January 23, 2017
Internal pay equity is often an indication of a company's pay practices, and by examining how much a CEO makes in comparison to employees throughout the organization, many observers feel that they gather a better sense of tone at the top...
---
January 20, 2017
According to a new Equilar report, Executive Benefits and Perquisites, the percentage of S&P 500 executives flying a corporate jet for personal use is going down. In fiscal year 2015—the most recent year for which there is complete data...
---
January 20, 2017
There is a general consensus among these stakeholders that when a director has committed themselves to service on a large number of boards, they are less likely to be able to provide sufficient focus to each company. Basically, if a director's time is spread too thin, they may struggle to perform to the level they are expected on each of the boards....
---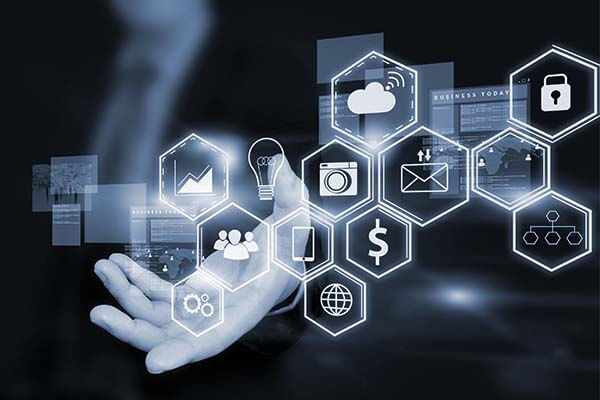 January 18, 2017
The value of "other compensation" reported for Fortune 100 executives—which chiefly includes benefits and perquisites—reached a median $126,550 in fiscal year 2015, representing a 14.5% increase...
---
January 17, 2017
Though the so-called "proxy season" won't heat up until March, a few high-profile companies file their annual review of executive compensation out of the gate in January—two of the most notable being Apple and Disney...
---
Searching for Female Board Members in Silicon Valley
from Equilar Board Intelligence
January 17, 2017
As of 2016 annual meetings, 21.3% of S&P 500 board seats were occupied by females, up from 16.6% in 2012. By comparison, boards at the largest Silicon Valley companies had just 15.3% of directors' chairs occupied by women, up from 9.5% in 2012.
---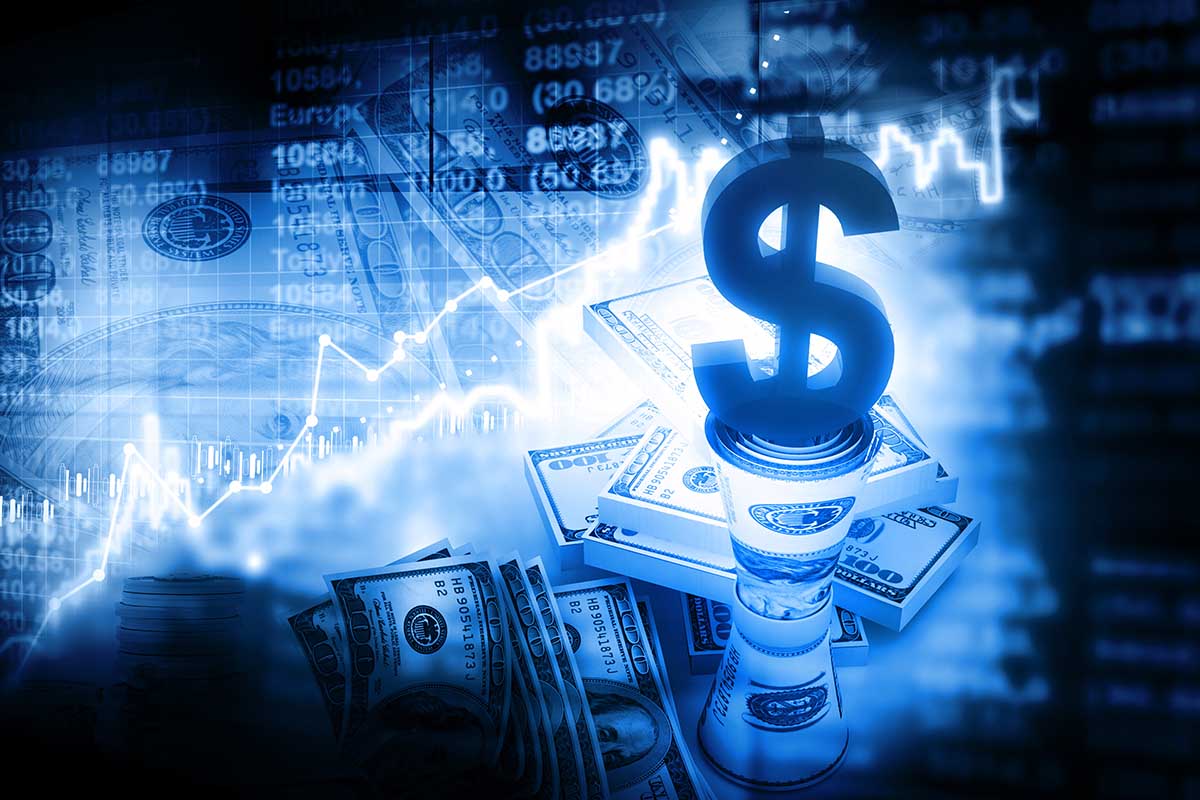 January 16, 2017
Companies, shareholders and boards of directors want to ensure alignment of pay and performance to justify the often-high accompanying price tag of executive compensation. To provide context on the correlations between awarded....
---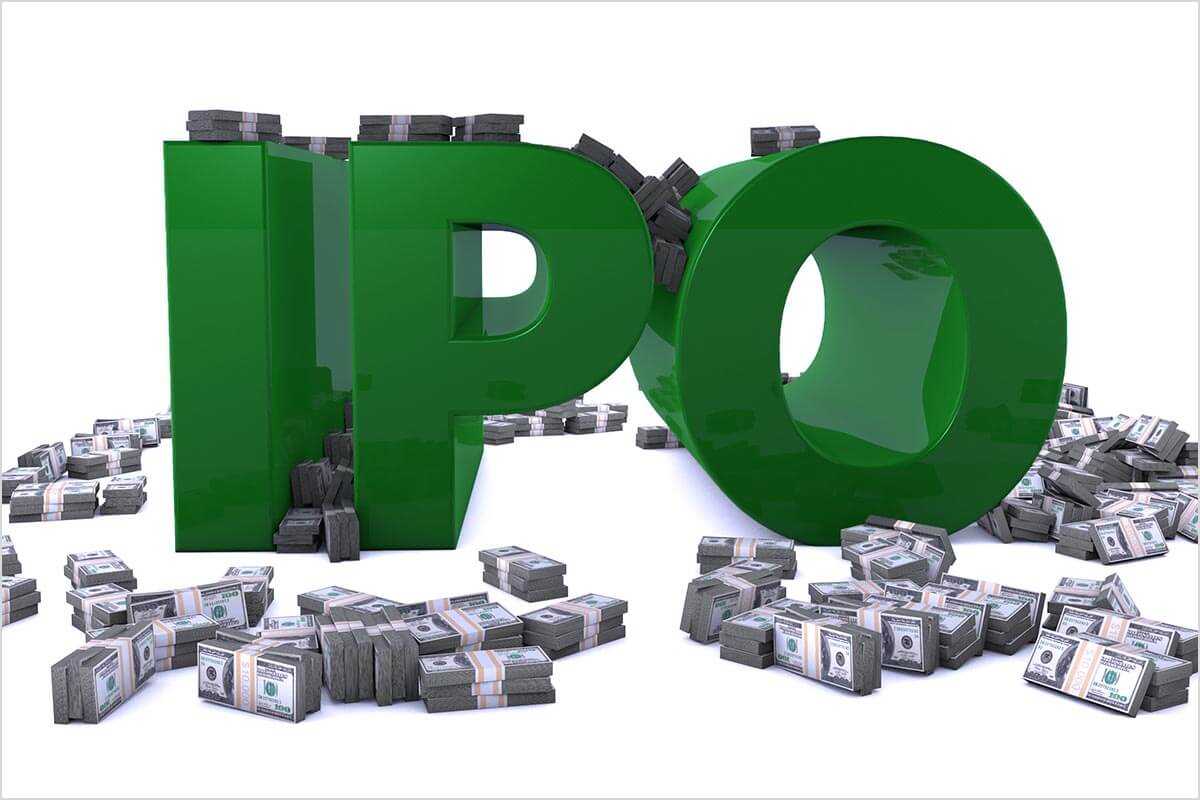 January 12, 2017
Companies that have recently gone public face a different set of objectives and challenges than companies that have been public for many years. They may have to build a board of directors completely from scratch to comply with new regulations and communicate with shareholders....
---
January 12, 2017
An increasingly common mantra in corporate governance implores directors to "think like an activist." While the message is clear, the steps to take action are less obvious, and they vary from company to company. Equilar had the opportunity to speak with Ira Millstein, a renowned corporate lawyer, about his new book, The Activist Director.
---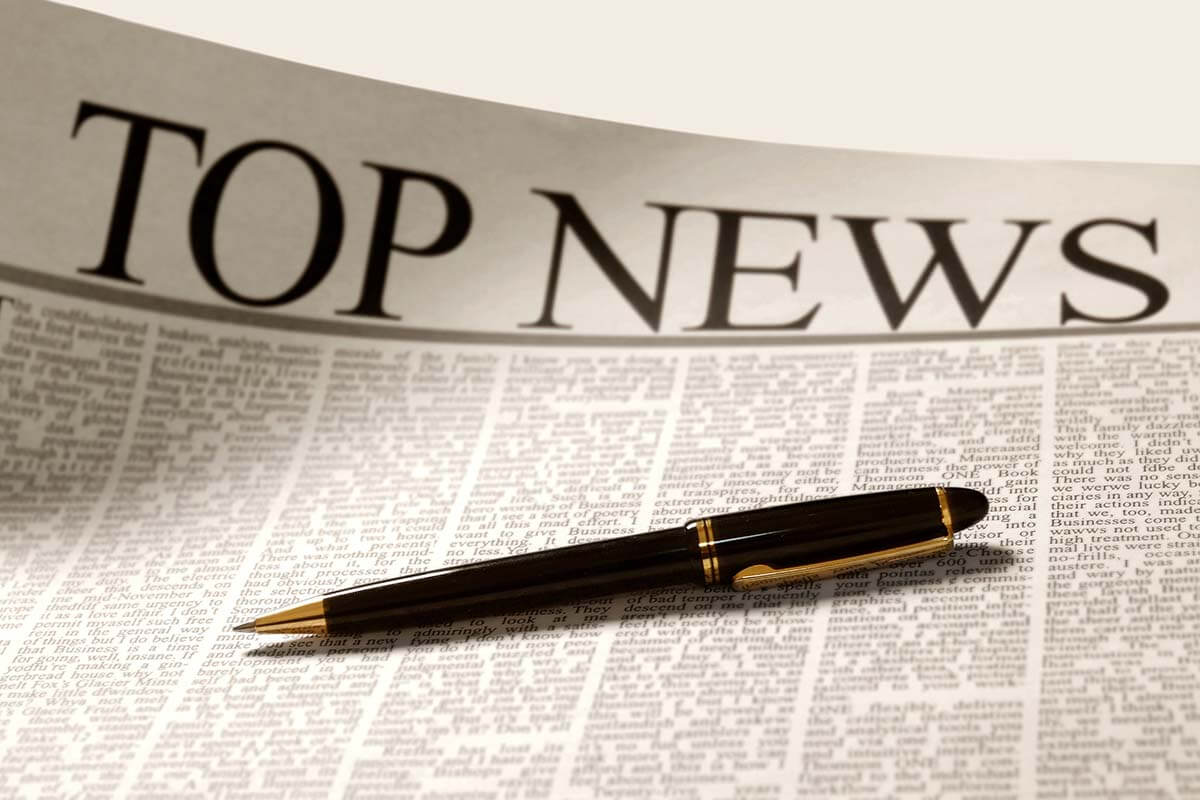 January 10, 2017
On January 4, President-elect Donald Trump announced his pick for the position that will have potentially the greatest effect on executive compensation and corporate governance professionals—Chairman of the Securities and Exchange Commission....
---
Director Compensation Reflects Changes in the Boardroom
from Equilar Board Intelligence
January 10, 2017
Equilar recently hosted a webinar with Tom Ramagnano, Partner at Meridian Compensation Partners, and Megan Arthur Schilling, Associate at Cooley to address the nuances of director pay, including trends in plan design and philosophy and implications from recent litigation.
---
Marissa Mayer, Five Other Directors to Leave Yahoo Board
from Equilar Board Intelligence
January 9, 2017
Yahoo turned another page in its ongoing story today, announcing that the company would reduce its board size to just five members once the Verizon acquisition is completed. The Equilar connections map provides a quick snapshot of Yahoo's corporate ties. Once the transition is complete, the new board will still have 12 connections among its five remaining members.
---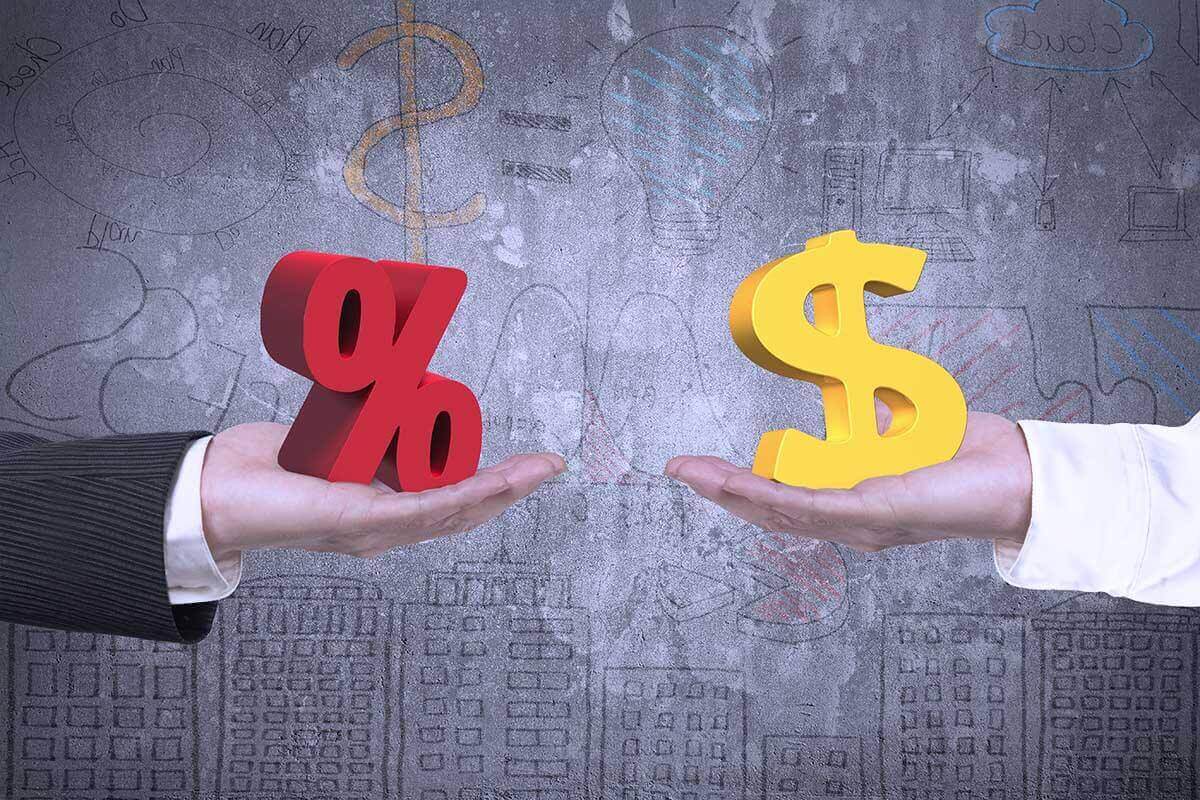 January 6, 2017
Performance- and time-based equity awards often make up a majority of a CEO's compensation package because they encourage retention and, in the case of the former, concretely demonstrate the connection between CEO pay and company results...
---
January 5, 2017
The boardroom landscape has become much more complex, but the good news is that board members' networks are much bigger than they realize. They may have just lost track of it—a concept that can be thought of as "board amnesia." This blog outlines three ways to proactively consider board recruiting and succession.
---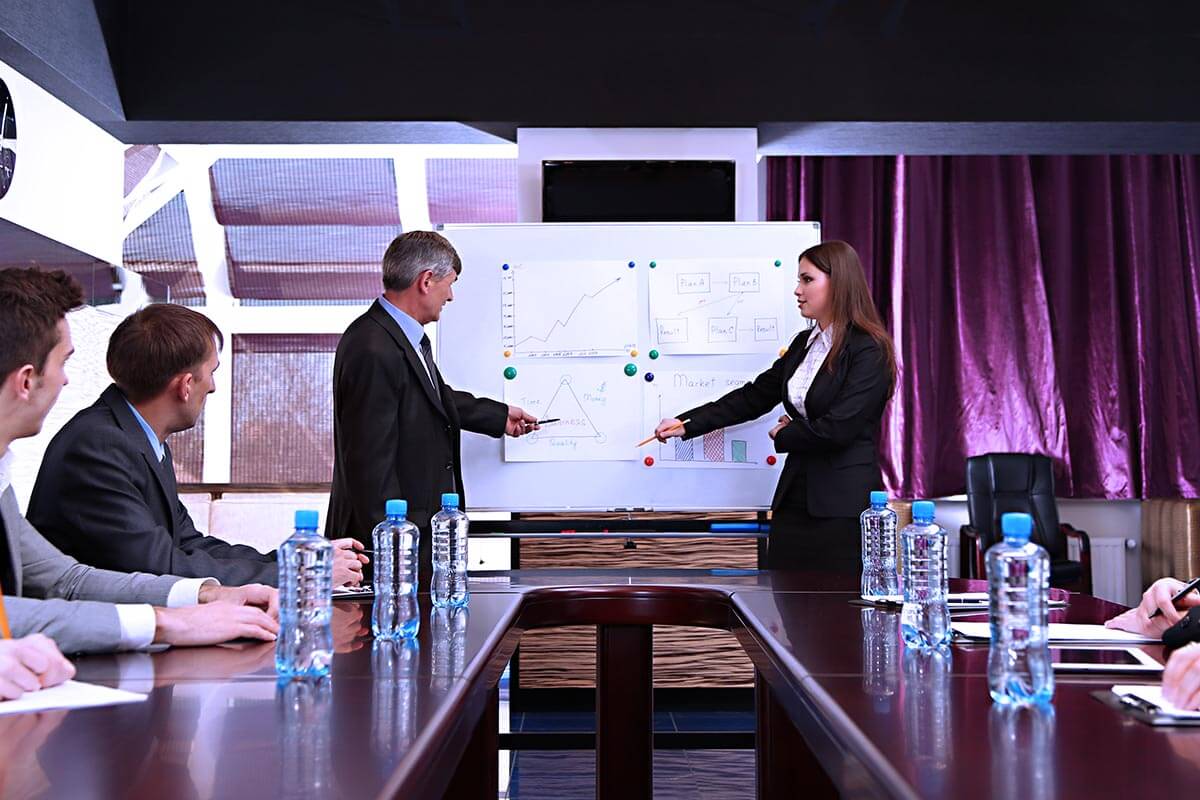 January 5, 2017
Compensation for boards of directors has been steadily increasing, according to a recent Equilar report, Director Pay Trends 2016, which featured commentary from Meridian Compensation Partners...
---
January 3, 2017
According to the Equilar BoardEdge database, there are 113 directors who sit on at least five public company boards—the limit according to Glass Lewis and ISS—and another 515 who sit on at least four.
---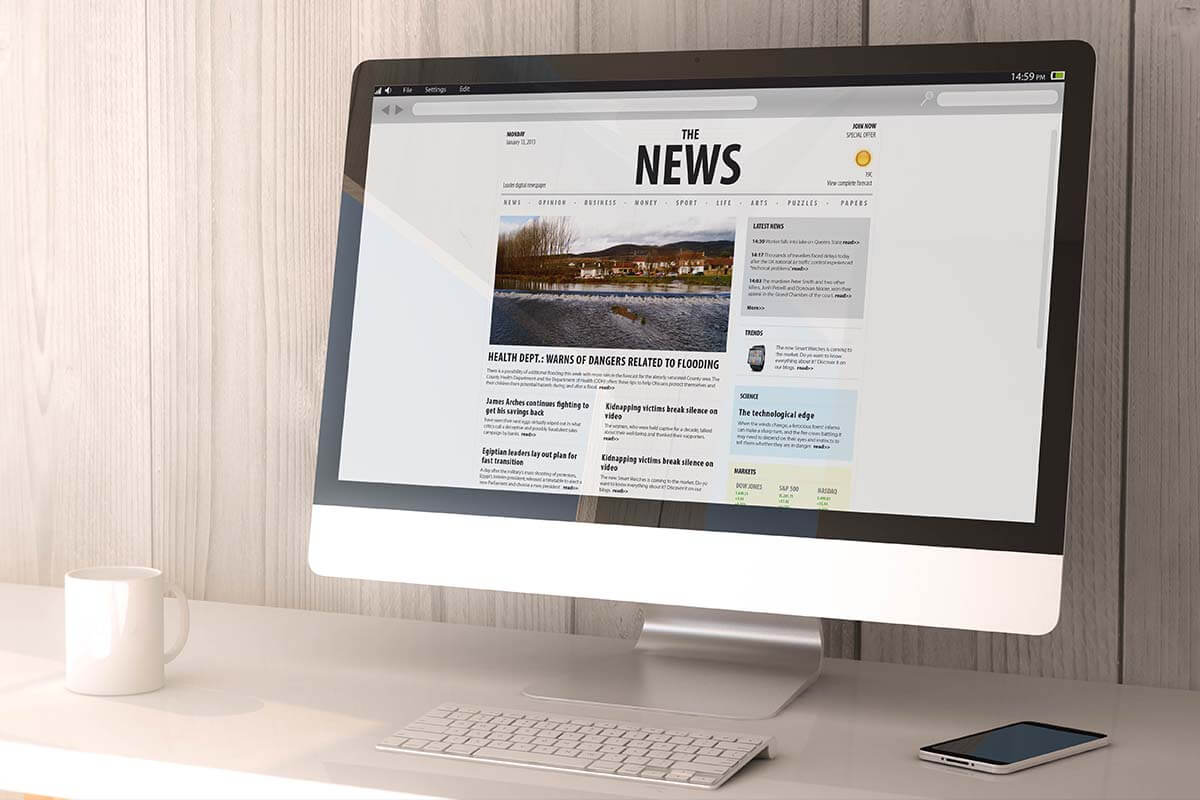 December 20, 2016
After more than 40 years at Exxon, Rex Tillerson could potentially step down as CEO, just months before he is eligible for retirement, in order to take the Secretary of State position in Donald Trump's cabinet...
---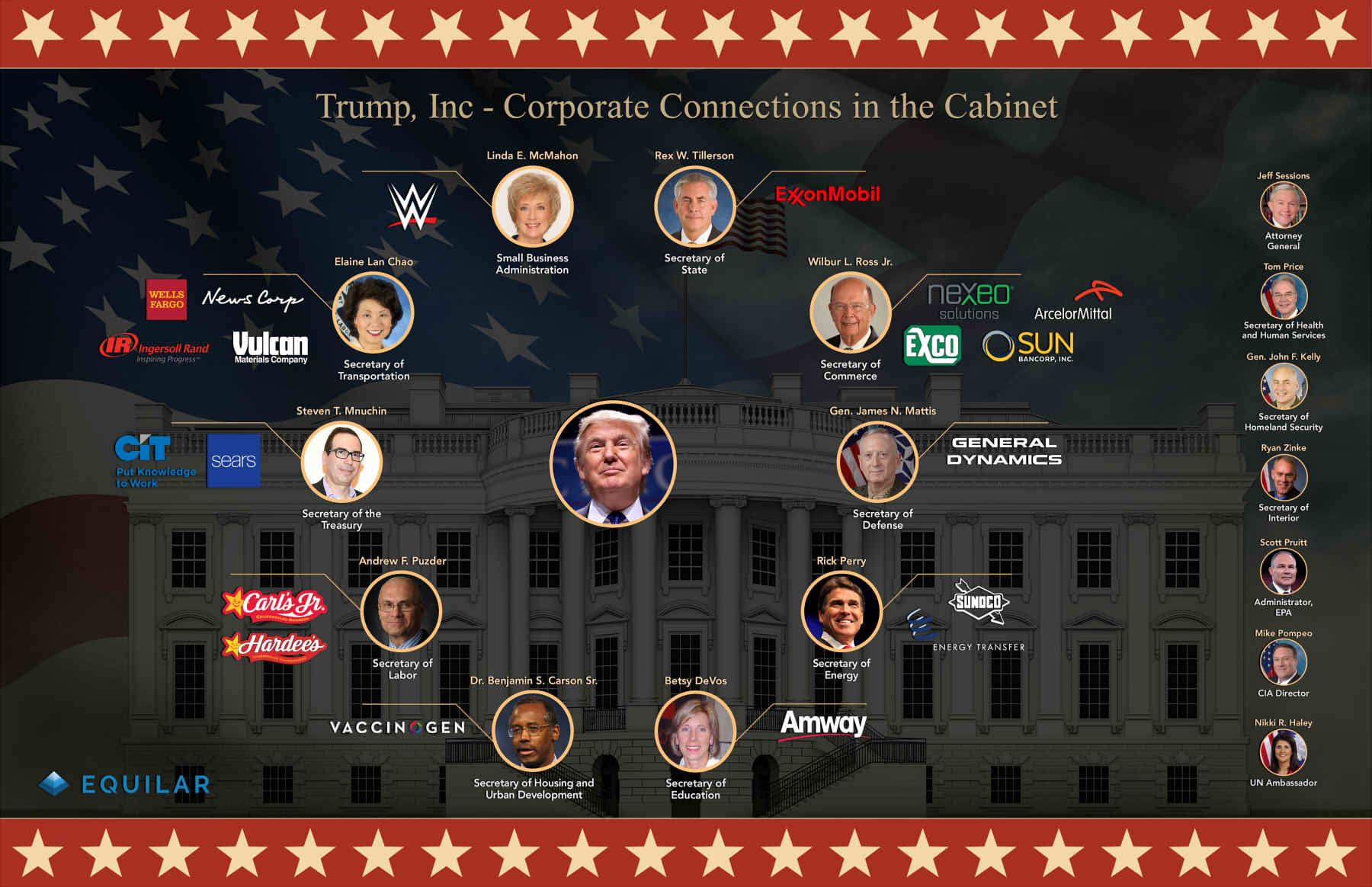 December 19, 2016
Donald J. Trump ran his presidential campaign based on his background as a savvy businessman, rather than his experience in politics. In light of the ongoing nominations for President-Elect Trump's cabinet positions, Equilar, a board and executive data provider...
---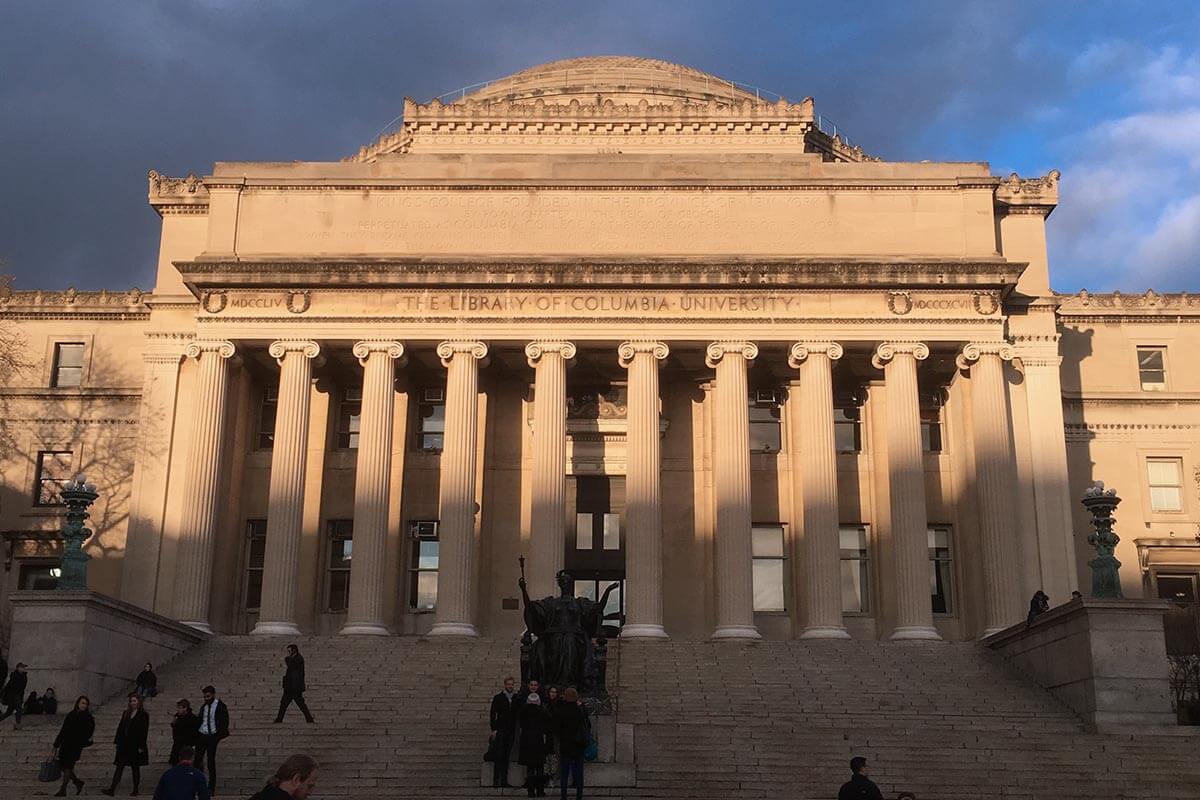 December 19, 2016
On December 7, the Millstein Center for Global Markets and Corporate Ownership hosted the 2016 Millstein Governance Forum, entitled "Governance, Leadership and the Future of the Corporation." The forum was highlighted by a keynote interview by Ira Millstein himself to discuss his new book...
---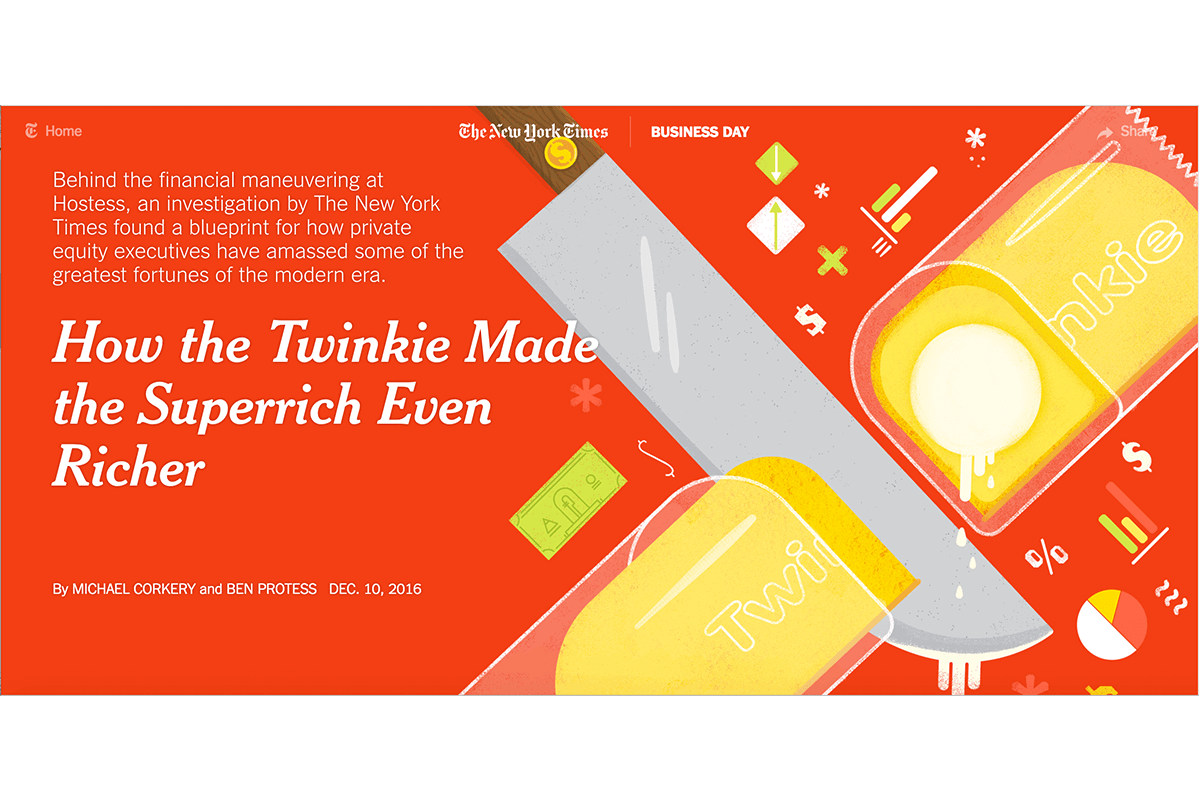 December 16, 2016
The New York Times recently published its coverage of a joint study with Equilar on the value of private equity CEOs' earnings. While public company CEOs often earn large sums based on long-term incentive stock and options grants...
---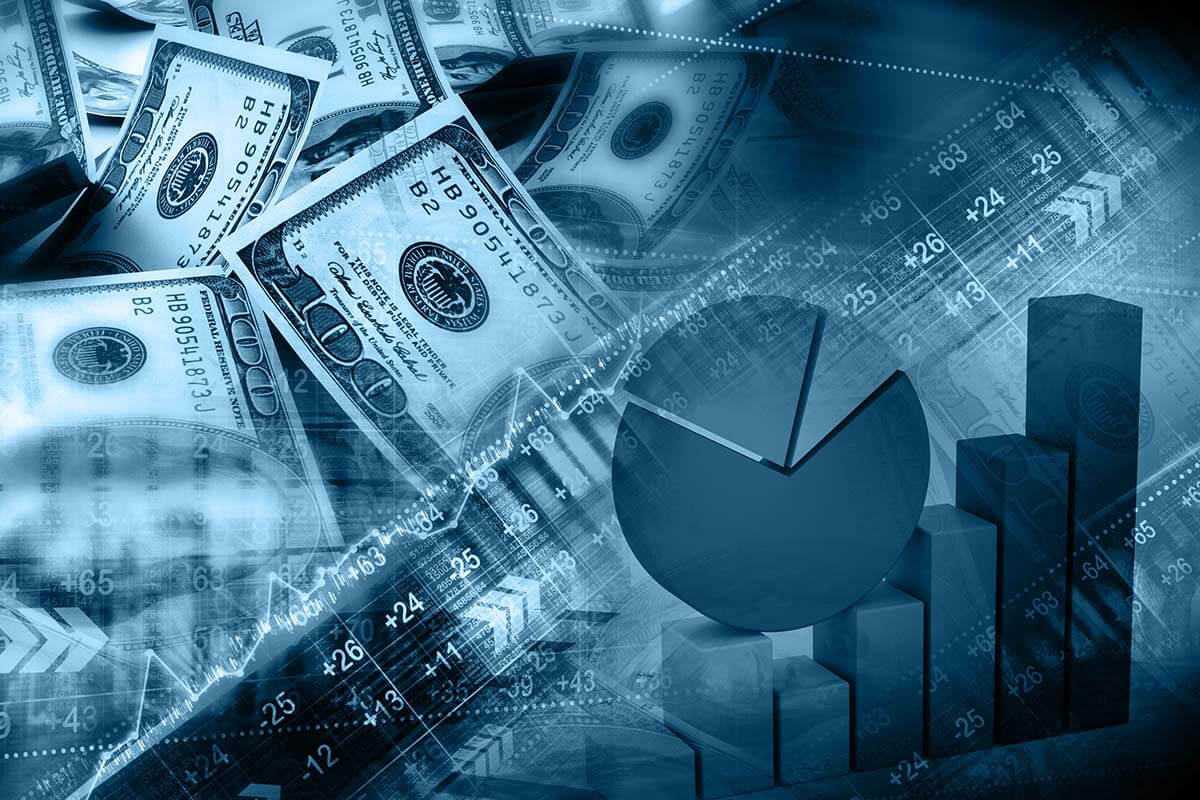 December 9, 2016
With the increase in demand for compensation transparency, shareholders are seeking ways to fully understand how much executives are actually earning from their pay packages as compared to what is presented in the summary compensation table (SCT) in the annual proxy statement...
---
December 7, 2016
As shareholders become more interested in the composition of their portfolio companies' boards of directors, issuers are increasingly disclosing explicit information in their proxy statements about director skill sets.
---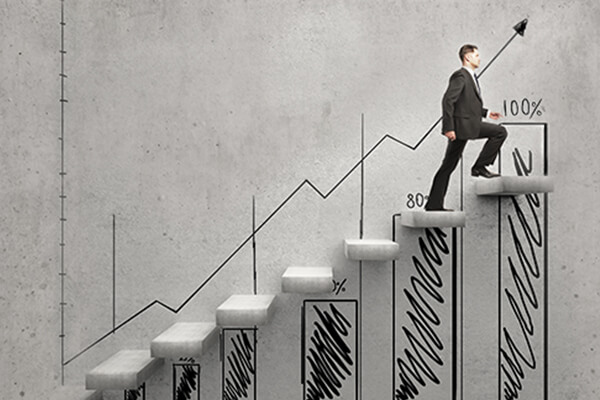 December 7, 2016
CEOs in the S&P 500 were awarded a median 3.3 times the amount of their other top executives in 2015, according to the data included in the latest Equilar report, Executive and Compensation Governance Outlook 2017, featuring commentary from Hogan Lovells and Labrador...
---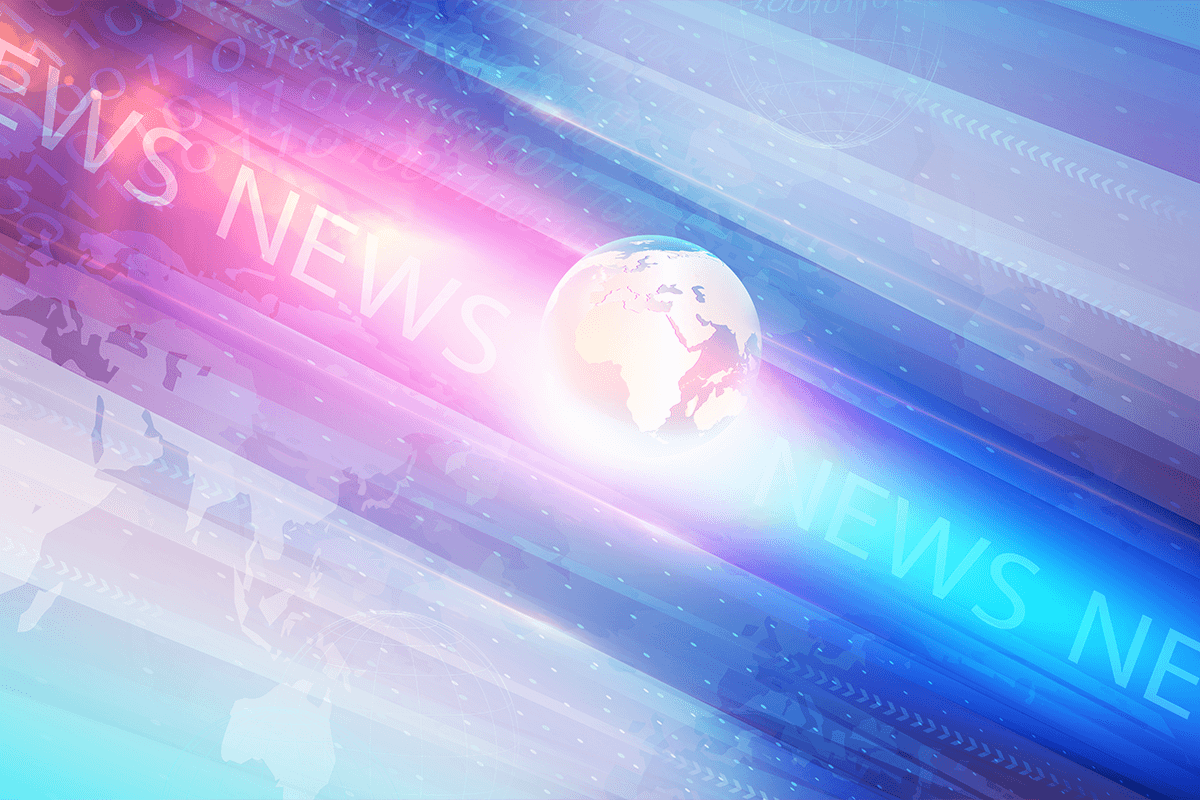 December 6, 2016
Non-GAAP reporting in the S&P 500 has increased from 358 companies in 2009 to 448 companies in 2015, and the concern, posits this author in a Forbes contribution, is that the number of public companies using non-GAAP earnings...
---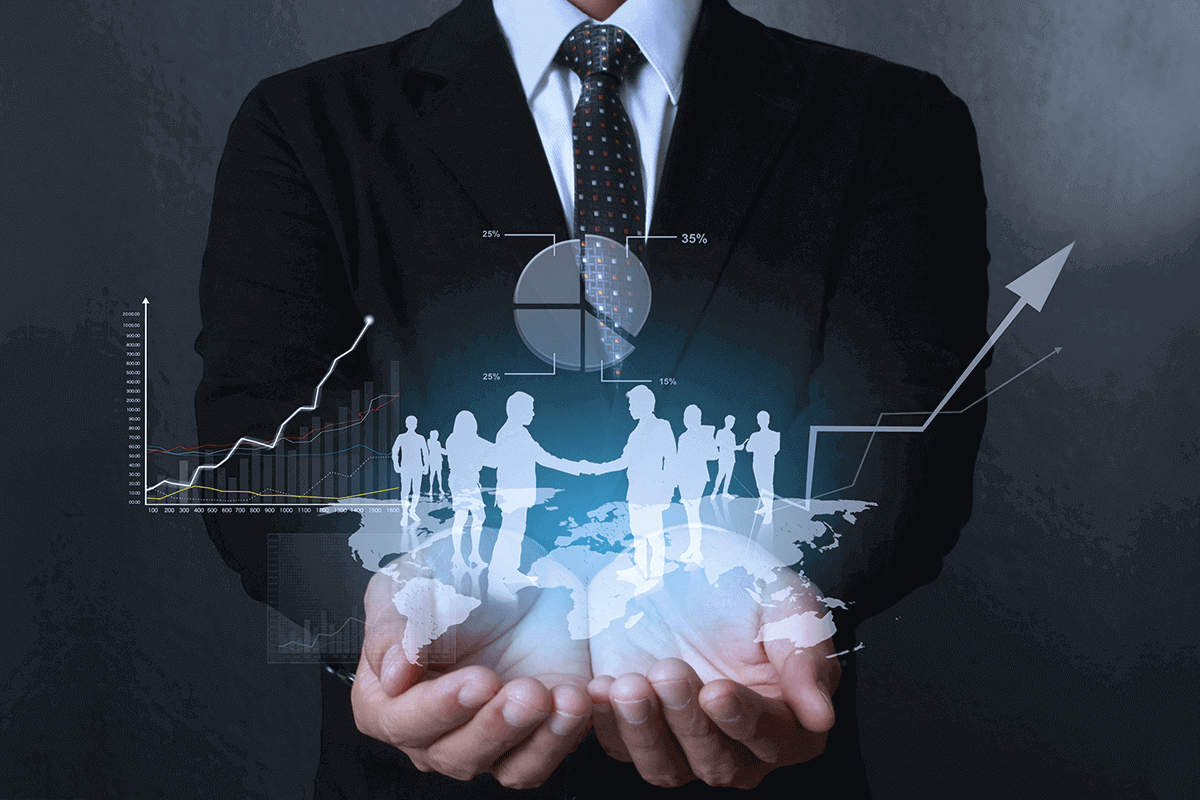 December 5, 2016
As 2016 comes to a close, issuers are beginning to prepare for the 2017 proxy season. Equilar recently hosted a webinar with Aaron Bertinetti, Vice President, Research and Engagement, and Ken McPherson, Senior Director, North American Research...
---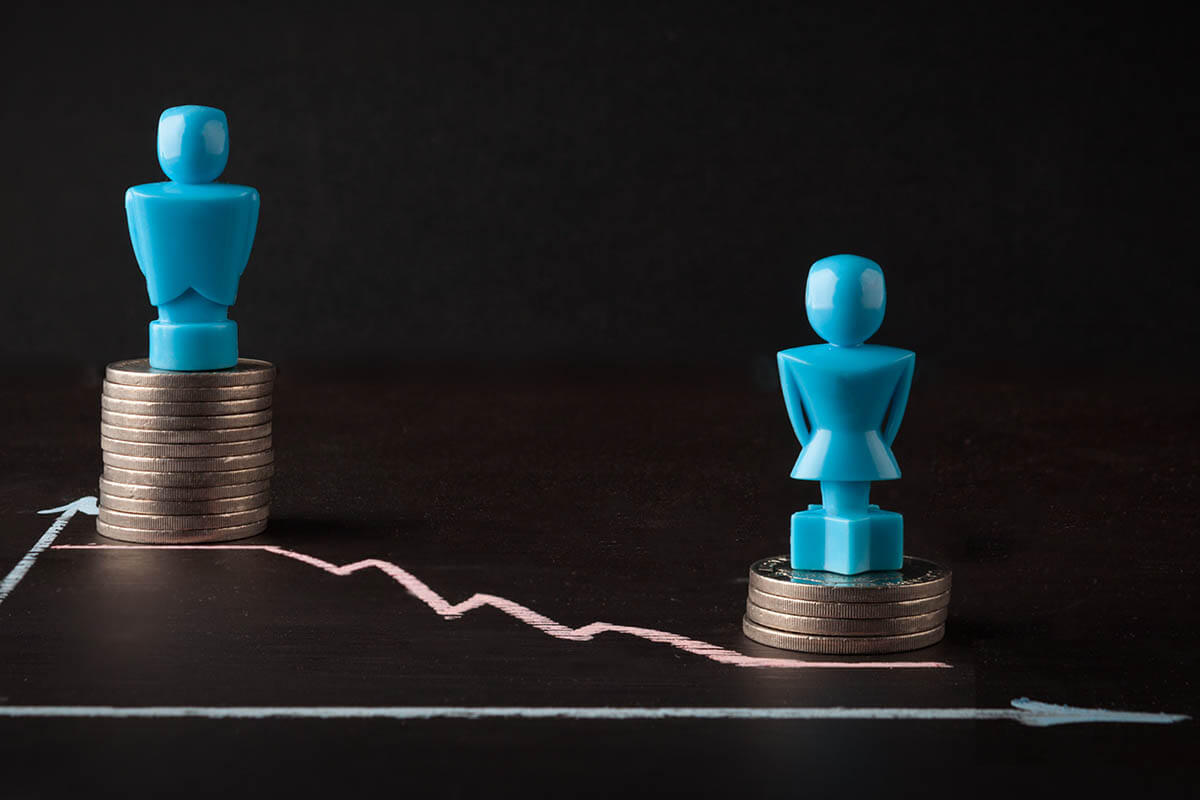 December 2, 2016
In connection with the recent report, General Counsel Pay Trends 2016, featuring commentary from BarkerGilmore, Equilar conducted additional research on the breakdown of females serving in the highest legal positions at public companies.
---
December 1, 2016
According to a recent study from Equilar, 658 companies in the Russell 3000, or 23.3%, lacked any females on their boards. By comparison, only seven S&P 500 companies (1.4%) lacked a female member in 2016.
---
November 30, 2016
As the balance of power in corporate governance shifts toward shareholders, corporate boards are coming under scrutiny from investors on issues of board recruiting and board diversity. More than ever, boards are facing pressure to address deficiencies in their composition and eliminate any negative perception they are portraying to shareholders.
---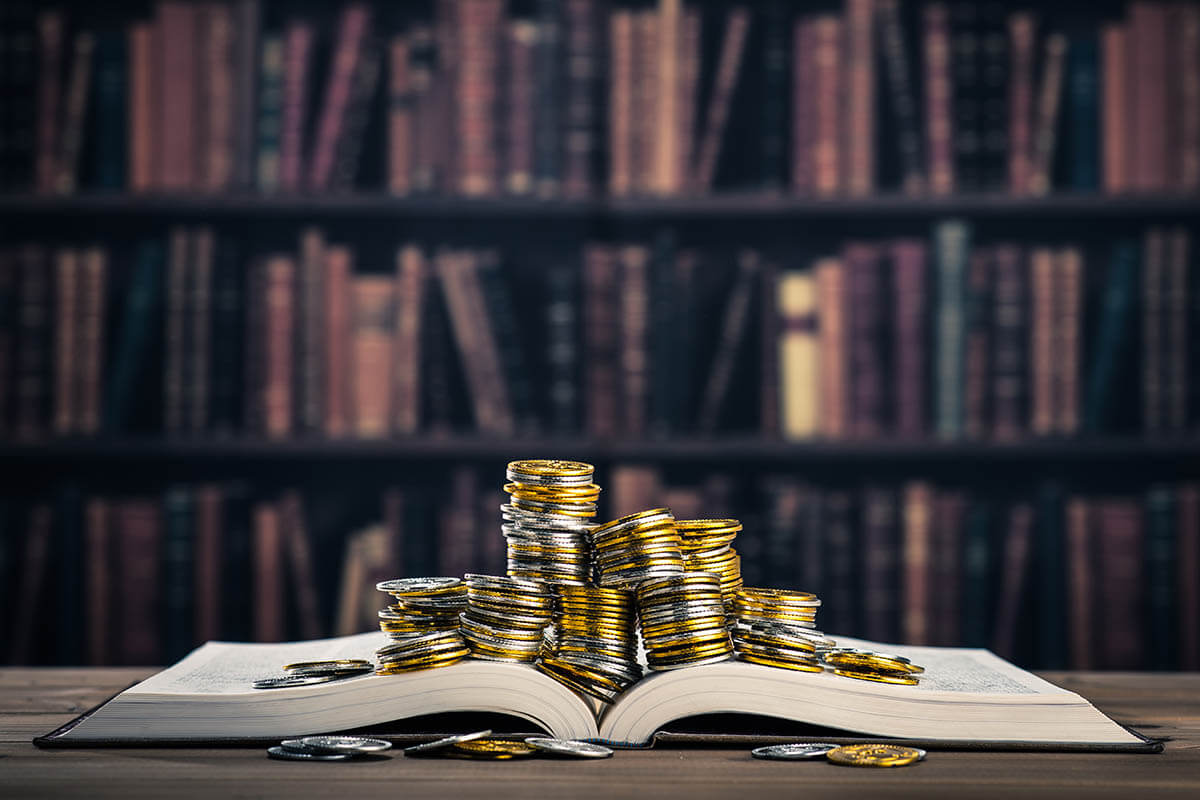 November 29, 2016
In connection with the recent report, General Counsel Pay Trends 2016, featuring commentary from BarkerGilmore, Equilar conducted additional research on the 20 highest-paid GCs reported in annual proxy statements to gain perspective on the leading professionals in these high-profile roles...
---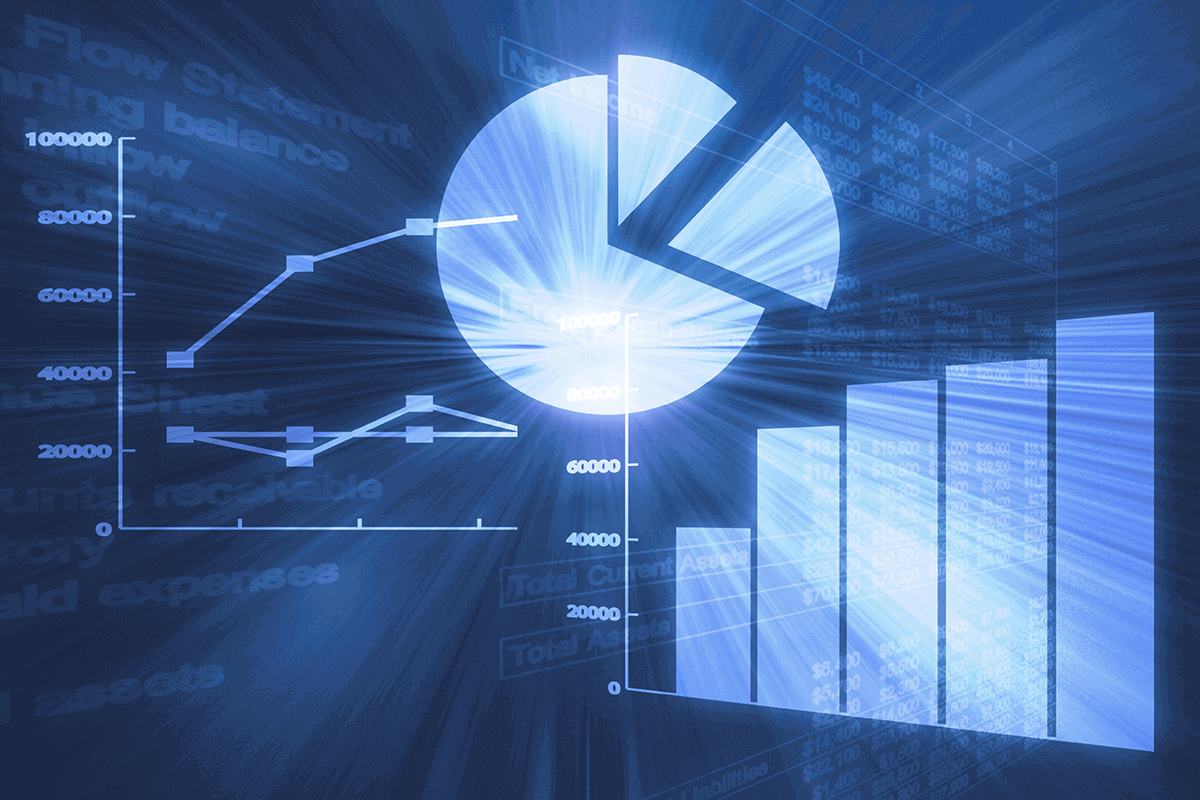 November 28, 2016
Equity provides a useful non-cash alternative to paying employees, and not just in executive compensation. Offering ownership allows companies with limited expendable cash to pay employees competitive salaries. For companies not limited by cash, equity provides valuable incentives...
---
November 22, 2016
At the recent Board Leadership Forum, Steve Odland drew from his experience as a CEO of several public companies and service on multiple public boards to discuss the relationship between the management and the board and how they work together to create shareholder value, as well as board diversity and the dangers of short-termism.
---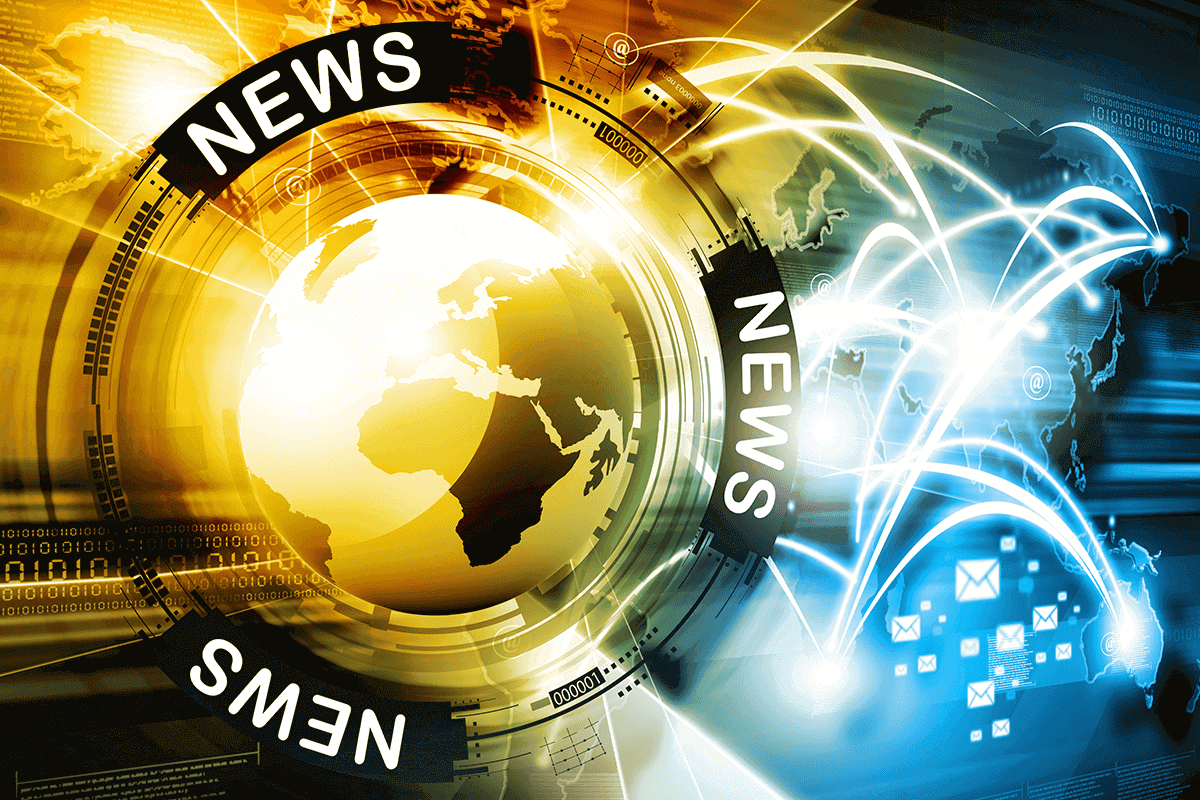 November 22, 2016
Likely a surprise to no one, SEC Chair Mary Jo White announced her resignation this week following the election of Donald Trump, effective January 2017. While Dodd-Frank is almost certain to go under the microscope...
---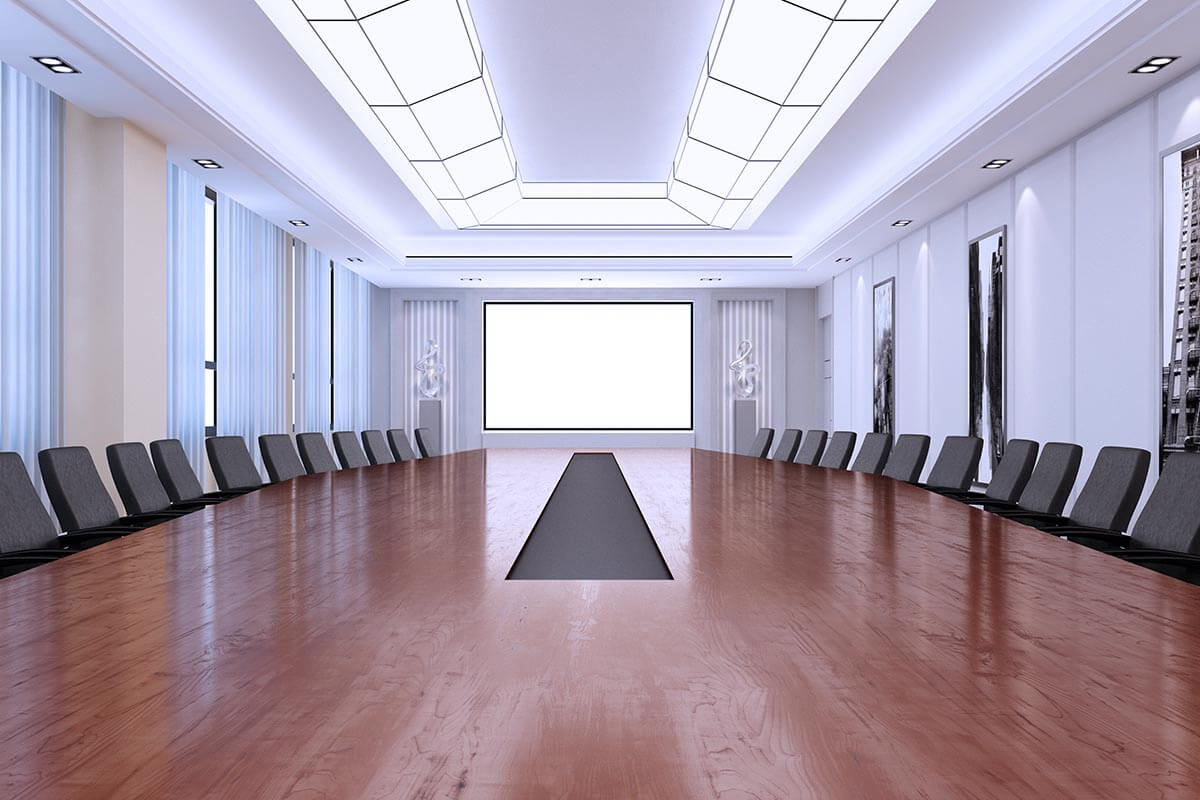 November 21, 2016
The increase in shareholder activism and corporate regulation has led to increased scrutiny toward corporate governance and board composition. In particular, discussion about board refreshment has surged...
---
November 18, 2016
In response to heightened shareholder scrutiny over the last several years, more than ever, companies are under pressure to promote diversity in their boardrooms, particularly gender diversity...
---
November 16, 2016
According to Equilar, only 1.4% of S&P 500 boards of directors in 2016 failed to include at least one woman, which decreased from 11.6% in 2012. In an analysis of the Russell 3000, however, Equilar found that in comparison, 23.3% (658 companies) had all-male boards...
---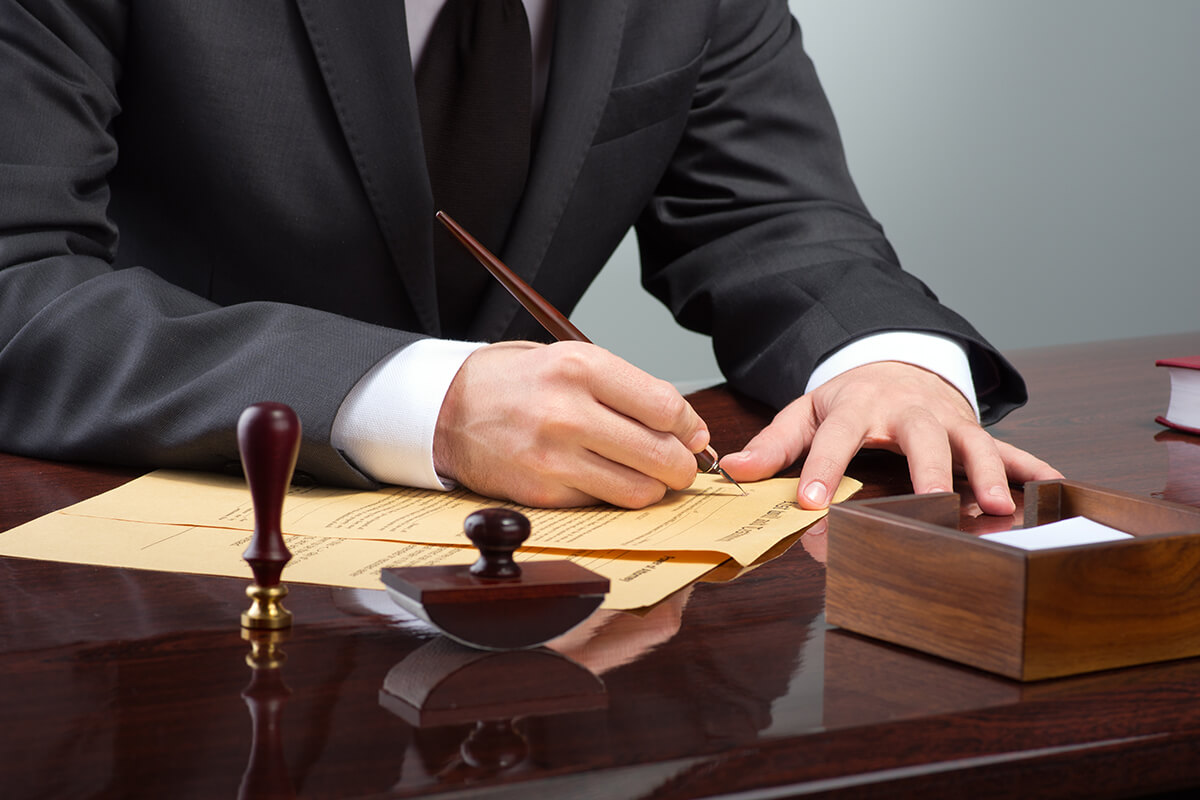 November 16, 2016
Professionals in executive compensation have long been prepared for the prospect of change following the inevitable shift in political control following last week's elections. With the SEC down to just three commissioners, observers were keenly aware that the new president would have a significant influence on the future of their field...
---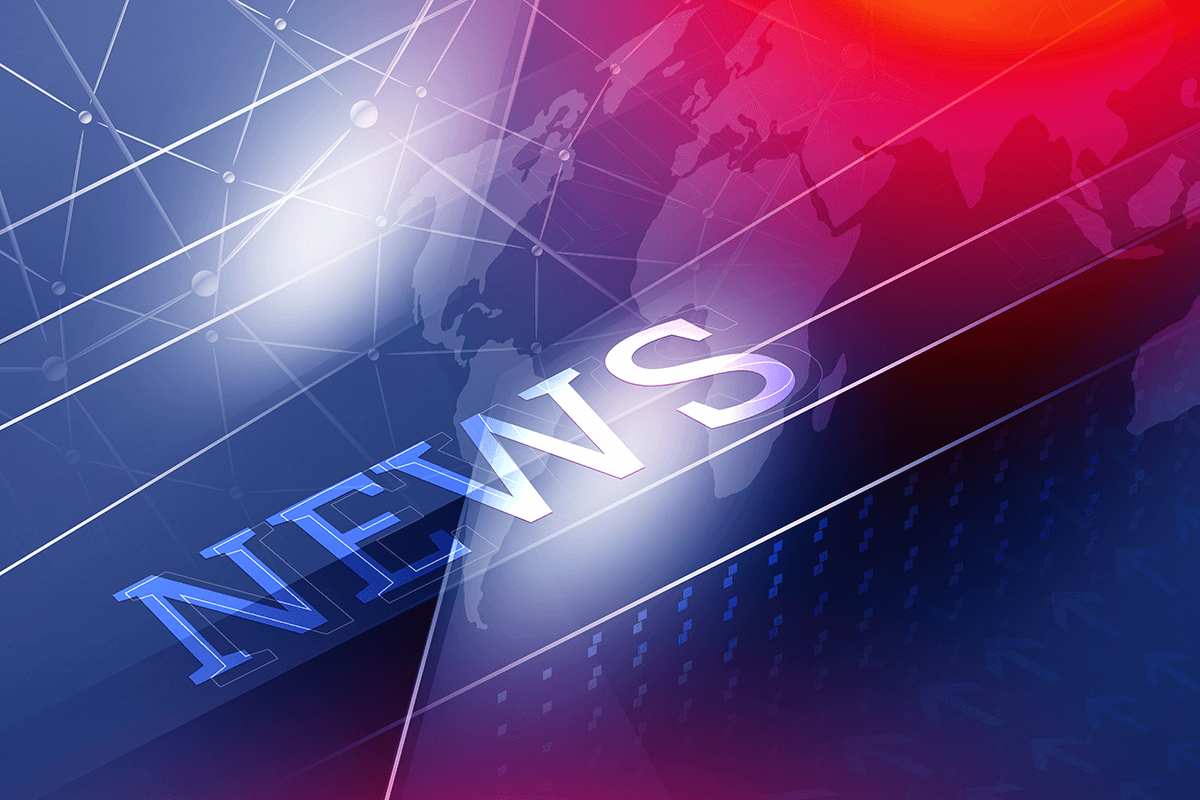 November 15, 2016
In one of the first proclamations in his early presidential transition, Donald Trump's transition team took aim at the financial regulations passed in 2010. Certainly not a surprising stance, the President-Elect's camp said that after taking down Dodd-Frank...
---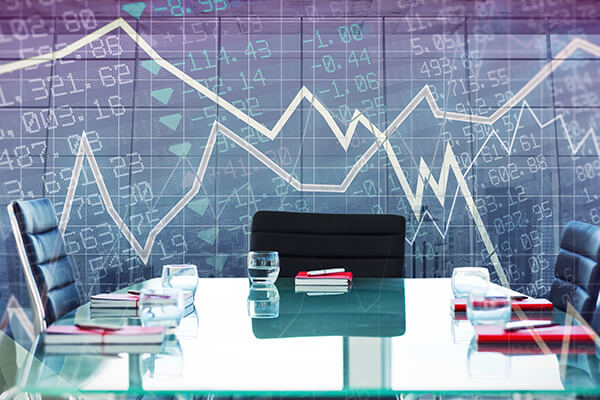 November 11, 2016
As a result of continued shareholder and proxy advisor engagement on long-term incentive pay and related corporate practices, there has been a shift in the ways boards pay their executives through equity vehicles.
---
November 9, 2016
After Wells Fargo CEO John Stumpf stepped down in October after a month in the spotlight following a fake bank accounts scandal, executive management was not the only team at the company to see a shake-up. After new CEO Tim Sloan was named, lead independent director Stephen Sanger was elevated to chairman, and Elizabeth Duke was appointed to the role of vice chair.
---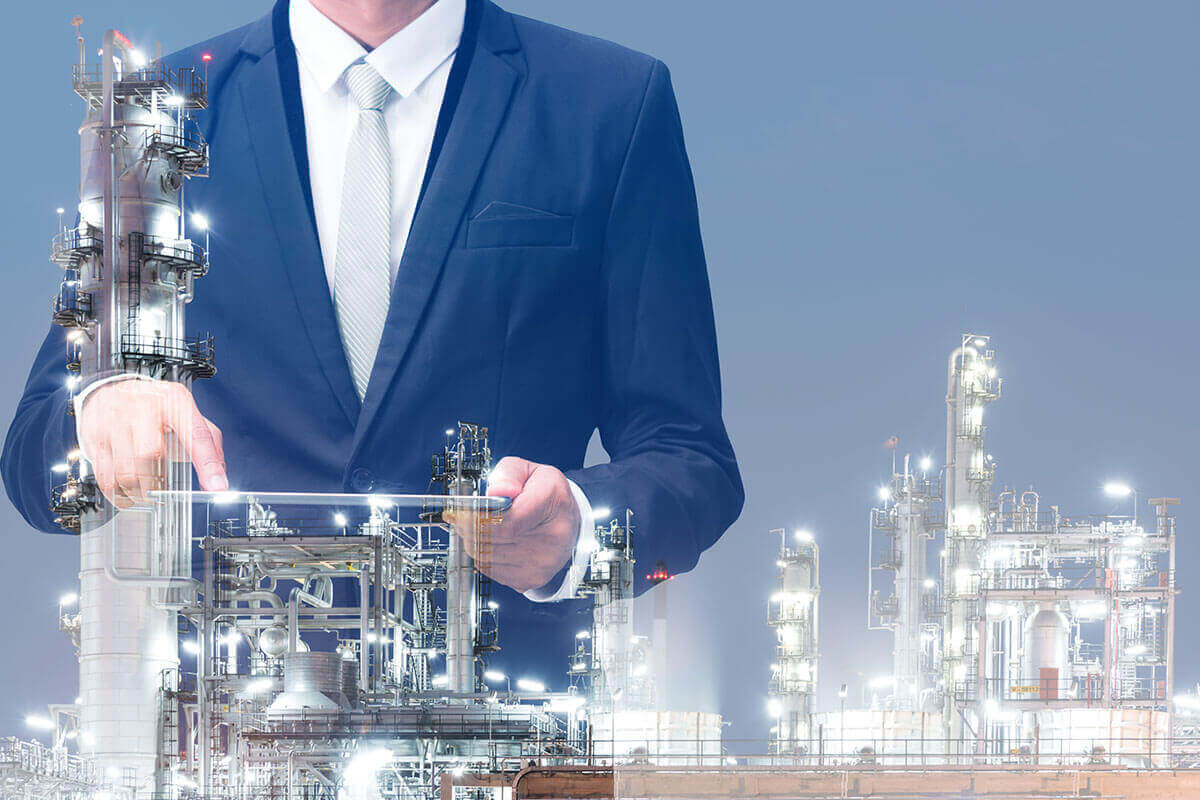 November 9, 2016
The volatility of the oil & gas industry has induced significant pressure on domestic and global markets over the span of the last 12 to 18 months. Indeed, the reintroduction of Iranian crude to the global market coupled with increased Russian and Saudi Arabian production output levels created a global supply glut that plummeted crude prices and hampered global markets.
---
November 8, 2016
In today's corporate governance landscape, issuers and investors alike are focused on the composition and evaluation of boards of directors. Boards are beholden to represent shareholders' interests, and consequently, assessing and disclosing individual director contributions have become and important topic for shareholder engagement.
---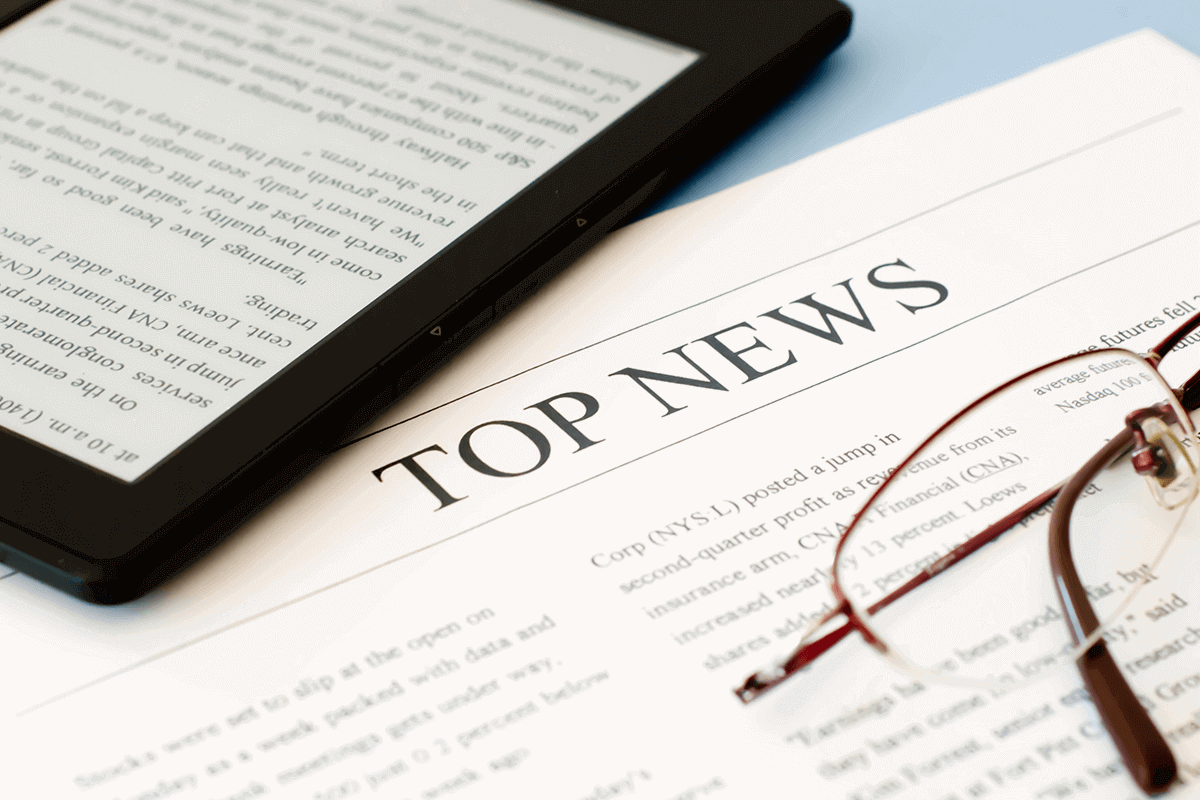 November 8, 2016
The Harvard Business Review took an extensive look at CEOs' effect on company culture, particularly analyzing how personality traits affect company performance. According to the article, narcissism correlates with higher pay, and destructive CEOs who are "antisocial, volatile, and overconfident" lead to "high turnover and counterproductive workers."
---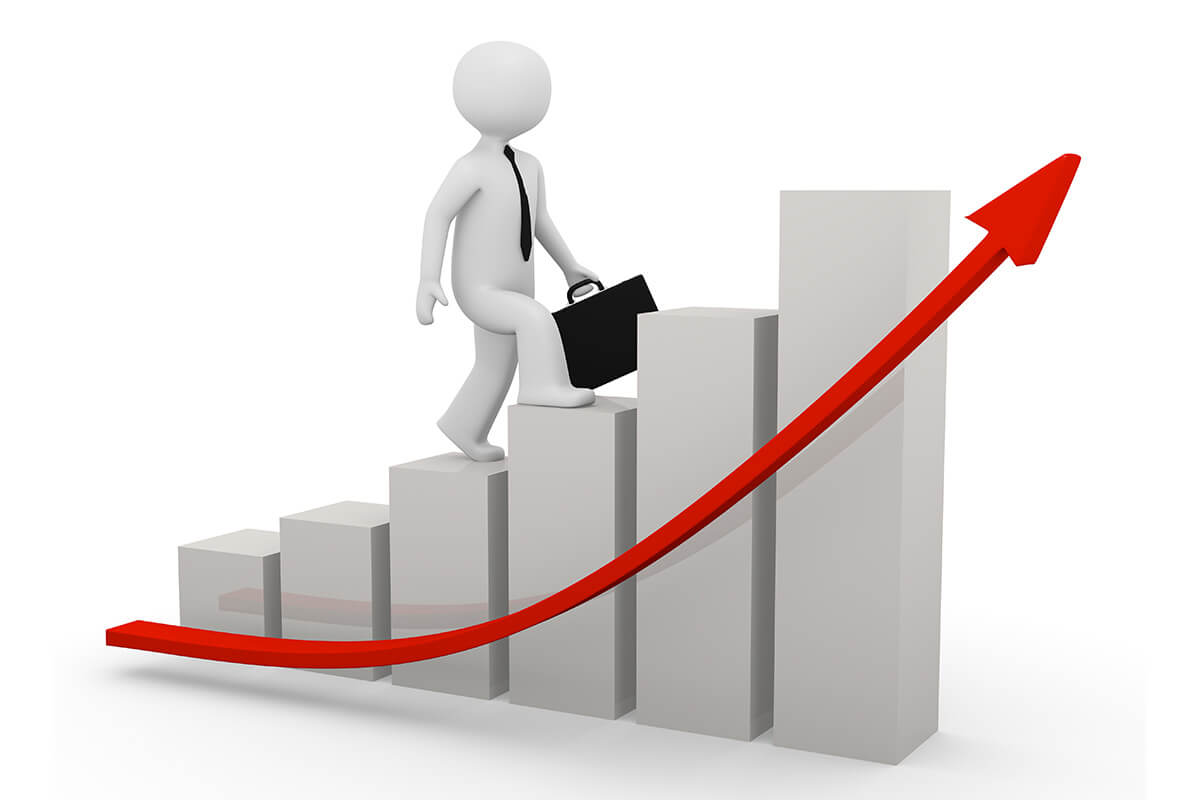 November 7, 2016
CEO turnover has been a hot topic in recent weeks, and the situations (both surprising and less surprising) surrounding departing CEOs at Wells Fargo, Visa and Caterpillar have been widely publicized. Myriad reasons explain the departures of the executive holding the top job.
---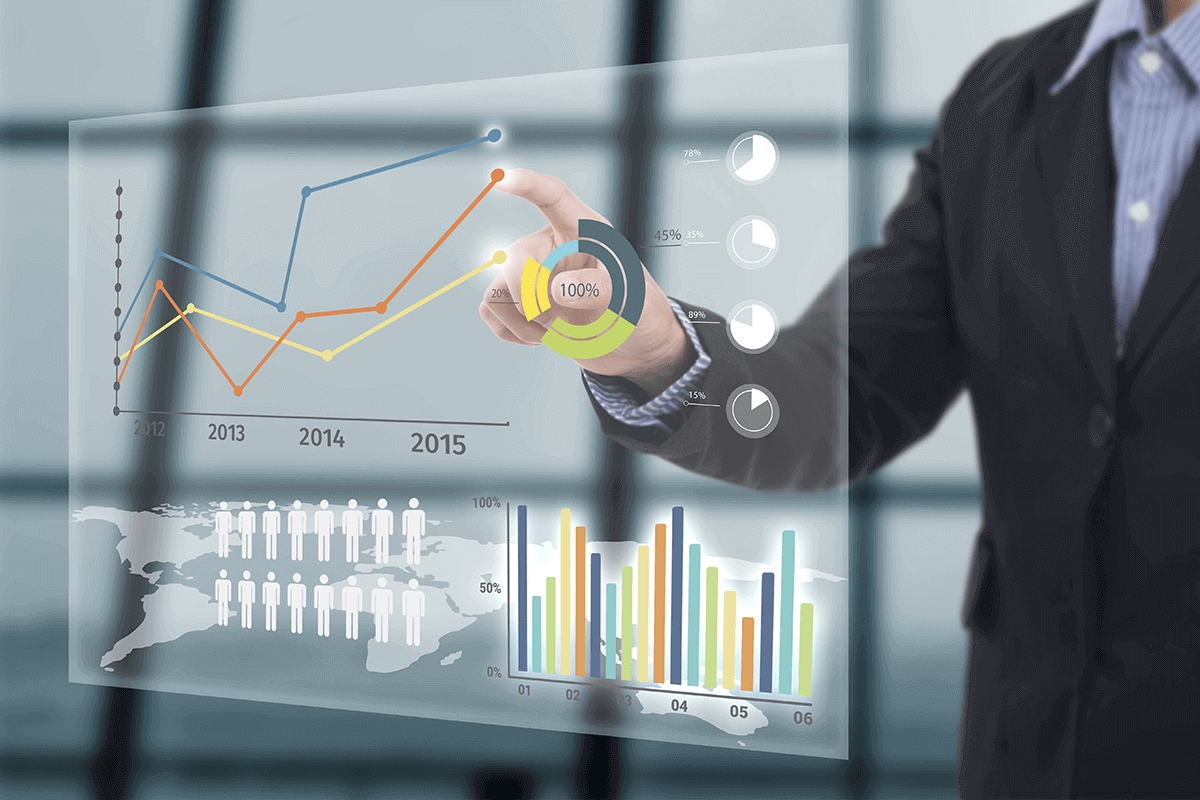 November 4, 2016
Performance-based pay is sometimes advertised as a magic bullet to assuage the concerns of all constituents holding stakes affected by executive compensation. In fact, performance equity was granted to named executive officers (NEOs) by 83.1% of the S&P 500 in fiscal 2015, up 17.7 percentage points in just four years, according to Equilar.
---
November 3, 2016
Aside from the "big three" committees, boards of directors also call special committees for a variety of reasons. While they varied widely, the most common retainers for special committees analyzed for the study were $30,000 for chairs and $20,000 for members.
---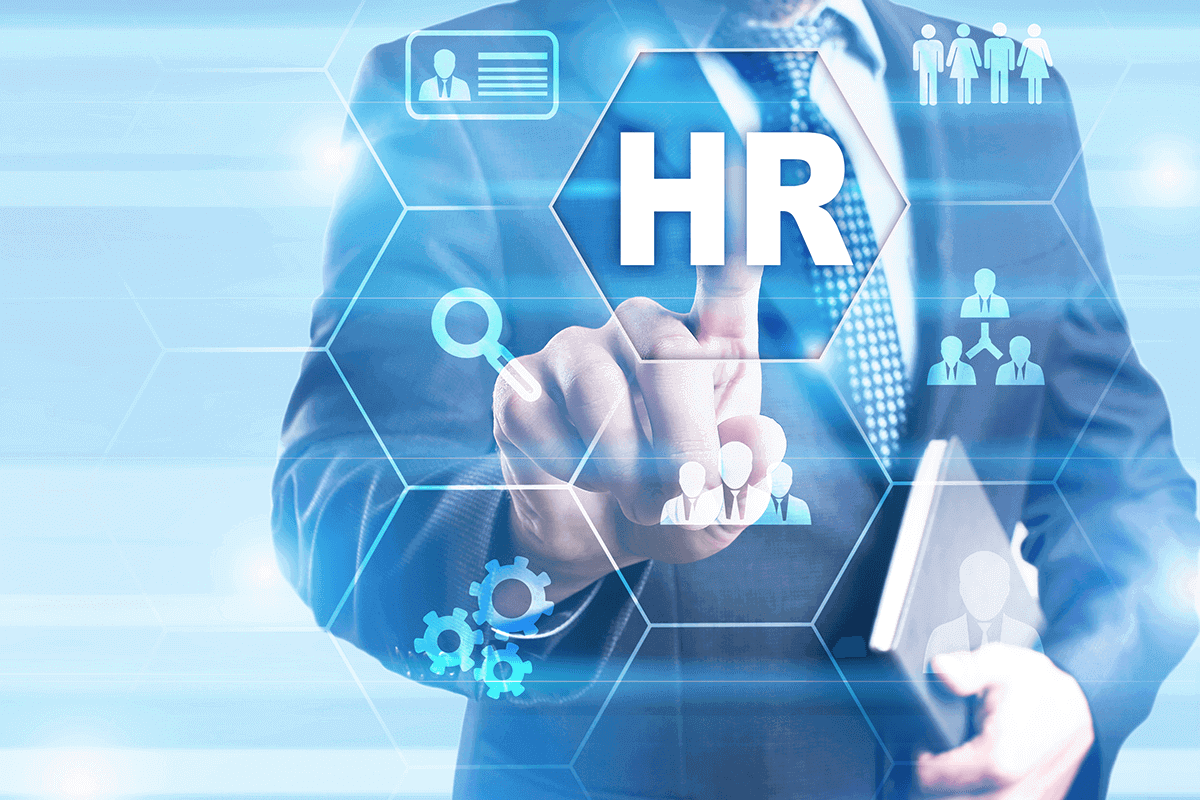 November 2, 2016
Each year, Equilar conducts a study for Human Resource Executive magazine to uncover trends in compensation for the top-paid HR leaders at U.S. public companies. The full list includes the 50 highest-paid HR leaders.
---
November 1, 2016
Value-added board service goes way beyond good governance and golf these days, with curiosity being noted as the most sought-after attribute in a new director candidate. It's imperative that good boards know how to deliver feedback and ensure change is delivered effectively.
---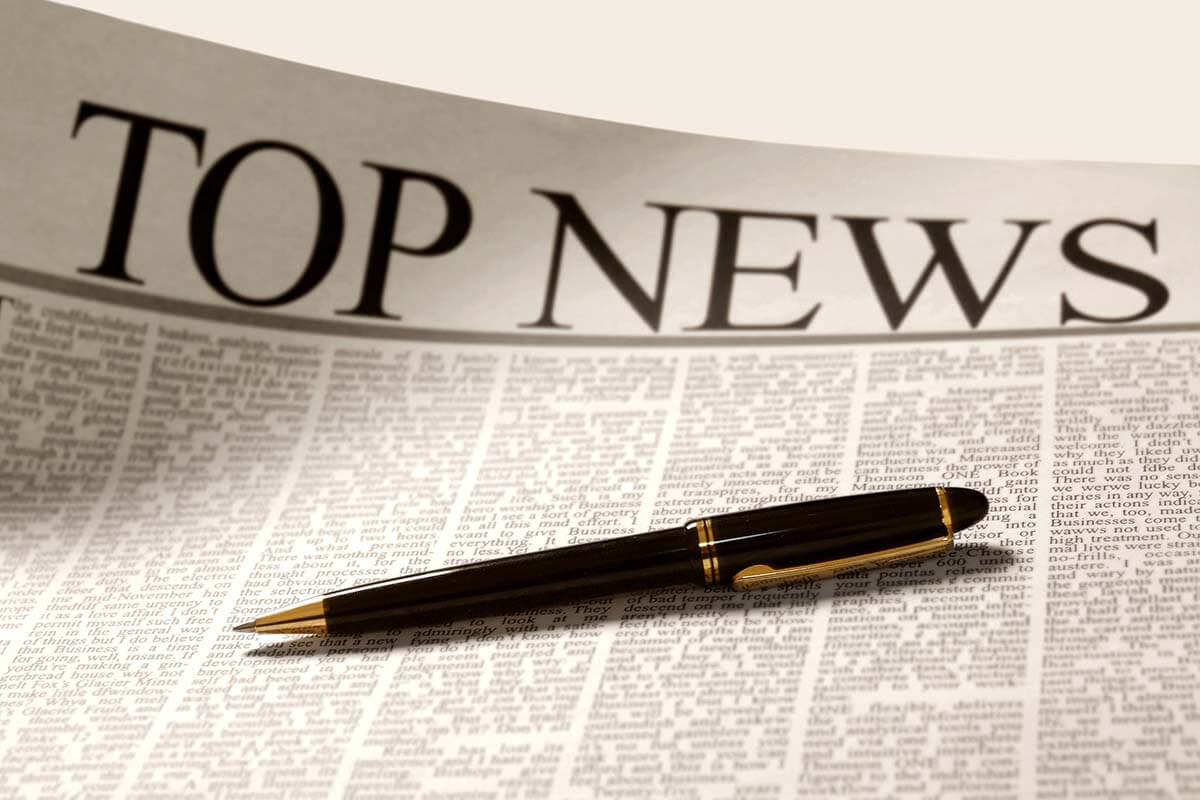 November 1, 2016
In Portland, Oregon, the city council held a hearing last week that considered a surtax on companies who have a significantly large CEO pay ratio. According to the proposal, a company in Portland would owe a higher business tax if its CEO pay ratio is higher than 100-to-1.
---
October 27, 2016
According to Equilar data, 18.9% of S&P 500 committees are chaired by women. That figure compares to 21.3% of all director seats being held by females, and a slightly higher percentage of women—22.2%—account for S&P 500 committee memberships.
---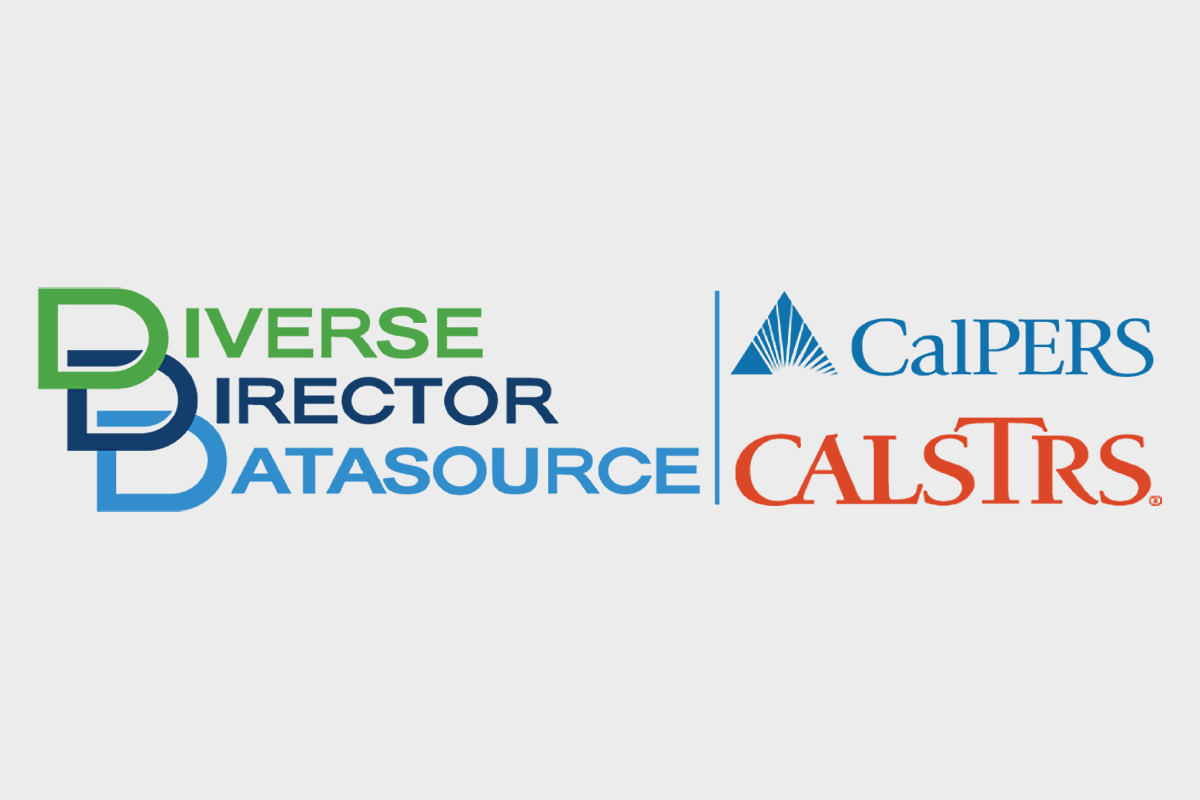 October 27, 2016
Equilar, California Public Employees' Retirement System (CalPERS) and California State Teachers' Retirement System (CalSTRS) are pleased to announce the Diverse Director DataSource (3D) will now be available within the Equilar Diversity Network (EDN). 3D joins the suite of searchable sources within the Equilar BoardEdge platform, building a consortium that advances diverse representation in boardrooms across the globe.
---
October 26, 2016
The SEC voted 2-to-1 today on a proposal to implement a "universal proxy," which would allow investors to vote on board of directors elections from one ballot inclusive of both shareholder- and management-proposed candidates.
---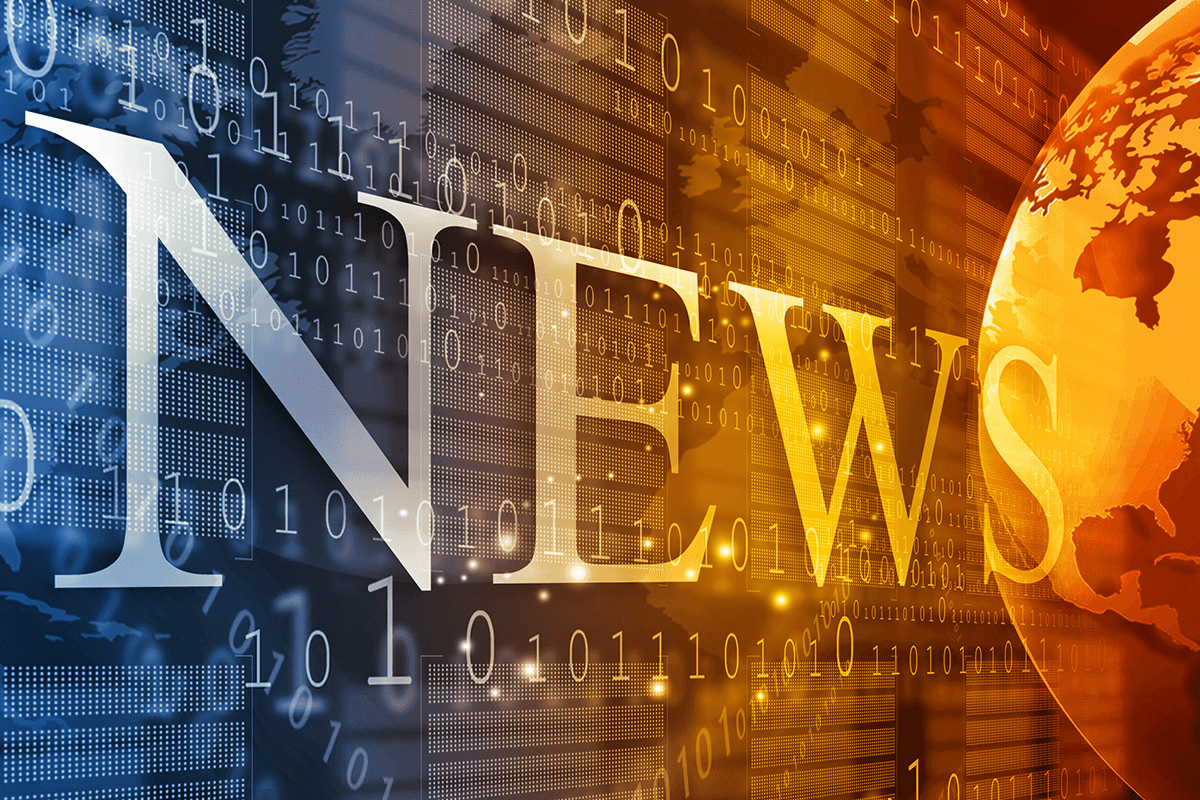 October 25, 2016
In the span of a week, CEOs at Wells Fargo, Caterpillar and Visa all either resigned or retired from their posts. Though each of these individuals did so for different reasons, some under more pressure than others, these moves sparked a lot of interest in changes to corporate governance practices at high-profile companies...
---
October 25, 2016
At the recent Board Leadership Forum, co-hosted by Equilar and Nasdaq in New York City, perhaps the most anticipated panels bookended of the event, featuring the perspectives of institutional shareholders and proxy advisors...
---
CEO Turnover and Board Changes at S&P 500 Companies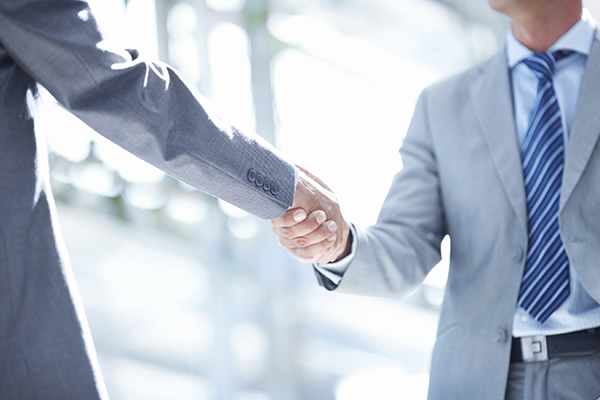 October 25, 2016
Within the span of a few days, high-profile CEOs at Wells Fargo, Caterpillar and Visa all announced they would be stepping down from their posts. Each did so for different reasons, whether it was a high-profile scandal, poor performance over an extended period or a surprising announcement that caught observers off-guard...
---
Equity Treatment Upon Retirement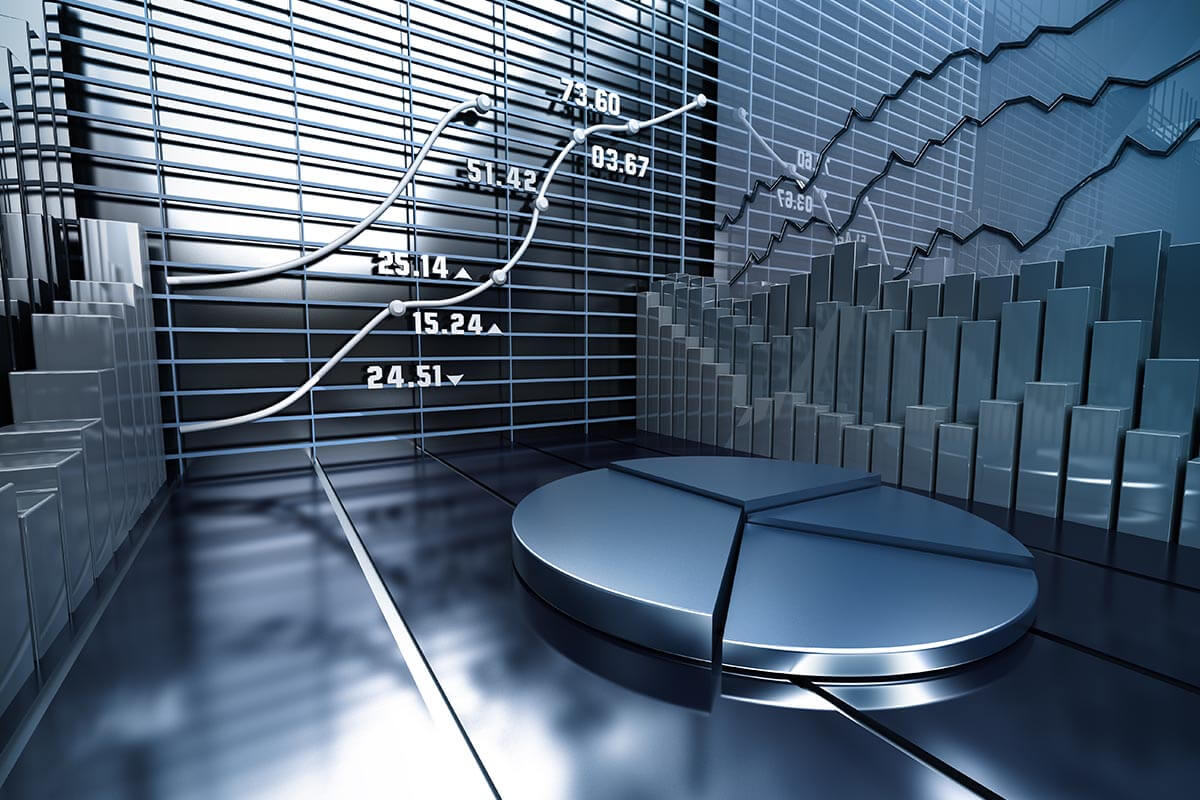 October 21, 2016
After embattled Wells Fargo CEO John Stumpf retired last week amidst controversy surrounding sales practices at the bank's retail unit, many observers were keen to understand how executive compensation design affects what CEOs receive in retirement—regardless of the circumstances...
---
The Top 5: CEO Pay Called Out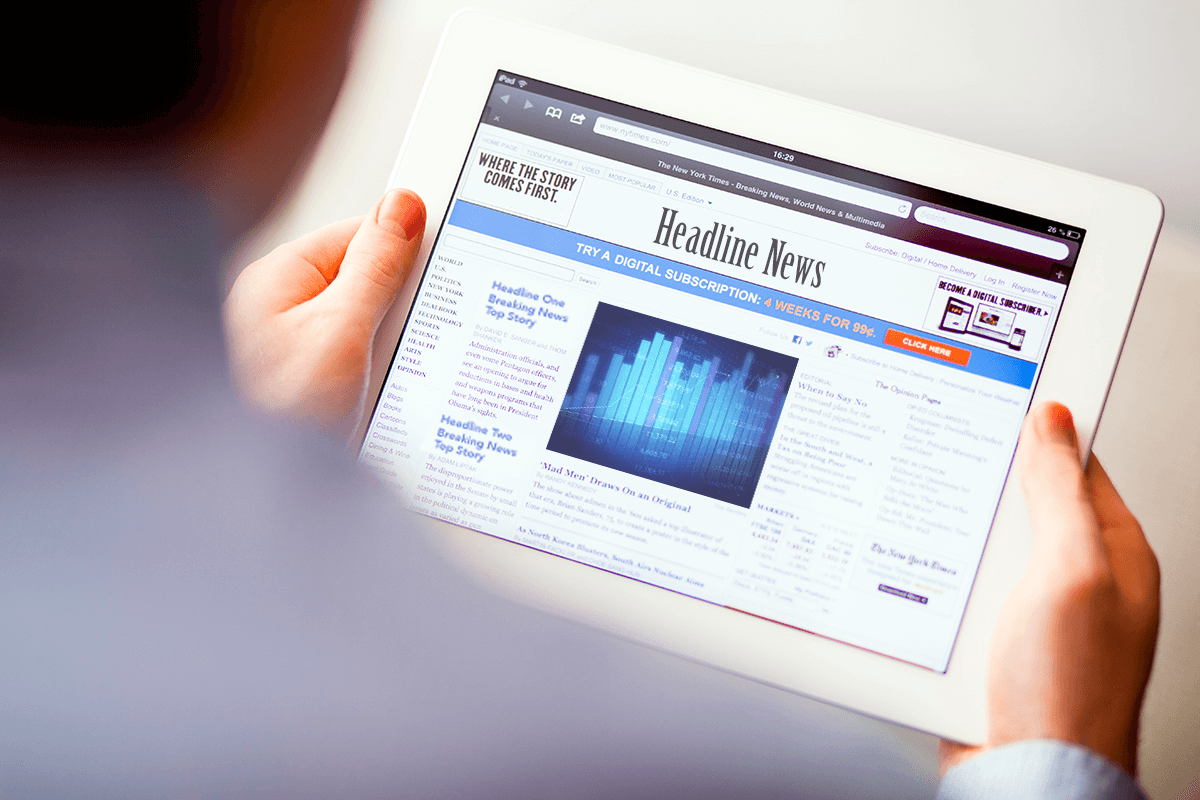 October 18, 2016
Bengt Holmstrom, co-winner of the 2016 Nobel Economics Prize, was criticizing the complexity of executive pay plans. A key takeaway from his comments: "Executive compensation went from reasonable to absolutely dreadful, and dreadful because...
---
Director Pay Limit Disclosures Doubled in 2016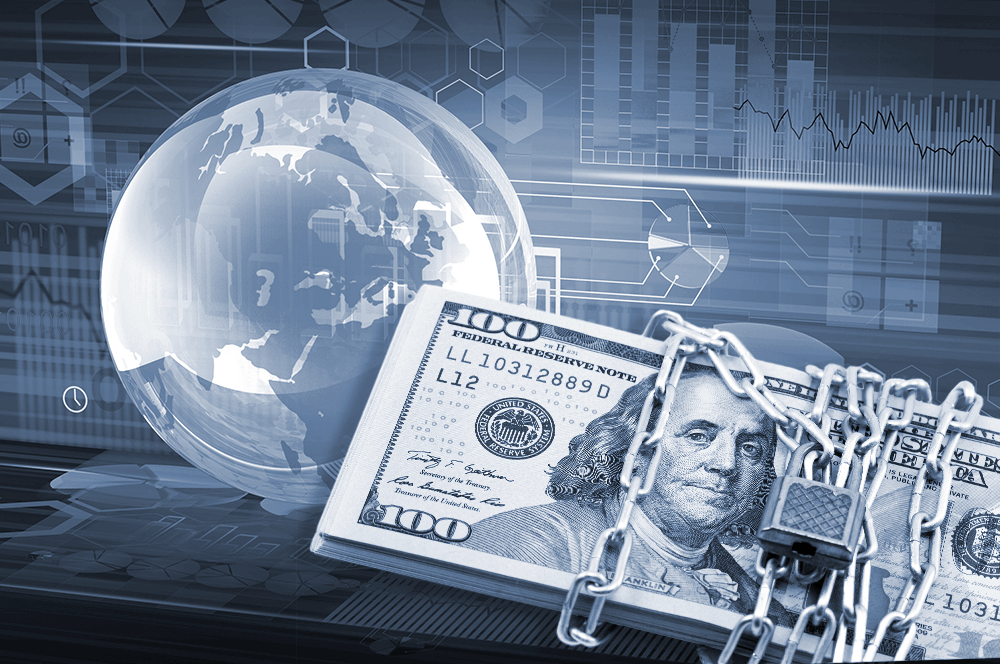 October 17, 2016
In recent years, companies have faced more scrutiny regarding compensation and governance practices, and in conjunction, compensation for boards of directors has been in the spotlight. Director pay has increased in response to new...
---
Pay for Performance Evolution and the Compensation Committee's Role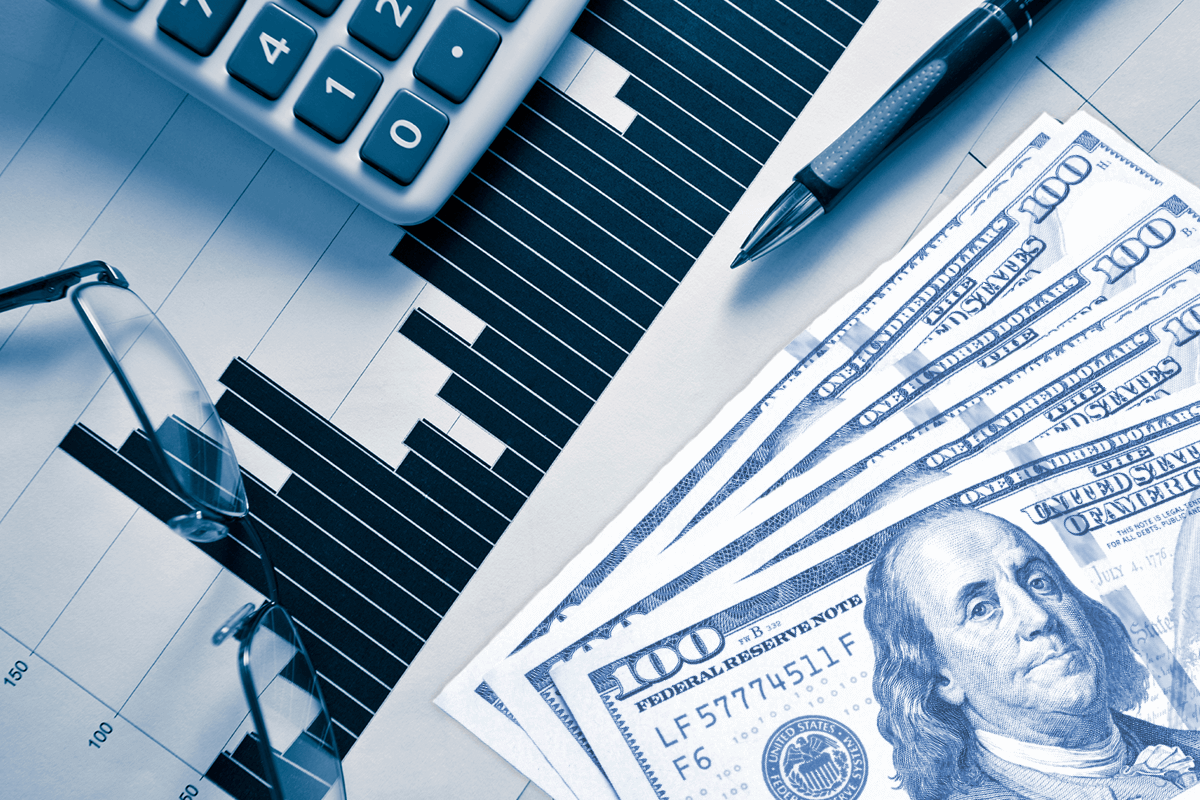 October 11, 2016
The Silicon Valley Directors' Exchange (SVDX) recently hosted a discussion panel entitled "The Evolution of Pay for Performance: Shareholder Vigilance or Apathy" at the Stanford Rock Center for Corporate Governance. The panel explored the state...
---
Executive Compensation Plans That Maximize Shareholder Value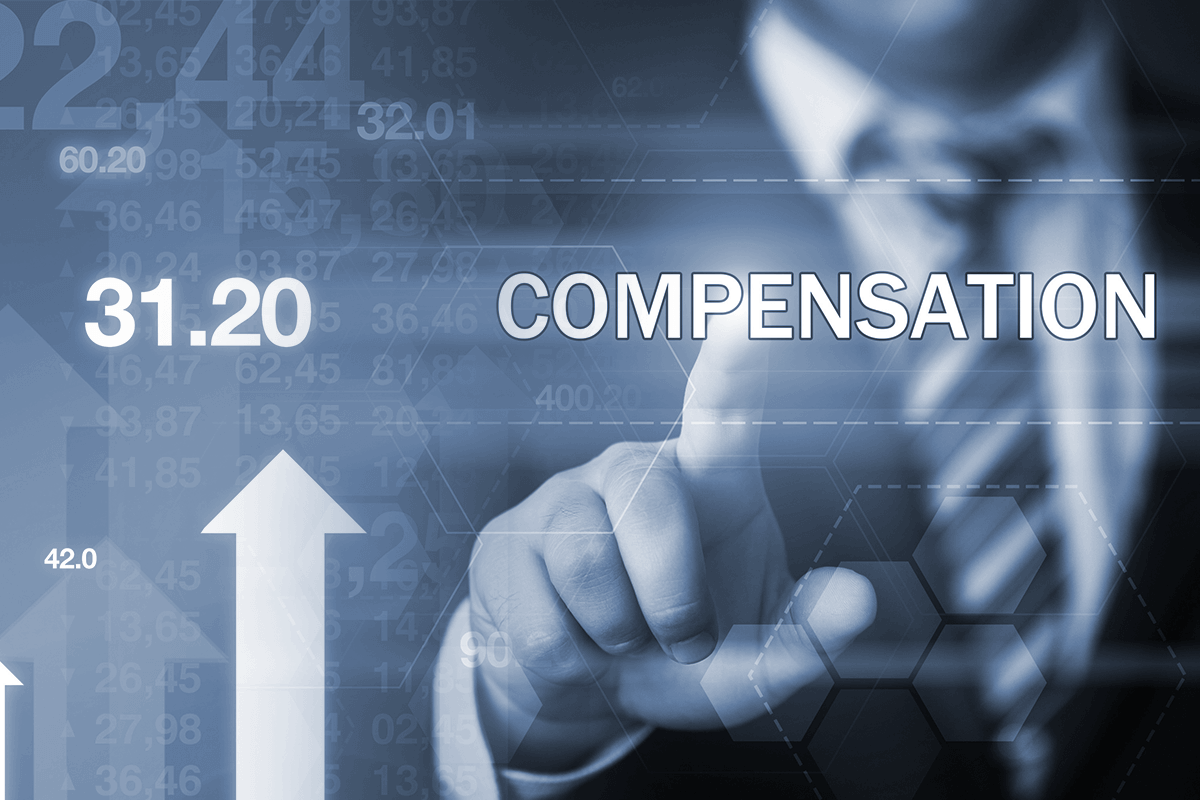 October 11, 2016
In this ever-changing landscape of shareholder engagement, it is essential that companies develop thoughtful compensation designs to meet investor expectations. Equilar recently hosted a webinar with Blair Jones, Managing Director at Semler Brossy...
---
Board Diversity Advocates: U.S. Public Companies Accept Mediocrity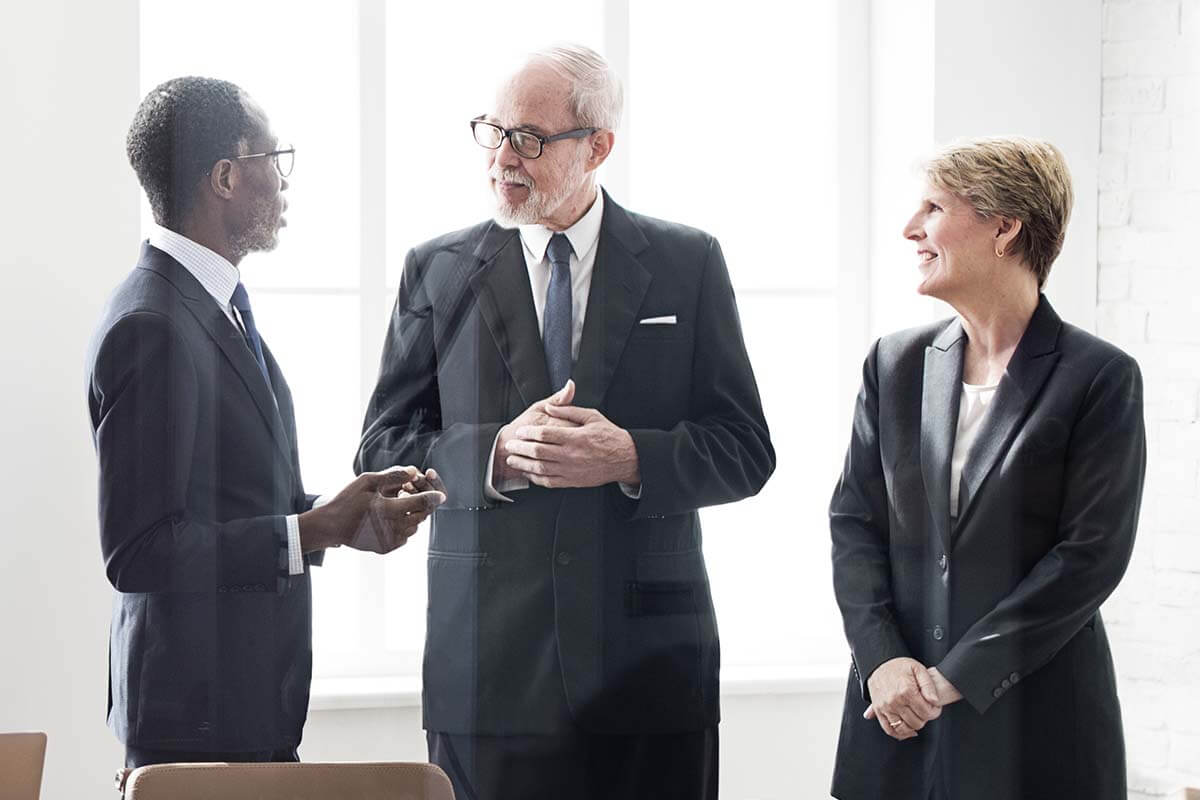 October 10, 2016
On September 7, 2016, the School of Advanced International Studies (SAIS) of John Hopkins University hosted its 7th annual Conference on Women in the Boardroom in Washington D.C. An open session that drew governance experts...
---
Five Things to Know: This Week in Executive Compensation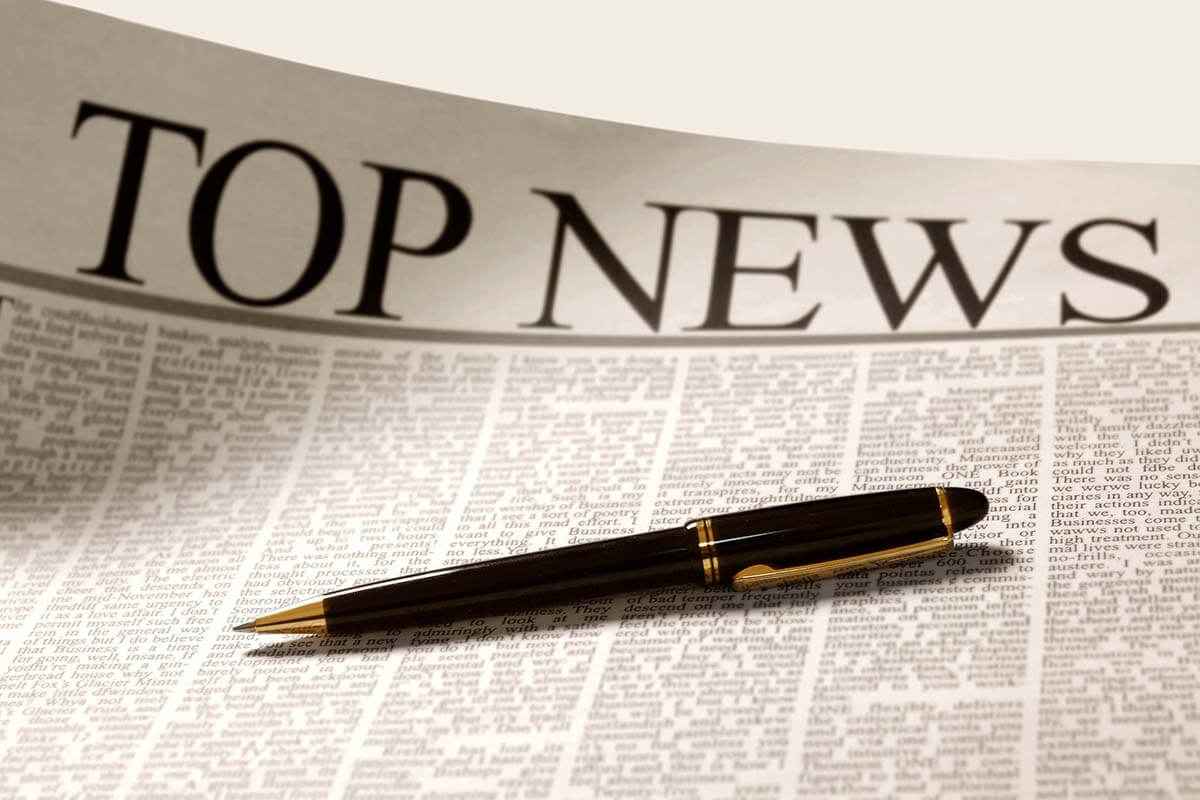 October 7, 2016
While pay for performance has gained traction as a best practice in executive compensation design, what constitutes "performance" is often in flux. A column in The Wall Street Journal suggested that boards sometimes move away...
---
Executive Incentive Plans Drop TSR As Debate Continues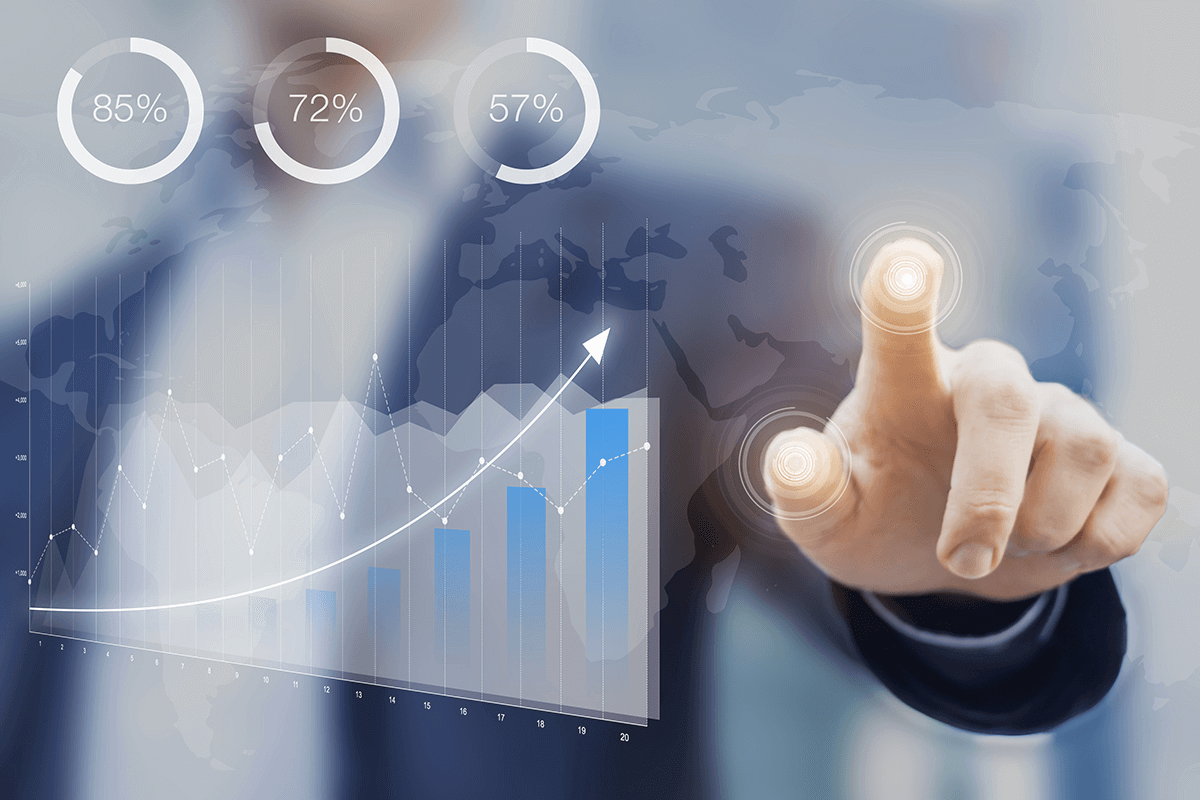 October 7, 2016
In light of SEC regulations passed in the wake of Dodd-Frank, pay for performance in executive compensation plans has become standard practice. The question of how to best structurally align pay with performance, however, remains up for...
---
What Twitter Executives Stand to Gain from a Sale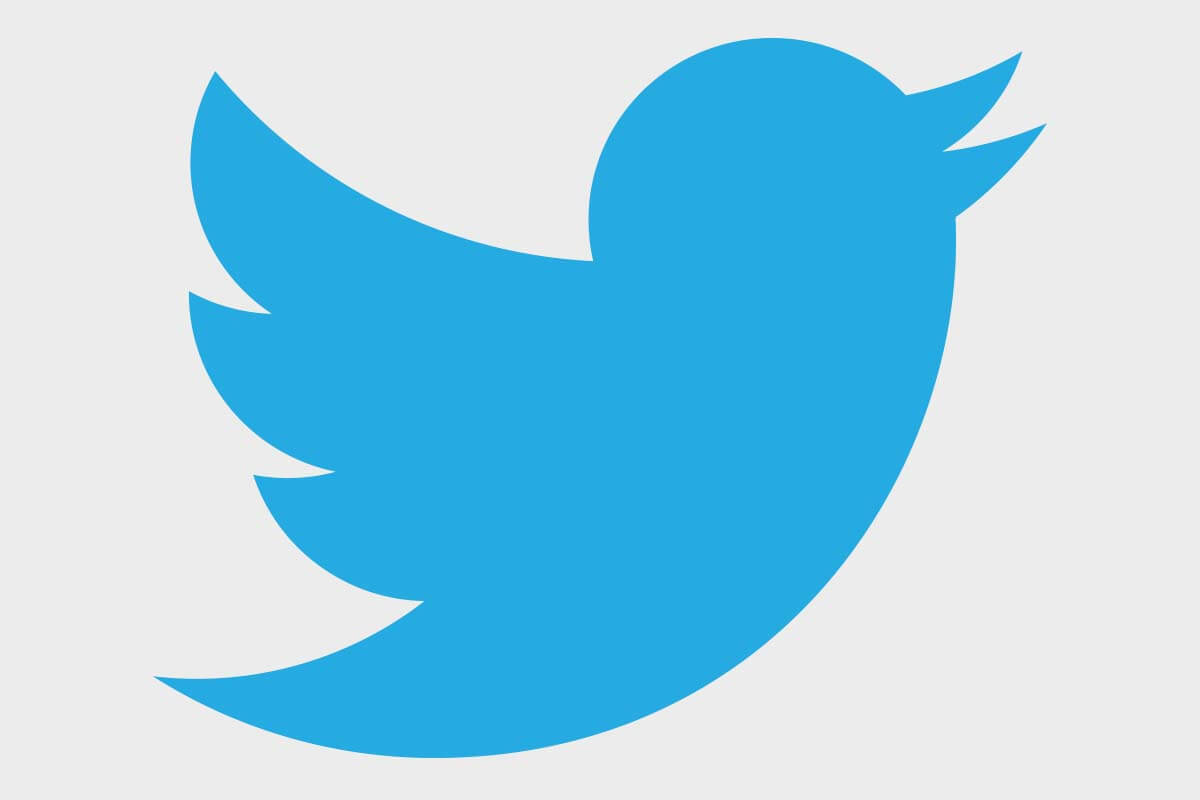 October 6, 2016
Over the past couple years, Twitter as a social networking platform has continued to captivate the public spotlight—particularly while presidential candidates utilize it as a key political platform in a pivotal election year, for example...
---
The 20 Highest-Paid S&P 500 Boards of Directors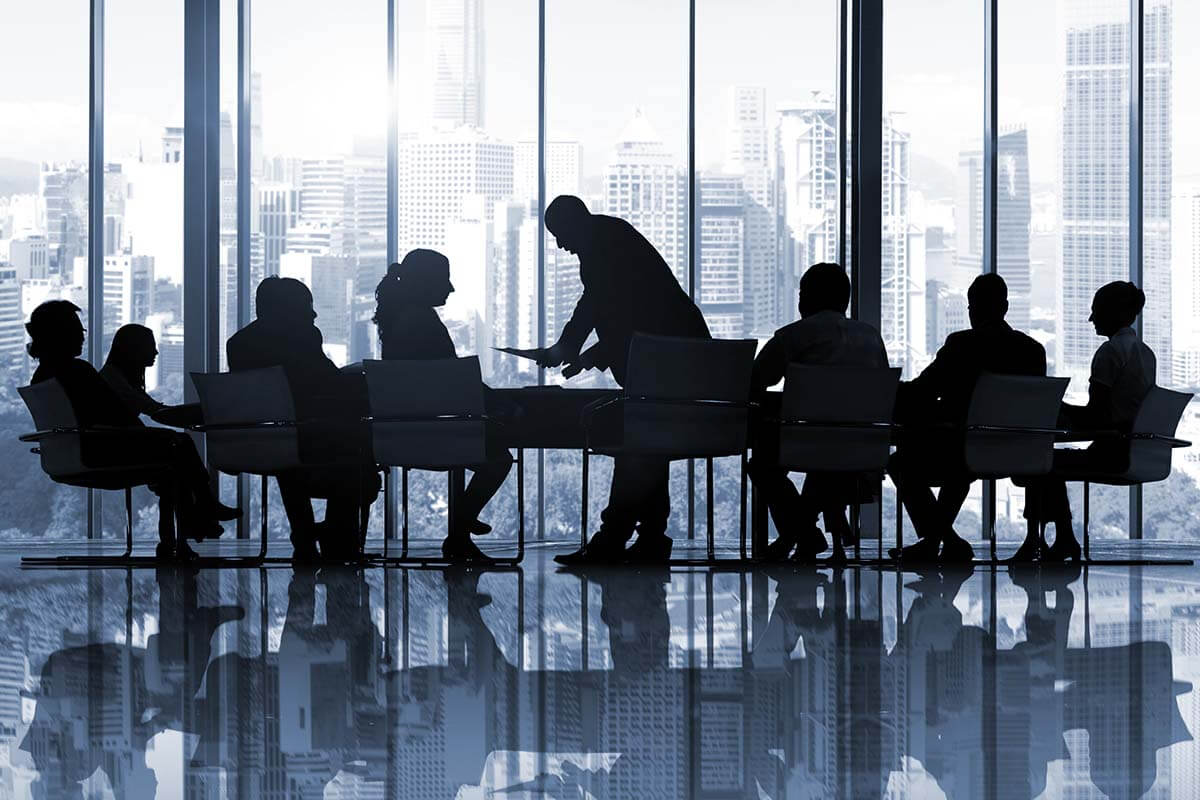 October 5, 2016
Compensation for boards of directors is generally modest in comparison to CEOs and CFOs, who more frequently garner attention from shareholders, employee advocacy groups and the media...
---
Wells Fargo: Another Look at Reported Retirement Pay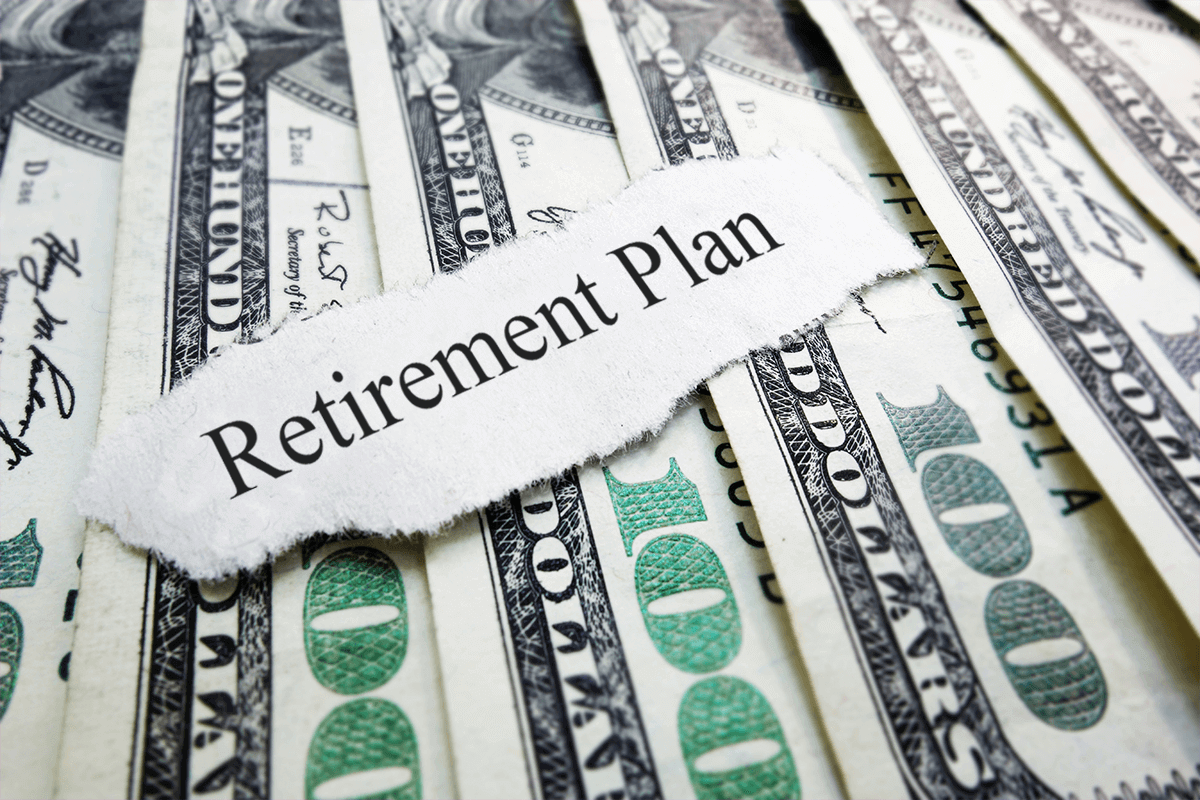 October 2, 2016
As has been widely reported, Wells Fargo is currently under scrutiny—and now an investigation—regarding questionable sales practices. There have been some big numbers thrown around about...
---
Wells Fargo Executives Paid $200 Million for Performance—What's Next?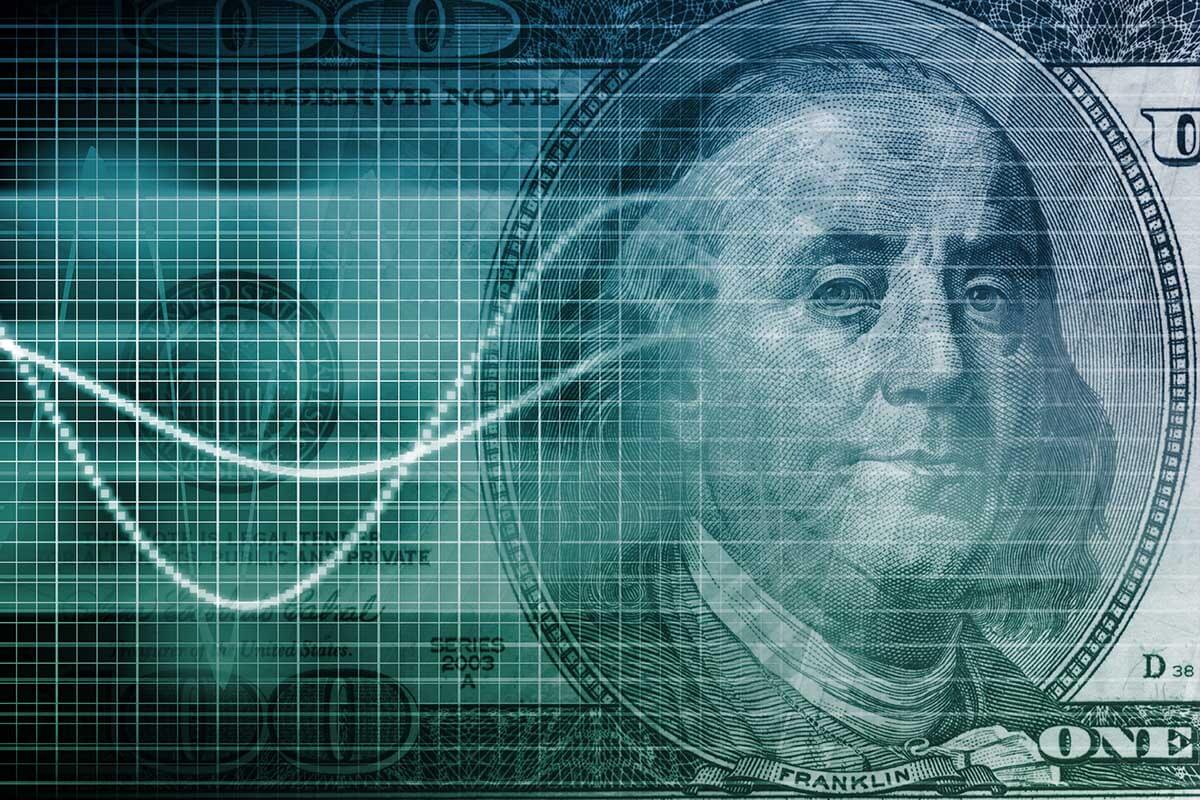 September 29, 2016
Over the past several weeks, Wells Fargo has been continuously in the news as company executives are under investigation by Congress—and now their own board. The investigation was initiated after...
---
Executive Pay and Corporate Governance Headlines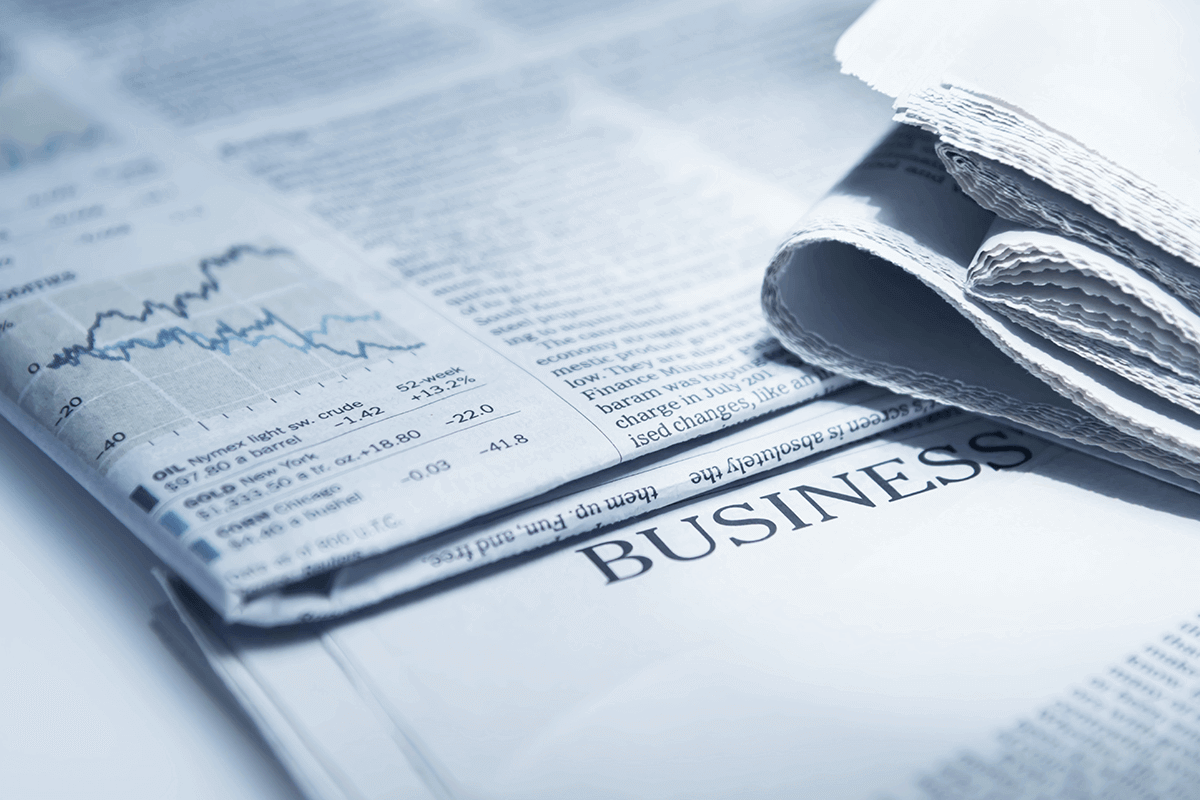 September 28, 2016
While the SEC hasn't introduced extensive environmental disclosure requirements, shareholders often create their own proposals that would affect corporate structure and reporting...
---
IPO Wealth: Easy Come, Easy Go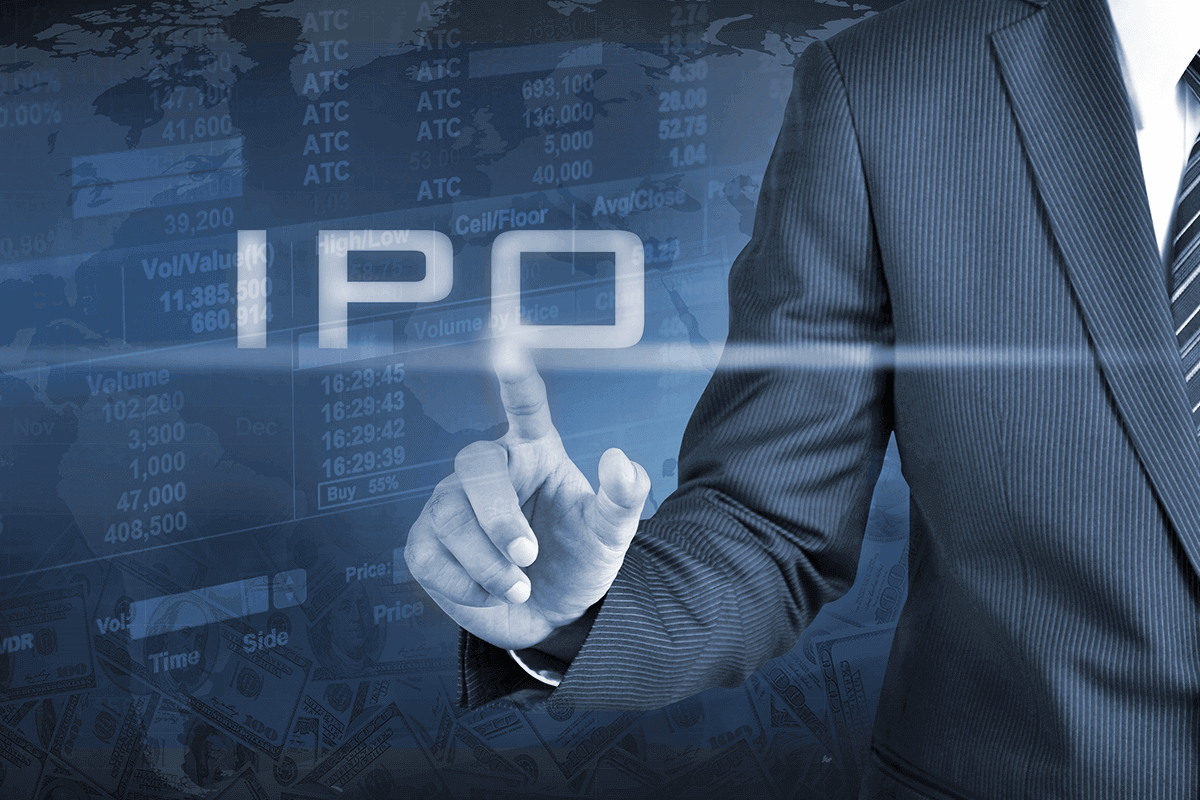 September 27, 2016
During the tech bubble of the late 1990s, news about "paper wealth" and "overnight millionaires" associated with initial public offerings (IPOs) was frequent, and then...
---
Executive Compensation at Multinational Companies:
Asking the Experts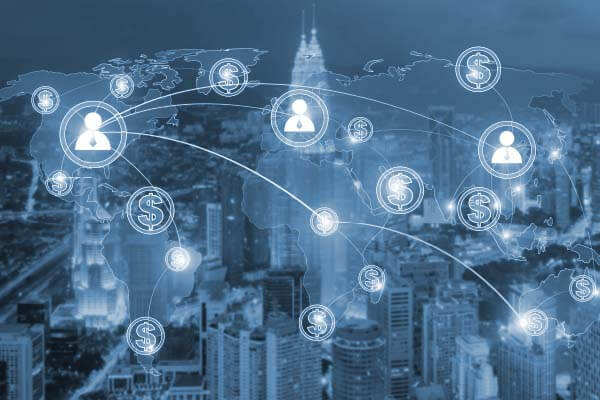 September 23, 2016
As companies are expanding worldwide operations, and sectors are consolidating in both established and emerging markets, executive compensation strategies have...
---
Tech Companies Least Likely to Offer Performance Awards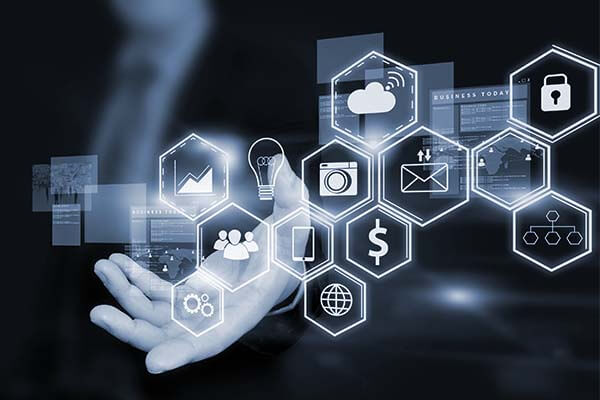 September 22, 2016
Over the past five years, executive pay in the S&P 500 has seen steady, even growth in overall pay levels. However, closer inspection reveals more dynamic changes in equity...
---
Measuring Performance with Non-Financial Metrics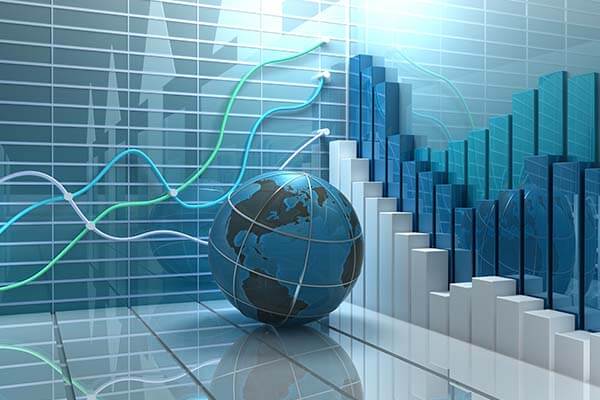 September 16, 2016
Picking the right ways to measure performance linked to incentive compensation is a tall order for boards and compensation professionals. Pay program designers not...
---
Top 25 S&P 500 Boards for Gender Diversity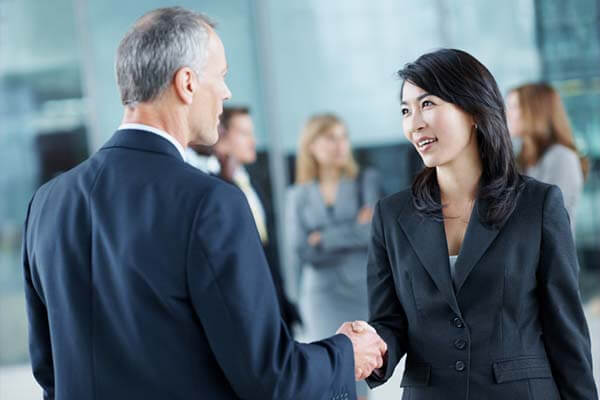 September 13, 2016
In the past several years, corporate governance stakeholders have become more attuned to board composition in terms of gender diversity. Proponents and advocates...
---
Executive Pay and Corporate Governance Headlines: August 16-31, 2016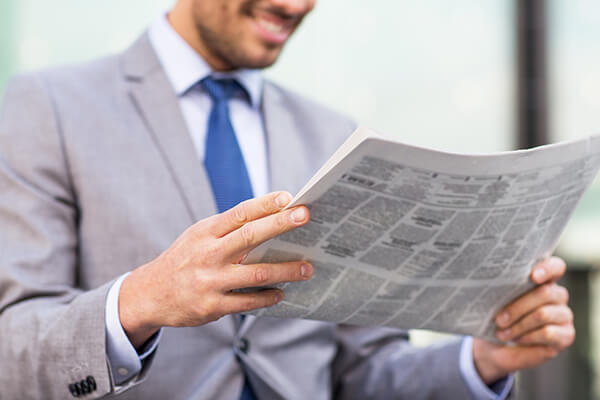 September 9, 2016
The SEC recently blocked Medizone International's attempt to exclude a shareholder proposal that would introduce a mandatory retirement age for directors at age 75...
---
Harvard Ousts Stanford as Top University for Fortune 500 CEOs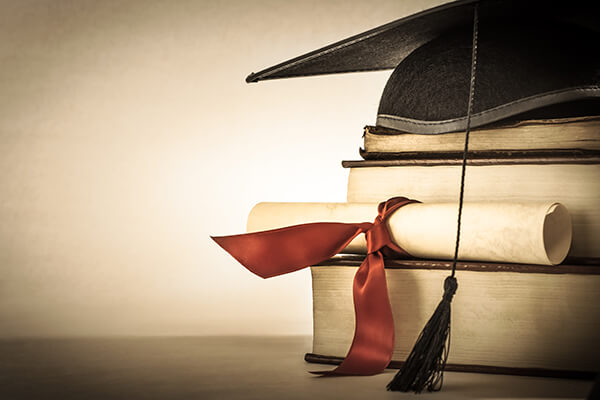 August 31, 2016
Harvard 27, Stanford 17. No, that's not a prediction for a football score this fall. It's the number of degrees each school has awarded to Fortune 500 CEOs, according to...
---
Using Peer Groups to Align Pay for Performance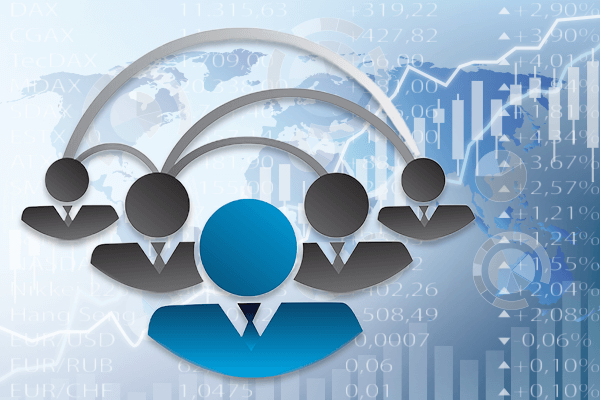 August 26, 2016
In 2006, the SEC required public companies that utilize a group of peer companies to benchmark compensation to disclose those peer groups in tandem with the newly mandated...
---
CFO Pay Shifts to Award Performance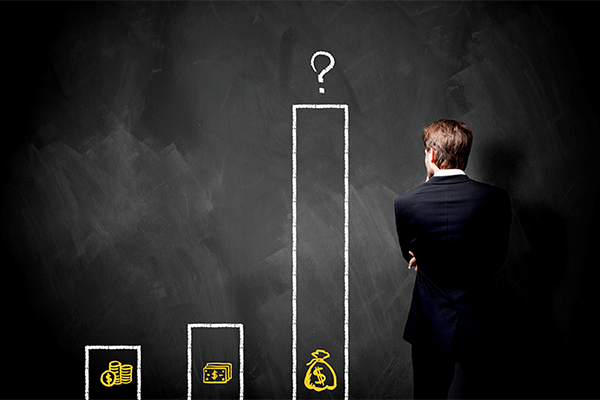 August 24, 2016
The chief financial officer (CFO) role has evolved alongside overall economic growth, political dynamics and corporate governance reform, and these financial executives...
---
Executive Pay and Corporate Governance Headlines: August 1-15, 2016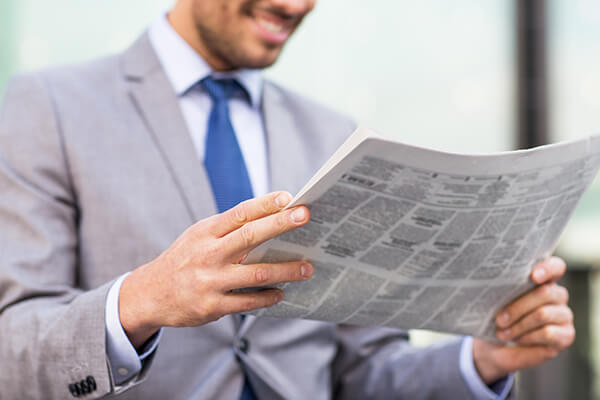 August 22, 2016
The Economic Policy Institute examined CEO pay from 1978 to 2015 and found that CEO pay growth at the largest firms not only surpassed stock price, corporate profits...
---
Highest-Paid CEOs at the Largest Fortune Global Companies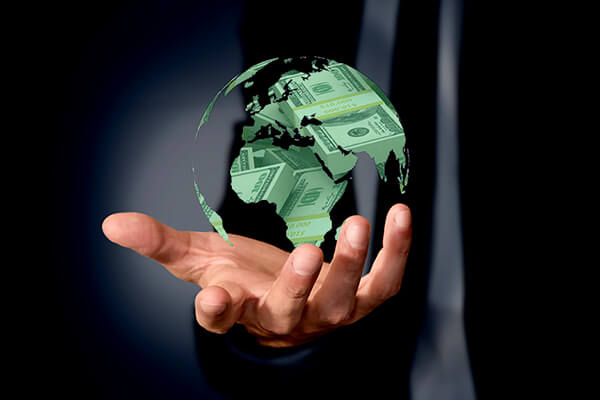 August 17, 2016
According to the latest Equilar report, CEOs at the largest U.S. companies by far outpace their counterparts in other global markets in terms of compensation...
---
Special Fees for Board Chairs in Executive Transitions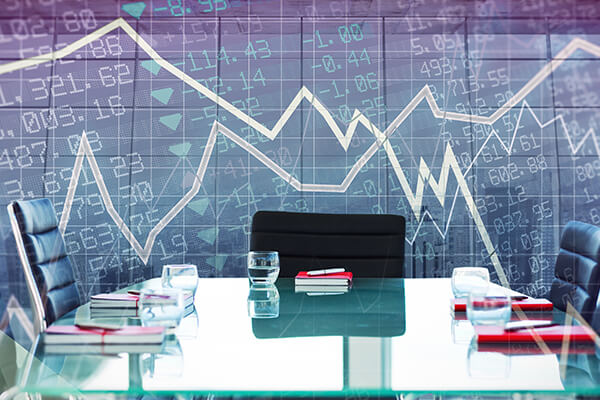 August 15, 2016
Directors serving on a board dedicate their time to a variety of tasks, including but not limited to overseeing company strategy, setting executive and director compensation...
---
Audit Committee Financial Experts Increase in Prevalence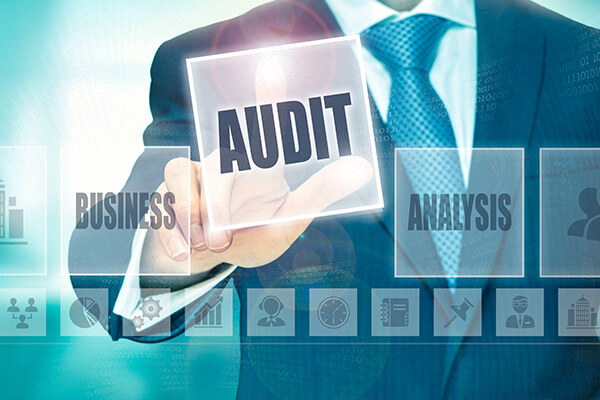 August 11, 2016
For a public company's board of directors, members of the audit committee serve a primary role in oversight of financial reporting and other risks. After the U.S. Congress...
---
Executive Pay and Corporate Governance Headlines: July 16-31, 2016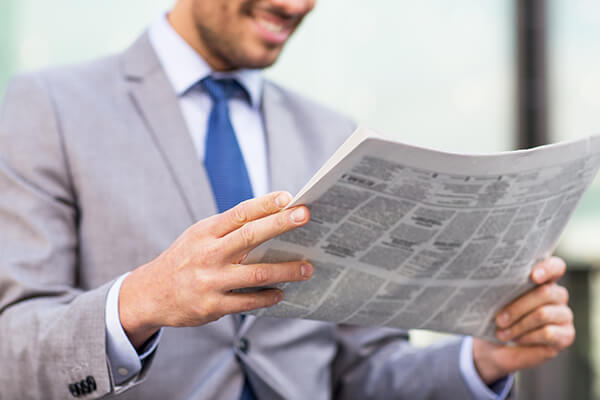 August 9, 2016
Highlights include the Commonsense Corporate Governance Principles compiled by some of the top names in Corporate America, the SEC's move to remove outdated disclosures...
---
How Does CEO Compensation Change with Tenure?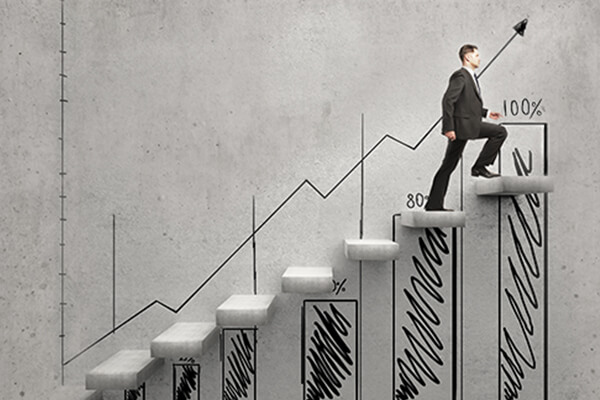 August 8, 2016
Over the past few years, the average CEO tenure at S&P 500 companies has increased according to multiple sources, and there has been a corresponding increase in CEO compensation...
---
CEO Pay Ratio: Expected Impact on Employee Sentiment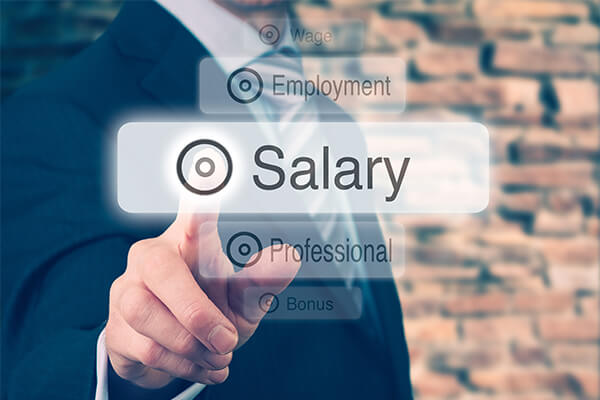 August 4, 2016
Since the SEC passed this measure one year ago as a continuation of mandates from the Dodd-Frank legislation, the CEO Pay Ratio has become a lightning rod for discussion...
---
Planning Executive Pay for Performance in Volatile Markets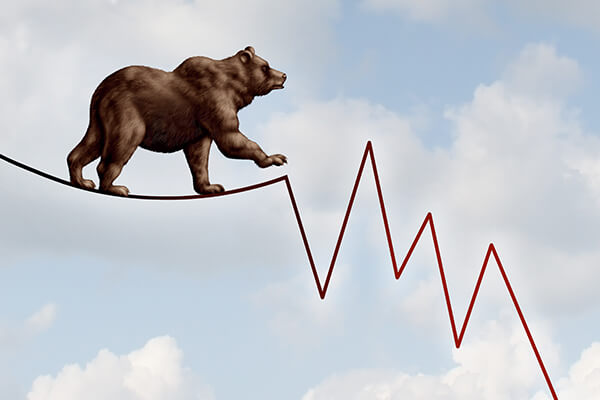 August 3, 2016
In light of regulatory implications following the passage of Dodd-Frank, such as Say on Pay and disclosures surrounding the CEO pay ratio, as well as the recent increased level of shareholder...
---
CEO Pay Beyond Reported Figures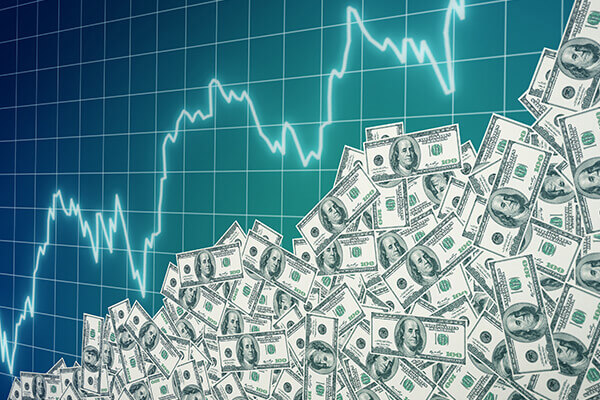 July 28, 2016
CEOs at the largest U.S companies assume the responsibility of leading organizations that keep the economy churning. While CEOs may be the top figure for public companies and represent...
---
How Marissa Mayer Made $219 Million at Yahoo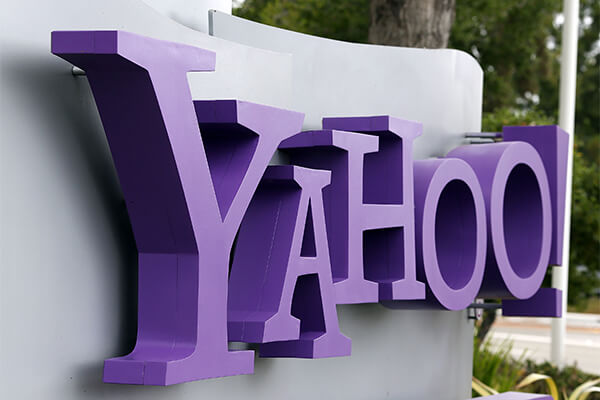 July 27, 2016
On Monday, Verizon agreed to buy Yahoo's operating business for $4.8 billion, culminating the internet company's process to sell off its core business. Media attention has focused...
---
How Companies Pay Executive Chairs after CEO Succession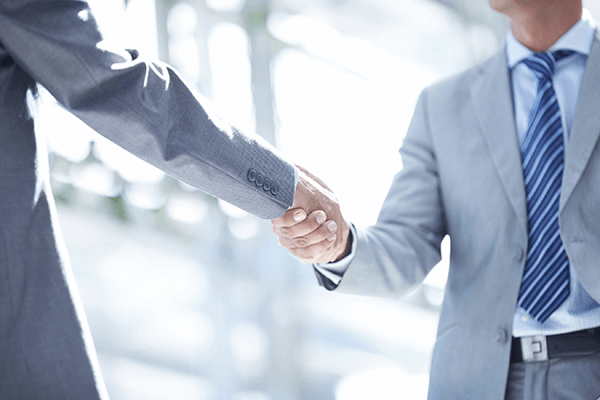 July 26, 2016
With every CEO transition, boards look to identify a leader that will drive the company forward strategically. In some cases, that means choosing to transition outgoing CEOs...
---
CEO Pay at the World's Largest Banks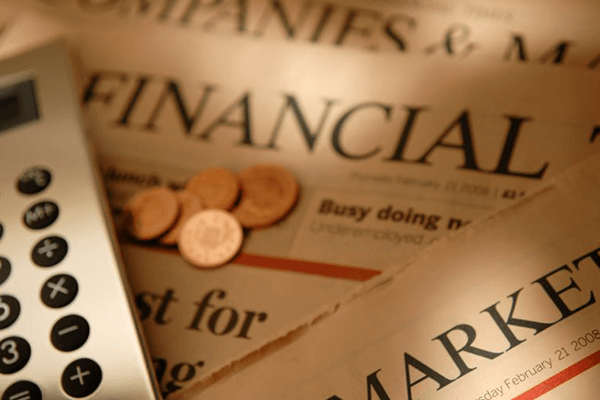 July 25, 2016
According to a recent Equilar data analysis conducted for the Financial Times, the CEOs at the largest banks worldwide saw a collective 7.6% increase in total compensation...
---
Executive Pay and Corporate Governance Headlines: July 1-15, 2016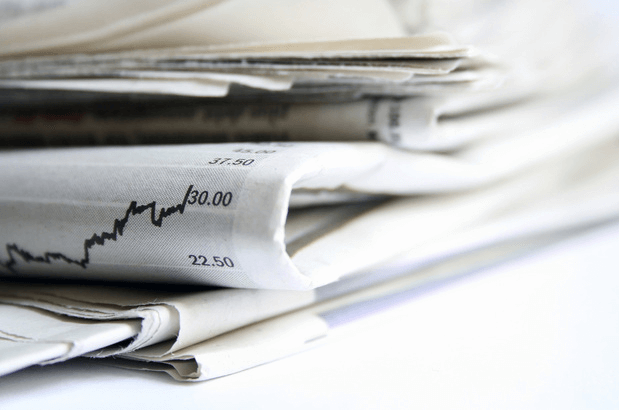 July 22, 2016
The SEC voted for final rules on June 27, 2016 that adopt Section 1504 of the Dodd-Frank Act, mandating that resource extraction issuers disclose payments they make to foreign...
---
Less Than 1% of Fortune 1000 Boards Have Reached Gender Parity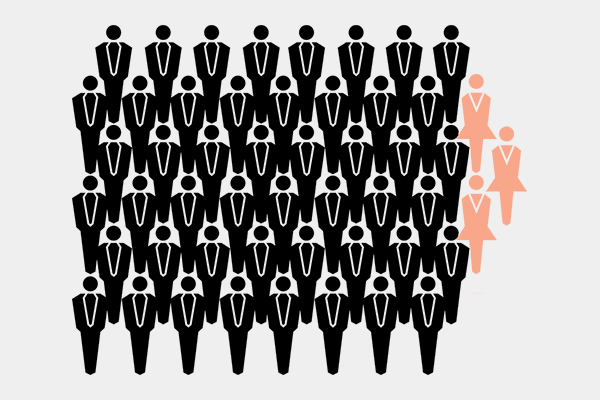 July 20, 2016
More women are joining Fortune 1000 boards, but very few companies have an equal number of male and female directors, according to new data from Equilar updating a 2015 study...
---
Boardroom Diversity Increases at a Slow Pace: Catalyst Research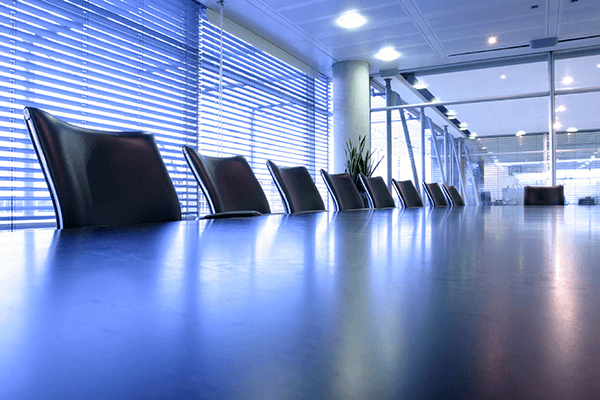 July 18, 2016
Shareholders, proxy advisors and regulators alike continue to highlight diversity in the boardroom as a tenet of good corporate governance—not to mention its correlation...
---
Narrowing the Gap Between Investors and Boards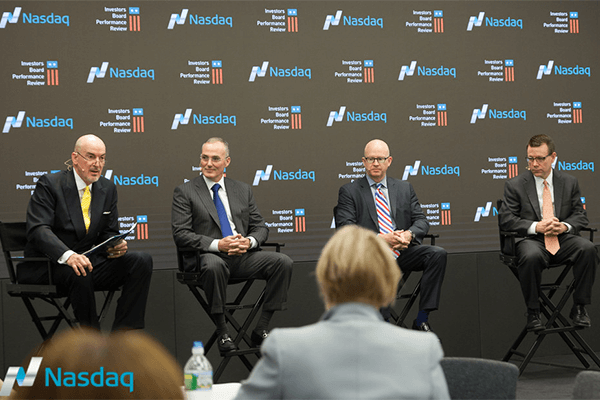 July 15, 2016
The Investors Board Performance Review recently hosted a live taping at the Nasdaq MarketSite in New York City, featuring Glenn Booraem, Head of Corporate Governance...
---
CEO Pay Ratio and Investor Perception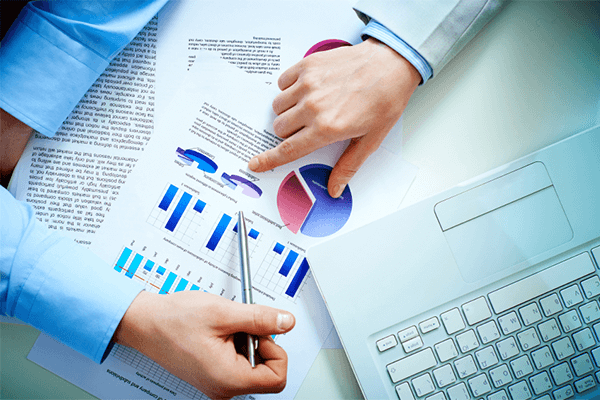 July 13, 2016
When the majority of public companies filed their annual proxy statements this spring, only a handful preemptively addressed the SEC's upcoming addition to the Dodd-Frank...
---
Gender Diversity as a Competitive Advantage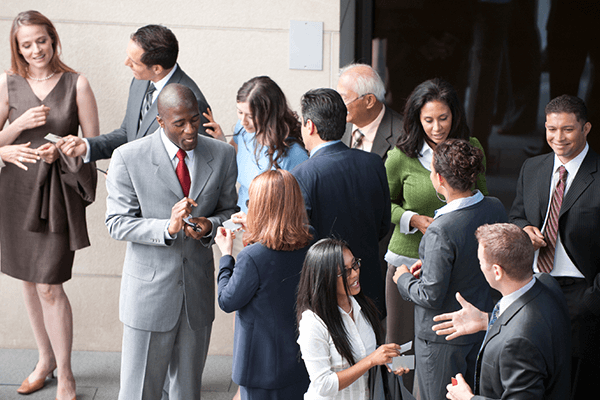 July 11, 2016
As the voice of shareholders has grown stronger in recent years, investors are applying pressure for companies to align better with the demographics of their employees...
---
Sitting CEOs Occupy Nearly 10% of S&P 500 Comp Committee Positions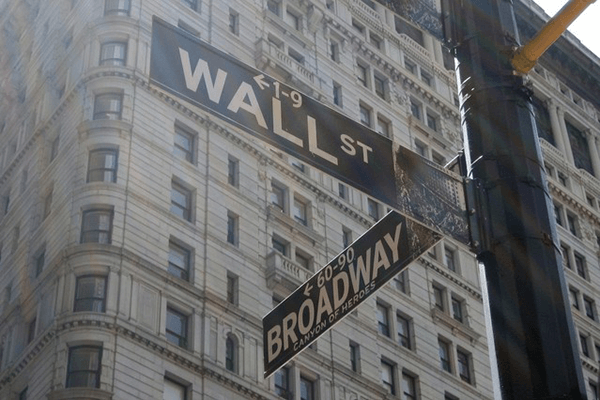 July 7, 2016
Compensation committees must follow strict independence rules, and company executives may not serve on their own compensation committees due to the conflict of interest...
---
Executive Pay from the Investor's Perspective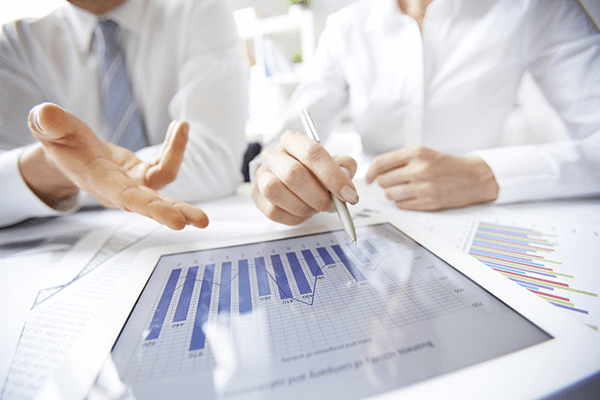 July 6, 2016
While shareholders vote on various proposals at companies' annual meetings, high-level results showing shareholder "support" of proxy proposals often fail to illuminate...
---
Executive Pay and Corporate Governance Headlines: June 16-30, 2016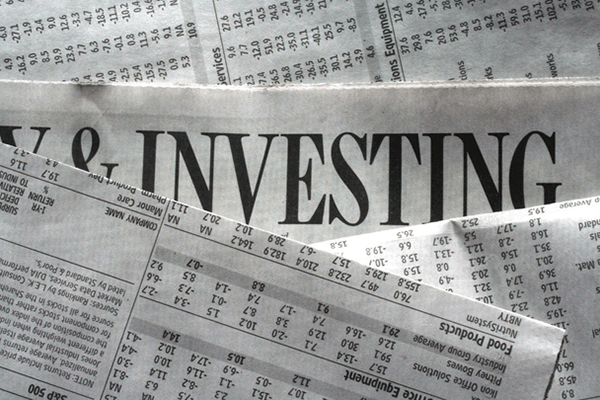 July 5, 2016
Please see below for key trends and themes in corporate news and regulations, executive compensation, corporate governance and shareholder engagement, detailing five of the...
---
Executive Compensation Summit: A Look into the Crystal Ball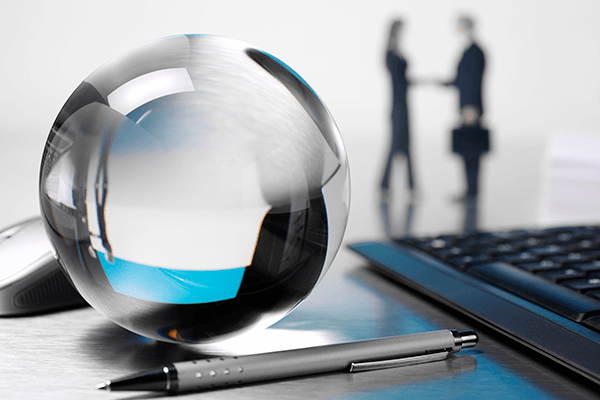 June 22, 2016
At the Equilar Executive Compensation Summit in Boston this week, panelists and attendees discussed key topics surrounding executive pay at length—recurring themes such as...
---
How Executive Pay and Dodd-Frank Influenced SEC Rulemaking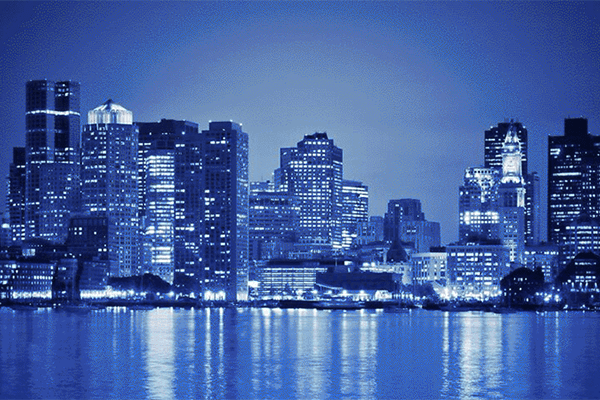 June 21, 2016
The Securities and Exchange Commission (SEC) states that its mission is "to protect investors, maintain fair, orderly, and efficient markets, and facilitate capital formation."...
---
Pay for Performance Takes a Balanced Approach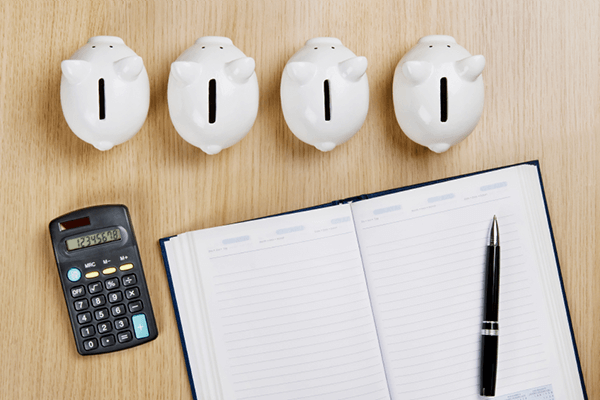 June 20, 2016
Companies primarily use equity to retain and incentive executives, as well as align their visions with longer-term strategic goals and shareholder return. A number of factors have...
---
Engaging Shareholder Activism: Five Corporate Governance Factors to Consider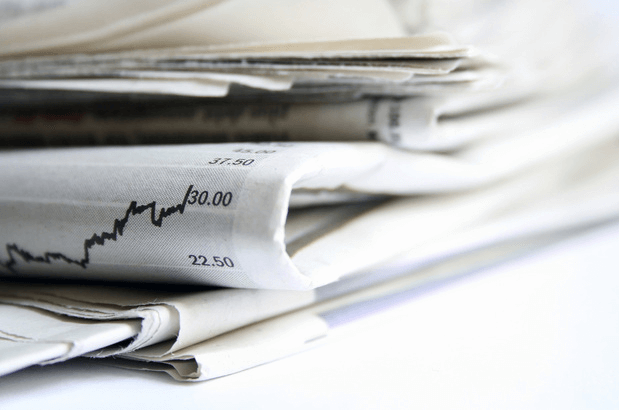 June 17, 2016
Over the last several years, shareholders have begun to scrutinize many aspects of corporate governance more closely, including executive pay, performance incentives, buybacks, board...
---
Your Executive Pay Benchmarking Method May Be Costing You Too Much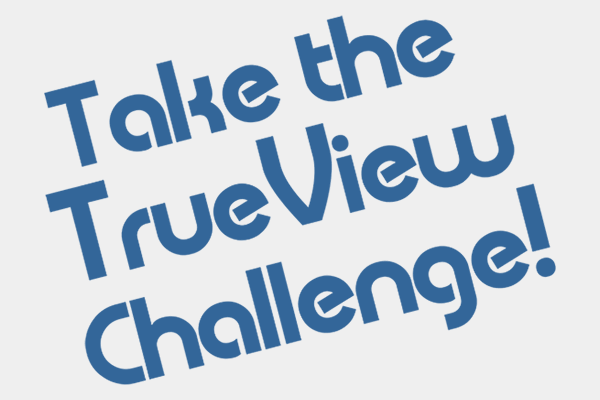 June 15, 2016
Oftentimes, benchmarking executive compensation can prove to be a trying task. Compensation experts must establish pay packages that motivate and retain their executives...
---
Shareholder Engagement and Proxy Voting: Myths and Realities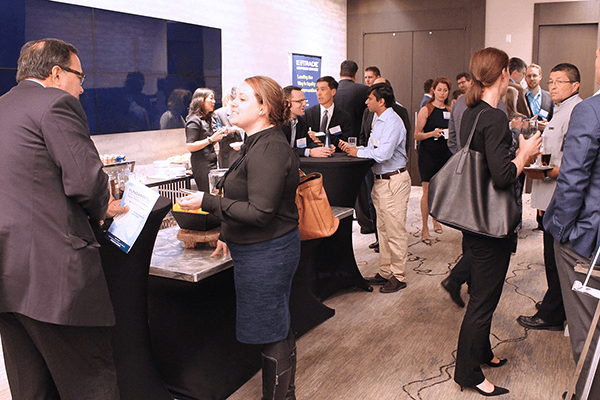 June 13, 2016
Companies preparing for an initial public offering (IPO) have a steep learning curve in terms of corporate governance. Once these companies begin trading, the attention of boards...
---
SEC Adopts Voluntary Summary for 10-K Annual Reports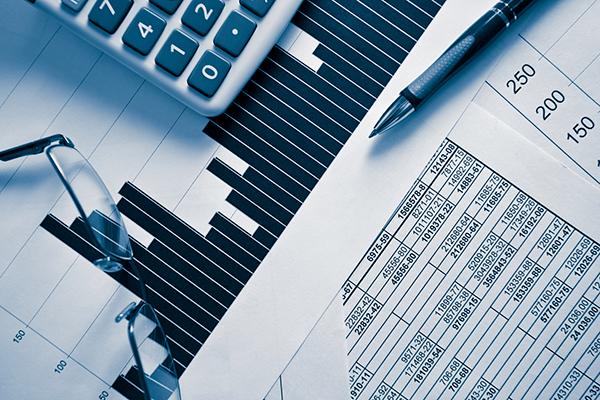 June 10, 2016
The SEC recently adopted an interim final ruling pursuant to the Fixing America's Surface Transportation (FAST) Act. It allows companies to include a summary of business...
---
Who Was the Highest-Paid CEO in Every State Last Year?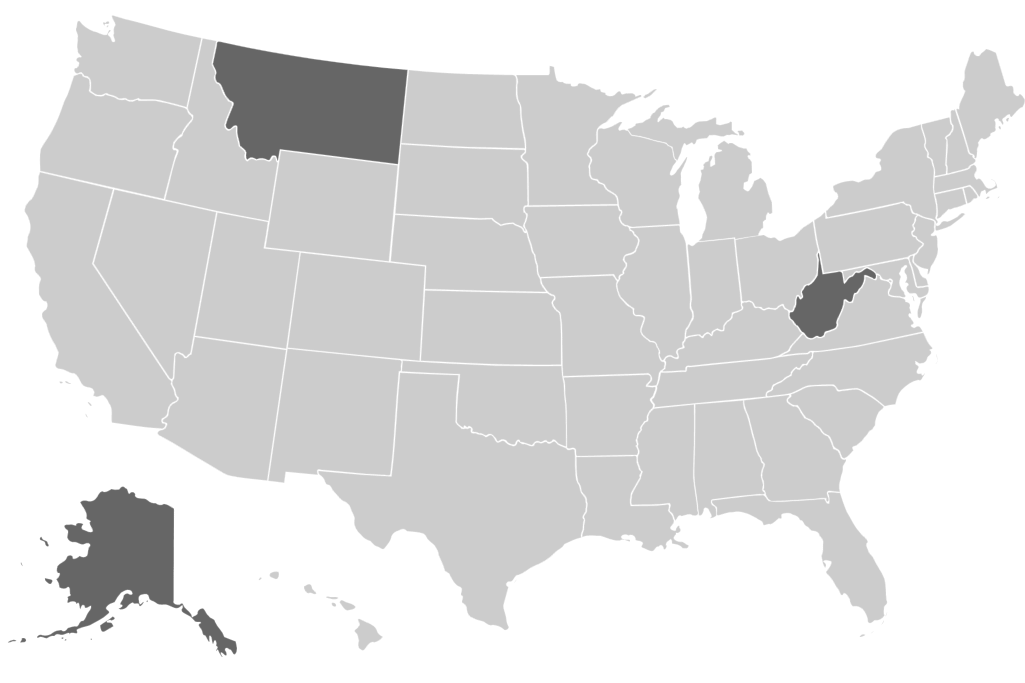 June 8, 2016
The Associated Press recently published its coverage of the Equilar Highest-Paid CEOs by State study, which analyzed total compensation of chief executives at public companies...
---
Realized Pay Enhances Pay for Performance Story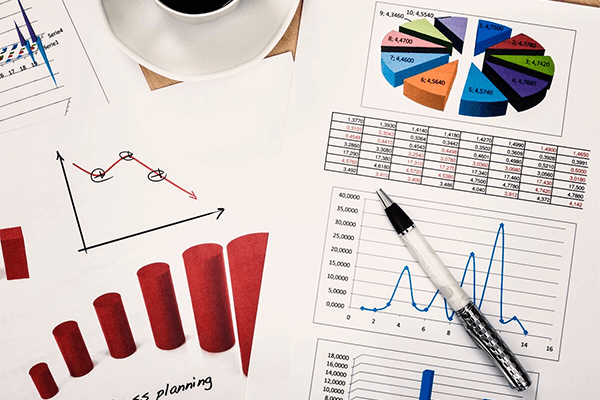 June 6, 2016
As pay for performance becomes a larger focus for companies, regulators, shareholders and other advisors, the question of which pay reporting methods should be required disclosure...
---
Fortune 100 Incentive Plan Performance Adjustments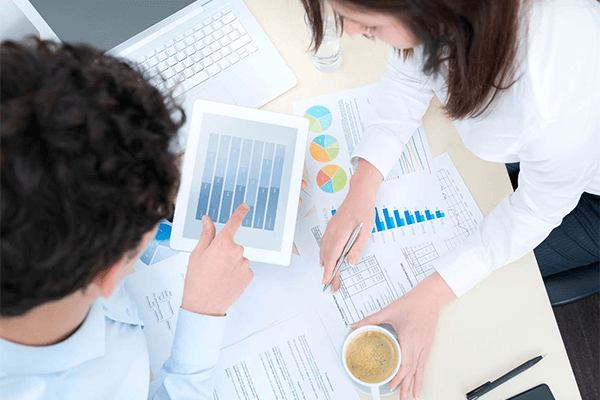 June 3, 2016
The concept of individual performance in annual incentive plans (AIPs) is simple: Reward executives for their performance separate from the contributions of others...
---
How to Build a Board Before Going Public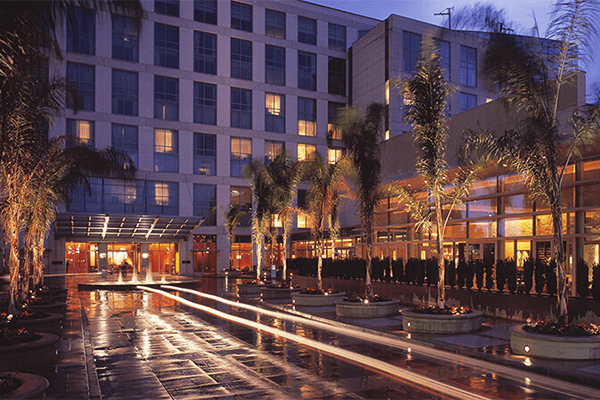 June 1, 2016
Companies that are planning an initial public offering (IPO) or that have recently entered the public sphere face a steep learning curve in terms of corporate governance...
---
Female Directors More Likely Than Men to Serve on Multiple Boards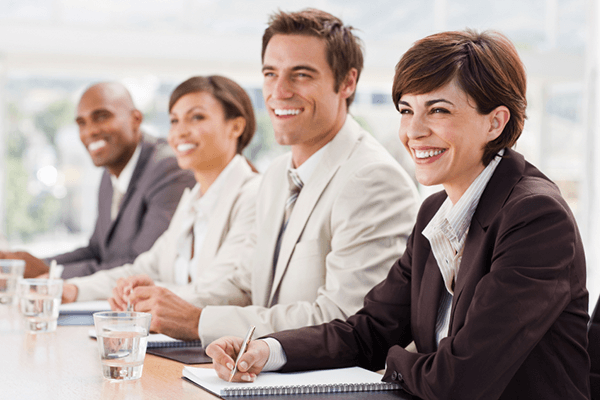 May 27, 2016
With diversity at the forefront of board recruiting, experienced females are in high demand. An Equilar study of S&P 500 board members conducted for The New York Times found that female...
---
Top Tech CEOs Out-Earned Other Industries in 2015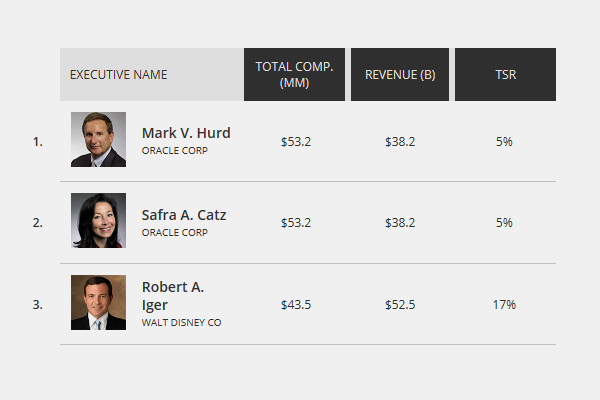 May 25, 2016
Technology CEOs earned more as a group than any other business sector in 2015, according to an analysis of the Equilar 100, a study of the 100 largest companies by revenue to file before...
---
Four Ways to Approach Executive Pay in CEO Succession Planning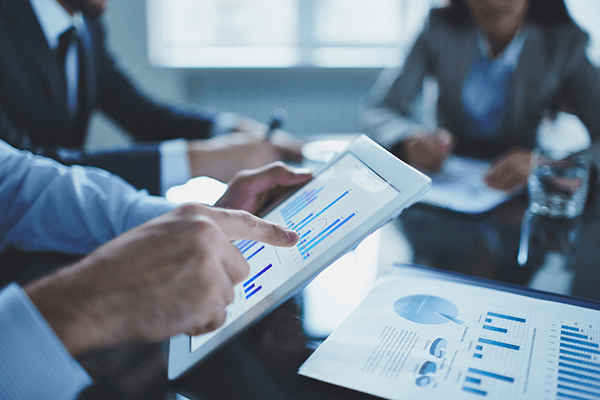 May 23, 2016
All companies and shareholders can be certain that CEO succession is inevitable. Whether this inevitability is rapidly approaching or looming far off in the distance, every company...
---
Russell 3000 Companies Use Independent Compensation Surveys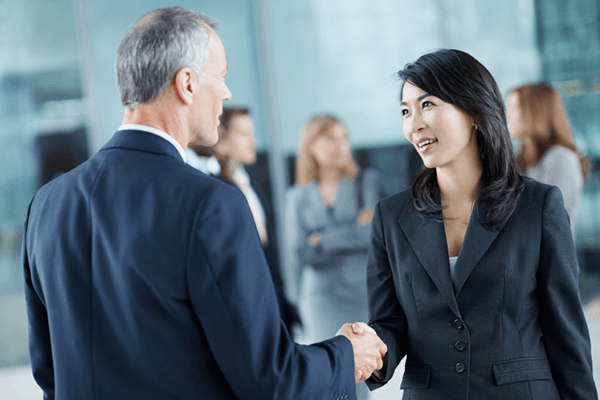 May 20, 2016
Since the passing of Dodd-Frank in 2010, executive compensation has become increasingly scrutinized in light of increased transparency and enhanced disclosure. Nowadays...
---
Four Ways Corporate Transitions Influence Executive Pay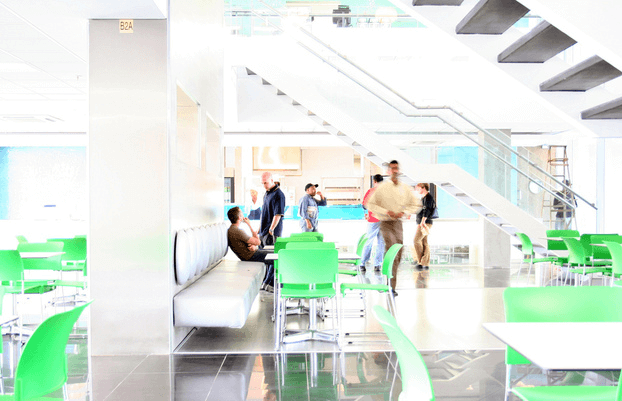 May 16, 2016
Compensation programs are particularly challenging to manage during sensitive scenarios such as M&As, spin-outs, financial restatements or terminations. These situations cause...
---
Executive Hardship: Meeting Ownership Guidelines in a Volatile Market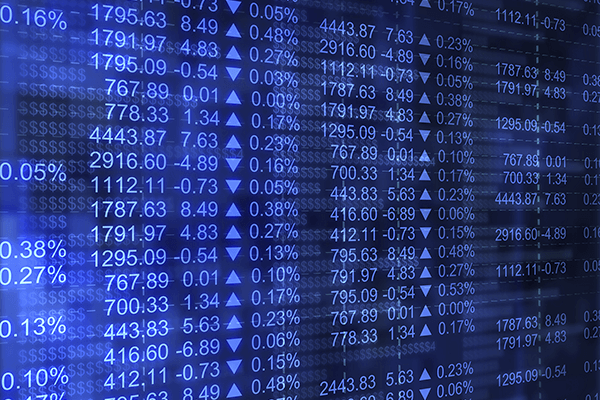 May 13, 2016
With the advent of Say on Pay and the influence of proxy advisory firms on votes, company stakeholders increasingly scrutinize all aspects of corporate governance...
---
Experts Discuss the Merits of Executive Performance Incentives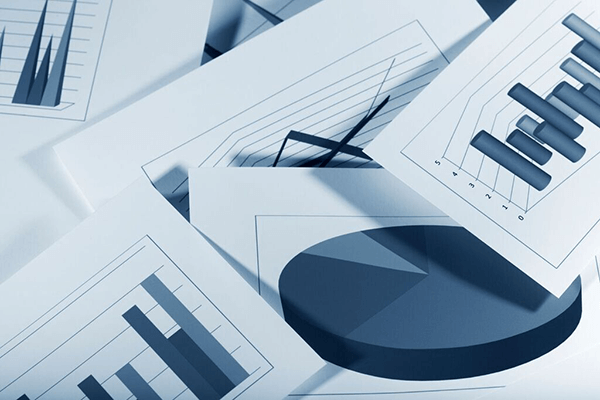 May 11, 2016
As scrutiny from activist investors intensifies and marketplace volatility continues, companies are seeking to develop effective executive compensation programs that align pay...
---
Highest-Paid CEO-Chairs Earned $1 Million More Than Non-Chairs in 2015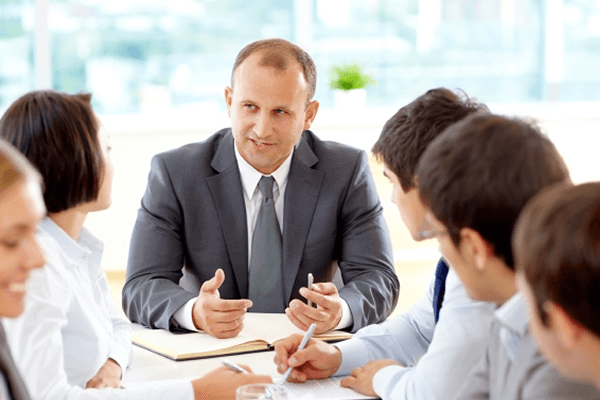 May 9, 2016
CEO pay is still on the rise, totaling $14.5 million in 2015 among the Equilar 100, a study of the 100 largest companies by revenue to file their proxy statements by April 1...
---
Top-Paid Female CEOs Earned an Average of $22.7 Million in 2015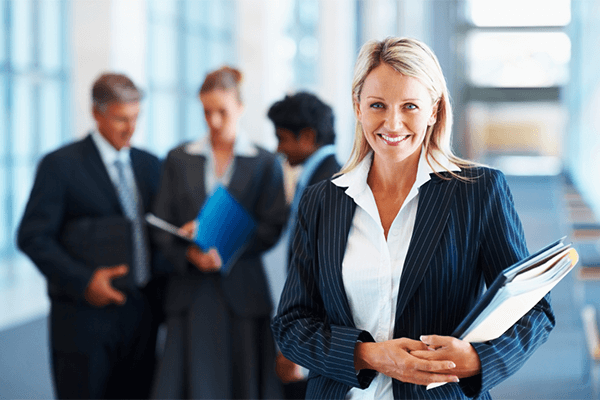 May 6, 2016
Despite accounting for a low number of positions, female CEOs in the Equilar 100 are out-earning their counterparts significantly. In 2015, the eight females who served...
---
Shareholders and Regulators Scrutinize Bank CEO Pay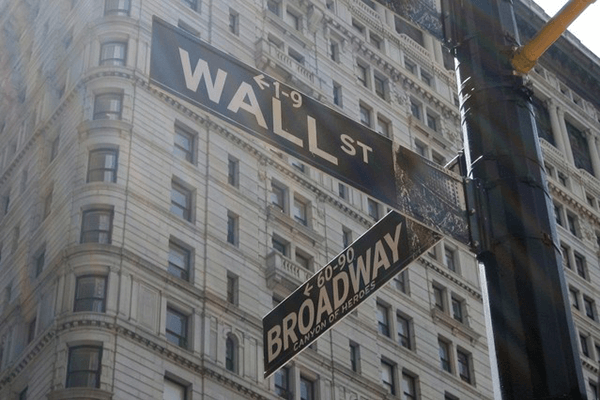 May 4, 2016
As proxy season comes to a close, shareholder meetings are heating up and Say on Pay votes are rolling in. So far, we haven't seen too much shake-up from previous years...
---
Singular Perspective: Incentive Plans with One-Year Performance Periods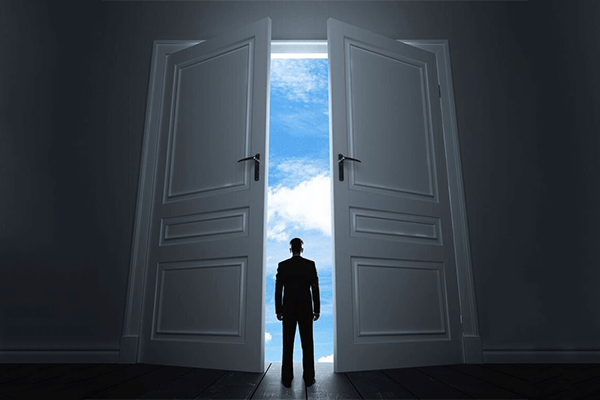 May 2, 2016
Executives receive compensation in several forms, typically consisting of a base salary, an annual bonus, and long-term incentives (LTI)—the latter most often in the form of equity. Salaries...
---
How Much Is Say on Pay Changing Executive Pay Practices?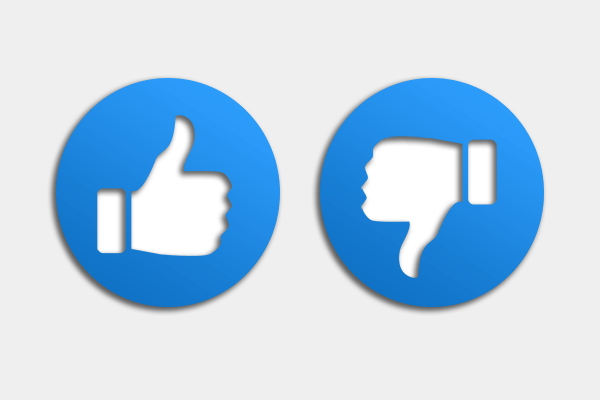 April 29, 2016
Say on Pay is frequently considered a catalyst for better pay practices at public companies, but in the past five years, shareholders have overwhelmingly passed the measure at companies, and CEO pay...
---
Energy Sector Decline Influences Incentive Plans in Executive Pay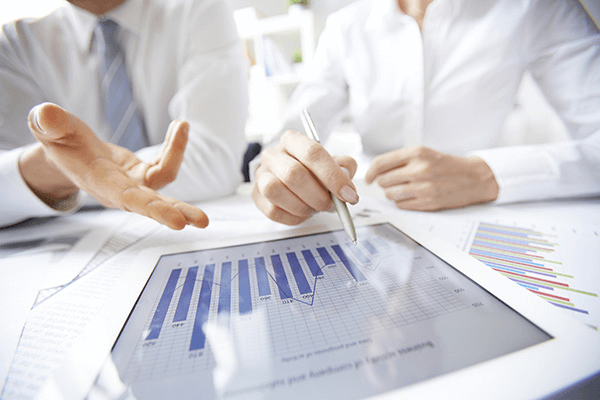 April 22, 2016
Flailing oil prices have not necessarily indicated a drop in CEO pay across the board for the largest energy, oil and gas companies for 2015—at least not yet. Among the oil and gas companies...
---
Back to the Future: Companies Lengthen Incentive Plan Performance Periods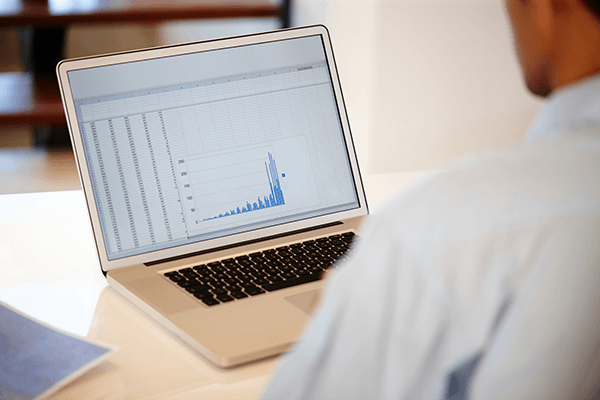 April 20, 2016
Setting performance periods is an integral piece of achieving pay for performance alignment in the wake of Dodd-Frank, Say on Pay and mounting shareholder activism. In recent years...
---
Designing Executive Pay to Drive Shareholder Value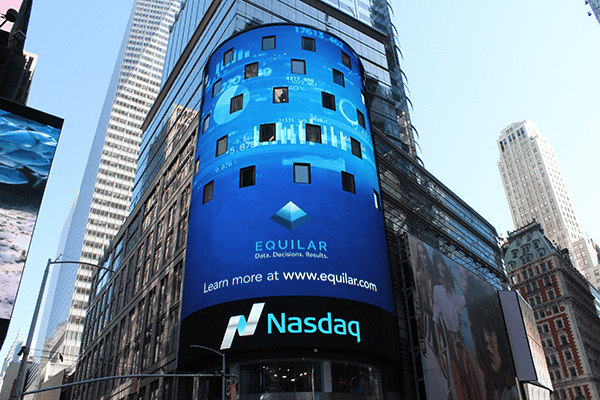 April 18, 2016
Today's compensation committees—and the members of management who work closely with them—face a formidable task to develop and execute a compensation and benefits program...
---
Five Ways Companies Structure Executive Stock Ownership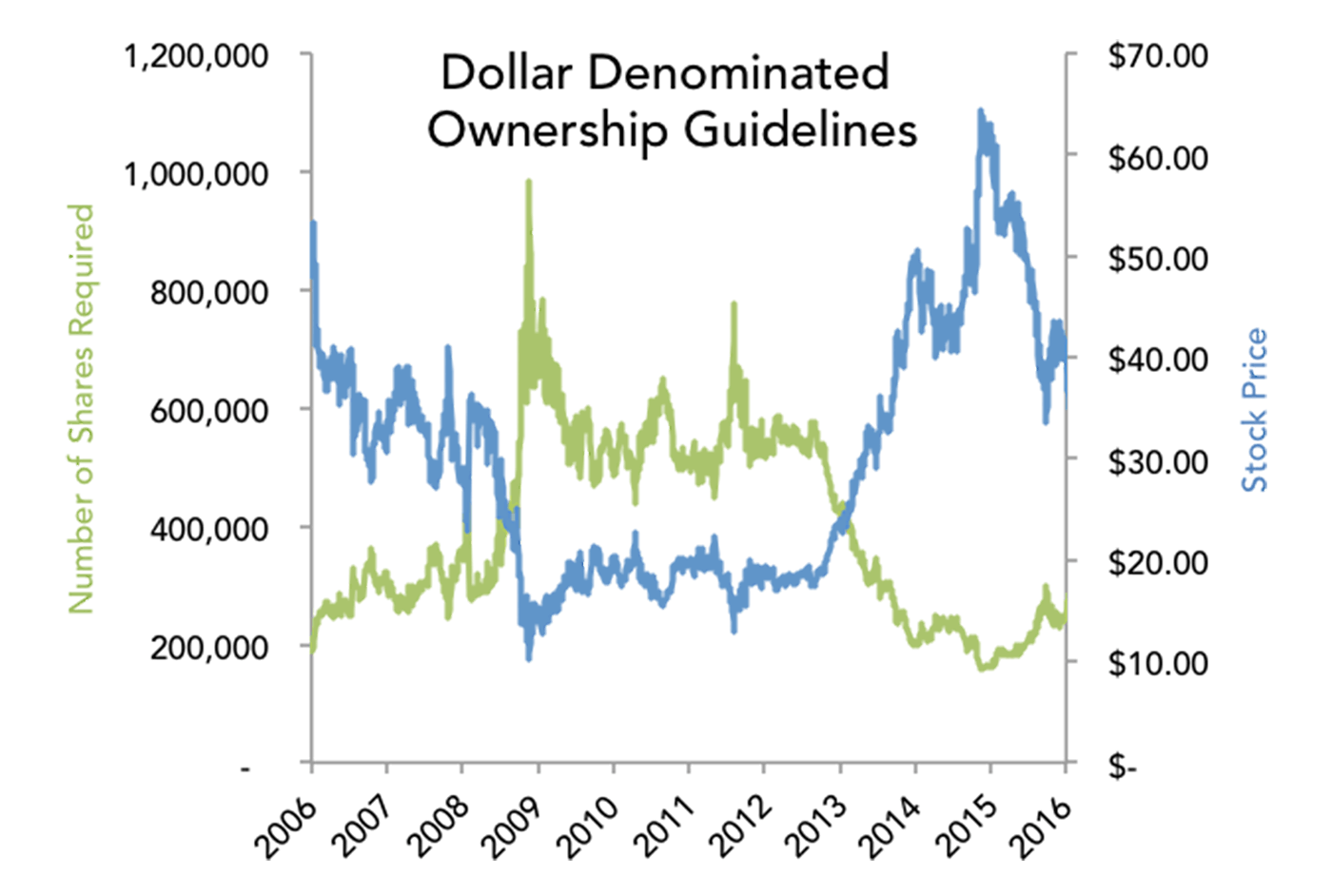 April 15, 2016
Public companies are beholden to align long-term interests of executive officers with those of their shareholders, thus influencing how companies pay for performance...
---
Stable or Stale? Board Chair Tenure Continues to Rise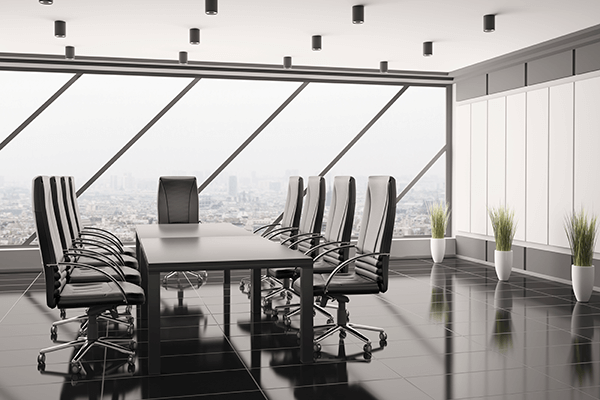 April 13, 2016
Shareholder scrutiny of board leadership has ramped up in recent months and will continue to do as annual meetings draw nearer—some recent examples including...
---
With Voluntary Disclosure, Companies Get Ahead of CEO Pay Ratio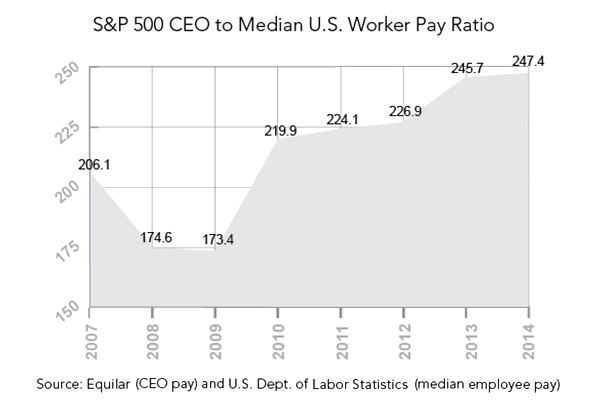 April 11, 2016
In August 2015, the SEC passed the Pay Ratio Disclosure rule as a part of Dodd-Frank, which will require them to include a comparison of CEO pay to that of a median employee...
---
Probability in Pay for Performance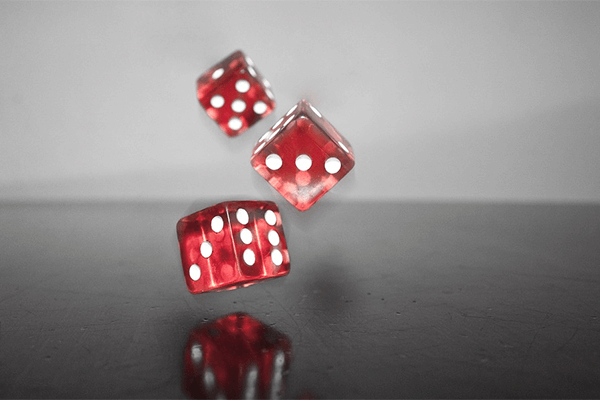 April 7, 2016
In the age of Say on Pay, "pay for performance" has morphed from catch phrase into standard practice. According to Equilar's 2015 Equity Trends Report, just over half of S&P 1500 companies granted...
---
Equity Experts: How to Manage the Push for TSR in Executive Pay Plans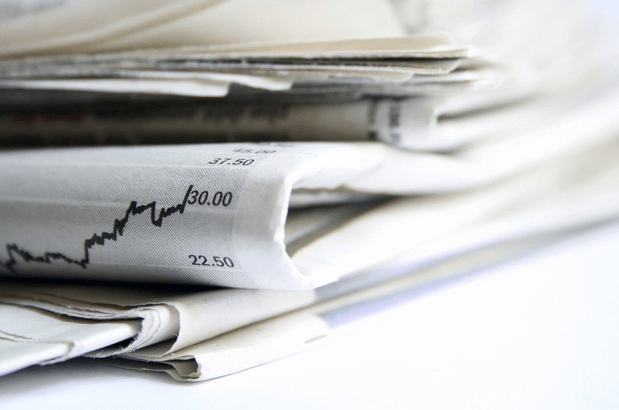 April 5, 2016
The National Association of Stock Plan Professionals (NASPP) hosts a regular podcast aptly entitled "Equity Experts," and featured Equilar's director of research, Belen Gomez, in a recent episode...
---
CEO Performance Award Payouts Are Increasingly Off Target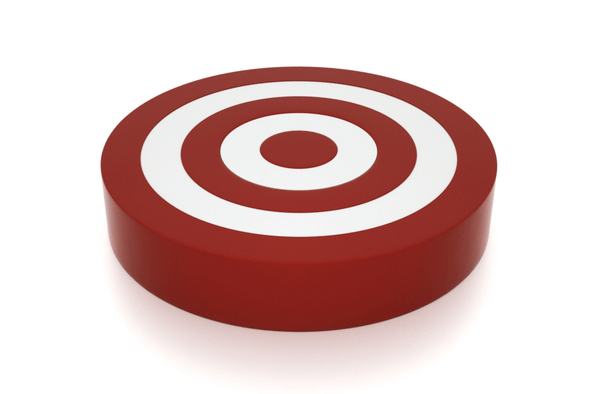 April 1, 2016
In its most elemental form, executive pay consists of "fixed" elements—base salary and time-vesting equity–and "variable" or "at risk" elements—annual incentive and long-term incentive plan...
---
Super-Board Shuffle: Avon May Lose Position as Board Diversity Leader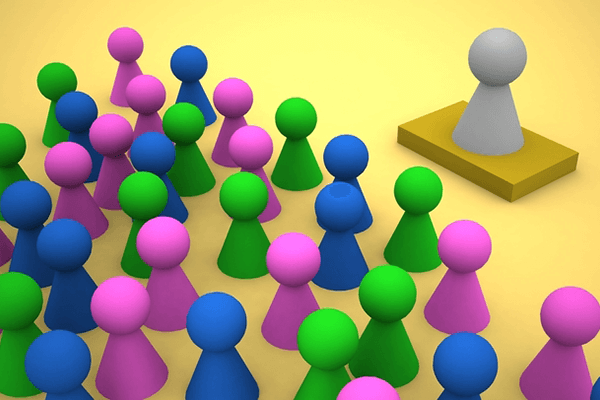 March 31, 2016
Over the past several months, Avon Products has run a gauntlet of buyers and activists. While the company has avoided a proxy fight, some directors may become collateral damage after its impending board refreshment...
---
Shareholder Engagement: Increasing Exposure in Proxy Disclosure
March 30, 2016
Shareholder engagement has become one of the most talked-about issues in corporate governance, and with good reason. In the past few years, public companies have been held up to greater scrutiny due to many factors...
---
Are Longer Proxy Statements Deterring Shareholder Engagement?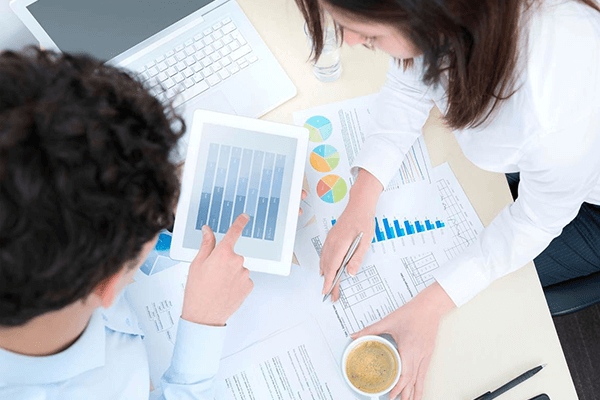 March 28, 2016
In light of the financial crisis, Dodd-Frank and Say on Pay, executive compensation has become a hot-button issue in corporate governance. Continuous interplay between public companies and their shareholders—and the...
---
Will the SEC Rule on a Gender Pay Ratio?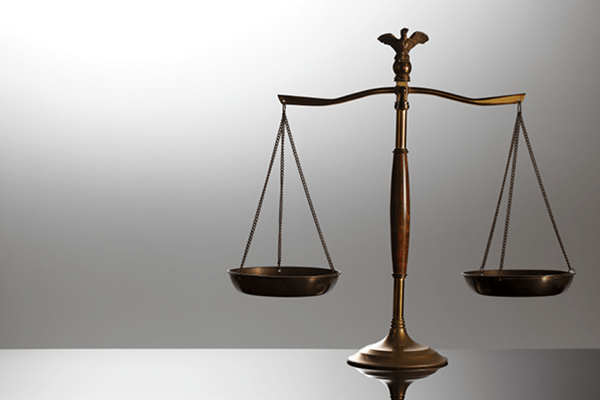 March 24, 2016
Though gender pay equality is far from a recent issue, several scenarios during the past several weeks have brought the gender pay gap to the forefront of executive compensation and corporate governance...
---
Proxy Season Prompts Big Changes on High-Profile Boards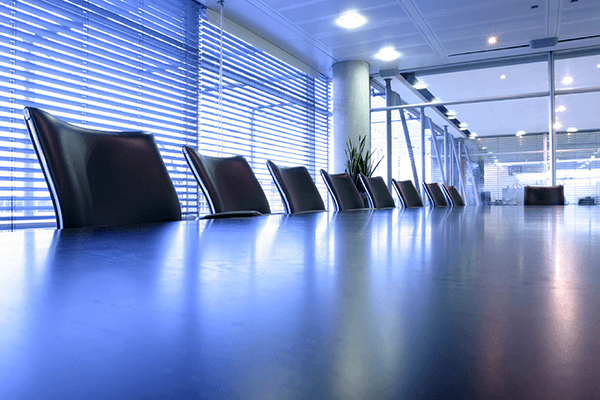 March 23, 2016
Board succession and refreshment have become consistent topics of conversation in corporate governance, with shareholders directly sending a message to companies that they expect regular...
---
Companies Just Say No to "Pay for Pulse"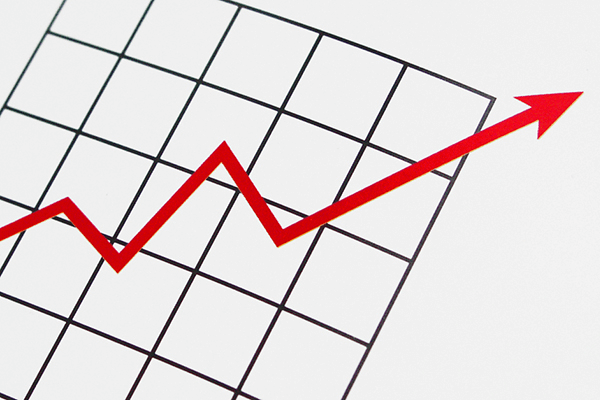 March 21, 2016
In the wake of Dodd-Frank, Say on Pay, and calls from proxy advisors and shareholders for stronger links between pay and performance, public companies have taken a closer look at the design...
---
Transportation Companies and Executive Travel Perks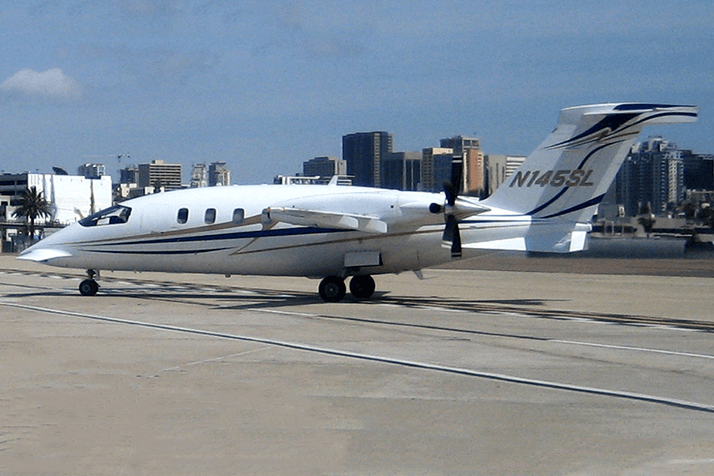 March 17, 2016
Country club memberships, annual physicals and free financial advice don't always spring to mind when pondering executive pay. Traditionally, perks like these hid behind salaries, bonuses...
---
"First of Its Kind" Shareholder Proposal Takes on Tax Inversions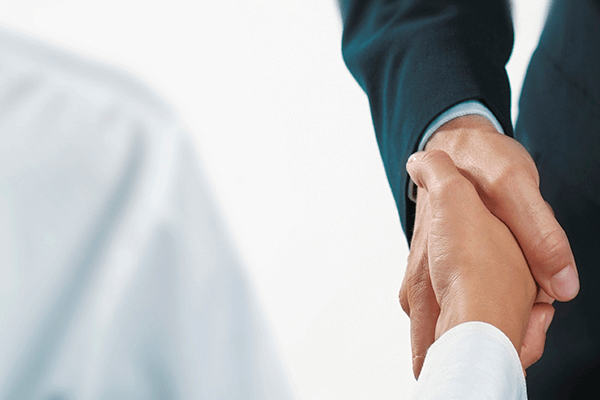 March 15, 2016
In the past five years, shareholder proposals have continued to increase, reflecting greater scrutiny on corporate governance. In 2015, there was an activist campaign launched...
---
Independent Women: Female Directors Drive Growth of Outsider Boards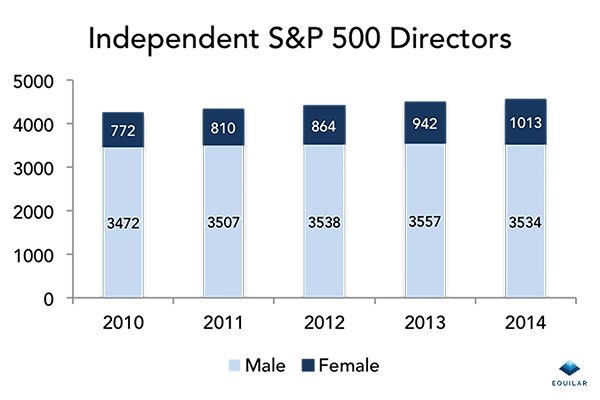 March 14, 2016
In today's corporate world, boardroom diversity is top of mind for governance professionals and investors alike. Shareholder engagement and activism has pressured companies...
---
Potential Proxy Fight at United Continental Spotlights Activist Demands for Board Skills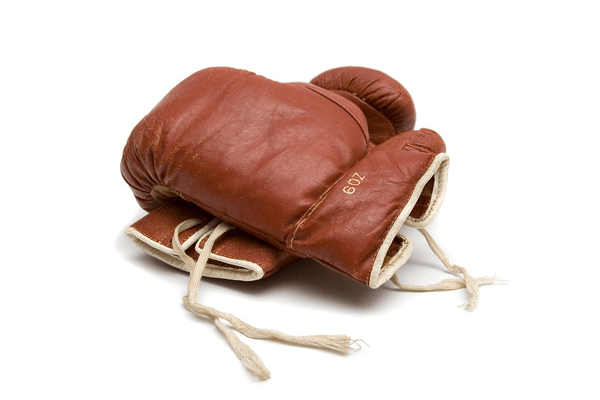 March 11, 2016
Shareholder activism has pushed board assessment and refreshment to the forefront in the 2016 proxy season. With proxy access becoming a hot-button issue, more and more...
---
New Diversity Fund Shines Light on Corporate Leadership Gender Equality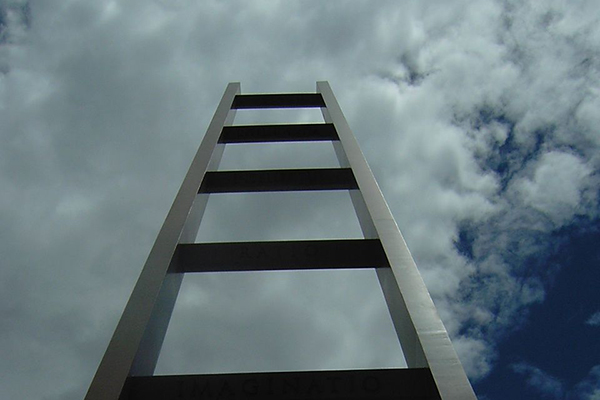 March 8, 2016
On Tuesday, March 8, State Street Global Advisors (SSGA) began trading "SHE," an exchange-traded fund centered on companies that have gender diversity at the highest ranks...
---
Incentivizing Risk: Cash Severance Multiples Among U.S. REITs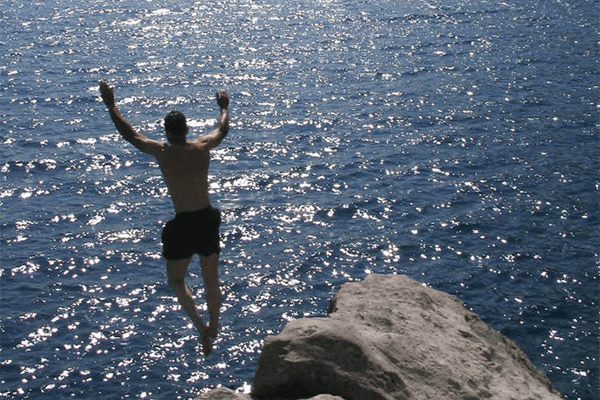 March 8, 2016
In addition to attracting talent and providing retention value, severance packages can incentivize executive risk-taking by providing a safety net in case certain decisions don't turn out as planned...
---
Fewer Classified Boards Could Mean Higher Director Turnover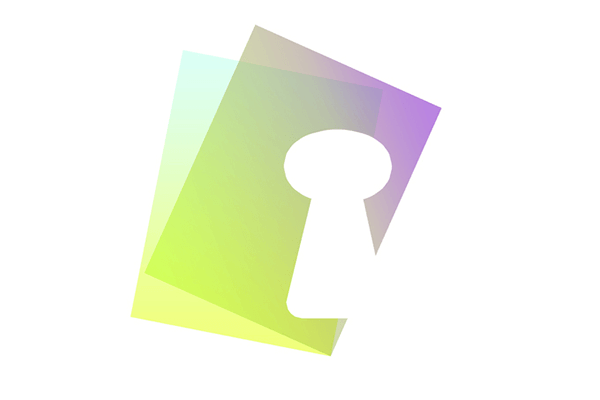 March 7, 2016
Directors are increasingly on the hot seat as board refreshment becomes a focus of shareholders and proxy access continues to gain traction. Indeed, 2,729 new directors joined Russell 3000 boards in 2014...
---
Combine and Cash In: Executive Awards for Inversions and Mergers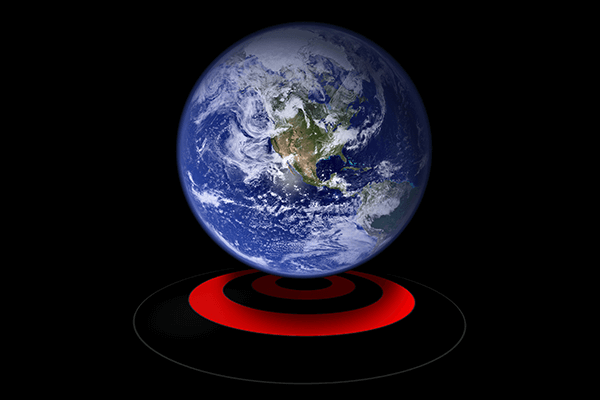 March 4, 2016
2015 saw heightened M&A activity as all industries participated in a whirlwind of corporate transactions. At the forefront of this consolidation flurry, corporate inversion situations and mergers of equals gained significant...
---
Sell-Off: Fortune 100 CEOs Rarely Hold Exercised Options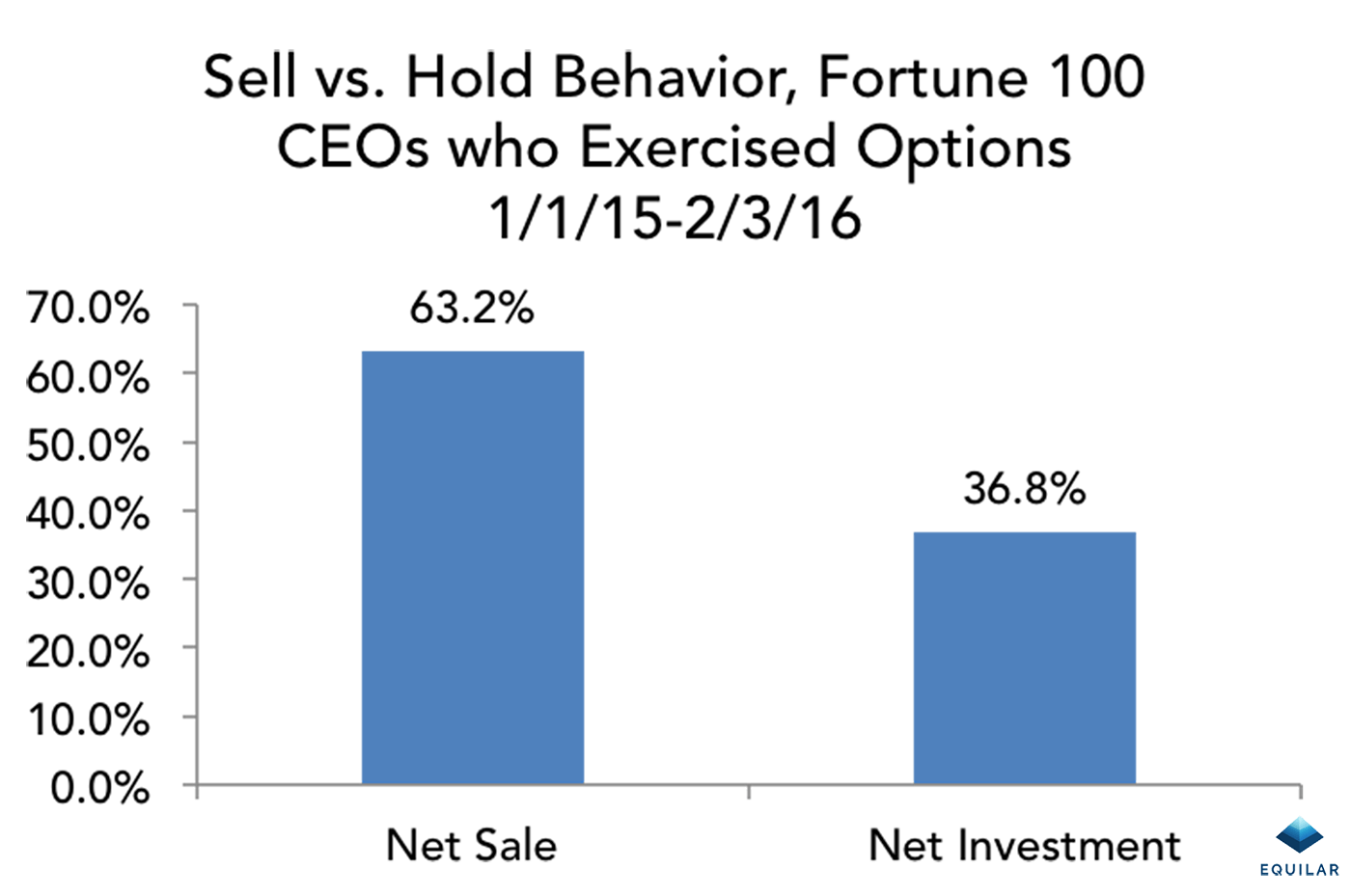 March 2, 2016
Stock options can be a sticky issue in executive compensation, and as a result, their popularity as a means to pay corporate executives has waned over the last few years. Debates over the utility of options as an equity vehicle center...
---
Best Practices for 10b5-1 Plans and Insider Trading Policies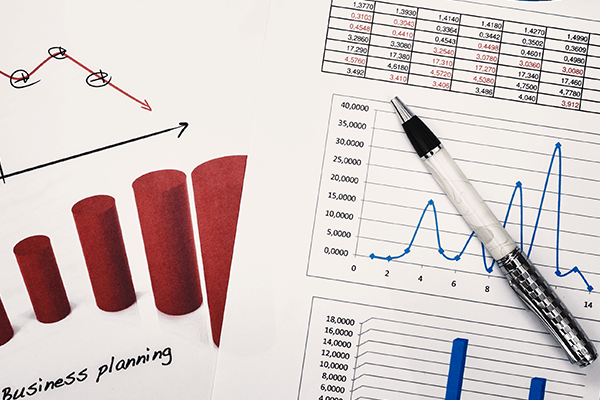 February 29, 2016
10b5-1 plans continue to receive substantial attention from the media, legal commentators, academics, regulators, investors and shareholder organizations. While October 2015 marked the 15th anniversary of the creation of rule 10b5-1...
---
Are Boards Getting Boring? 10% Have at Least Four Directors over 70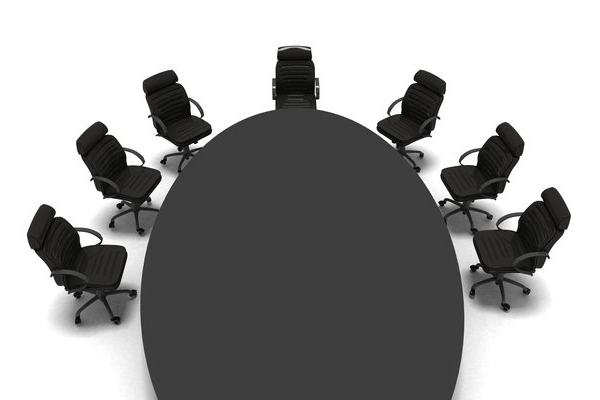 February 26, 2016
The recent resignation and retirement of Sumner Redstone at CBS and Viacom in a two-day period brought to light shareholder concerns around board age and tenure. As a growing number of directors nears mandatory retirement age...
---
Pay Display: How Companies Visualize Pay for Performance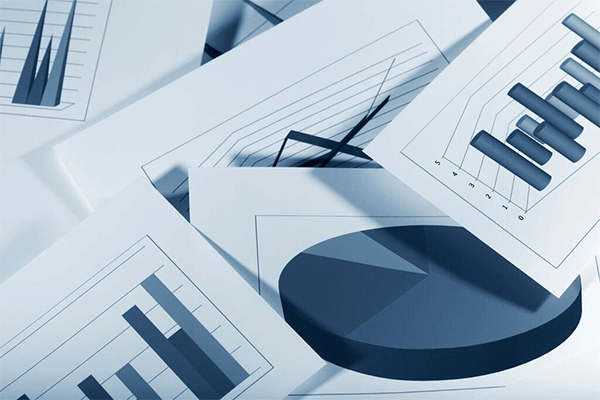 February 24, 2016
Pay for performance is at the forefront of executive compensation program design, and stakeholders are adamant in ensuring executive pay levels are commensurate with a company's performance and returns to shareholders. In 2015...
---
Bull Market: Big Banks Show CEO Pay Increases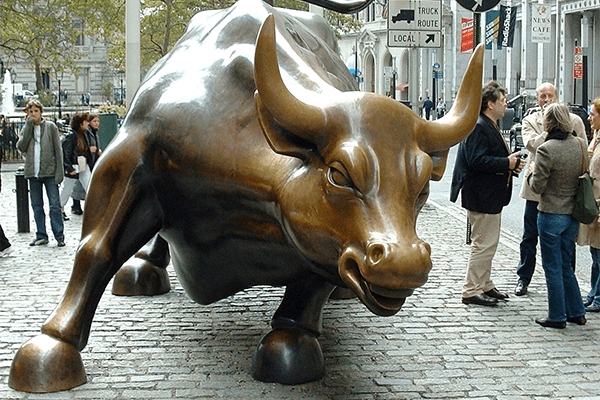 February 23, 2016
Early indications from the largest U.S. banks could signal an overall increase in CEO pay for the financial sector in fiscal year 2015, as recent filings revealed 20%-plus pay raises for Bank of America's Brian Moynihan and Citigroup's...
---
Keeping the Lights On: Maintaining Line of Sight in Energy Sector Incentive Plans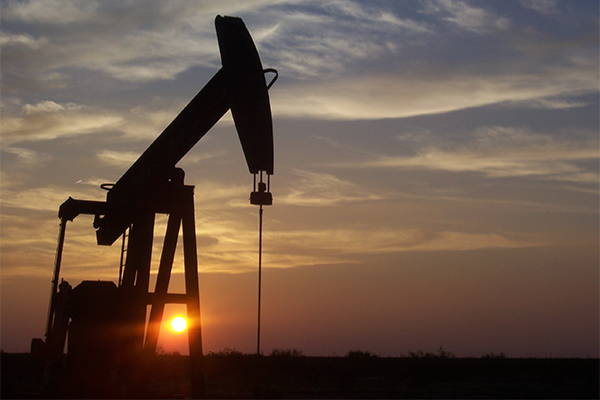 February 22, 2016
Incentive plans are designed to reward executives for achieving meaningful but realistic targets. In a volatile or down market, even the best performing companies are subject to industry or economy wide factors, and selecting metrics...
---
Shareholders Suspect Poor Governance from Stagnant Boards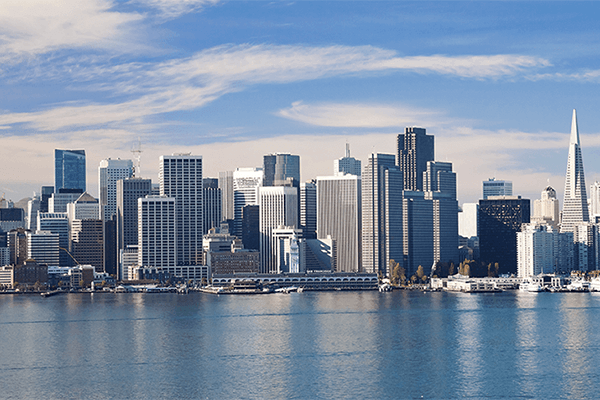 February 19, 2016
Many boards address succession only on an as-needed basis when facing an impending vacancy, which can lead to challenges in a variety of scenarios. Shareholders are taking more notice of how the directors represent their interests...
---
Healthy Exercise: Trading Trends of Fortune 100 Executives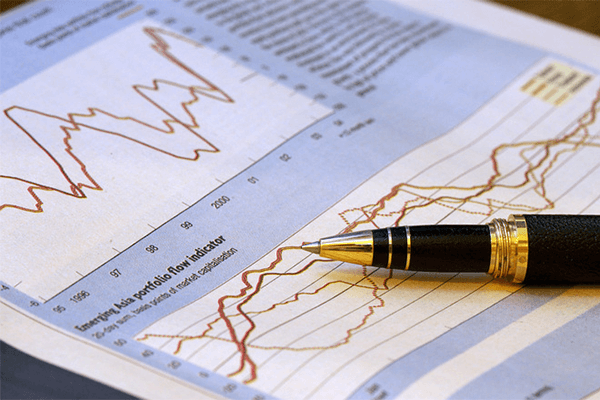 February 17, 2016
Elon Musk recently made headlines when he exercised nearly $100 million worth of stock options on January 27, 2016, ahead of Tesla's earnings announcement. Tesla's stock price had fallen roughly 25% in 2016 to that point...
---
Investors to Boards: Be Better Prepared for Shareholder Meetings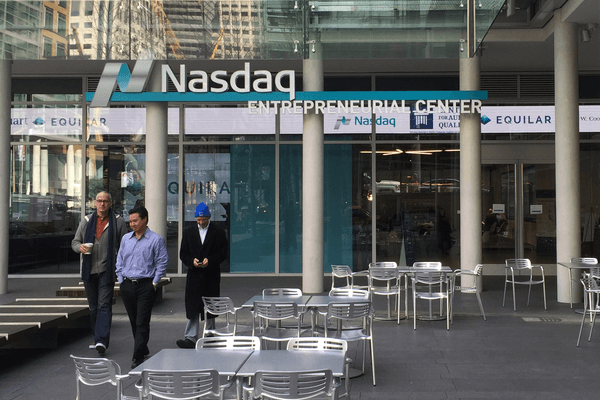 February 12, 2016
Shareholder engagement is on the rise and will only continue as investors seek to better understand a company's practices and policies. As a result, more companies are taking a proactive approach to communicate how their governance...
---
Split Decisions: CEO/Chair Positions Decline in Response to Shareholder Concerns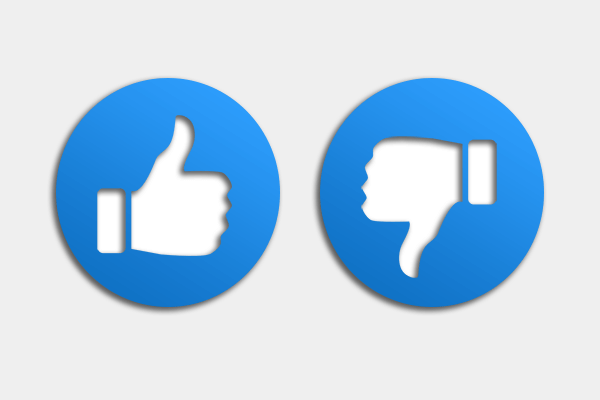 February 10, 2016
Traditionally, corporations combined the roles of chief executive officer and board chair, appointing the position to a single leader, but in recent years, shareholders have raised concerns about the combination of these two primary ...
---
The Role of TSR Modifiers in Long-Term Incentive Plans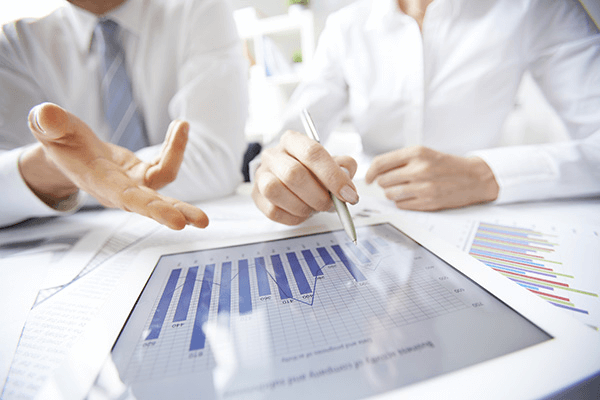 February 8, 2016
As a result of increased scrutiny on pay for performance by investors and regulators, more companies have incorporated total shareholder return (TSR) in their incentive plans. Equilar's latest Equity Trends Report shows that almost 50% of...
---
Institutional Investors on Long-Termism: Subtle Aim at Activists?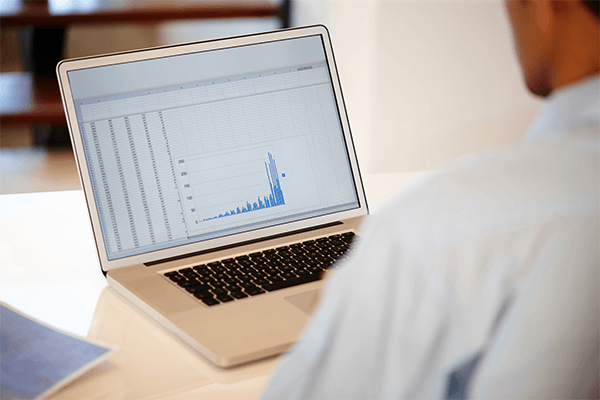 February 5, 2016
On February 1, reports surfaced that Laurence Fink, the CEO of BlackRock, had sent a letter to more than 500 companies asking them to focus less on short-term outlooks and estimates and more on long-term strategic approaches as they...
---
Redstone Retires: Reflections on Board Succession and Shareholder Engagement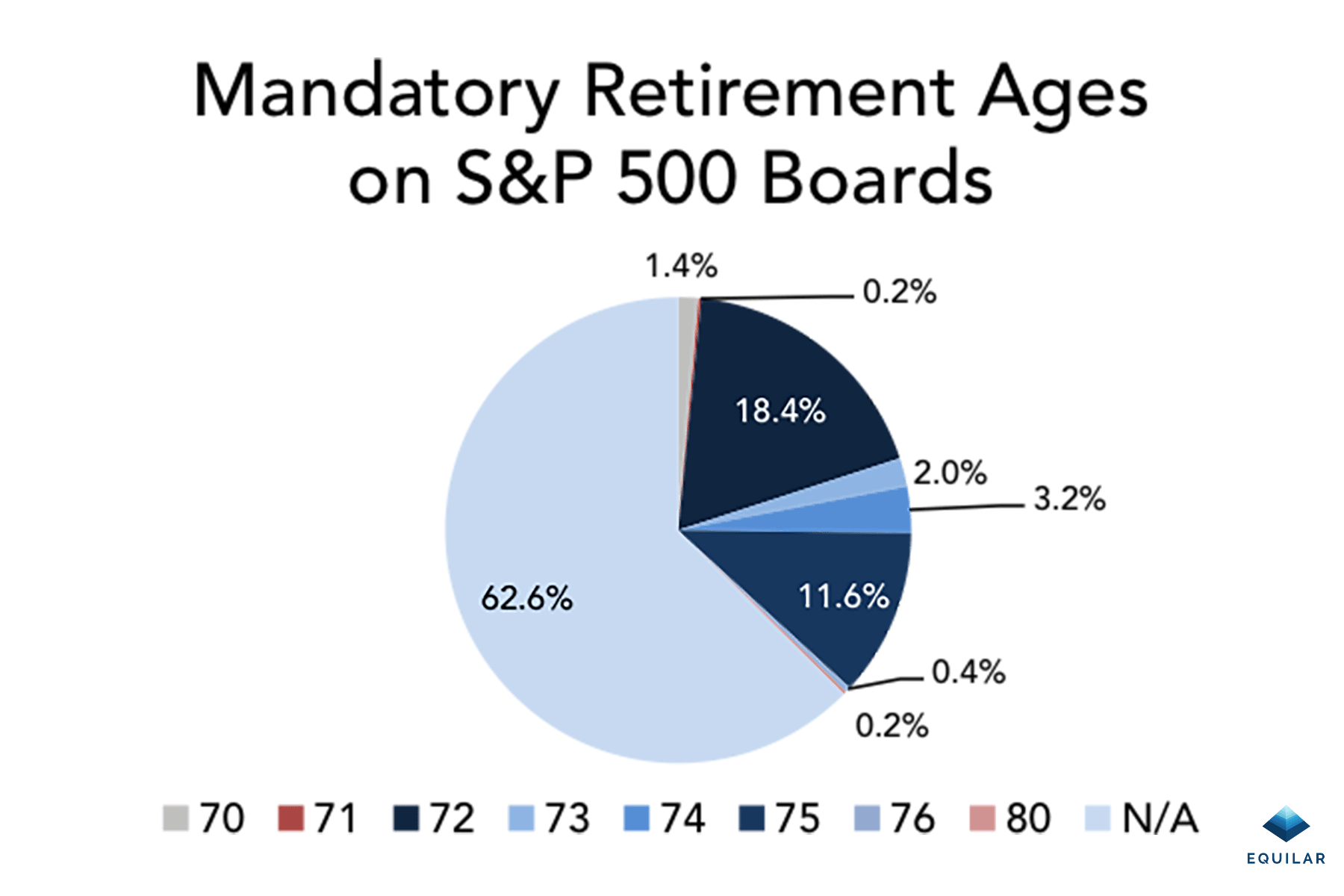 February 4, 2016
The rise in shareholder engagement and activist attention to board composition has put companies are under pressure to evaluate their boards on an ongoing basis. Boards that are unprepared to manage a transition may find themselves in...
---
Boards by the Numbers: New Directors in the Russell 3000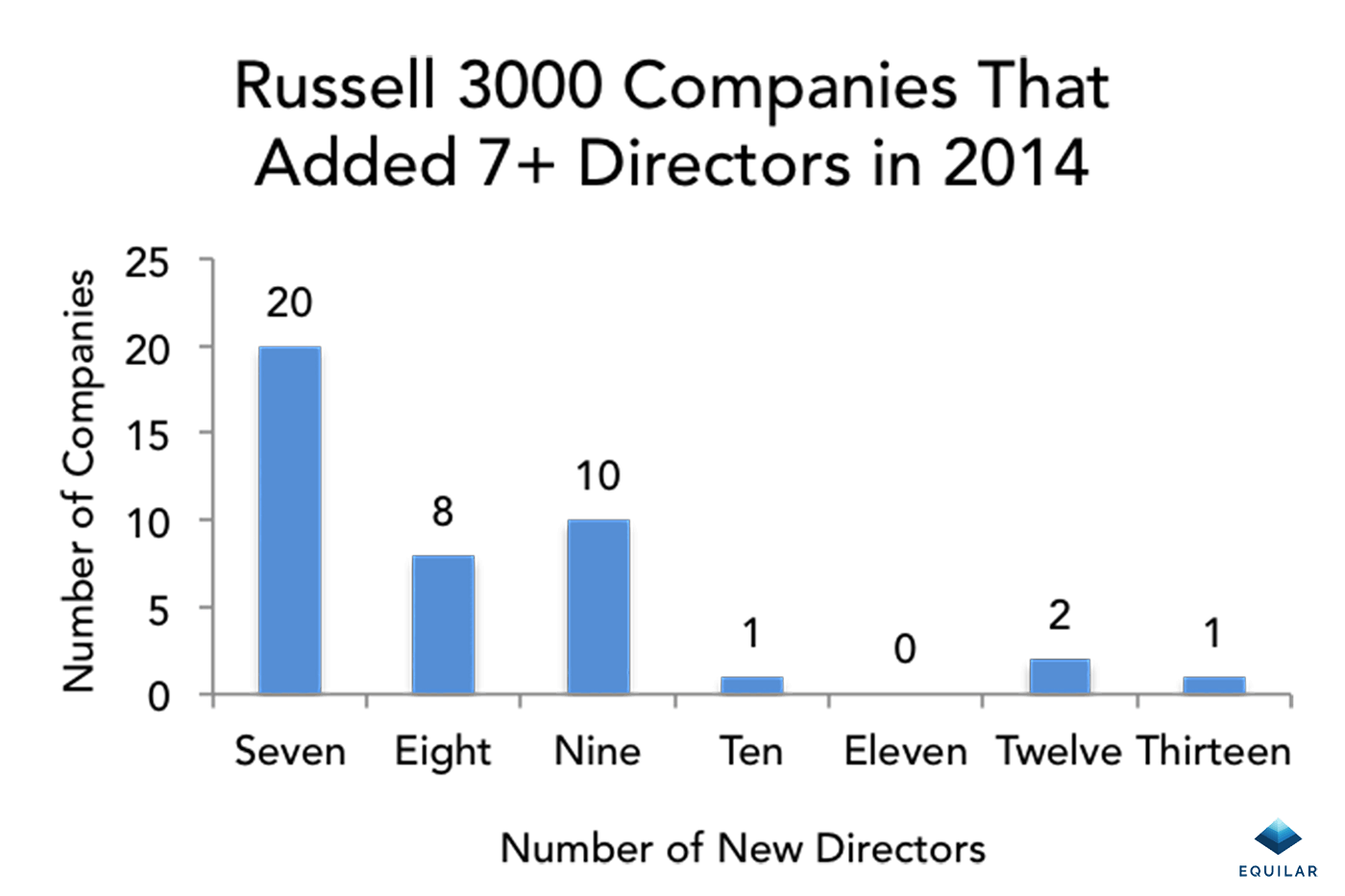 February 3, 2016
The election of new board members is typically a foremost topic of discussion during annual shareholder meetings. This year, with proxy access on the rise, activist and institutional shareholders alike have been focused on consistent...
---
Staying Ahead of the Curve: Incentive Payouts That Achieve Pay for Performance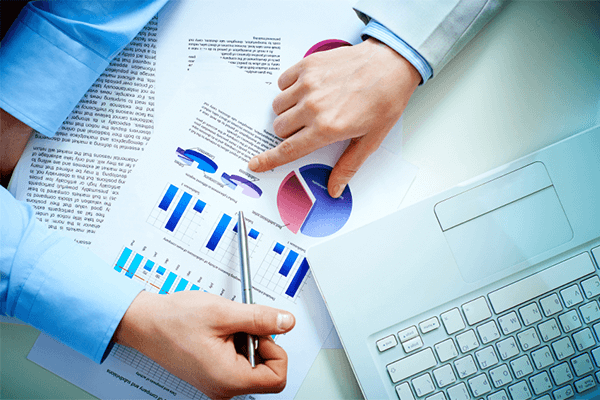 February 1, 2016
Since Dodd-Frank and Say-on-Pay were implemented more than five years ago, companies, proxy advisors and shareholders have focused on pay for performance as a measure of effective executive compensation programs. The logic suggests that if...
---
Board Skills Matrices: Insightful or Redundant?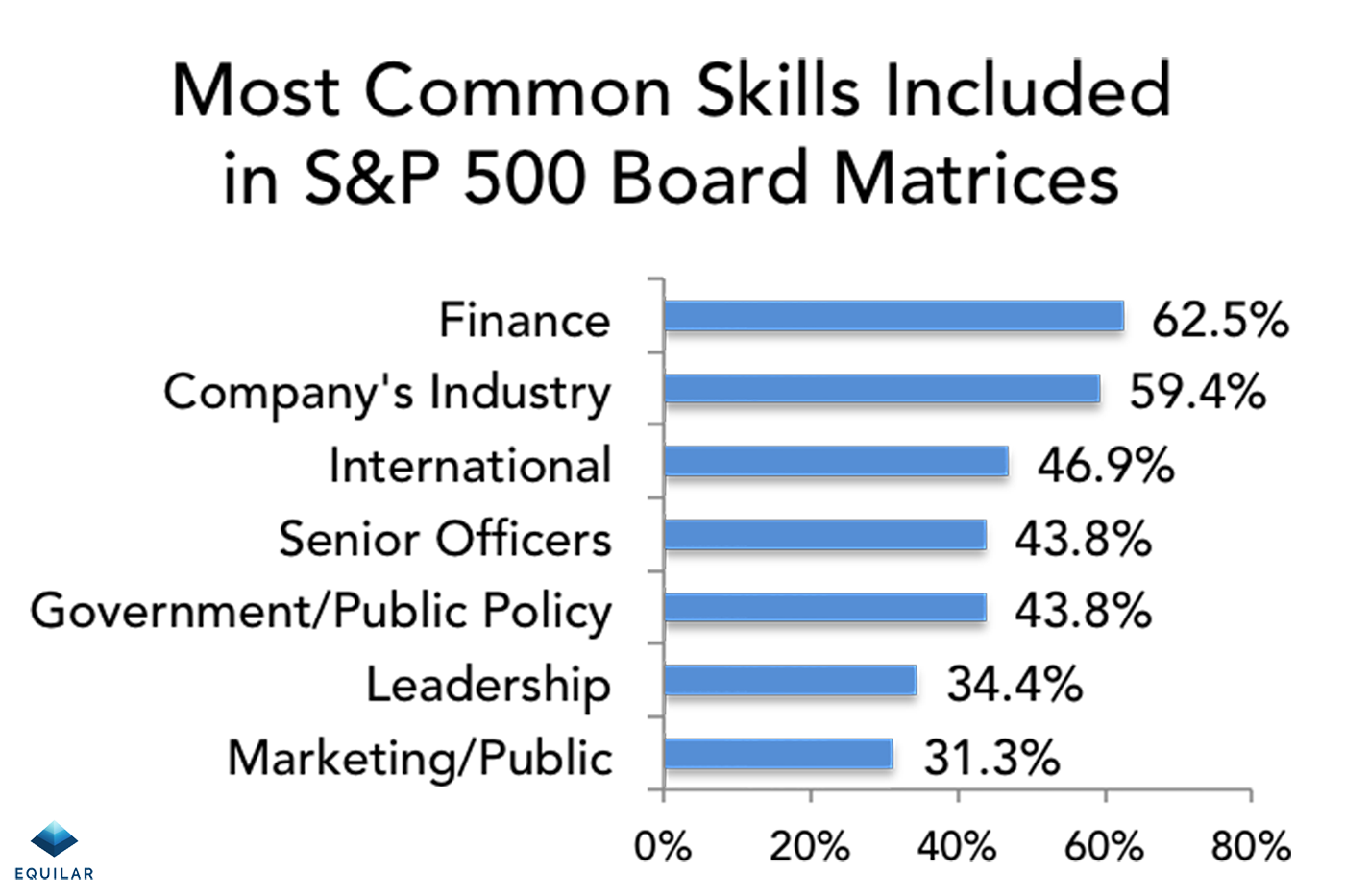 January 28, 2016
In late 2009, the SEC passed a rule requiring companies to disclose experience, qualifications, attributes or skills for each director on the board or up for nomination, and this information has become highly valued among shareholders...
---
Are Companies Prepared for Succession Planning?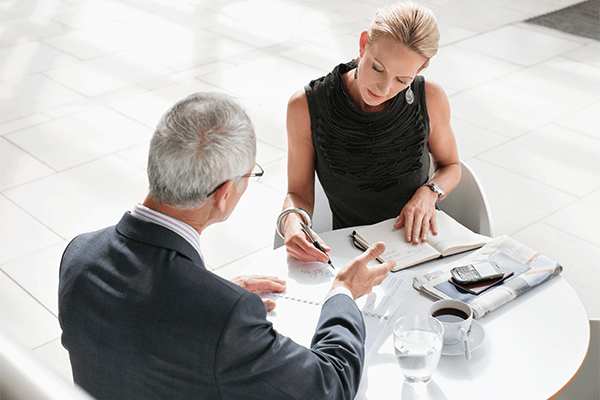 January 27, 2016
Successful board and CEO succession planning is an integral factor in maintaining long-term stability of companies. Without a strong plan in place, organizations put themselves at risk on many counts. Equilar recently hosted a webinar...
---
Pay Versus Performance: Are You Prepared?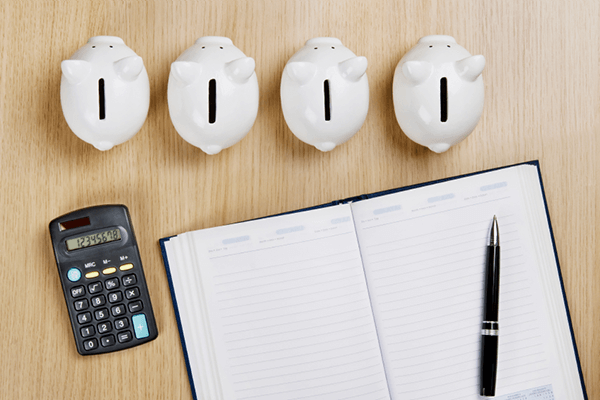 January 26, 2016
As the calendar barrels into 2016 and proxy season is in our immediate sights, anticipation gathers for how companies will address proposals put forth by the SEC in this year's filings. In particular, the SEC's proposed...
---
How Companies Handle Hot-Button Proxy Issues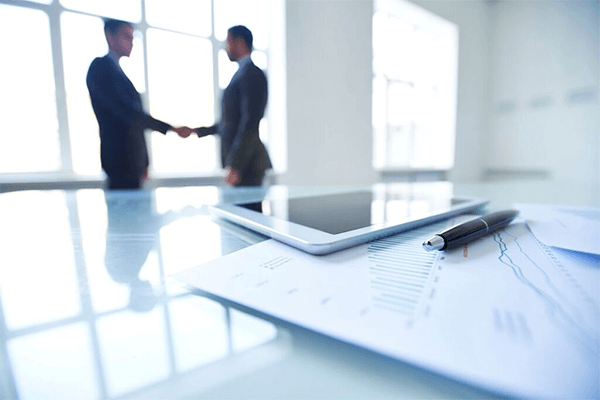 January 21, 2016
Dodd-Frank continues to shape the way companies engage with their shareholders, particularly with matters dealing with executive compensation such as Say-on-Pay and Pay for Performance. Equilar recently hosted a webinar featuring...
---
On Guard, Part 3: Oversight of Cybersecurity by Industry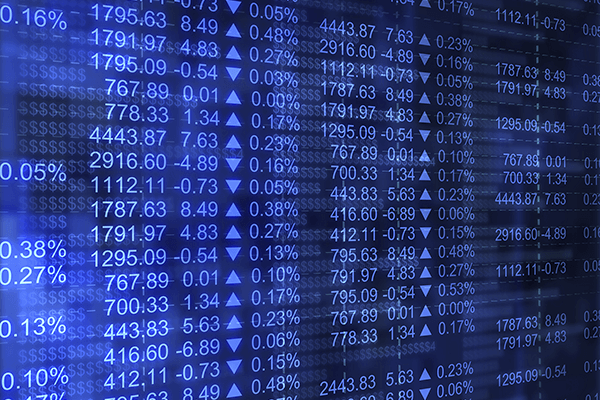 January 18, 2016
Cybersecurity strategy will be a crucial corporate risk and governance issue for 2016 and beyond. Customers care about their private data, enterprises value their intellectual property and investors seek assurance that their portfolio...
---
Shareholder Activism and Director Approval Ratings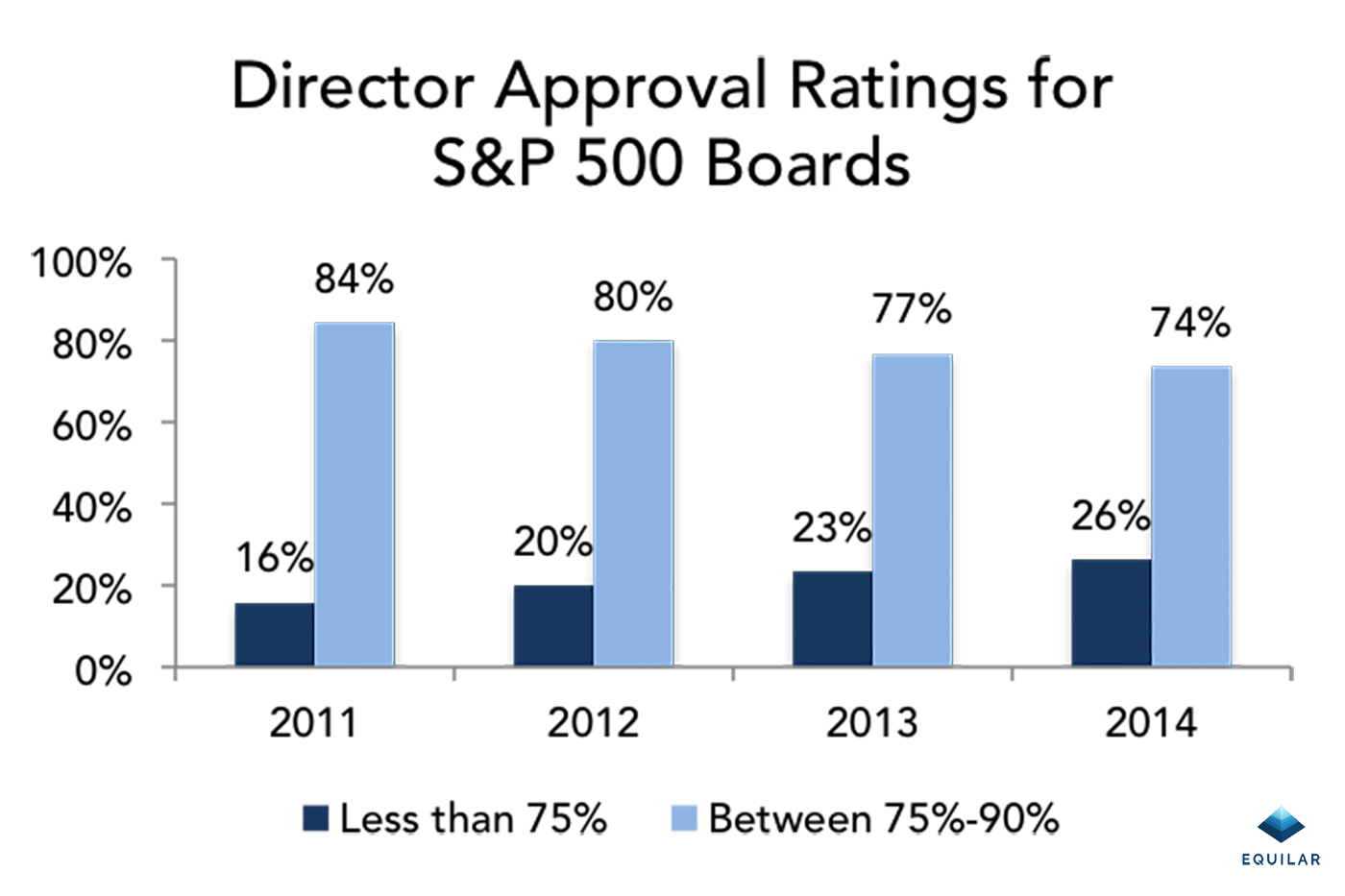 January 14, 2016
It's no secret that shareholder activism is on the rise at U.S. companies, surfacing in many different ways. Shareholders have voting power on a wide range of corporate governance decisions, particularly on the right to choose...
---
Gender Parity in the Boardroom Still Decades Away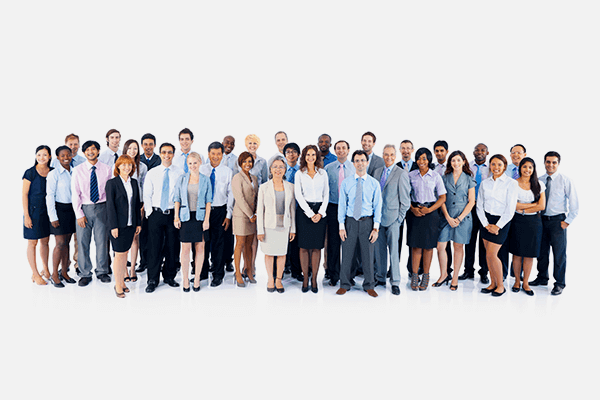 January 11, 2016
The number of women on boards continues to rise, but it will be a long time before female representation at the largest U.S. companies matches their representation in the workforce, according to a new report from the Government Accountability...
---
Board De-Classification May Lead to More Diversity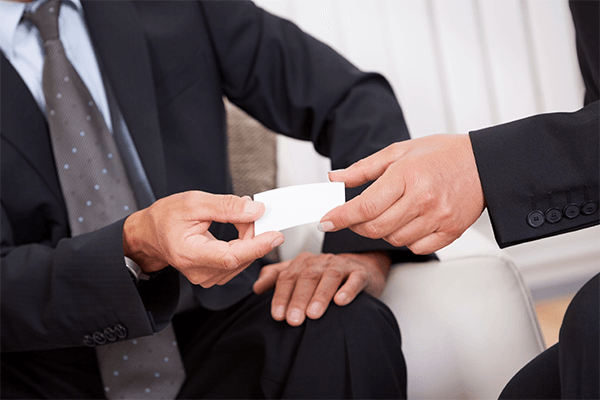 January 8, 2016
Board diversity issues have come to the forefront in recent years, and shareholders are pushing companies across the S&P 500 to elect new and diverse candidates to join their boardrooms. Progress has been steady, but many critics...
---
CEO Tenure Has Increased Nearly One Full Year Since 2005
January 6, 2016
Contrary to trends that may influence executive turnover such as increased M&A activity, scrutiny from activist investors to perform in the short term and an aging boomer population, tenure for S&P 500 CEOs has increased nearly...
---
Will 2016 Be the Year of Proxy Access?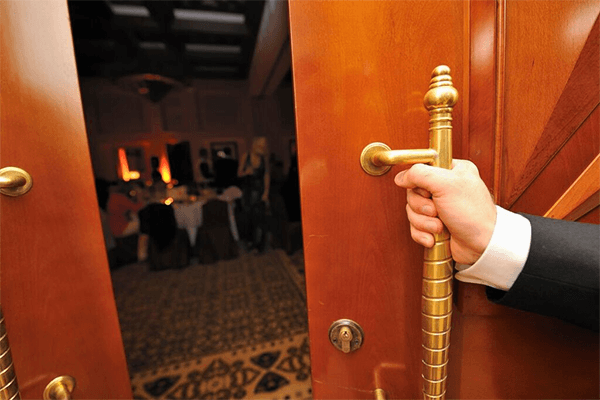 January 4, 2016
As detailed in Equilar's latest report, shareholder engagement is on the rise in various forms, and company outreach to ensure investors have appropriate access to exercise their rights is a dominant topic in corporate governance...
---
New Challenges Inspire Changes to Board Committee Structures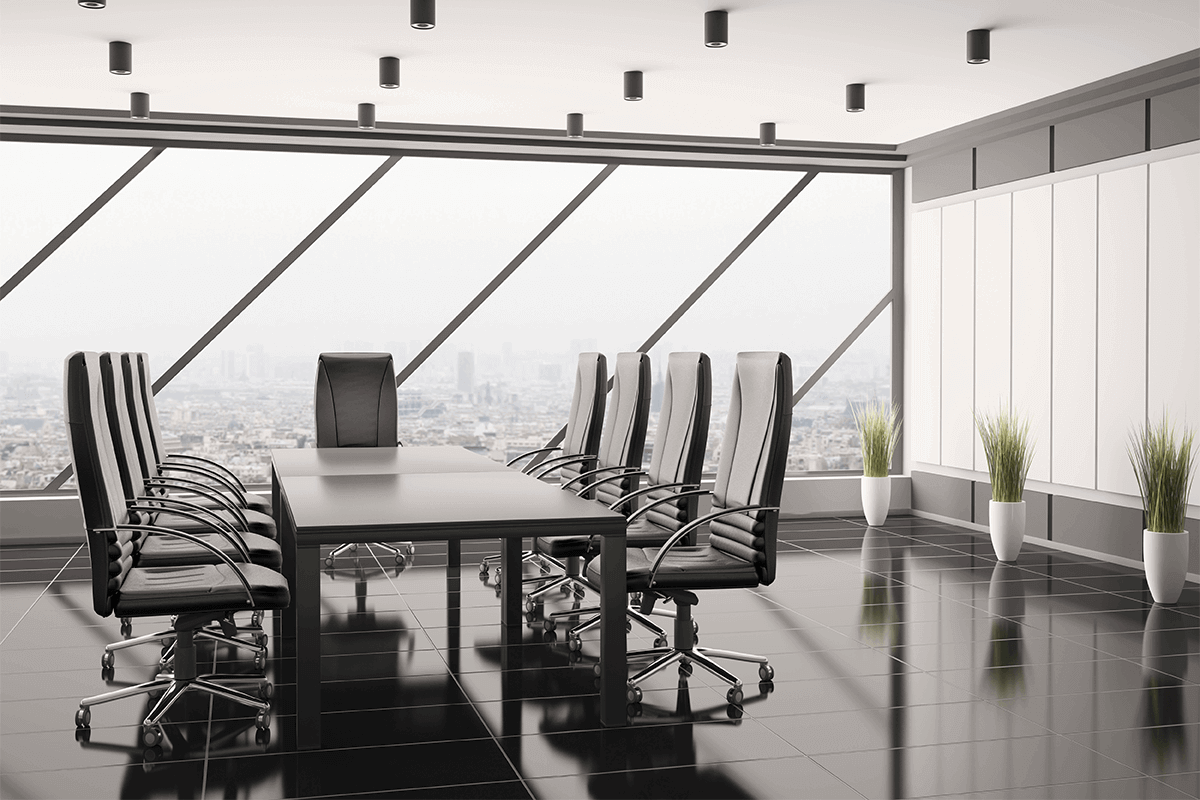 December 17, 2015
As public concerns and needs change, so do board structures. Boards establish and dissolve committees based on their needs to deal with a specific matter or general issue to help the board for diligent decision-making. In the past...
---
Year-End M&A Flurry Shines a Light on Golden Parachutes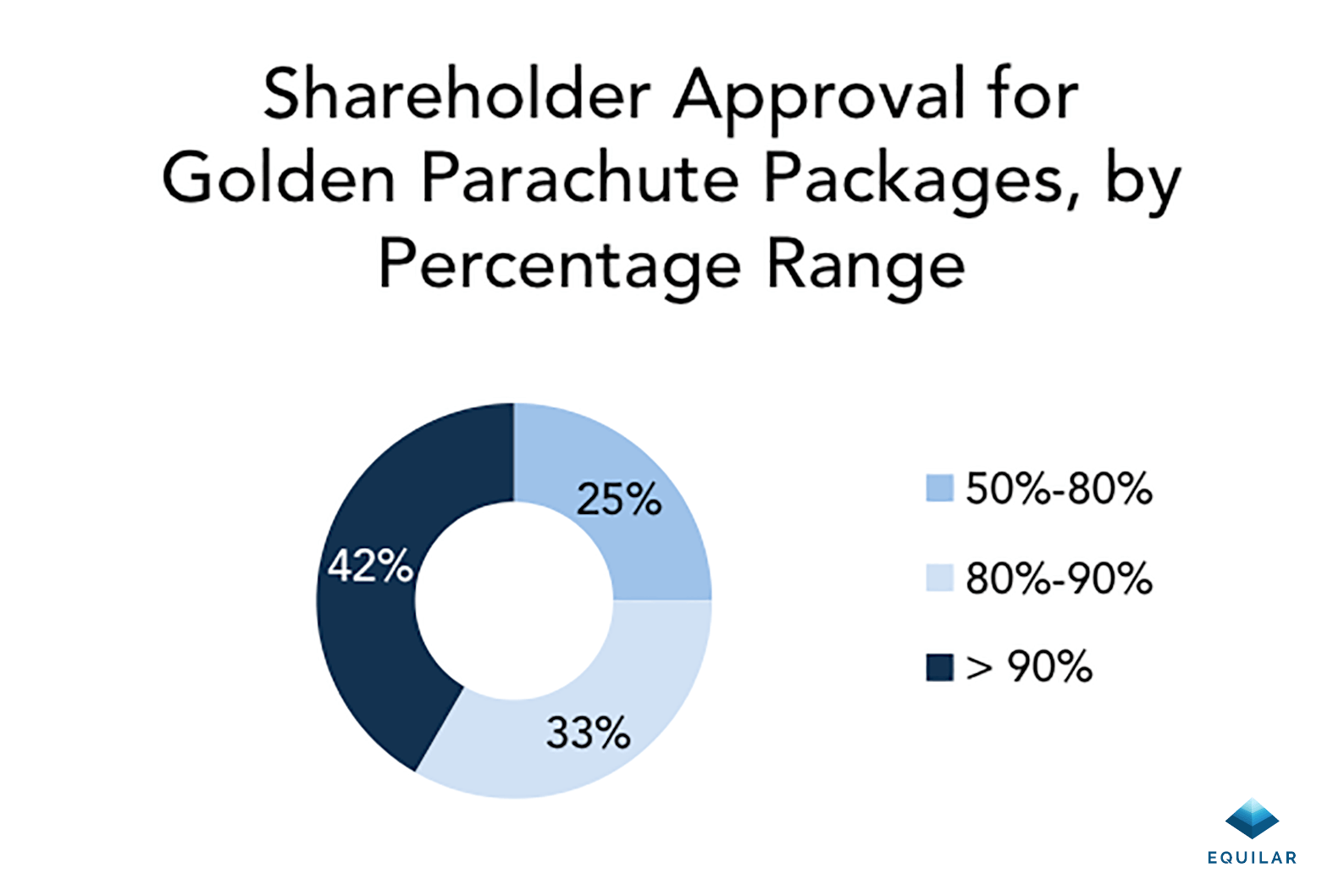 December 16, 2015
As 2015 comes to a close, several major M&A announcements, proposals and rumors are making headlines. In many of these cases, the often-large sums of money outgoing CEOs and other executives stand to receive as severance—also known...
---
On Guard, Part 2: Board Committee Oversight of Cybersecurity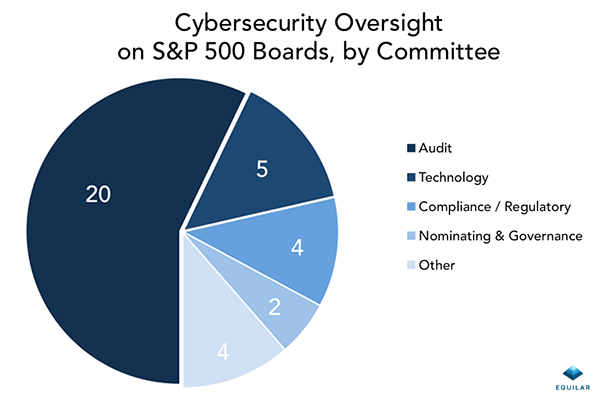 December 14, 2015
Potentially valuable data underpins the next wave of innovative products, spanning a spectrum from customer credit card and social security numbers to corporate intellectual property. While data breaches at prominent retailers, healthcare...
---
DowDuPont: A Merger of Activism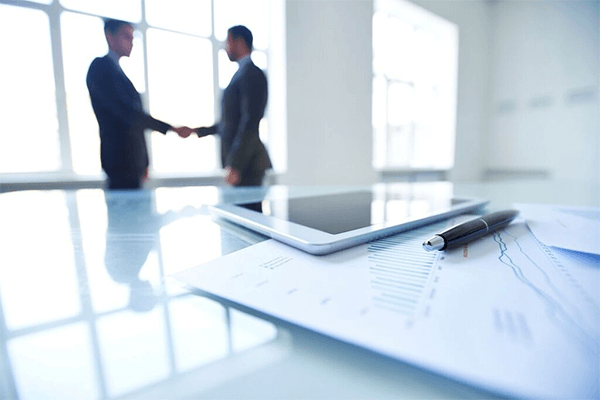 December 11, 2015
Dow and DuPont, two of the largest U.S. chemicals companies with a combined $130 billion market cap, agreed to a merger of equals on the morning of December 11. If the deal is approved, they subsequently plan to split into three companies...
---
Communicating Board Diversity Through Disclosure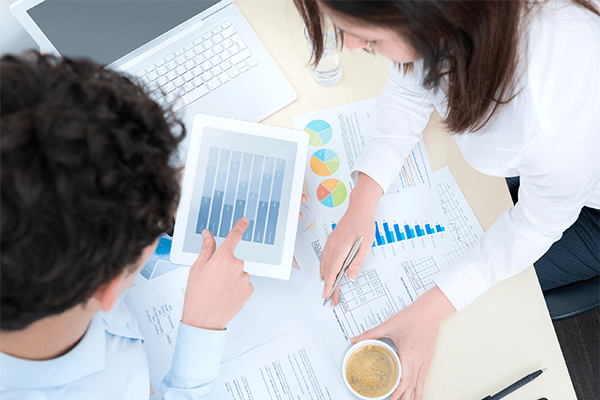 December 10, 2015
In the past few years, shareholders and boards have given considerable attention to boardroom diversity that reflects a wider variety of opinions, skills and experience to meet the challenges and opportunities in the changing corporate landscape...
---
Yahoo! Mayer's Potential Severance Package Draws Significant Attention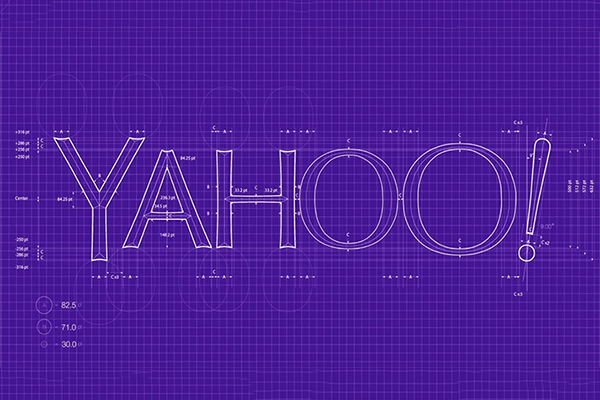 December 9, 2015
With investor engagement continuing around what exactly to do with Yahoo, media outlets have turned their attention to Marissa Mayer's potentially large change-in-control payout in the case that the company were sold and she were terminated. According...
---
Going Overboard? Restrictions May Shrink Qualified Director Pool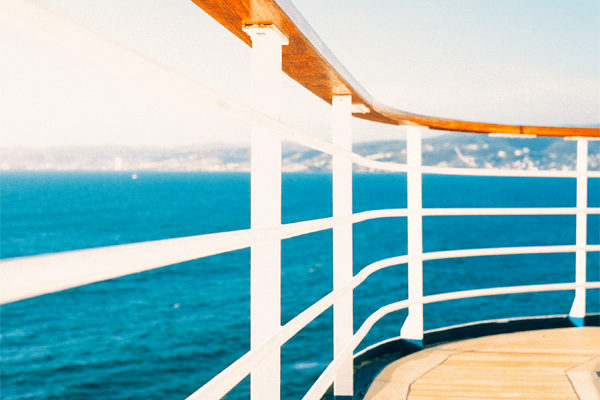 November 20, 2015
With shareholder engagement and outreach coming to the forefront in the wake of Dodd-Frank, directors' responsibilities are continually expanding into significant professional obligations. As a result, many shareholders and other governance stakeholders...
---
On Guard, Part 1: Cybersecurity in S&P 500 Boardrooms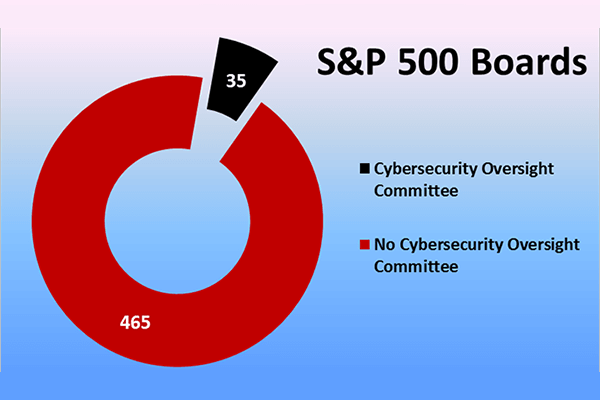 October 16, 2015
High profile data breaches grab headlines and deservedly so—exposure of private, proprietary information puts businesses, investors, and consumers at risk. Corporate and large organizational data breaches are increasing in both frequency and magnitude...
---
@Jack Is Back: Twitter's New CEO Finds Himself in Rare Company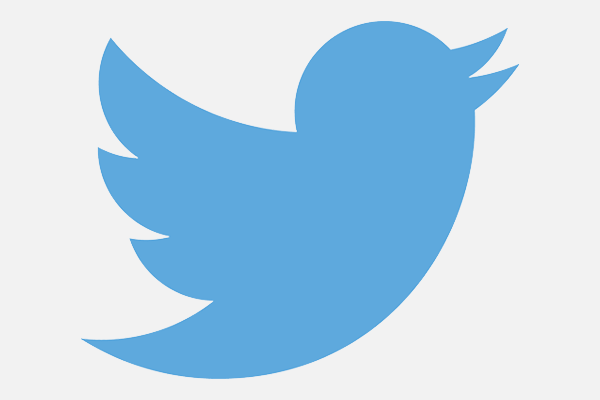 October 7, 2015
After months of speculation, Twitter named its new CEO this week—the company's co-founder (and former CEO) Jack Dorsey. Following several quarters of slowing user growth, pressure on Twitter from its investors and from Wall Street in general reached...
---
The Changing Face of Fortune 1000 Boardrooms, in Five Charts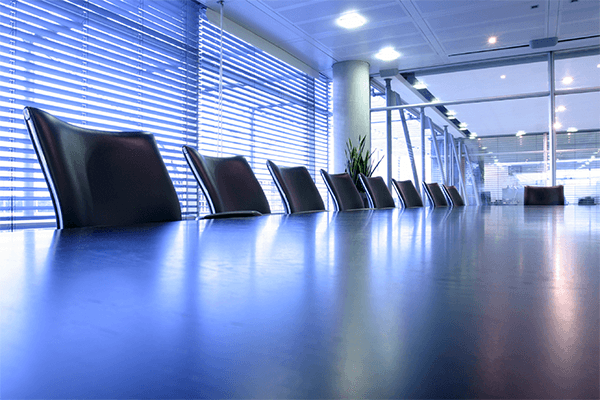 October 6, 2015
We're in an unprecedented era in shareholder engagement, and as a result, the make-up of U.S. boardrooms is changing to reflect this new reality. Rules and regulations following Dodd-Frank have heightened the availability of information and awareness...
---
Chairman/CEO Votes: Signs of Shareholder Trust or Playing It Safe?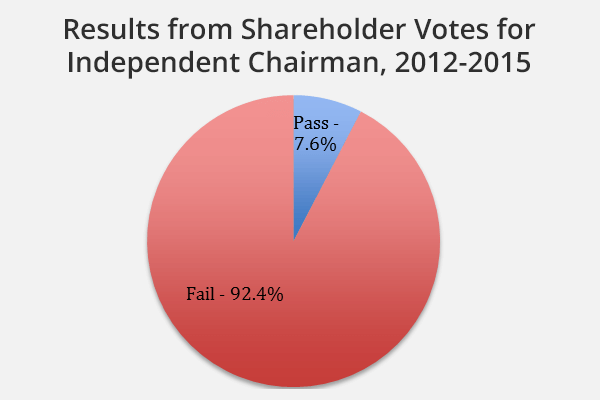 September 23, 2015
On September 22, Bank of America shareholders voted whether CEO Brian Moynihan would continue in his role as Chairman of the Board. In the weeks leading up to the shareholder meeting, many wondered if a vote to split the roles and implement...
---
Eradicating Cyber-Risk: CEO Expertise and Experience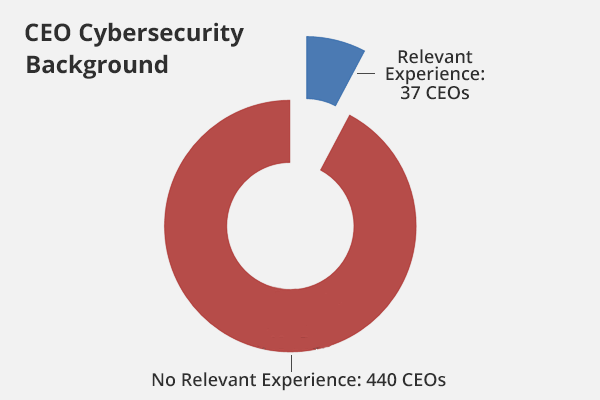 September 15, 2015
As companies rely more heavily on compiling, storing, utilizing, and disseminating large amounts of proprietary and private data, securing such information continues to pique the interest of invested parties. Customers, consumers and vendors...
---
Change-in-Control: Pay Trends in Transition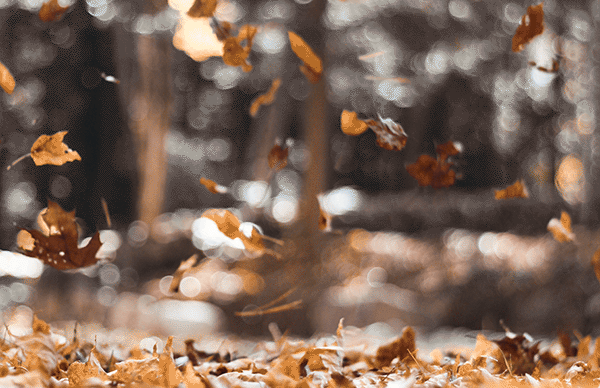 September 3, 2015
Although corporate change-in-control (CIC) situations happen infrequently, stakeholders place the details of such transactions under a microscope, scrutinizing them from every angle. In particular, proxy advisory firms and shareholders view...
---
Weighing in on Performance Metrics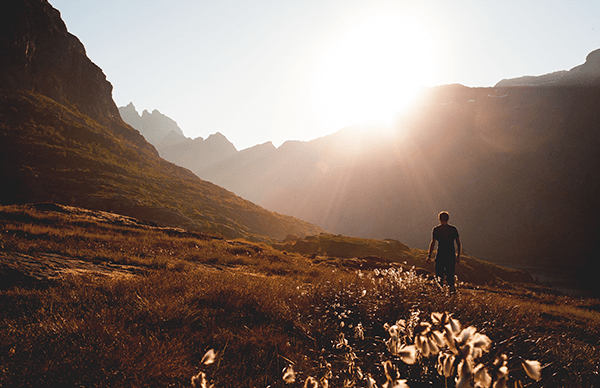 August 27, 2015
When it comes to doling out long-term incentive plans, shareholders and companies both hold vested interests in how awards are structured. Not only do equity awards contribute to the retention of executives, but they also set the tone for...
---
Director Compensation Under Scrutiny: Are Pay Increases Justified?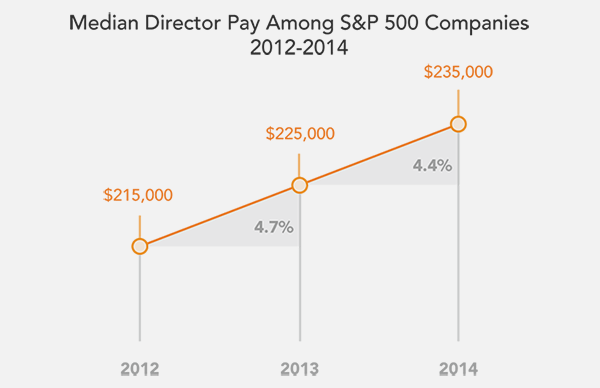 August 20, 2015
Median director pay among S&P 500 companies has increased significantly in recent years. According to the latest Equilar research, director retainers reached a median $235,000 in 2014, up from $215,000 two years prior. In response, shareholders...
---
SEC Shines a Spotlight on CEO-Employee Pay Ratio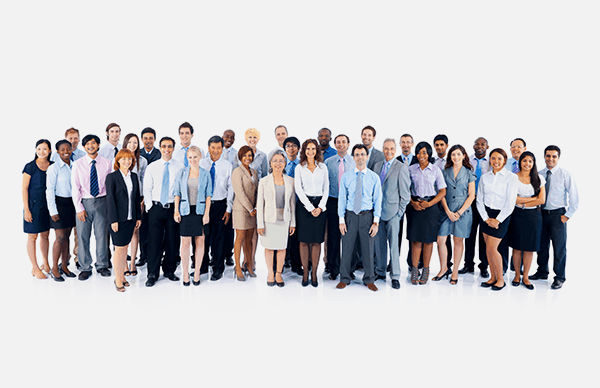 August 5, 2015
Dodd-Frank initially mandated that U.S. public companies disclose the ratio of median pay between their CEOs and their employees, and thus the subject has been a source of much discussion since its passing. But five years later, exactly how...
---
Does It Really Pay for CEOs to Perform? A Comparative Analysis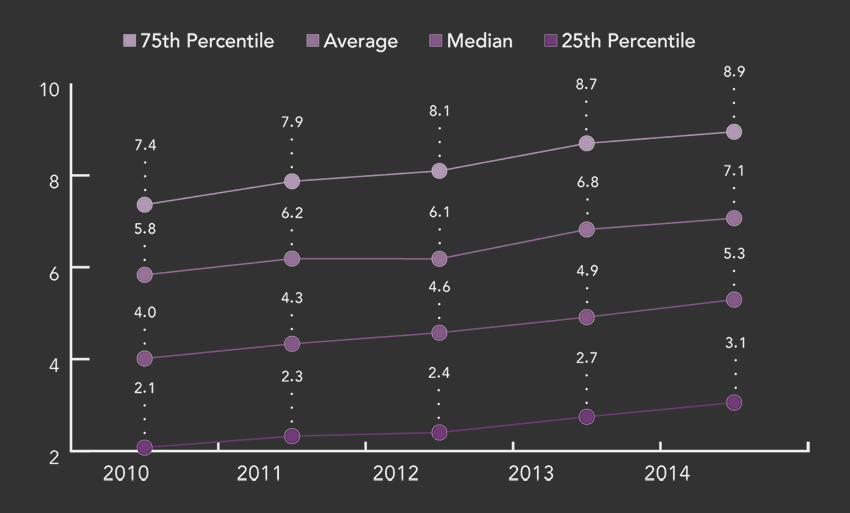 August 4, 2015
CEO pay continues to rise, reaching a median $10.3 million among S&P 500 companies in 2014, according to Equilar's latest research. But alongside consistent growth, CEO compensation has also experienced increased scrutiny since the passing of Dodd-Frank...
---
Dodd-Frank's Fifth Anniversary: In Retrospect and Prospect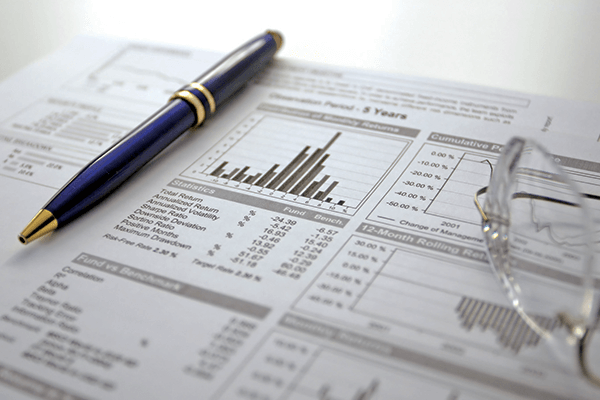 July 27, 2015
The Dodd-Frank Wall Street Reform and Consumer Protection Act – better known colloquially as "Dodd-Frank" – celebrated its fifth anniversary on July 21, 2015. Though the sweeping financial markets reform initiated by this legislation has yet to...
---
Equity Compensation Plans: Breaking down Dilution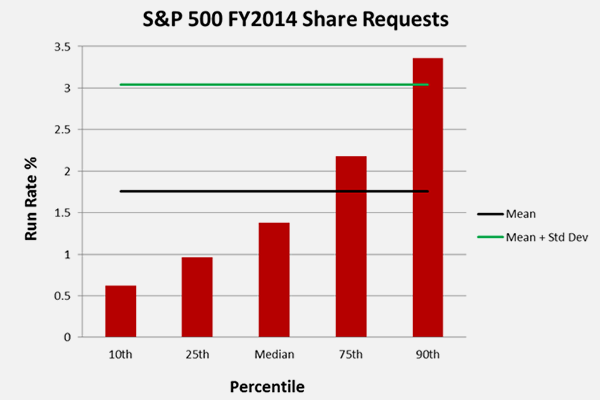 July 24, 2015
A well-designed equity compensation or performance incentive plan has potential to be a "win-win" for those with skin in the game, and corporate issuers have the opportunity to align their stakeholders' interests by including equity pay in executive...
---
Enforcing Accurate Financial Reporting — Clawbacks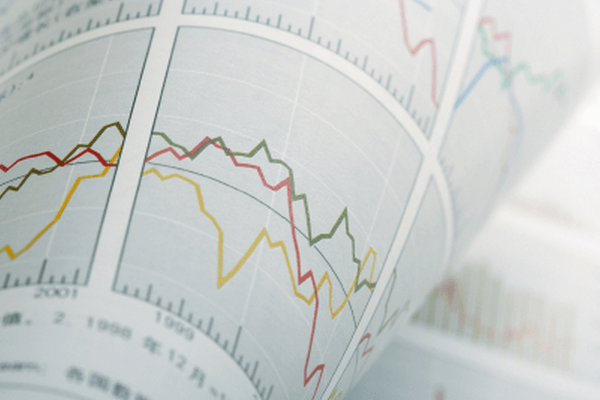 July 6, 2015
The Securities and Exchange Commission (SEC) recently proposed a set of rules that would govern the clawback provisions of listed companies. These standards would apply specifically to compensation that is linked to accounting-related metrics, stock price...
---
Pay Versus Performance Rule Faces Potential Issues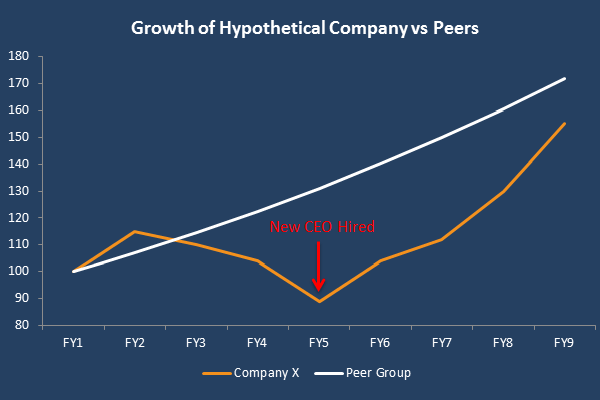 June 18, 2015
As noted in a previous post, the Securities and Exchange Commission (SEC) recently released language concerning the Pay Versus Performance disclosure required by the Dodd-Frank Wall Street Reform and Consumer Protection Act. Public comment on the...
---
CFO Pay Increases: Falling Behind the CEO?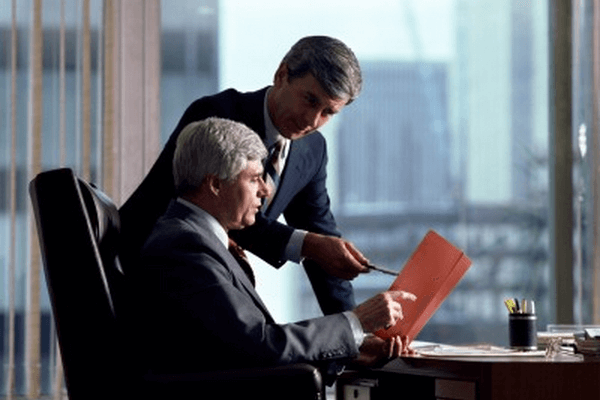 June 10, 2015
In a recent post, we looked at changes in CEO pay in the S&P 1500 and how that compares to the average worker. While the CEO is typically a company's highest paid and most high-profile employee, they are but one member of the executive team. Using...
---